Ten years ago, the duo of Jamie Dailey and Darrin Vincent—former members of Doyle Lawson's Quicksilver and Ricky Skaggs' Kentucky Thunder respectively—burst onto the bluegrass scene in a big way, winning six awards at the International Bluegrass Music Association's (IBMA) annual gala that ranged from Emerging Artist to the marquee Entertainer of the Year title. It was an auspicious debut, echoed over the next couple of years by more IBMA trophies and other awards, too.
But the accolades of the bluegrass industry, welcome as they were, didn't deter Dailey & Vincent and their crackerjack band from striking out on a path that's led them far beyond the pastoral outdoor festivals that still account for much of the music's presentation. They've partnered with Cracker Barrel Old Country Stores to release an immensely popular set of Statler Brothers songs; hosted their own TV shows on PBS and RFD-TV, featuring a wide array of musical styles and entertainment; toured across the country and around the world; and will be producing a Christmas special and associated album later this year. In 2016, they were inducted into the cast of the Grand Ole Opry by the noteworthy pairing of Jeannie Seely and Old Crow Medicine Show.
This year Jamie Dailey will give the keynote address at the World of Bluegrass business conference in Raleigh, North Carolina, on Tuesday, Sept. 25. The theme: "Branding Bluegrass." Asking him about the invitation seemed like a natural place to begin our conversation.
When you got the invitation to give the World of Bluegrass keynote, did you have to think about it for a while?
Yes, sir, I was quite apprehensive about it. I have something of a different opinion about what's going on than many do, and the way that I go about doing things business-wise—and creatively—is really not in the bluegrass vein, though it has the foundations. And as you know, when you do things like that, you're already getting the stink-eye, as I call it. So that's why I didn't want to do it. But I called three of my music friends who are pretty much heavyweights in bluegrass, and one in country music. I told them and they said, "Oh, you have to do it, you have to do it." And they kept pressuring me!
I'm not a theologian, and I don't have 16 different degrees from Harvard hanging on the wall. But what I do have is experience and instincts. And I can see the dangers that are facing this industry, because we're too bound by traditions—and we should be bound by traditions in general, but we can't let that drive us to the point that the music begins to die. And that's my concern about where we are as an industry.
You started as a full-time musician with Doyle Lawson in 1998, so you came in at the very tail end of the way things had been, and right into the thick of things—Napster, satellite radio, and so on. It seems like the industry has changed completely over your career.
It has. When I started with Doyle, I started watching what was going on. I could see the industry starting to roll over, and I could see changes coming. And I would talk with him a lot about how we needed to get a team. And we did that; we got Don Light as manager, and we went with Rounder Records. From that time to the time I left, which was after nine years, there was even more of a change in the industry. So when we got ready to start Dailey & Vincent, one of the first things I said to Darrin was, we need a publicist, a manager, a booking agent, a business manager, and a good attorney. And for a minute, Darrin looked at me like I'd lost my marbles. But I knew that with the things that were going on, with the way the business was changing, we needed a strong team. And that's how we started. I wish more bands would take that a little more seriously than I think some do.
You guys started around the same time and place that the Infamous Stringdusters did, and even though you're very different musically, it seemed like what you shared was an understanding that you need to take care of business.
If you want to talk about branding, the Infamous Stringdusters are a great place to start; look at what they're doing. The Infamous Stringdusters are headlining Red Rocks; I was talking to Chris Pandolfi on the phone recently about that. They're doing it their way—with bluegrass foundations, but adding their art form and their hearts to it. And I love to see that. They have a strong team, they have good instincts and lots of good sense, and I'm just very proud of what they're doing.
That's got to be a piece of the message — that you need to have a musical identity, but also have some kind of business vision to match.
You do. And if you don't, you have to get people with you that do, to help you create that and keep it intact.
Now, here's the other side of it all on branding, and this is something I wish our industry would get better at realizing. We live in the most interdependent age in history. And basically, interdependency means the borders of the world are more like nets than walls now; we can reach more people now than we've ever been able to reach. But I don't feel like, as an industry, that we're really taking full advantage of that. Darrin and I are trying to take all the advantage of it that we can—by TV, by radio, by doing different kinds of records, from country to bluegrass to gospel. Because we love all of it, and we like to sing and play all of it. That's what we need to be taking more advantage of.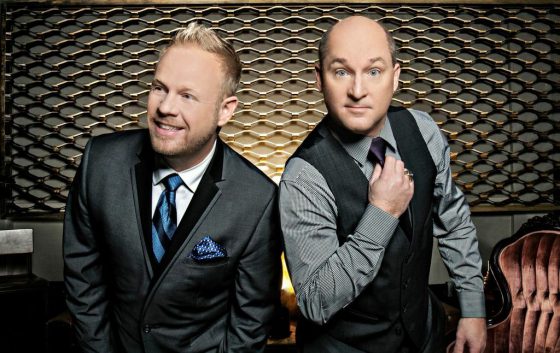 What do you think stands in the way of bluegrass artists doing that?
Looking at it from a bird's-eye view, I think they're scared to do things differently. Because they're bound by tradition, by bluegrass music lovers who want them to do the same thing over and over and over again. They don't want to see anything outside of a three-chord song, they don't want to see anything that's past a four- or five-piece bluegrass band, that takes it any different direction that what our forefathers did. But listen here: I sat with Earl Scruggs, and I asked Earl, what do you think about adding, say, drums, to a bluegrass band, and doing some different things, even a piano? He said, "I think what you are trying to do is great. Be an artist, play the music you want to play." And he said, "Son, you'll always have those bluegrass foundations, because it's the way you sing." That really stuck with me.
It seems to me that if you feel that traditional bluegrass's existence is threatened—and it certainly is economically—then the flip side of that is, you have to be really proactive in reaching out as broadly as you possibly can.
It's interesting that you bring that up. The first year that I booked our group, 22 of the festivals I called—that I had played with Doyle Lawson for years—had cancelled. By year two, another 13 were gone. And it kept happening. And I told Darrin and Don, here's what we need to do: we need to start finding buildings that we can promote in; hire a promoter to do it; start learning how to fill those buildings up and put butts in those seats—get people coming to see us.
So we started that by our third year. And what has happened through that is, we grew from 300 or 400 people the first time into complete sellouts now as we go across America. Those people are telling their friends, and they're telling their friends, and you get more people coming; our demographic is all the way from 15 years old to 95. We just have a broad-ranged audience. And now out of the 115 dates we do a year, about 75 are by ourselves in those buildings. We're working on pulling new people, and using our TV appearances to do that; that has been an important part of our brand. The rest of the time, we do play Merlefest, or Grey Fox, or some Norman Adams festivals—and that way we make sure that our foundation is still intact with the traditions but not completely bounded by them, because the brand has to grow.
We are living in an ever-changing world, every day. Look at how the record companies are struggling to try to find ways to sell records. Look at the brand new cars that don't even have CD players in them. People that buy new cars who don't like to use their phone to listen to streaming services are going to have to learn to buy the records; put them on their phones; hit the Bluetooth and play them in the car. We're faced with changes whether we want them or not, and we have to meet them head on, we have to think about it, and we have to be proactive.
What's the biggest challenge coming in the next 10 years? Biggest opportunity? What's on the horizon?
The biggest challenge that I do see, honestly—and I could be wrong, we'll revisit this in five years and maybe you'll say, "boy, Jamie, you really missed on that one"—for bluegrass artists is watching some of these festivals decline. Some of them are still in really good shape, and hopefully will continue to be, but a lot have declined. I see a demographic that follows this music that is starting to roll out, that I don't see anymore, because they can't get out now, they're not as mobile.
And a lot of the younger listeners won't come in and watch a straight-ahead bluegrass show. They might want to see Dailey & Vincent, and they might want to see the Grascals, but they also want to see Billy Strings and Molly Tuttle. So the biggest opportunity is to market to that, to become more diverse with shows like that, where everybody wins. Because if you have Billy Strings fans and Molly Tuttle fans coming, and you've got Dailey & Vincent fans coming and Grascals fans coming, where you have them all there, listening to all the artists, more than likely we're going to make some fans from each other's fan base. Our industry is making some progress there, but I think we're running a little bit slow on that, a little bit behind.
What Darrin and I figured out very quickly is, play the music we feel in our hearts. Whether it's original or not, whatever it is, play what we love; play it the way we like to play it, and let the chips fall where they may. And in my simple country boy head, it comes down to, if you like it, you'll buy it and come see it. And if you don't, you've got plenty of other choices to go and see other artists. And that's kind of where we are with it. I love bluegrass. I love gospel. I love country. But we've got some work to do in the bluegrass industry, because I feel like we are behind.
---
Photo courtesy of the artist.