The gargantuan, sand-colored Bluegrass Situation banner that formed the backdrop for Saturday's Greek Theater main stage performances has flown in Tennessee at three Bonnaroo super-jams, but until this weekend, it had never been hoisted in the BGS's home town of Los By God Angeles.
In other hands, very large logos can be obnoxious, as we know. But the inherent whimsy and humor of the BGS's name, the sly Steve Martin arrow-through-the-head allusion in the design, and the endemic friendliness of the BGS's mission made this super signage anything but Trumpian. Founder Ed Helms didn't build this spotlight to shine on himself. For the five years since its founding, the BGS has been about elevating the finest roots/Americana talent and enlarging the audience for those artists.
They certainly succeeded with that this past weekend, attracting the biggest audience yet to the festival. And, this, when nationwide, there were more choices than a roots music fan could quite process: Hardly Strictly Bluegrass in San Francisco, World of Bluegrass in Raleigh, and Austin City Limits Festival in Texas. I swear, I had no advance warning about the deluge in North Carolina that would force IBMA indoors (and a grand time was reported there, in any event). I chose to attend the Bluegrass Situation out of fascination with this one-of-a-kind entity, and I was well-rewarded with an array of astonishing talent, including my favorite set ever by my favorite acoustic band working today. But that's later.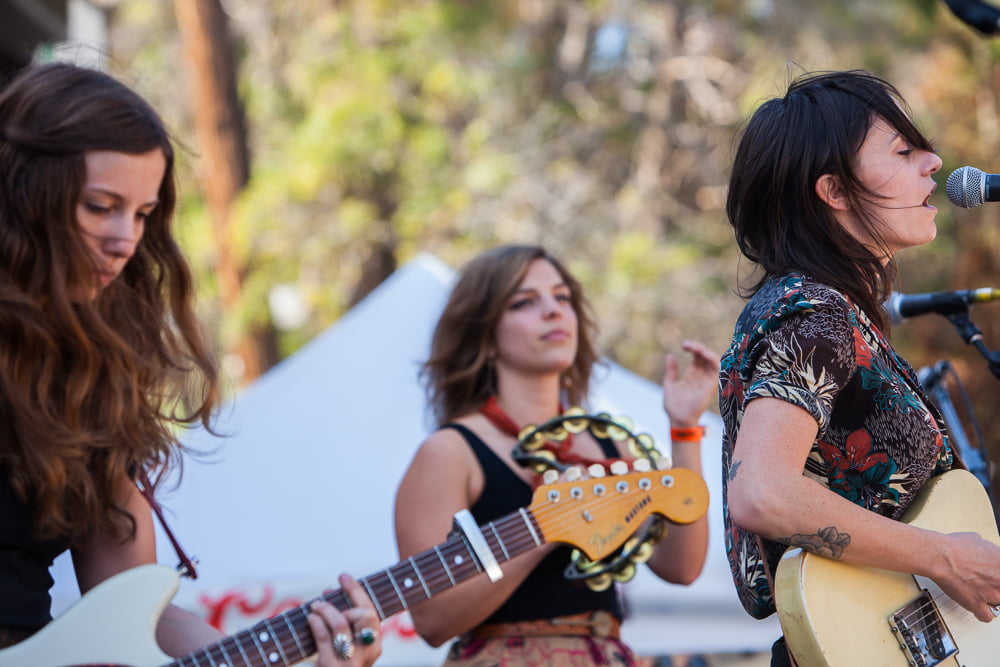 [The Wild Reeds; photo by Austin Nelson for BGS]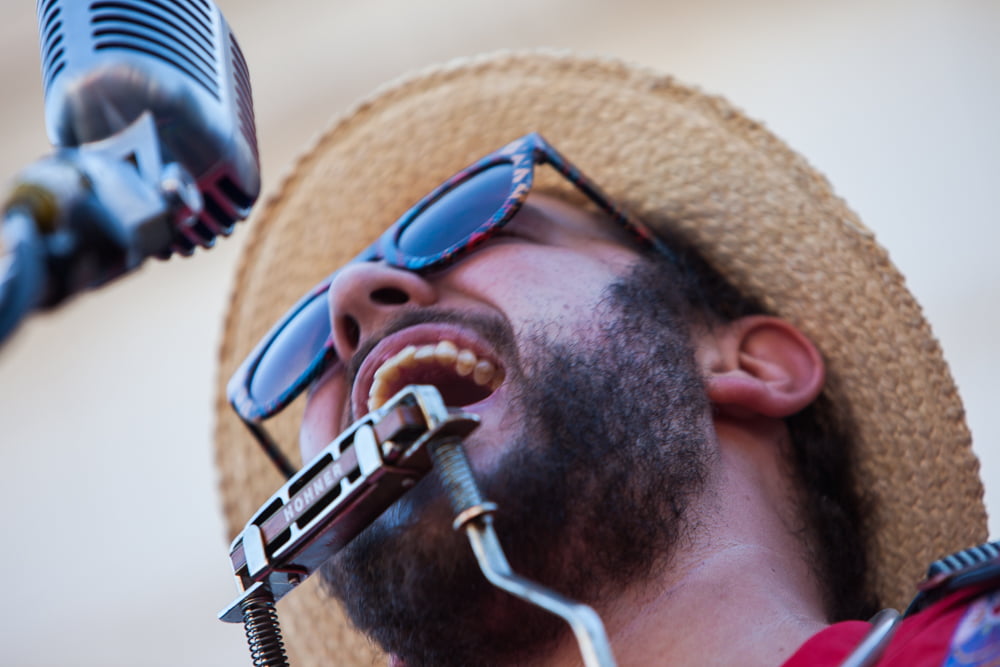 [Dustbowl Revival; photo by Austin Nelson for BGS]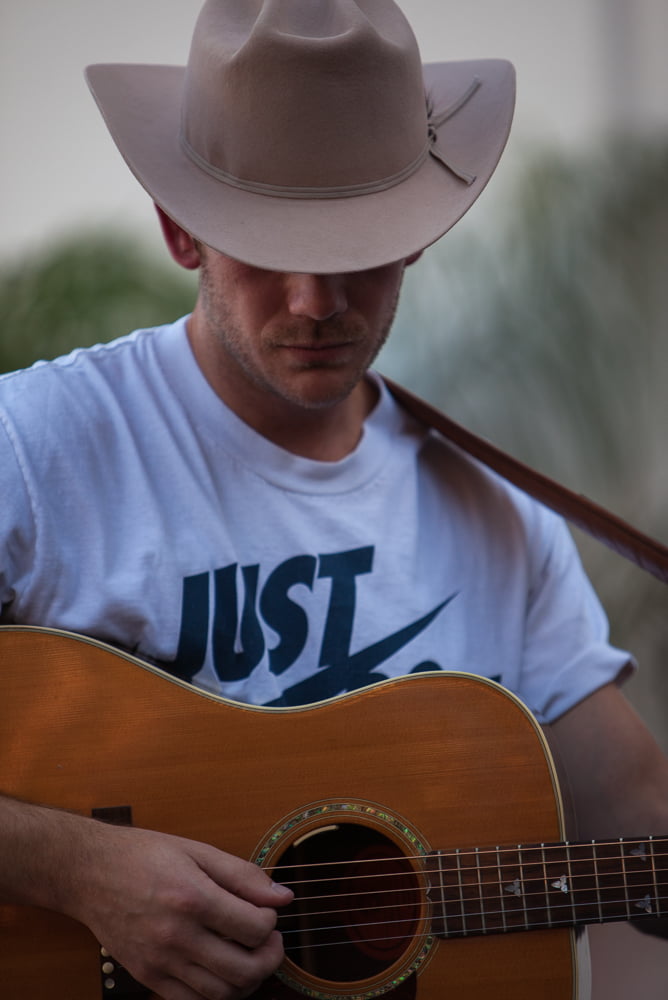 [Sam Outlaw; photo by Austin Nelson for BGS]
The Greek — a 5,800 seat amphitheater — was opened in 1930 in the hills of Griffith Park, so it's seen and made some history. Just a few miles away and a few hundred feet below, there are palm trees. Up here you're in the beginnings of the Santa Monica Mountains with oak and walnut and some rugged hilltops visible from the theater seats. The architecturally iconic sentinel that is the Griffith Observatory stands just nearby.
Before they opened the gates to the main theater, the Situation got situated with four sets on a plaza stage as visitors lolled around, queued up at the hipster instant haiku booth (manual typewriters), and played cornhole in the shade. The L.A.-based Wild Reeds got things started with a mix of banjo and Telecaster. Three women carried the floaty harmonies with a two-dude rhythm section lending propulsion. I was taken by the hand pump organ surging behind their sound. Maybe those are the wild reeds they're talking about.
The Dustbowl Revival, also local, proved it's one of the best party bands in the country with a super-crisp groove and a spot-on, two-man horn section. Whether lending new lyrics and mod touches to old-time fiddle tunes or playing spanky R&B with trombone/trumpet stabs, they impressed and made people dance. As a closer, they moved their act off stage and down amid the crowd on the plaza to blow horns, shake tambourines, and lead a lusty sing-along of Lead Belly's "Midnight Special."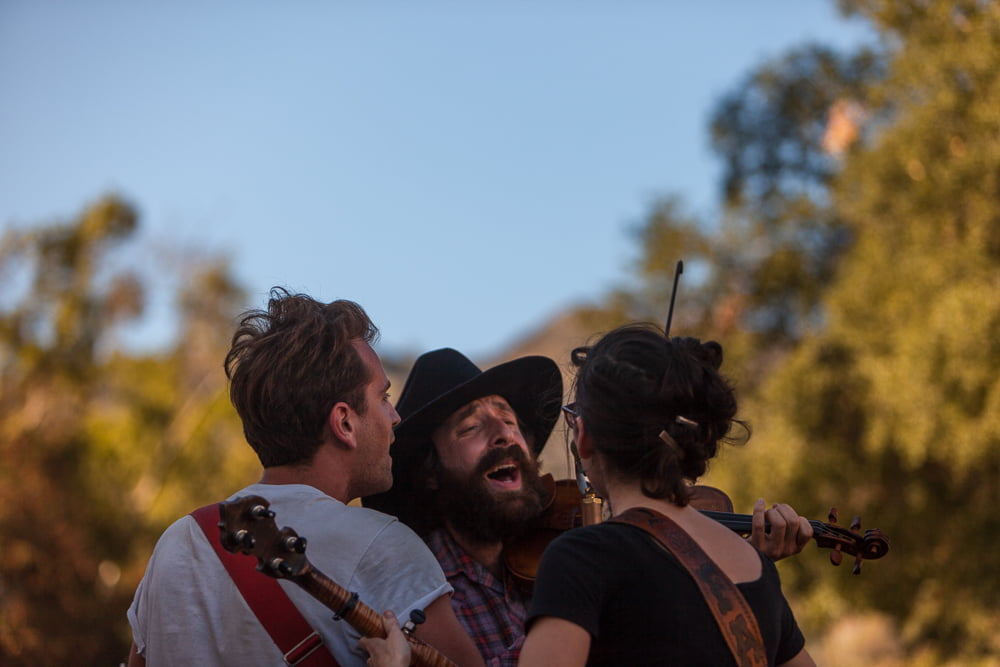 [Spirit Family Reunion; photo by Austin Nelson for BGS]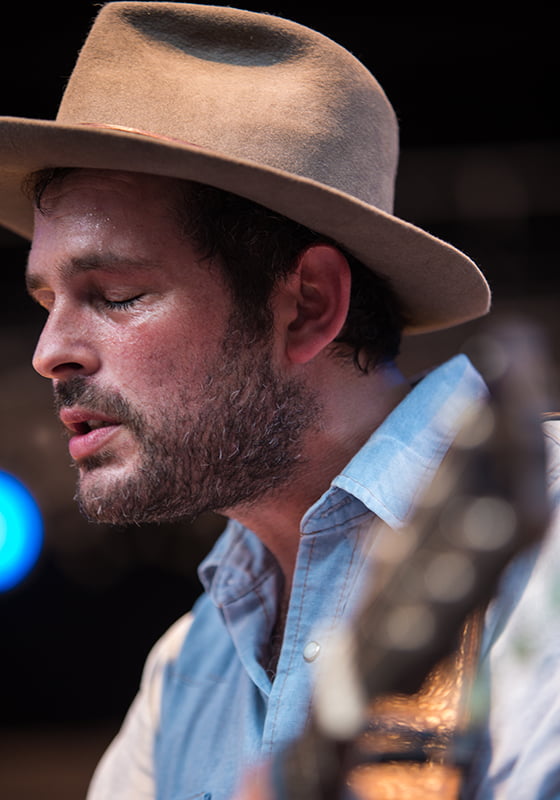 [Gregory Alan Isakov; photo by Austin Nelson for BGS]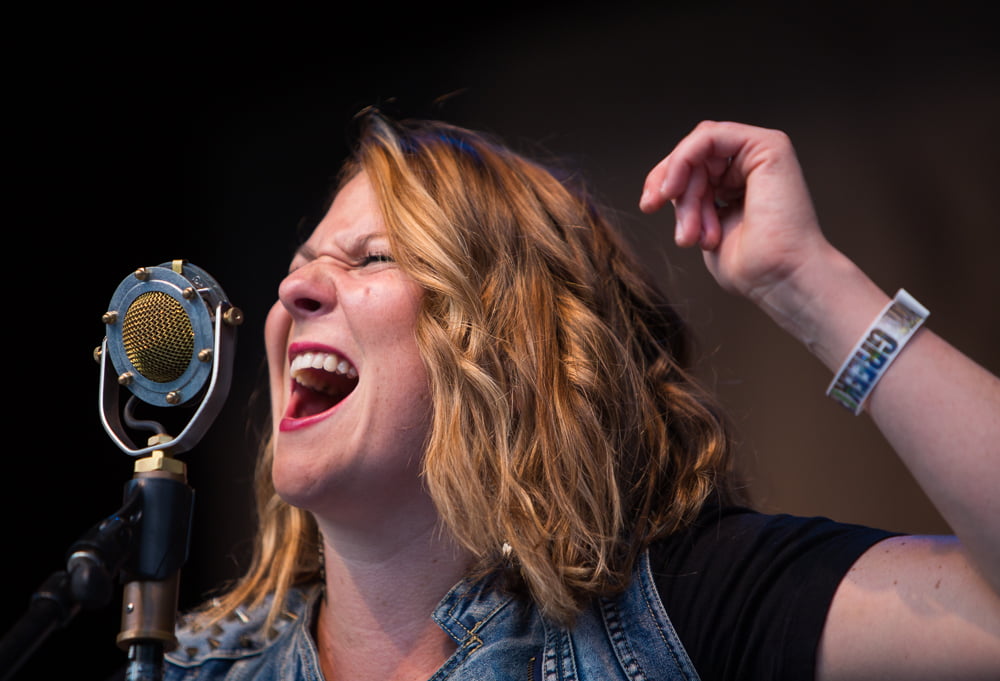 [Della Mae; photo by Austin Nelson for BGS]
Next came Brooklyn's Spirit Family Reunion (the only non-L.A. act of these opening sets), doing their rambunctious, rollicking thing. Their instruments always sound like tin cans, but their Pete Seeger-ish enthusiasm drowns that out. A rather overflowing crowd had gathered in the sunny plaza by the time Sam Outlaw and his band took the stage. I was able to hear him at AmericanaFest just a couple weeks ago, and his new Angeleno album is now well in my ears. So it was a joy to hear these great, easy-going songs rendered so well. Outlaw is bringing traditional country music back to Los Angeles and, from my limited knowledge, I'd say it's due for a comeback. He did his wry "Jesus Take the Wheel (And Drive Me to a Bar)" which made good use of pedal steel. Outlaw's got melodies to spare, as on the lush title track, "Angeleno." And the set closer, "Keep It Interesting," sets marriage counseling to an infectious groove.
With that, the main amphitheater opened up and its wild architecture was revealed. It has flights of seats on the wings that float above the rocky hillside. There's no lawn. But folks were mellow about seating so we could wander a bit and sit and visit as the music got going. And the music grew compelling very fast as Della Mae took the first set. They've been part of just about every BGS event I've ever seen, and rightly so, since they're injecting so much visionary, feminine badassery into the old tradition. The material from the new self-titled album drifts a ways from bluegrass, and the quintet opened the set with the opening of the record, the fist-in-the-air feel of "Boston Town" and the soul sway of "Rude Awakening." But, before long, Kimber Ludiker was leading a pulsing, knockout fiddle tune that led to fiery solos from mandolinist Jenni Lyn Gardner and guitarist Courtney Hartman. Lead vocalist Celia Woodsmith really uncorked on the Rolling Stones cover, "No Expectations," which suited the California air. She also summed up the whole deal with the proclamation that "We're in a pretty good spot in the world right now."
Gregory Alan Isakov, the South African-born, world-traveling songwriter, proved an inspired choice for a sundown set amid wilderness ambience. His quartet was adept at sounding like three times that many musicians, and the experience couldn't have been any warmer or dreamier. I was struck by "St. Valentine" with its sprightly banjo lines contrasting with a melancholy story and fiddle. Isakov has recently worked up his music with the Colorado Symphony, which he cited as "a mind-blowing experience," and even without that support, a few tunes built to orchestral peaks that could only be described as gorgeous. A patient, refined poet is Isakov — my friend fell ears over wallet for him and bought his CD on her way home.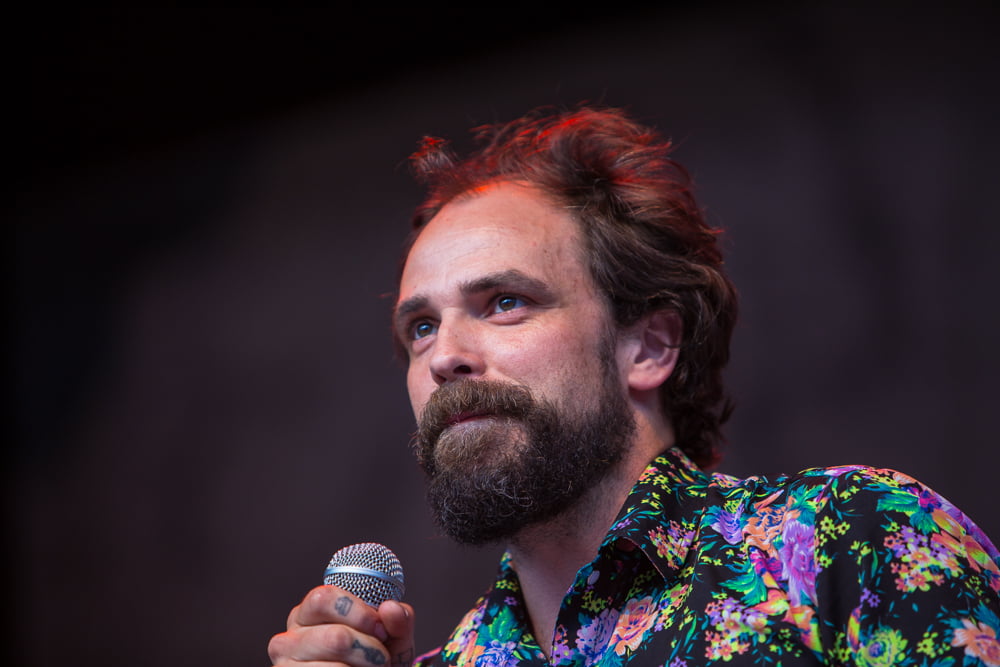 [Jonny Fritz; photo by Austin Nelson for BGS]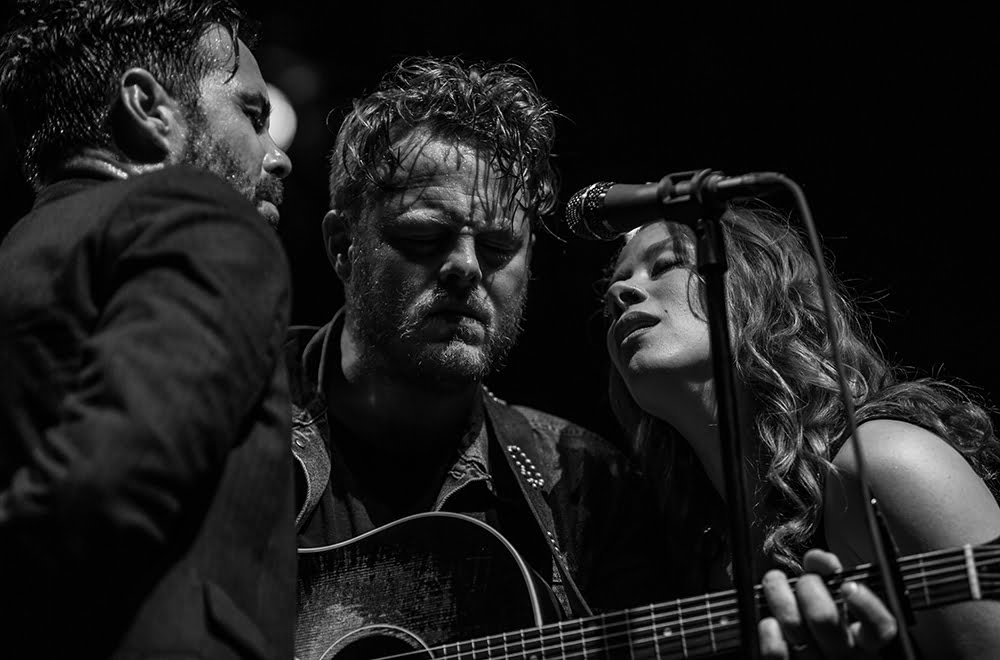 [The Lone Bellow; photo by Austin Nelson for BGS]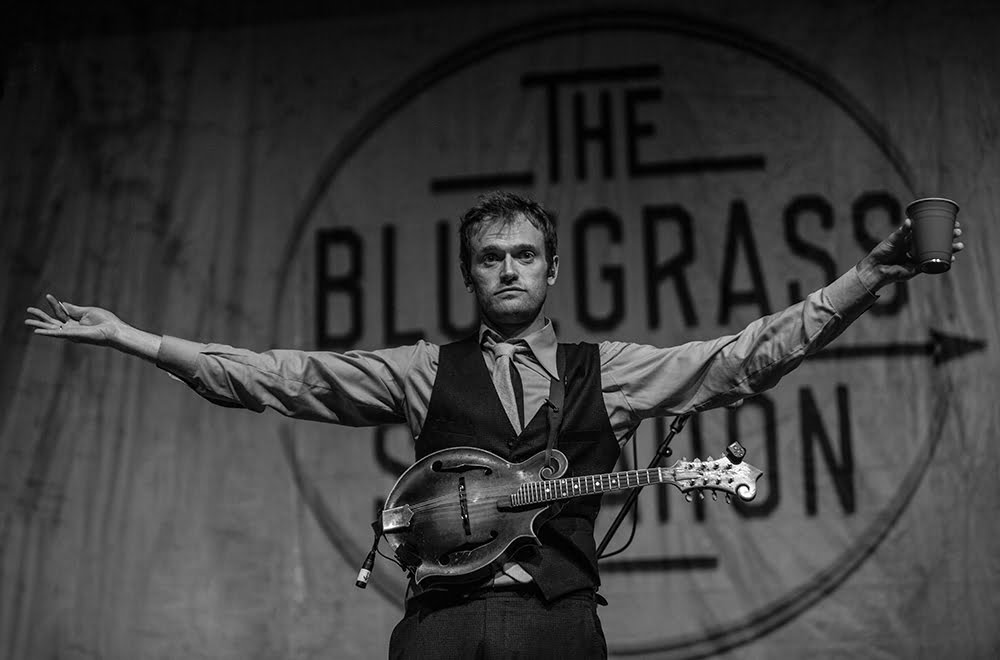 [Punch Brothers; photo by Austin Nelson for BGS]
The Lone Bellow would only up the ante on scale and power. If there's a better all-around vocal trio in folk-rock than Zach Williams, Kanene Pipkin, and Brian Elmquist, I don't know of it. Add a powerful rhythm section, steel guitar, and TLB's cagey, dynamic arrangements, and you've got a flood of sound and beauty. Typically rapturous on this lovely evening was "Green Eyes and a Heart of Gold" with its proud stomp- and clap-along feel. And to prove they can move with subtlety, too, the sidemen left and the three voices sang into one mic for "Watch Over Us" from the new Then Came the Morning. It's hard to hit exact pitches and evoke tears with just humming, but that's what happened. The place was transfixed even as the women behind me gasped in disbelief at both the blended voices and at Elmquist's leads. Mumford and who?
Then came the set about which I could — but won't — write six paragraphs. Punch Brothers put together the finest repertoire of their career as they set out to promote this year's The Phosphorescent Blues album. And they've refined that material over a busy 2015. The vocal parts — dense and complex like Brian Wilson's greatest work — have been honed to thrilling perfection for up to all five guys. The songs are fascinating art, yet retain a pop hookiness. The tenderness of "My Oh My" flowed into the snark of "Boll Weevil." The now quite old and classic "Watch 'at Breakdown" showed dense construction and funky freedom in the breaks. "This Girl" took on a swing I'd never heard that made for some blazing solos. Some of the new material features Gabe Witcher shifting from fiddle to drums and band-wide syncopation so stark and hard core I about came unglued. Then they played classic bluegrass around one mic and segued from that into an arrangement of a Debussy piano movement from 1890 arranged for five of the most complete musicians I've ever seen at work.
It was the perfect contrast and spacer between rapturous power folk and the earthy California rock of Dawes.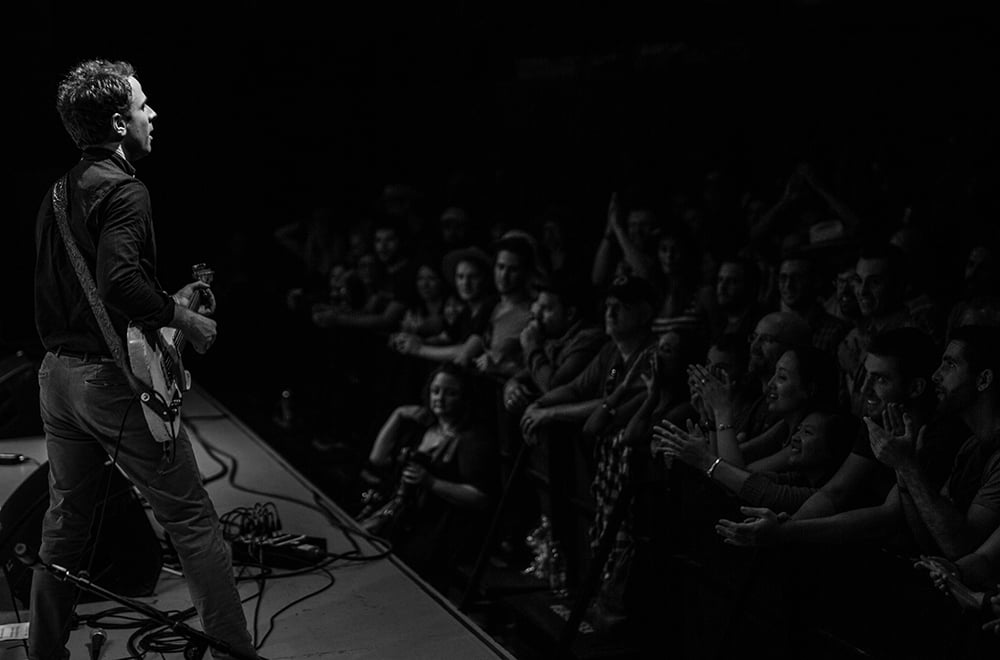 [Dawes; photo by Austin Nelson for BGS]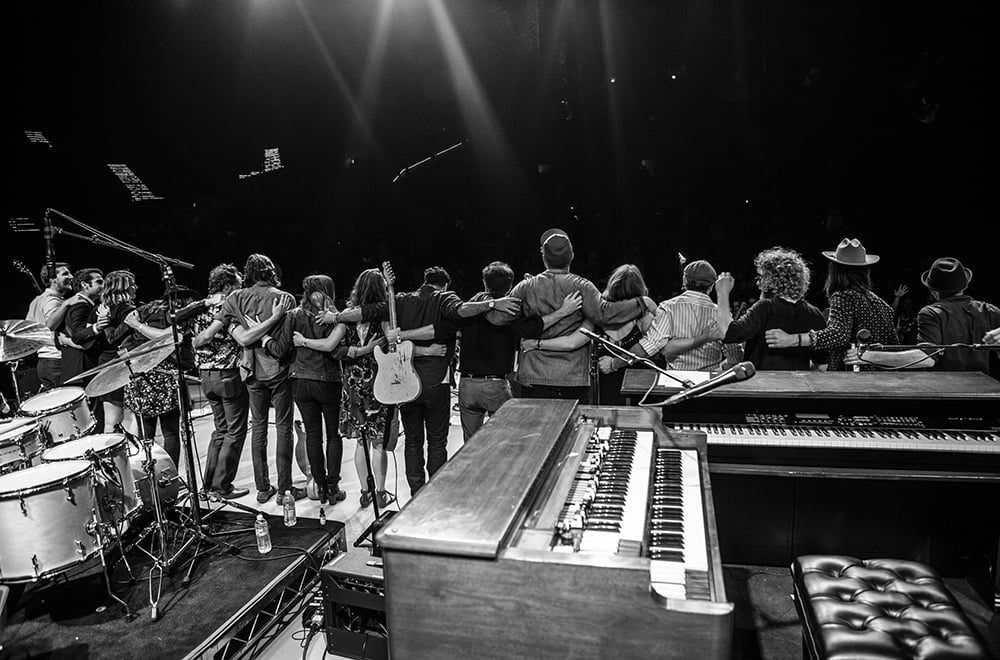 [A finale for the ages; photo by Austin Nelson for BGS]
Lead singer Taylor Goldsmith told the crowd ever so nicely that he and his Dawes brothers had grown up seeing their favorite bands play the Greek and that never did they dream their "garage band" would one day play here. Hell, I would have thought they had, given their widespread acclaim and deeply appealing sound. Seated so close to Laurel Canyon, the band's 1970s Jackson Browne vibes really stood out, but Dawes draws from a lot of wells — from Billy Joel to San Fran Jam. This was my first time catching these guys live and I'm no expert, but I heard an endearing culmination of a Golden State day with catchy tunes and some really fine songwriting. Standing out for me was "A Little Bit of Everything," the multi-scene epic from the 2011 debut album. And who wouldn't love the breezy, clean lines of "From a Window Seat." I see the band had a parting of the ways with its keyboard player just before this show, but I was really struck by this piano man and his interplay with drummer Griffin Goldsmith. This was just tuneful, rocking, and sing-along good.
There was a two-part finale, in which Dawes brought a few guests/friends out for their sardonic anthem that prays that "all your favorite bands stay together." That included song co-writer Jonny Fritz, who did a kind of backward stroll then a fair amount of ballroom dancing with the Lone Bellow's Elmquist. So as not to end the night with irony, a dozen more of the evening's musicians came back for a solid, benedictory of "Knocking on Heaven's Door." I was then extremely amused that the first track of recorded walkout music was Randy Newman's "I Love L.A." — not because that was in any way an odd choice, but because it was the walkout music I'd heard exactly 24 hours prior after my first-ever Dodgers game. And while I wouldn't have said it five years ago in my ignorance and inexperience, I think now I do love L.A., and the Bluegrass Situation is one very big reason.
---
Lede photo by Elli Papayanopoulos for BGS