I just got the glass out of my finger.
What a way to start a story. What am I thinking? Am I really about to be this honest about how clumsy I can be on a daily basis?
Umm, okay then … I guess this is happening.
Glassy fingers aside for a moment, though: Just so you know, I generally have the best of intentions when it comes to acting like I'm keeping it all together. You may believe that I've got most of it figured out (thanks, Instagram), but to tell you the truth — the only thing in my life that's figured out is my ability to try and try again. I've got that down pat.
I don't ever give up. I've contemplated it before (for real … who hasn't?) but the undeniable force for why I continue to move forward is because I am motivated by Love.
Love finds me in my broken-down state and, like a mechanic, it replaces my proverbial flat tires. It finds me in a crowded room hiding in the corner and walks up to me to tell me the perfect joke to make me laugh, making me forget the insecurities that had me backed into that corner in the first place.
Love gives me assurance that just as I am, I am worthy.
When I feel this way, all I want to do is pay Love forward. That's why I cook. More specifically, why I cook for others.
I can be so clumsy and scattered when I cook! I have such good intentions in the midst of the process. All I want to do is create something that will be worthy of repaying Love. Yet, I'm human and I'm just figuring it out as I go. I don't get it all right. Sometimes my gravy gets lumpy and sometimes my couscous gets gummy. Love doesn't judge my imperfection — whether in or out of the kitchen. Love gives me the freedom to express myself in an unguarded and ungraceful way, and it does not abandon me in the very moment of my courage.
With that kind of Love by my side, the most brilliant things begin to happen in my kitchen. I find a way to fix the broken gravy. I find a way to revive the couscous. I find a way to get the glass out of my finger from the bottle I broke because I had it too close to the edge.
We need Love now more than ever. Perhaps I sound like a broken record, but I can't deny what I believe to be true. We need Love to step in when our backs are up against the wall. We need Love to reset us when things have gone askew. We need Love to tell us it's okay when we clumsily break the bottle and get glass in our finger. Love is patient. Love is kind. And all that other good stuff.
Let us feast on Love as much as possible right now. I'll Keep On Keepin' On in my corner — and you make sure you do the same on your end.
Love,
Ruby
Here's a meal that you can make for loved ones to express your gratitude for their presence in your life this month or any month. Just don't put anything that's glass too close to your counter's edge. (There ain't no metaphor there. Just tryna keep you safer than I was tonight.)
LOVE'S FEAST: Coriander Roasted Chicken & Starfruit, Portobello Mint Lemon Couscous, Wilted Greens, and Pan Gravy
INGREDIENTS
Note: With this recipe, it is very important that you do all of your chopping and slicing before you begin to cook.
One medium whole chicken (I buy antibiotic-free and/or organic chickens)
1 stick of softened butter
2 Tbsp grapeseed or safflower oil
1 Tbsp kosher salt plus extra
1 Tbsp ground coriander
1 Tbsp brown or raw sugar plus extra
1/4 tsp ground black pepper plus extra
1/2 head of garlic, peeled
1 medium sweet onion, quartered
2 whole starfruit/carambola, cut into 1/4 inch slices
FOR COUSCOUS
1 small box of quick cooking couscous, cooked to package instructions*
1-1.5 cups of portobello mushrooms, diced
2 Tbsp fresh mint (more, if you like)
Zest of one organic lemon
2 tsp olive oil
Juice of half a lemon
*Whatever kind of couscous you choose — Israeli or small grain — will be fine. The Near East brand makes various fun flavors to choose from, or you can buy any plain variety and add your own ingredients like grated parmesan cheese, a 1/4 teaspoon of truffle oil, etc. The sky's the limit here.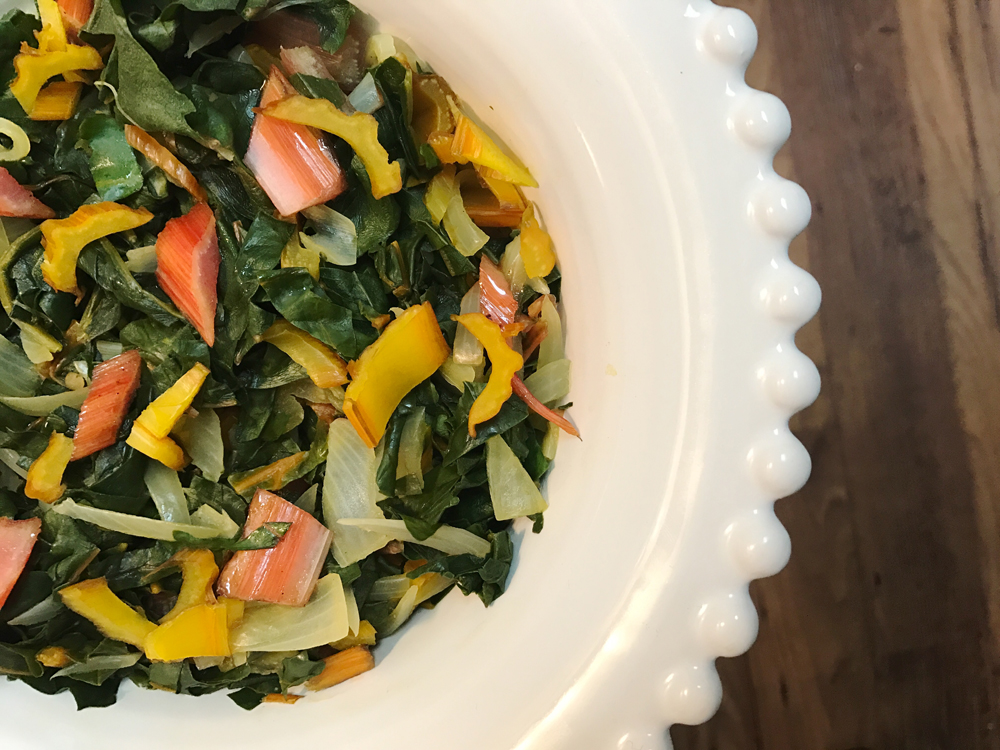 FOR WILTED GREENS
1 Tbsp water
1 bunch rainbow chard, kale, mustard, escarole, or turnip greens, chopped into bite-sized pieces (brown stems discarded)
1 small sweet onion, thinly sliced
2 Tbsp apple cider vinegar
FOR PAN GRAVY
All roasting pan drippings
1 to 2 tsp corn starch
2 large shallots, thinly sliced
Roasted starfruit (reserve half of it for final plating garnish) + roasted garlic and onions from pan, puréed until smooth
1/2 cup white wine (Sauvignon Blanc preferable)
1 cup or more of chicken stock
Parsley for garnish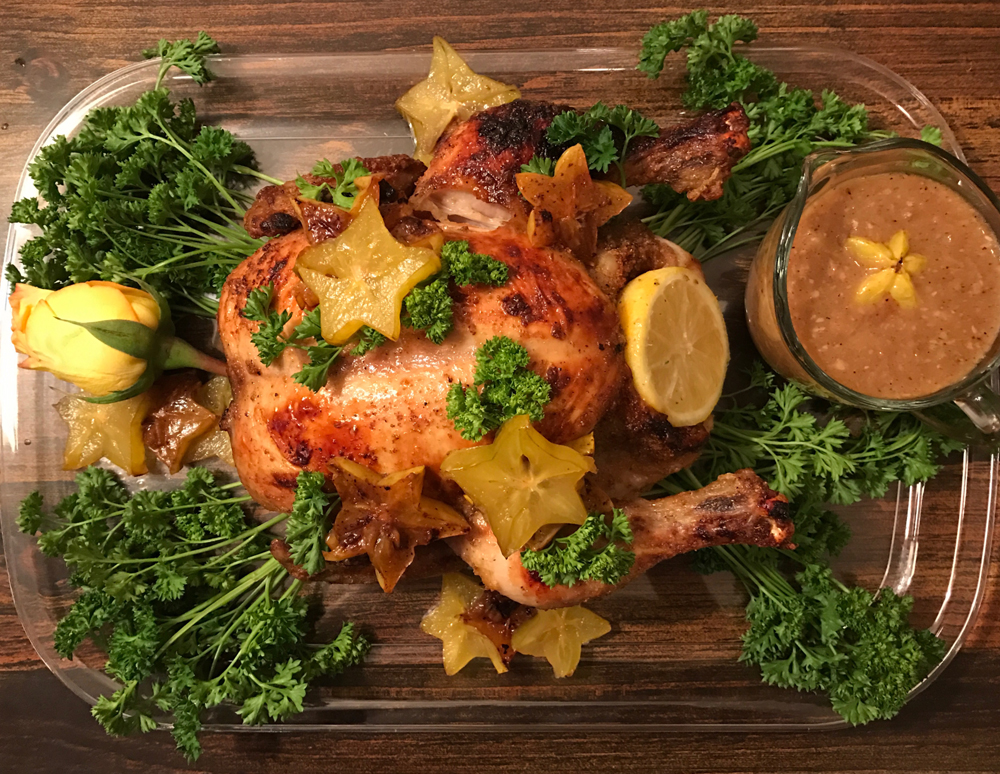 DIRECTIONS
Preheat oven to 450
Combine portobello mushrooms, mint and lemon zest and set aside.
Combine softened butter and oil in a bowl and incorporate well. Grease your roasting pan with 1-2 Tbsp of it, then massage the rest of the mixture evenly and generously onto and into the chicken. If there's extra, put it inside the cavity.
Combine well salt, coriander, sugar, and pepper. Sprinkle evenly and generously over ENTIRE chicken and inside cavity. Massage it in, if needed, and sprinkle on more. There should be very little of the spice mixture left over, so get it into every nook and cranny.
Place garlic and onions inside cavity and place chicken in preheated oven. (I don't truss it, personally.) After 30 minutes, flip the chicken over and cook for another 30 minutes, then re-flip the chicken and lower the oven temp to 400. Use foil to cover wing tips and breasts, if needed. Distribute starfruit slices evenly onto the roasting pan and roast the chicken and starfruit for a final 10 minutes. Remove pan from oven.
Use a spatula to transfer half of the starfruit (choose the prettiest slices) to a small bowl or plate and reserve for garnish. Use a spoon to transfer the remaining roasted starfruit, garlic, and onions to a blender or food processor and purée until smooth. Place pan drippings into a small sauce pot and set aside. Tent chicken with foil.
Prepare couscous. Once cooked, immediately fold in mushrooms/mint/lemon zest mixture, olive oil, and lemon juice. Salt and pepper to taste. Keep in pot, but set aside.
Take pot with pan drippings and heat to medium heat. When pan drippings start to lightly bubble, vigorously whisk in 1 tsp cornstarch (sprinkle it as you go; don't dump it in). Add shallots and cook until just soft. Add in fruit, garlic, and onion purée and continue to whisk. Add the wine and chicken stock. Whisk like you mean it. Lower heat, if needed. If it's too loose, whisk in 1 more teaspoon of corn starch. Lower the gravy to the lowest heat setting. Do NOT salt the gravy. It needs to be mellow to balance out the flavors of the chicken, which is very highly seasoned.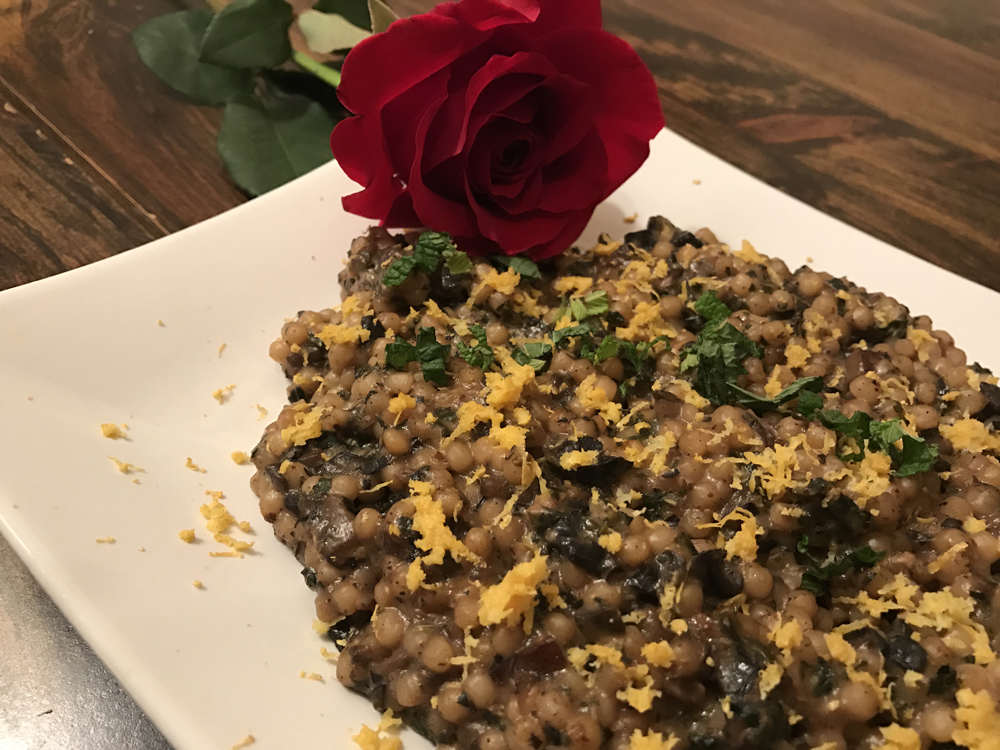 If you can multi-task, wilt your greens at the same time. If not, make your greens now. Add 1 Tbsp water to pot or pan and turn to medium high heat. Don't let the water evaporate! Watch for the initial water bubbles and add the onions and greens straight in. Add the cider vinegar and toss to coat. Cover for 2 minutes and toss again. Cover for final 60 seconds and toss again. You shouldn't need salt (especially if you use rainbow chard).
Transfer wilted greens to serving dish.
Plate your chicken and garnish with parsley and roasted star fruit.
Transfer couscous to serving dish.
Put gravy in a server.