Easter Time Leads to Communion Shortage Emergency
It was big doins at the Everbody's Goin' to Hell 'Cept Us Reformed Independent Pentecostal Holiness Bible Church of the USA in downtown Bitter End on Sunday for Easter. Deacons Claude Littlefinger and José Escambia Victor Herrera Rico Gomez, Jr. led a beautiful service in the place of Preacher Grundy, who is still laid up recovering from the Monday Thursday Snake Toss. Ms. Grundy told us that the Preacher's injuries occurred after the service when he was charmin them little boogers back to his parsonage across the road at the Krystyl Kamelot Trailer House Park. Preacher Grundy is up at the Methjaw County Medical Duplex in room, 1B if you want to send well wishes. The family is asking that Skoal Cherry Long Cut may be sent in loo of flowers.
The Ladies Auxillary was all dolled up in their beautiful long skirt Easter dresses and hats, and made sure the church was all cleaned up before the service. Auxillary President Shasta Hangnail recently lost her pet Peach-Faced Lovebird "Hoohoo" to a horrible vacuum cleaner accident, but her Hoohoo was with us in spirit and in person, as his torso adorned the top of Ms. Hangnail's beautiful Easter Hat. It was a sight to behold.
One little hitch did occur when we realized that the ladies had been so busy with their dresses and hats to remember to bake more communion bread to dunk in the Mountain Dew that Preacher Grundy blessed last week. Luckily, little Kandler Conway's mama Kathy had brought some of his Cinnamon Toast Crunch in her purse, and had enough for everybody to have one piece. Everyone agreed that this was much easier than baking and cutting them little pieces of bread anyway and it will be a new Easter tradition here in Methjaw County.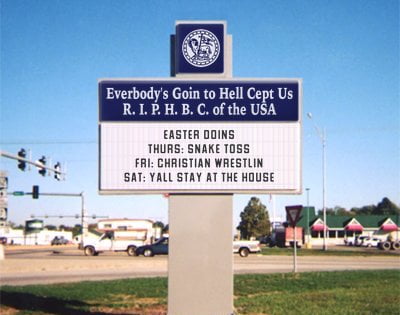 Easter Baby Miracle
After church, we all went down to the Waffle Hut to settle down with the traditional Appalachian Easter dinner of Fried Livermush, Fried Squash, Fried Snoutmeat, Boiled Peanuts, Fried Pickled Eggs, Fried Snickers, and fresh Kale and Goat Cheese Quiche Lorraine Tart ala mode.
Nobody was there long before Sheila Snodgrass hollered out that she had found a hyperdormant needle in her Livermush. Well, all the excitement of all the people rushing over to look at her plate threw Sheila into a fit and she acted like she was about to fall out from her high sugar. Turns out, Sheila has been pregnant for the last eight months but nobody knew about it (including Shelia) and she was a goin into labor!
As luck would have it, county nurse Cindy Shopvack was there eating and helped deliver a beautiful baby girl right there on a Waffle Hut booth table. Sheila ain't married and says she has no idea how the little baby got in her, so we reckon it must be a miracle Easter baby just like in the Good Book. Both mama and the baby she's named Easter Dinner Snodgrass are healthy and doing well and they're also down there at the Methjaw Memorial Medical Duplex in room 2B.
Coming Attractions
Melvin Rickards is hosting his annual possum shoot down at Rickards Farm this Thursday. $300 in cash prizes will be awarded, as well as a free qualifying spot at the Possum Shoot Festival and National Championships over in Dingleberry Ridge, West Virginia, next month. Melvin told us that there would be no repeat of last year, and he's fixed his mechanical sling shot up real good. Rickards said, "There should be no problem getting them possums up at least 50 feet in the air as required by International Possum Shooting Federation guidelines."
Keep follerin us on the Facebooks and on Twitters, and right here at the Bluegrass Situation for more news from back home in Methjaw County!
---
The above is a work of satire. Any resemblance to actual persons, living or dead, or actual events is purely coincidental … although entirely likely.