People have strong feelings about mushrooms — mushrooms and cilantro. One might overhear a conversation about them and mistake the subject for politics or religion. There are words like "hate," "disgusting," and "adore." I happen to love them. The earthy, umami taste of mushrooms is something I crave. Some of my favorite ways to eat them are in in velvety eggs, a salad of leafy greens and pecorino romano, and any sort of vegetable sauté.
Several years ago, when I was in a phase of experimental cooking, I would pour over cookbooks for hours and dream of all the lavish dinner parties I would throw. You know, as a broke 21-year-old could easily do! One of my favorite cookbooks during that time was Giada DeLaurentis' Italian Made Easy. I realize a celebrity chef's cookbook is not the modish choice, but every single thing I made from that cookbook was wonderful. There were multiple recipes for pesto, but the one that stuck was the mushroom pesto. I have made a few changes to it over the years, but I have to credit Giada for the idea. (Call me, girl!)
Most recently, I included it in a Father's Day meal with my family. We served it atop grilled steak tenderloin, salad, potatoes, and the most delcious homemade rolls, courtesy of my sister-in-law. My grandma wasn't so sure of the pesto, but a few other family members (who aren't keen on mushrooms) loved it. Today I decided it needed to be the star of the show. It may not be for everyone, but it's perfect, if you are looking for something unique to try!
I recommend pairing this with Anaïs Mitchell's Hymns for the Exiled. It's weirdness and awesomeness go well with the mushrooms.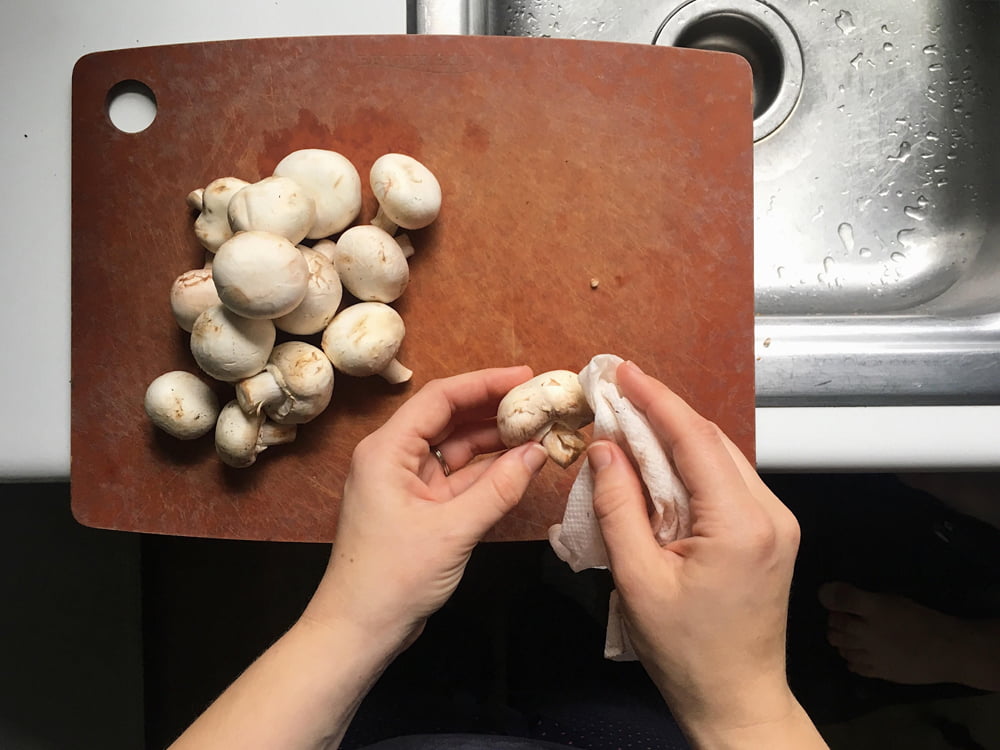 Ingredients
For the pesto:
1 ounce dried porcini mushrooms
8 ounces white button mushrooms, cleaned and quartered
3/4 cup walnuts, toasted
2 garlic cloves
1 1/2 cups fresh Italian parsley leaves
3/4 cup olive oil
3/4 cup freshly grated Parmesan.
Salt and freshly ground black pepper
For the rest:
3 ripe avocados, lightly mashed with salt and pepper
36 slices (1/2-inch-thick) baguette bread, toasted with olive oil, salt, and pepper
5 strips of bacon, cooked according desired doneness. You can obviously leave this out to keep it vegetarian!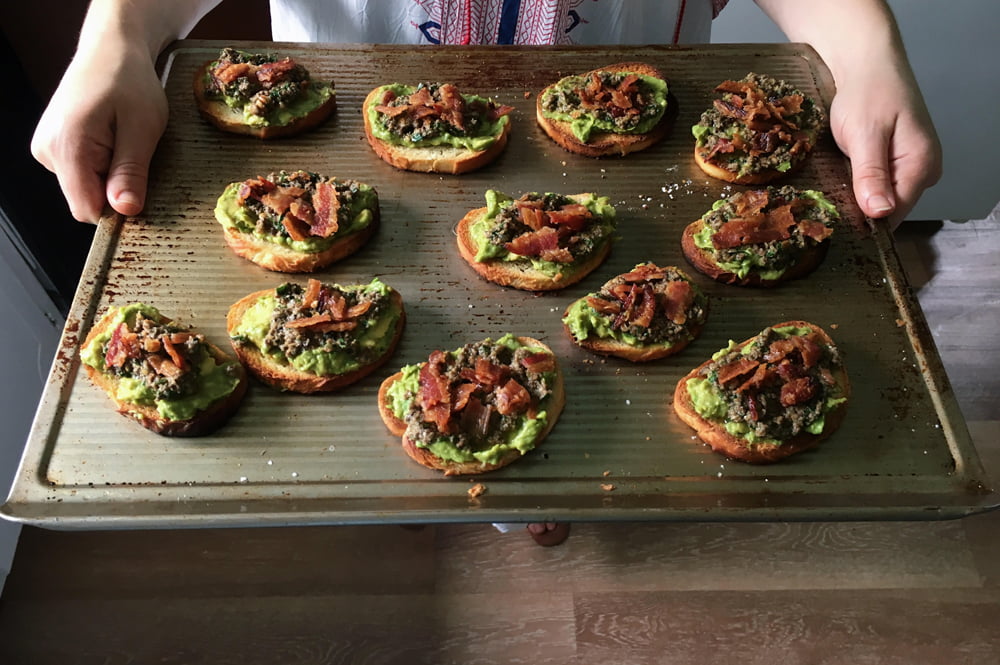 Place the porcini mushrooms in a bowl of hot water; press to submerge. Let stand until the mushrooms are tender — about 15 minutes. Scoop out mushrooms as not to stir any dirt that may have sunk to the bottom of the water. Discard mushroom water.
Combine the porcini mushrooms, button mushrooms, walnuts, garlic, and parsley in a food processor and pulse until coarsely chopped. With the machine running, gradually add the oil, blending just until the mushrooms are finely chopped.
Transfer the mushroom mixture to a medium bowl. Stir in the parmesan. Season the pesto with salt and pepper, to taste. If not using mushroom pesto right away, cover tightly with plastic wrap to prevent possible discoloration of mushrooms.
Layer each slice of bread with some avocado, mushroom pesto, and bacon. Enjoy!