Summer is my least favorite season. This may stem from growing up near Amarillo, Texas, where the months from June to August perpetually feel like a hair dryer — windy and dry. As a kid, water needed to be involved to tempt me outside. As an adult, I am learning to like it more. Moving to Tennessee has helped, but heat is still heat. I hate being hot, and I hate how my hair grows three times its size in frizz.
But there is one thing thing about Summer I have loved ever since I can remember, and that is the produce. I grew up a few miles outside of the city on my grandparent's land. Their house was just down the road from ours with fields of either corn or wheat in between. Each year, my grandparents would bring over whatever they grew in their garden: typically squash, zucchini, tomatoes, and corn (which we shucked ourselves). Summer brought our family a bounty of beauty to eat.
It still does. There are just so many options! Peaches, blueberries, strawberries, and watermelon. Tomatoes taste good on their own or with a pinch of salt and sliced basil. I tend to eat simpler because the food shines all on its own.
This strawberry pie is one my mom used to make when strawberries were at their peak. It is as lovely to look at as it is tasty to eat. A slice of this with a huge spoonful of whipped cream is bound to distract you from the heat.
And, of course, Patty Griffin's 1000 Kisses is the perfect accompaniment to baking and eating this delicious dessert.
Pie Filling Ingredients
9-10-inch baked pastry shell (See below for recipe.)
5 pints strawberries, washed and trimmed
2 cups sugar
6 tablespoons cornstarch
1 cup water
2 tablespoon lemon juice
Directions
Crush enough strawberries to make 2 cups. In saucepan, combine sugar, cornstarch, crushed strawberries, and water. Cook over medium heat until mixture boils and thickens, stirring constantly. Blend in lemon juice. Cool. Add the remaining whole or sliced strawberries to glacé mixture, tossing gently. Arrange in cooled pie shell. You may have some leftover filling. Chill for an hour or when it appears the pie is set. Serve with fresh whipped cream.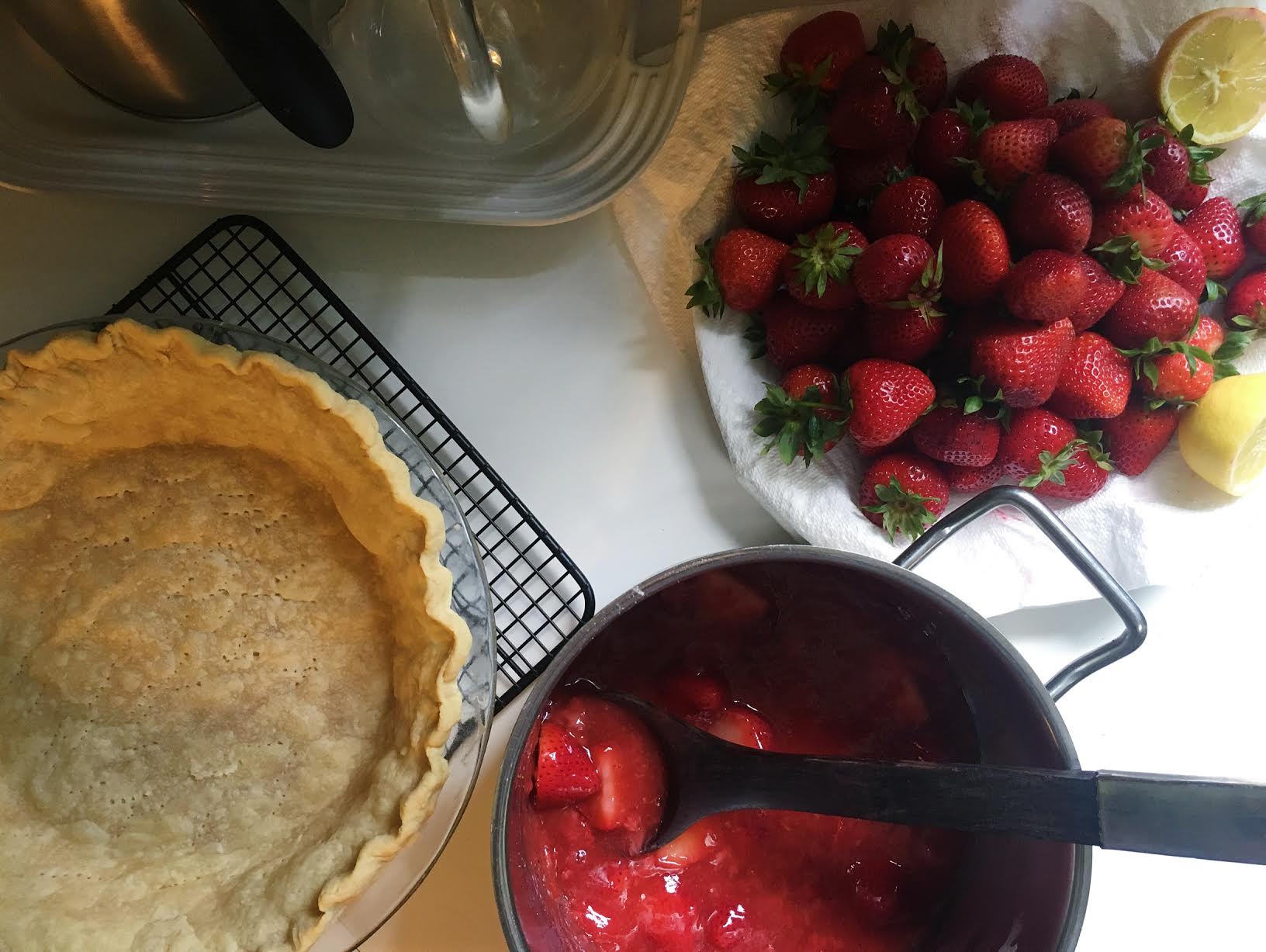 Pie Shell Ingredients (Courtesy of my best girl Miranda. She's a baking queen!)
2 2/3 cups all-purpose flour
1 teaspoon salt
1/2 cup shortening
1/2 cup cold butter, cut into pieces
7 to 8 tablespoons cold water or vodka. (That's right, vodka. It makes it especially flaky. Sometimes I do half water/half vodka.)
Directions
Mix flour and salt in medium bowl. Cut in shortening and butter, using pastry blender (or pulling 2 table knives through ingredients in opposite directions), until particles are size of small peas. Sprinkle with cold water (or vodka), 1 tablespoon at a time, tossing with fork until all flour is moistened and pastry almost leaves side of bowl (1 to 2 teaspoons more water can be added if necessary). Gather pastry into a ball. Divide in half and shape into 2 flattened rounds on lightly floured surface. Wrap flattened rounds of pastry in plastic wrap and refrigerate about 45 minutes or until dough is firm and cold, yet pliable. If refrigerated longer, let pastry soften slightly before rolling. Roll one round (save the other round for later!) on lightly floured surface, using floured rolling pin, into circle 2 inches larger than upside-down 9- or 10-inch glass pie plate. Fold pastry into fourths; place in pie plate. Unfold and ease into greased plate, pressing firmly against bottom and side.
Bake at 450 degrees for 10-15 minutes, depending on your oven. It's ready when golden brown. Cool on rack.
For another great dessert, try our Chocolate Pudding Cake with Caramel Sauce recipe.
---
When singer/songwriter Natalie Schlabs isn't in the studio or on the stage, she's quite often in the kitchen. Look for a new record coming soon.