Natalie Merchant was only 18 years old when she first joined 10,000 Maniacs back in 1981. A handful of years later, the politically inclined folk-rock ensemble was taking the world by storm as part of a generation of musicians who used their art as activism. When Merchant departed the band in 1993, it was to find her voice … which also happened to be the voice of her generation. Finding it, becoming it was something she accomplished right out of the gate with 1995's Tigerlily.
In the 20 years since that stirring solo debut, Merchant has mined Shakespeare, traditional folk music, environmental concerns, parenthood, and more to create a discography that is equally potent and poignant. This year, she turned her gaze back to Tigerlily, reworking the old compositions and releasing the new collection as Paradise Is There: The New Tigerlily Recordings. She also made a companion documentary that serves as a visual memoir, tracing her footsteps back from here to there and bringing us all along for the journey.
The first thing you say in the documentary is about, essentially, do-overs — what they mean and if they are even possible. The premise is that, if you could do anything differently, the butterfly effect, everything after it changes. Though it wasn't exactly a do-over, what have you gleaned from this experiment?
Well, I just made a record of everything I've gleaned over the last 20 years about these songs. The catalyst for the whole project was the string arrangements that I'd had written over the years for some orchestral shows. People really enjoyed the orchestral versions, so we decided to adapt them to string quartet and put them on the album. And then the 20th anniversary came up and it seemed like the right time to release the record.
If you had to pick one word to describe how the process went, how it felt revisiting these songs, what would it be?
Educational.
Even working off those arrangements, were you and the players able to go in without any other preconceived notions about how the songs have always been? Sort of deconstruct and rebuild them anew with your more mature musical vocabulary?
It's interesting because several members of the band weren't even born … [Laughs]
[Laughs] I was thinking that as I watched the documentary, actually.
[Laughs] They were in diapers when this record was made. And they had never listened to it before they started playing with me, so they had no preconceived notions of the songs, which was great. They may as well have been brand new songs. Then there were some of us in the band who have played them for years, like Gabriel [Gordon] who has been playing with me for 17 years, so he's been here for almost the whole ride.
I think we sort of reinvented the songs over the years every time we went on stage and played them. They've evolved into the versions we're doing now. A few of the songs, like "Where I Go" and "I May Know the Word" and "Jealousy," had been sort of left by the wayside years ago. And it was actually fun to rediscover them, especially "I May Know the Word." That was kind of an illumination. It was a song that I never felt I completely captured and then I left it behind. I think it turned out to be my favorite song on the whole project.
"Beloved Wife," in particular, hits me that much harder with 20 more, or maybe fewer, years on my relationships clock. Was that a similar thing for you? It's tricky, because you've been with these songs all along, but …
When I wrote that song, I was observing my grandfather's grief. Since then, I've lost my parents and other people I had decades-long relationships with, so I understand death now in a different way. I've sat with many people who died. It's just part of the age, I think, and experience. My father actually just passed away in September. And, since it was his father I wrote the song about, it made the feeling in the film different for me — seeing that photograph of my grandfather, having just watched my father pass. It makes the circle complete, in a way.
Right. How do you process having touched so many people with your songs, especially "Wonder"? Is that something you can get your head around, or your heart?
It continues to astound me, how many people have been impacted by that song. I think it's also — it's a powerful song — but it's also such a scarce topic. There aren't a lot of songs about children, to begin with. [Laughs] If you were to make a bar graph of how many songs are about break-ups, initial romance, and sexual craving … and then when you got to what all that leads to, which is children … [Laughs] Nobody has anything to say about that. Maybe they're too busy picking crumbs off the floor, but …

[Laughs] The romance is gone, at that point.
But the romance, for me, really began with my child. The greatest love of my life is my child. And, to write a song about a child with special needs, takes it into an even scarcer part of the graph with a fraction of a percentage of songs. [Laughs]
[Laughs] Yes. Exactly one song. We can probably safely say there's just this one song.
Yeah. There's one song. And I wrote it. And people have radar for that. They are looking for their own experience in art. When they see it and recognize themselves, it's powerful. And it's positive.
That's the other thing: So many people with a special needs child feel like they are the object of pity. And they really feel their experience is so much more than the challenges. There's so much joy and connection … and achievements. Incredible achievements. And they are made even more profound and more powerful because of the challenges. I think they are valued more. I think those kids, when they do achieve … like in the film, when Kate and Kelly graduated from college, I was there. It was a massive accomplishment for them to get those bachelor's degrees. They would have agonizing nursing care, sometimes eight hours a day, and they were still able to write the papers and study for the exams. And they both graduated with honors.
Wow. Those kinds of stories certainly put so much into perspective. Not to belittle anyone else's strife or compare people's pains …
And that's the thing that Kate and Kelly used to say to me all the time: "We don't quantify pain around here. Pain is pain." I would always say, "Oh, you don't want to hear about my problems." And they'd say, "We don't put it on a scale. We understand pain, so you can talk to us about it." [Laughs]
If In My Tribe or Blind Man's Zoo came out today, how do you think those would be received? "Gun Shy," "Jubilee," and "Hateful Hate" … they are just as relevant and could all certainly stand a comeback right now with everything that's happening.
I don't know. The music industry is a very mysterious creature these days. There's an artist like Adele who can sell millions of records in a week, and artists like myself who used to sell millions of records and now … It's just harder to reach the audience. I don't know. I don't know how receptive the culture is to more serious pop music that examines the soul or examines society.
I came up with 10,000 Maniacs, R.E.M., Tracy Chapman, and Indigo Girls as my influences and idols. And I'm not sure I see the same kind of art as activism pouring out of younger musicians these days. Do you feel like the upcoming generation has that in them? Or is your group still carrying the flag for now?
I recently met Aloe Blacc and I think his music is definitely of the same character as Tracy Chapman's or my music. I'll be honest with you, I'm not as aware of pop music as I used to be. But someone like Ray LaMontagne is out there making thought-provoking music.
I think there are certainly singular examples, but it felt to me, back in the late '80s and early '90s, that there was a whole class of artists who were in the same vein. But maybe I was in a little bit of a bubble.
There's also someone like Billy Bragg. He really remained true to his principles and became very active in politics. I can remember the first time I saw Billy Bragg. I was playing a club in Brixton with him and he was passing a bucket for the miners who were on strike. I'd never seen that before. It felt like something from the Woody Guthrie days.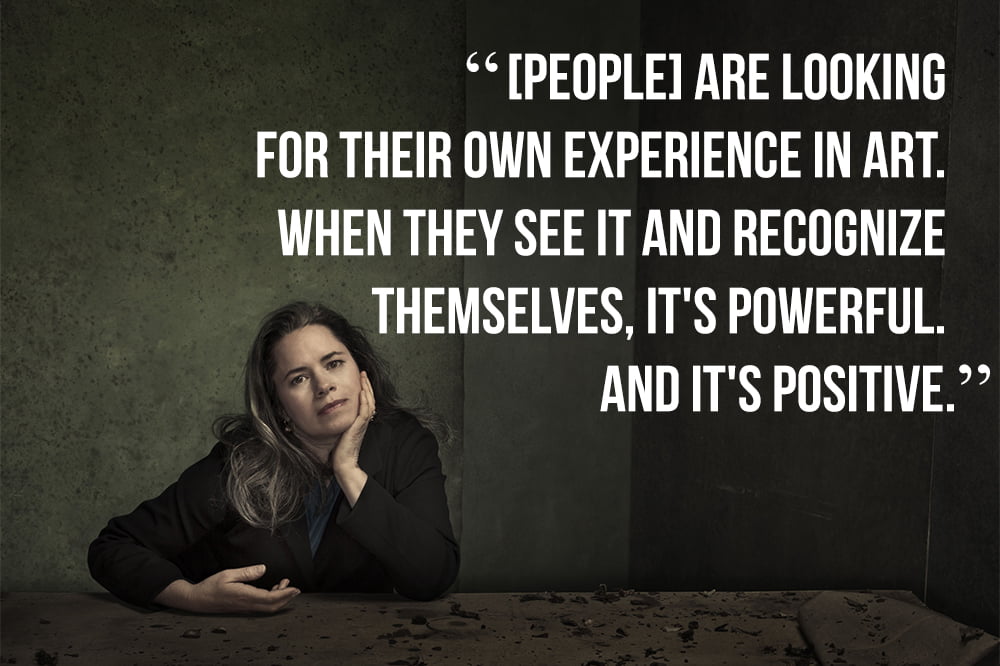 Is it safe to say that artists like Mavis Staples, Sweet Honey in the Rock, Joan Baez, Buffy Sainte-Marie … are those elders some of the artists you look up to? Because they are all still going. They all have new projects.
Yeah. I'm hugely influenced by them, especially Joan Baez. Talk about someone who has remained true to her principles since day one. She's a powerhouse of integrity. When Pete Seeger died and everyone said, "No one will ever take his place!" I was like, "What about Joan Baez?" [Laughs] She's still playing in prisons.
Yeah. They're still carrying the flag, themselves. Considering all that's going on in the world, is your perspective at all different whether you're looking at it as an artist, an activist, a parent, or a woman? Does one of those identities feel more or less pressure to step up? Or are they indistinguishable?
I think that, over the last six years, my activist facet of my work and life has become much more pronounced. It's a result of feeling older and more responsible and more experienced — knowing how to accomplish things like organizing big benefit concerts or making films about something. I made a film about domestic violence and I was really involved, for four years, in the the campaign to have fracking banned in New York. We succeeded and everyone credits the film we made, and I was the person that decided we needed to make that film, that we needed to have that concert and have those filmmakers collect the film and photographs that presented evidence and the testimony of people whose well water had been contaminated in other states where hydraulic fracking was already happening. I just didn't have the skill set and the confidence to do that [when I was younger].
And the film about domestic violence was the same thing. When I was in my 20s or 30s or, even, 40s, to have the wherewithal to contact special prosecutors from two counties and have them at the table with me and say, "I need to know what the statistics are in our region." And say, "I want to create an event and a film around that that's going to be moving and motivate people." I just didn't know how to do that then. The music, as in making albums and going on tour and promoting my own work, has taken a back seat to the work that I've done trying to use music as a tool for advancing social justice.
And, yet, two records in two years from you.
Yeah … [Laughs]
[Laughs] Fertile time or fluke timing?
I feel like the domestic violence film and the campaign around that was the moment … When I finished that, I realized, "I need to make a record again." [Laughs] I really hadn't made one since Leave Your Sleep in 2010. It's funny because people would say, "Oh, you're not very prolific." And I'd say, "Well, for somebody who's not prolific, I feel like all I do is work!" [Laughs] But the work that I've been doing is more community organizing and creating these multimedia protest pieces and being a mom.
---
Photo credit: Dan Winters