I've tossed. I've turned. I've sighed. I've gagged. But I'm gonna do it. I'm gonna give you my pie recipe.* I'm gonna suck up my selfish pride and share with you the very thing that gets me invited back into people's homes, time and time again. The thing that people talk about for years on end after having tasted it just once. The thing that two men (who shall remain nameless to protect their lives) have said out loud to me, "It's better than my grandmother's pie" while clenching their teeth and ducking in front of me for some reason — as if they expected the spirit of Gram Gram herself to come up out of the ground and smack them in the back of the head.
Hozier got one. Lee Ann Womack got two. Jack White got three (one of which John C. Reilly told me that he unapologetically devoured — Jack's birthday peach pie — in gluttonous revelry).
The list goes on. No, this isn't a failed attempt at a humble brag. It's a full on gauntlet thrown down. Consider this similar to one of those infomercials, where it sounds too good to be true, but then you spend the money to order the product and it gets shipped to you and you try it out and find yourself saying, "Well, I'll be a monkey's uncle! You CAN stick a peppermint wrapped in plastic into that hot skillet and it WILL NOT STICK." Money. Well. Spent.
So let's just get down to it because, if I write about this any more, I'm gonna renege. Big Time.
First things first — or, rather, one thing only: IT'S ALL ABOUT THE CRUST. The pastry, baby. The pastry. This is where you cannot cut corners. You need to go on ahead and buy the good stuff. I can't promise you that your pie will turn out like my pie if you don't want to fork out the cash for the organic all-purpose flour and organic *salted* butter (which is blasphemy to many, I know … trust me, I know). If you use vegetable oil, margarine, or whole wheat flour (what is even wrong with you?!) or any myriad of substitutions, don't write to me to ask why it didn't work for you. Also of note: This is not me saying that other pie recipes which utilize the aforementioned ingredients are crap. I have had many people's pies and many people's pie crusts and enjoyed them. Not everyone follows my code. I'm not here to say this is The Be-All End-All Mouth Explosion. I'm just telling you that it has been that, in my experience, to folks near and far.
Also of note: I studied under the tutelage of one Judy Brooker, a multiply awarded pie maker in Wisconsin, who happened to also give birth to my longtime musical brother, Sam. (She should get an award for that, too.) Although my recipe is different from hers, I wouldn't be who I am today without her. Thank you so much, Judy.
To steady my nerves (due to the big reveal), I'm listening to Joni Mitchell's song "The Circle Game" from her album Ladies of the Canyon. I'm actually listening to the whole album, but this song, in particular, is poignant to me at the moment, thinking about the seasons changing — not just in nature, but in my own life. You can't fight it; you just have to give in. It's better that way, really. And also because pies are, well, round … and round … and round.
Okay. Love you. Buh-bye.
*Full disclosure: I have a few pie recipes. I'm only giving you one of them. This is my basic, no-fail, peach pie recipe. As for the others, you'll just have to invite me over for dinner sometime.
INGREDIENTS
For the crust
2 cups organic all-purpose flour (plus extra for flouring your rolling pin and your surface)
2 sticks organic salted butter
1/4 cup organic cane sugar
1-2 cups of very cold, pulp-free orange juice
1 egg, beaten
1/4 cup brown turbinado sugar
For the filling
3 16 oz packages of frozen peaches
2 tsp lemon juice
2 cups organic cane sugar
3 Tbsp organic all-purpose flour
2 tsp ground cinnamon
DIRECTIONS
Preheat over to 350.
Place frozen peaches in a large bowl. Sprinkle lemon juice and all of the sugar on top and toss well to coat. Leave in the fridge over night or for at least three hours in the fridge to expel unnecessary juices.
With a large, wide knife, cut all butter into 1/2 inch cubes. Transfer to a small, chilled bowl.
In a 7-11-cup food processor or large mixing bowl, add flour and sugar. Using the pulse setting on your processor or a manual pastry cutter, add butter into flour in fingerfuls, pulsing or cutting in the butter until incorporated. If using the processor, that will be about 6-8 pulses. If using the pastry cutter, work it in until there are no large cubes noticeable. Repeat this step gradually until all of the butter is incorporated. The mixture will be a pale yellow, when it's ready. It doesn't have to be pea-sized crumbles. It just needs to be crumbly and pale yellow with no white flour streaks showing. If you still have white flour exposed, process the mixture more until the color is that even, pale yellow … but NEVER knead your dough. Ever.
Pour ice cold orange juice in tablespoons into the mixture and pulse or process until evenly distributed. Keep adding o.j. in tablespoons until it starts to look and feel like pie dough, pulling away from the sides of the bowl. Pinch a small piece of it with your fingers. If it holds together without crumbling at all, then it's ready to roll out. Don't worry if you get the dough a little too wet by accident. You'll just need to coat it with more flour before you roll it out.
Dust a clean, dry surface with a quarter cup of flour. Spread evenly in a loose, round pattern with a circumference wider than your dough will be rolled out to. With a gentle yet firm motion and either a spatula or an open palm, collect the dough into a large ball. Place the ball in the center of the flour on the surface. Sprinkle extra flour onto the dough ball if it's sticking to the surface or onto your hands. Cut the dough ball in half and wrap each ball in plastic wrap and put in fridge … if you want. I, personally, only do this task sometimes. Mostly, I take my rolling pin to it immediately and lay it into my pie dish, add my fruit and top crust and bake it straight away and it's amazing. However, if I've accidentally added too much liquid to it, I will do the refrigeration step because it firms it up enough for me to roll it out.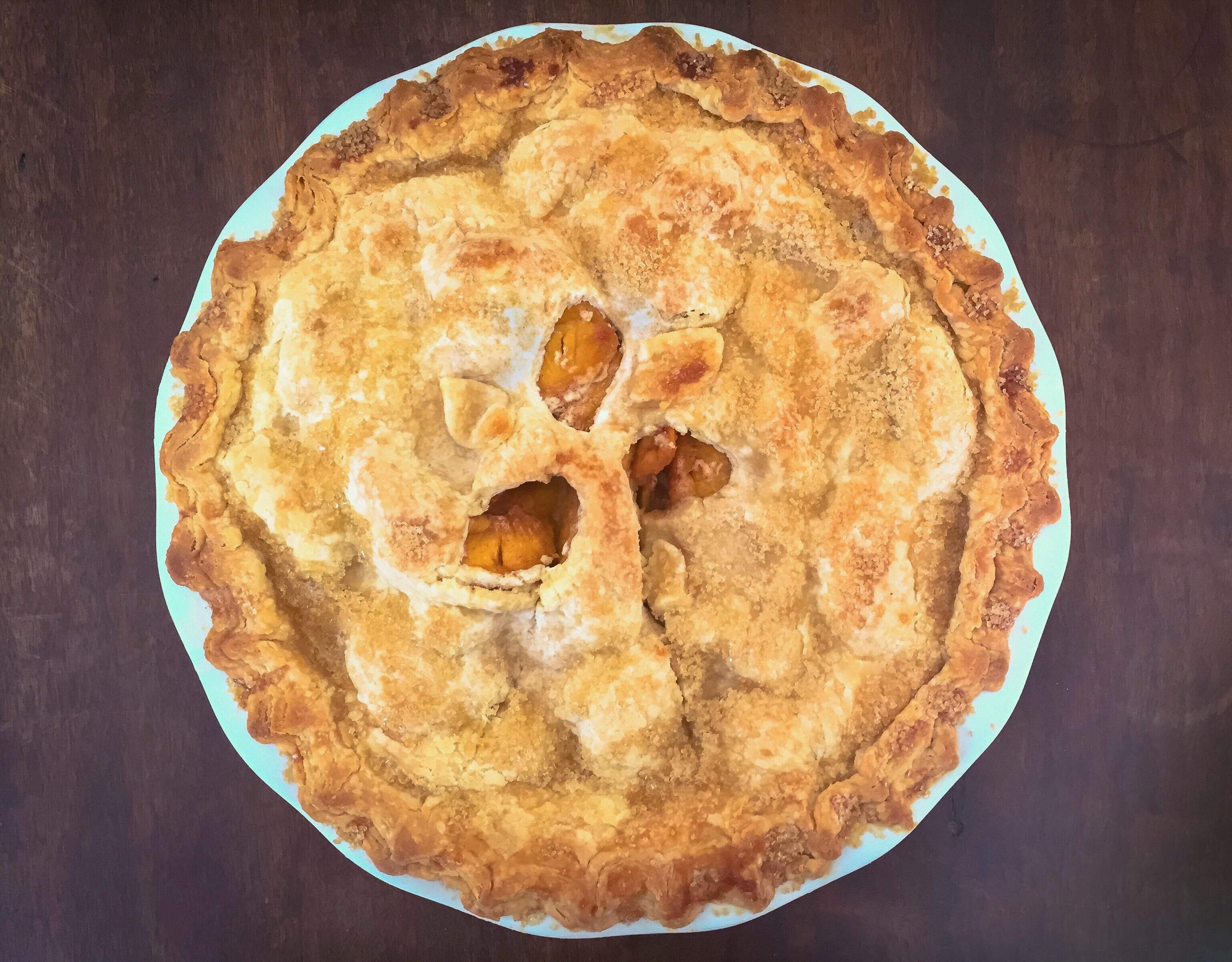 Watch a tutorial on how to properly use a rolling pin on dough and roll out your dough into two rounds about 10 inches wide. If you don't know how to do it, it's unfortunately something you just have to see and then experience to learn how to do it. You can also hire me for 50 bucks to come over and train you. It's rather exhilarating once you learn how.
Lay your bottom crust into a 10-inch pie dish. If you only have a 9-inch dish, that's totally fine, too. You will have excess dough on all sides. Take a butter knife and cut around the edges against the side of your dish, leaving 1 inch of dough hanging over the sides. Drain out the majority of liquid from the now-thawed and sugared peaches. Don't worry: It will naturally make more. Add 3 tablespoons of flour and toss to coat. Add cinnamon and toss to coat. Drain one final time, if need be. Pour peaches into pie dish.
Place top crust onto peaches and seal both edges of the dough by crimping and pinching the dough together, little by little.
Take a paring knife and create some air pockets towards the center of your top crust. Get creative. It'll taste good no matter what it looks like, so might as well have fun with it.
Brush your beaten egg onto every bit of exposed crust that you can see. Sprinkle brown turbinado sugar liberally and evenly onto your entire crust.
Place a baking sheet wide enough to catch any potential spillage onto the oven rack just beneath the rack that the pie is going to go on. Place your pie on the center rack of the oven.
Bake until it smells and looks good.**
**Sorry. Some things just have to be instinctual. If you are watchful and trusting of your gut, you will not fail in this. I believe in you. I will strongly advise you to purchase pie edge covers, though, to cover your crust's edges in the oven once they start to brown slightly so that they don't burn.
To follow Ruby Amanfu's culinary adventures, check out Recipes by Ruby. Prefer strawberry to peach? Give Natalie Schlabs' pie recipe a whirl.