As I type this, I am confiined to the attic of my house. Sitting on the carpet, I can feel the hum of the drill below. Downstairs, there are several nice men sanding, painting, and returning light fixtures to their proper places. Since the day we closed on this house a few months ago, we were ushered into the realities of owning a home. After waking up with headaches consecutively and feeling like we had the flu, we realized we must have some sort of gas leak. We did — carbon monoxide. We were advised to call 911. Firemen came, followed by our gas company, who turned off our gas. It was dramatic. We didn't have hot water for three weeks. Then came the refrigerator. It froze every ounce of food we had several times. A few frozen heads of lettuce later, we reluctantly got it fixed. The fridge then stopped cooling and everything became too hot. That time I fixed it, because I'm a strong, capable women. And, I have access to Google.
Along with that, our kitcken sink and bathroom tub have been clogged, and our electrical meeter got struck by lightning. After all those fixes, we decided to still move forward with the renovations we had planned before we moved in. There has been dust in every inch of our house for a month, but today! Today is their last day, and everything looks great. In light of recent events concerning Houston, Florida, and the Caribbean, I'm immensely grateful for a dry and comfortable place of my own. My heart is with those who do not have that privilege.
Getting back into the kitcken this week has been a welcome repose. There's nothing quite like throwing a record on and chopping, searing, sautéing, stirring. It's relaxing and it feels good to be productive. I was especially happy to break in our new-ish kitchen with a comforting and hearty dish I'm going to share with you today. Macaroni and cheese!
I never grew up eating Kraft, so all my memories are tied to my grandma making it with Velveeta and milk on the stove. As much as I love mac and cheese done that way, I'm giving you fancy mac and cheese. (Any recipe that has béchamel is fancy to me.) And, like a good Southerner, I've added pimento peppers!
I'm pairing this with Norah Jones' Feels Like Home.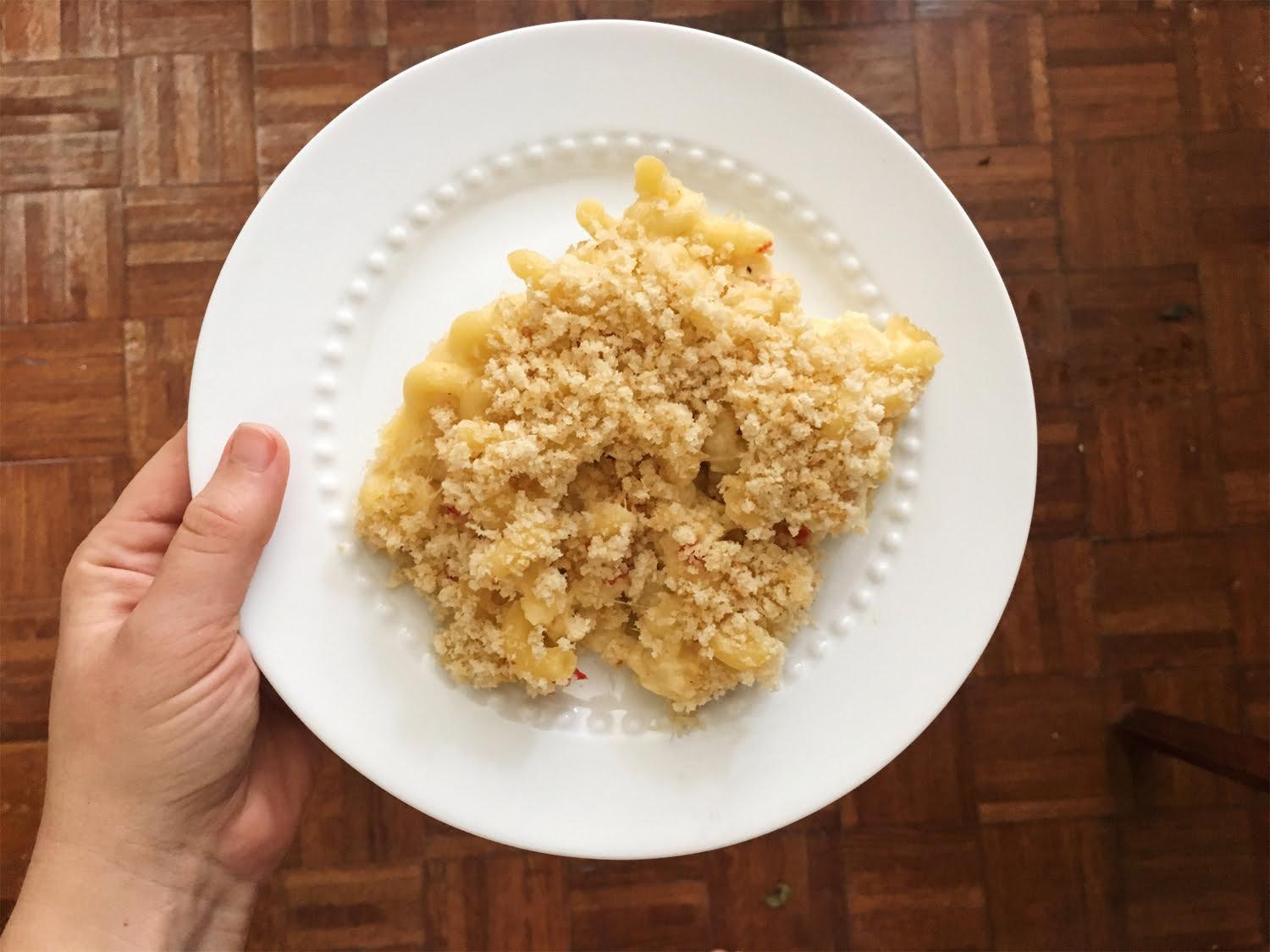 Ingredients
Kosher salt
1 pound elbow macaroni or cavatappi
1 quart whole milk
8 Tbsp (1 stick) unsalted butter, divided
1/2 cup all-purpose flour
12 oz gruyere, grated
4 oz smoked gouda, grated
8 oz extra-sharp cheddar, grated
1/2 tsp freshly ground black pepper
1/2 tsp ground nutmeg
5 slices of bread with crust removed
4 oz jar of pimentos
Directions
Preheat the oven to 375 degrees. Place bread into a food processor or chop finely. Spread out on a cookie sheet and toast for five minutes. Next, heat a pot of water on the stove until boiling. Add salt and a splash of olive oil. Add the macaroni and cook according to the directions on the package — six to eight minutes. Be sure to drain well. Chop pimento and drain. Place a paper towel over and press gently to get rid of any remaining liquid.
Heat the milk in a small saucepan on a low to medium heat, making sure not to boil it. Melt six tablespoons of butter in a large (four-quart) pot and add the flour. Cook over low heat for two minutes, stirring with a whisk. While whisking, add the hot milk and cook for a minute or two more, until thickened and smooth. Take off the heat and add the gruyere, cheddar, and smoked gouda, one tablespoon salt, pepper, pimento, and nutmeg. Add the cooked macaroni and stir well. Pour into a 9×12 pan.
Melt the remaining two tablespoons of butter, combine them with the fresh bread crumbs, and sprinkle on the top. Bake for 30 to 35 minutes, or until the sauce is bubbly and the macaroni is browned on the top.