On August 11 and 12 Queerfest returns to Nashville, Tennessee, after its first in-person event in 2022 was named Nashville Scene's Best New Music Festival. The multi-venue festival and celebration of queer folk, roots music, and indie will take place at three popular Nashville music venues – the 5 Spot, Dee's Country Cocktail Lounge, and the Basement East – and will feature over eight hours of programming from LGBTQ+ identified musicians from across the genre landscape. (Full lineup and schedule below, tickets available here.)
In anticipation of this year's event, we spoke to festival founder, community builder, singer-songwriter, and BGS contributor Sara Gougeon, founder and director of Pineworks Creative, about Queerfest, its growth, and why queer-centered communities are so vital, not just in Music City but in the music industry in general.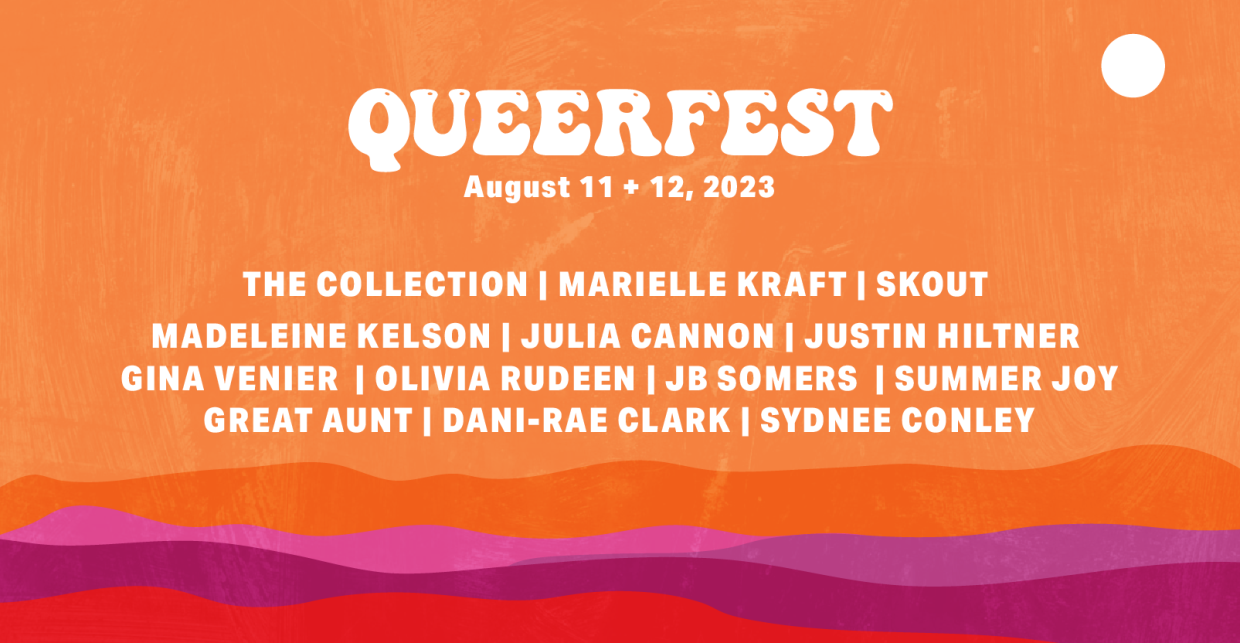 Congratulations on your second in-person Queerfest and your third ever! What are you looking forward to during this year's festival?
SG: I'm so stoked about the lineup and the community. There are SO many phenomenal LGBTQ+ artists on this year's lineup. And I'm so excited to bring the community together again in a way that supports queer music, artists, and organizations. I'm really looking forward to soaking up that energy.
Are there particular artists on the lineup you're excited to have this year? Who are some of the artists and bands you think the QF audience will be most excited to discover?
I'm honestly excited for the lineup as a whole. As a songwriter and musician myself, I'm very particular about the artists and bands that I chose to book. If I had to choose one stand out band, it'd be The Collection. Their live show has this electric live energy and they also just seem so genuine. I'm stoked to be booking them. I love highlighting great music all around – regardless of how big the artist is. Sydnee Conley and Dani-Rae Clark are two up-and-coming artists who might not be as well known and their music blows me away. And Great Aunt who is coming all the way from Australia!
How would you describe the growing and blossoming queer music scene in Nashville, and more broadly, in the music industry as a whole?
What an interesting question. There's been so much growth and acceptance within the industry. I'm always blown away by how many phenomenal queer artists there are in Nashville. The industry as a whole is definitely seeing more artists come out.
It's actually incredible to talk to artists who are a few generations older about that growth. I've heard stories from artists who were kicked off their label after coming out. Unfortunately, there's a lot of history of that sort. But it's been so incredible to build spaces, highlight queer music, and watch the industry become more inclusive in many ways.
Why do you think it's so important to create and hold spaces like Queerfest for LGBTQ+ musicians, artists, and fans?
I decided to start Queerfest because of a personal need. I couldn't find community spaces. And I was surprised that there weren't places highlighting queer artists. And yet I noticed that there are SO MANY phenomenal queer artists, and so many queer people in general looking for inclusive spaces.
Queerfest and BGS have partnered on a column, Out Now, which was also created to hold space for LGBTQ+ folks in music. Who is on your wishlist to interview for Out Now? Is there anyone you dream of booking on a future Queerfest?
Oooh! I am so excited that we started Out Now! I'd love to interview Katie Pruitt and Joy Oladokun. Oh, and she's definitely more in the popular music genre, but it'd be amazing to feature Fletcher one day.
And there are so many other artists: Becca Mancari, Jaime Wyatt, Shelly Fairchild, Palmyra, Aaron Lee Tasjan, SistaStrings, Leith Ross, Corook, Shelly Fairchild, Olive Klug.
And these artists who played the 2021 virtual festival: Mary Gauthier, Jaime Harris, The Accidentals, Izzy Heltai.
I'd love to have all of these acts both in-person and on Out Now!
Do you have any advice for queer folks out there trying to find community and belonging in Nashville and in music?
Come to Queerfest!! But also, there are a lot of pockets of queer community/events/organizations popping up. Check out Outdoorsy Queers – I founded this community group with friends. We host hikes, climbs, park days, roller skating hangs, and more!
Other ways to connect with queer community in Nashville:
Queer Book Club
RNBW
QDP (Queer Dance Party)
Nashville GSA
Inclusion TN (They are working on developing a community center)
QUEERFEST 2023 FULL SCHEDULE:
Friday, August 11
Dee's Country Cocktail Lounge
6:00-8:30 pm
Featuring: JB Somers, Sydnee Conley, Gina Venier, Dani-Rae Clark, Justin Hiltner
Saturday, August 12
The 5 Spot
3-5 pm
Featuring: Olivia Rudeen, Summer Joy, Great Aunt
The Basement East
Doors: 6 pm
Show: 7-11 pm
Featuring: Julia Cannon, Madeleine Kelson, Skout, Marielle Kraft, The Collection
---
All Photos: Andrea Schollnick
Graphic courtesy of Queerfest, Sara Gougeon.