The Americana Music Festival & Conference is, as its name would imply, a festival, but it's also something of a family reunion. For music industry folks, journalists, and especially, artists, the annual Nashville festival can serve as one of the only times of year the gang is all together, and as such is one of the year's biggest parties.
Spirits were high at The Basement, a music venue beneath famed record shop Grimey's, for The BGS's Late Night Windup, one of the festival's first official events, where attendees could pick up their badges before going inside to enjoy a stacked night of music.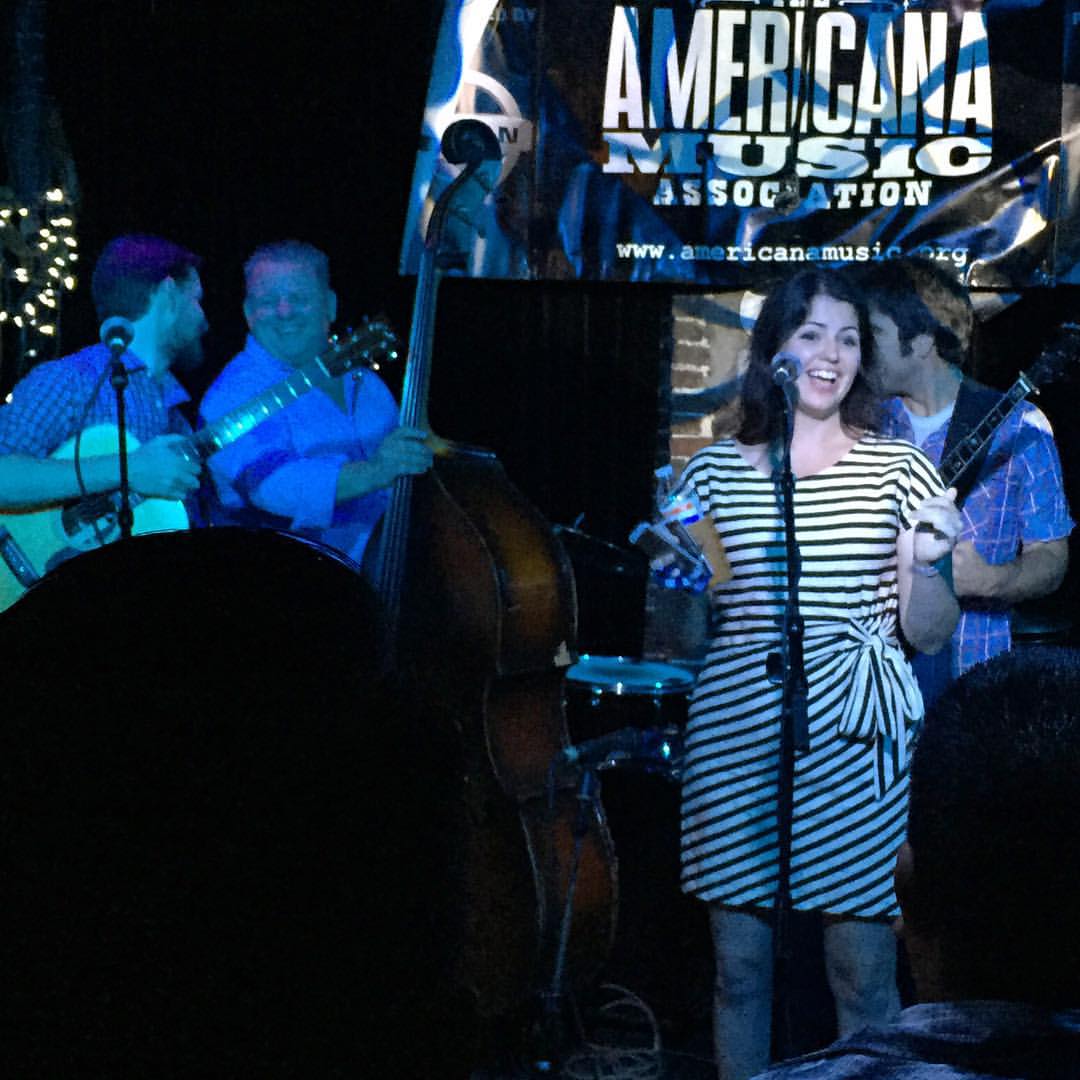 [The BGS's Amy Reitnouer with the house band]
Della Mae and the Wood Brothers kicked off the event with their own solo sets, before taking their spots in the crowd to await the jam. Both played to a packed room, treating the audience to tunes new and old.
Our own Amy Reitnouer introduced Punch Brothers' banjo extraordinaire Noam "Pickles" Pikelny as the evening's master of ceremonies. Pikelny was joined by a house band consisting of fiddle player Christian Sedelmyer, Casey Campbell, Mike Bub and fellow Punch Brother (and newly bearded) Chris "Critter" Eldridge. Together, they provided a backdrop for a long list of special guest and surprise artists over the course of the next couple hours.
The first guest was Sedelmyer's own project 10 String Symphony, a duo with fellow Nashville musician Rachel Baiman. It ended up being a mostly covers affair, with Eddie Berman following with a cover of Paul Simon's "You Can Call Me Al," trailed by Caitlin Canty paying homage to Dolly with her own take on "Wildflowers."
One of the highlights of the night was what Pikelny dubbed "Mandolin Armageddon," in which all of the musicians on stage packed up their instruments, hopped on a space ship and saved us all from an asteroid. Just kidding — it was cooler. Sierra Hull, Casey Campbell and Della Mae's Jenni Lyn Gardner joined forces for an incendiary performance of Bill Monroe's "Big Mon," and we think that, had an asteroid been headed our way, it would have stopped in its tracks so those talented kids could finish their tune.
After Mando-geddon came shuitar time, when The Wood Brothers returned to the stage to cover Bob Marley's "Stop That Train." Kelsey Waldon then schooled the audience on lesser-known country singers when she performed a Vern Gosdin tune. Rayland Baxter, a self-described "super stoner" who only rememebers the lyrics to his own songs, required a little audience help for his take on Graham Nash's "I Used to Be King," and the audience happily obliged.
As the night wore on, guest after guest, including Leigh Nash, Shakey Graves, and Della Mae, joined the house band for jam after jam, each one rowdier than the last. We couldn't think of a better way to kick off one of our favorite events of the year. If you joined us for last week's jam, we hope you enjoyed it as much as we did. Sorry about that hangover.
---
Photos courtesy of Kim Jameson