Tasting new foods with people I love accounts for many of my favorite memories. I think of baking a pie with my dear friend Shannon, after we were inspired by the "Pie-Maker" from a show called Pushing Daisies. It was filled with a white chocolate ganache, orange zest, macadamia nuts, and a drizzle of dark chocolate on top. It was delicious and whimsical.
Before my husband and I were anything, we were friends who constantly talked about food and music. (Okay, so maybe we liked each other, but neither of us said anything for a while.) Once, he came over to help record some demos of my songs. Afterward, we decided to make eggs benedict for dinner. In case you were wondering, it is challenging to poach eggs while trying to appear cool and casual in front of for the person you are falling for.
Still today, we spend a lot of time in the kitchen together. We eat at home more often than not, but every now and then, we love to save up and go somewhere really wonderful. Last month, it was new restaurant called Barcalona. We were hesitant to go, partially because it is somewhat of a chain and partially because we have been dissapointed by many hip-looking restaurants that have sprung up in Nashville. I am happy to report that the food is original, delicious, and resonablly priced. The wine choices are available in half glasses, which is wonderful news for the kind of person who wants to try everything.
One particular dish we had stole the show: a salad with cabbage, hazelnuts, pears, and a Spanish blue cheese called Valdeón. It was a perfect combination of flavor and texture. We decided we wanted to try try and replicate it. The tricky thing about recipes like this is that they seem simple, but can be difficult to execute. Still, I think my recipe turned out pretty damn good!
I used Marcona almonds instead of hazelnuts, simply because they are the food of the gods. I also added quinoa and roasted broccoli for some added texture and heartiness.
I recommend pairing this salad with My Piece of Land by Amanda Shires.
Ingredients
For the salad:
1/4 head of cabbage
2 cups cooked quinoa
4 cups water or vegetable broth
4 oz blue cheese crumbled
16 oz cups broccoli florets
1/2 teaspoon salt, plus more for seasoning
1/2 cup marcona almonds
1 pear thinly sliced pear, or 1/4 cup golden raisins if you can't find a good pear
2 TB olive oil
For the vinaigrette:
1/4 cup red wine vinegar
1 tablespoon honey
1/2 cup olive oil
Kosher salt and freshly ground black pepper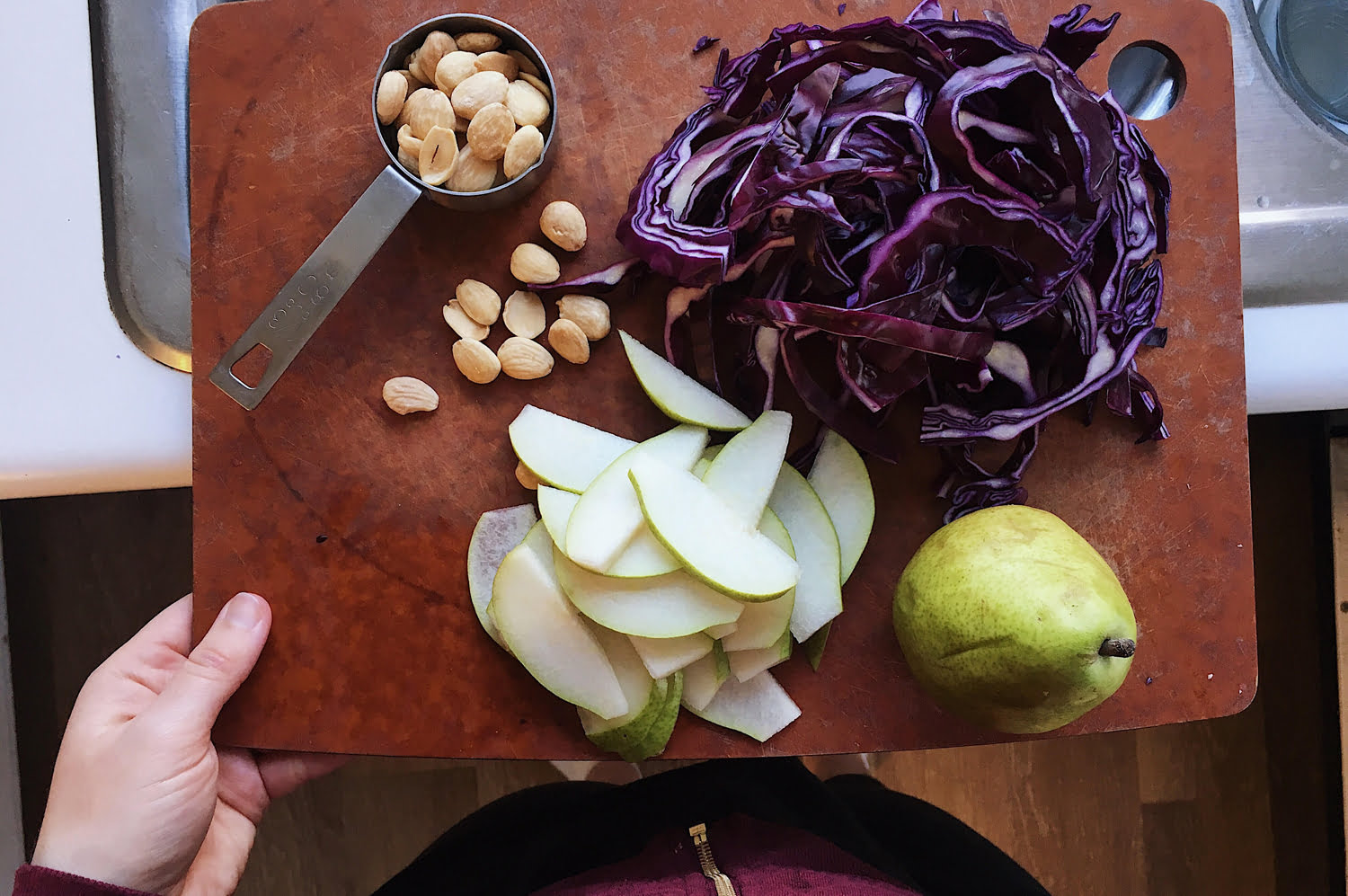 Directions
Begin by turning the oven to 350. Place broccoli on roasting pan. Drizzle with about two tablespoons of olive oil. Mix with your hands and sprinkle with 1/2 teaspoon of kosher salt and a few cracks of pepper. Place in oven for about 30 minutes. Chop cabbage into longs strips, and then cut those in half, so they are shorter in length. Slice pear thinly.
Next, rince the quinoa until the water becomes clear. Combine quinoa with broth or water and bring to a boil. Cover and simmer until water is absorbed and quinoa is tender, about 15 minutes. While that cooks, blend the vinaigrette ingredients together.
Once the quinoa and broccoli are cooled, layer a serving plate with cabbage, quinoa, blue cheese, almonds, and broccoli. Drizzle vinaigrette over salad and serve at room tempurature or after being chilled for 30 minutes.