"Clothes give us a costume to put on. They can shift our mentality. They are a part of our outward presentation of ourselves. I'm a weird, expressive person. I need to let the other weirdos out there know that I'm with them." — Rorey Carroll
Forever feeling like a Chicago punk kid whose world revolves around hip hop shows, thrift stores, and comic books, Rorey Carroll has always enjoyed having wardrobe options for every mood and occasion. There's something about her style that takes me back to Pogs, rollerblades, Walkmans, and cuddling up on the corduroy sofa at my parents' house to watch My So-Called Life. Although her wardrobe items vary from sexy floor-length dresses to tomboy-ish ringer tees, there is a subtle thread of '90s grunge weaving it all together, creating her distinct style.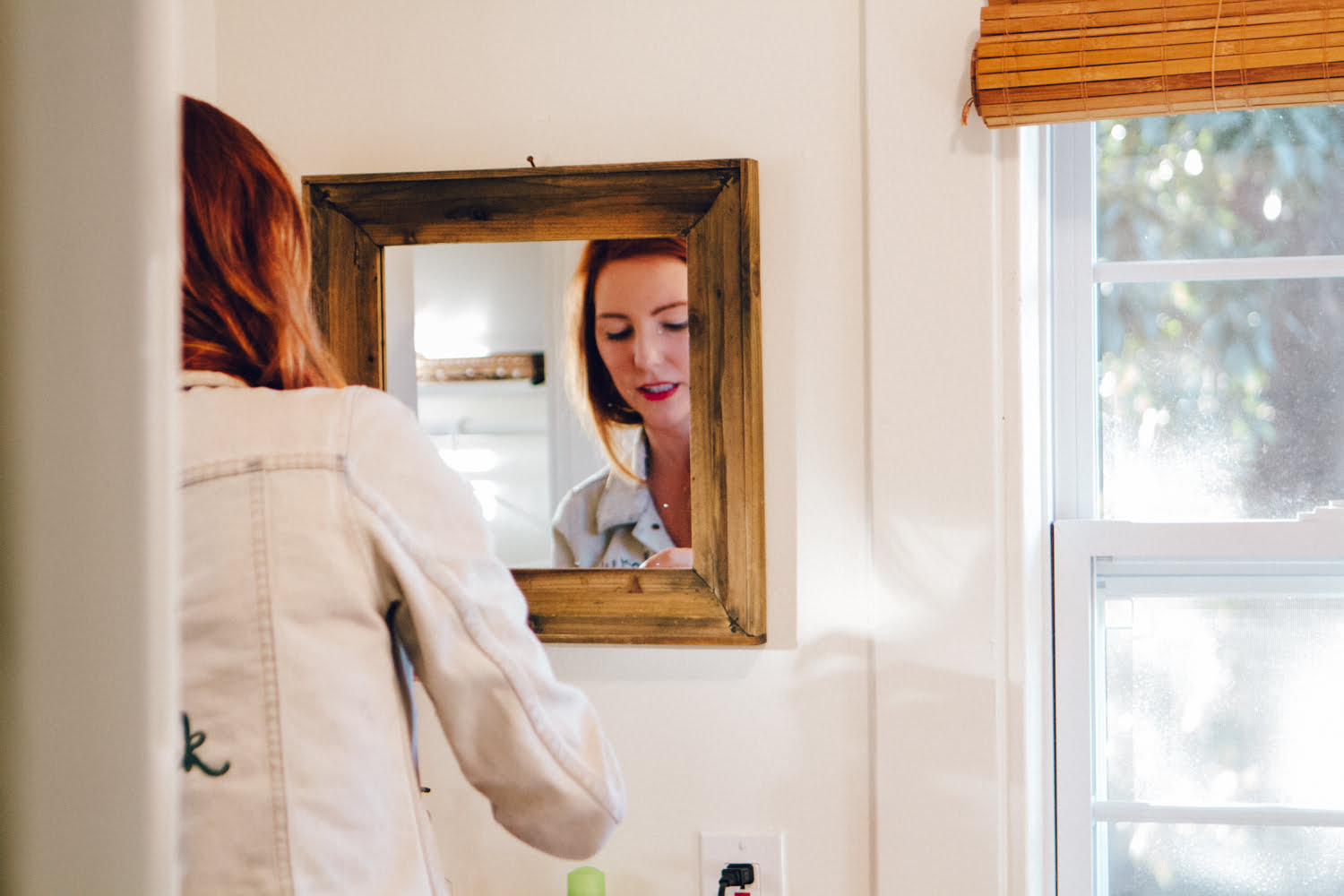 I love that nothing confines Rorey to one look. She freely roams in and out of cool, sexy, goofy, conservative, and folky … without effort. She's comfortable expressing all sides of her personality. So, if she wakes up feeling particularly cold-blooded, you may see her running around town in a shark unitard. However, most days you're likely to see her sporting her staple black-heeled boots and denim jacket embroidered with her signature satirical phrase, "Folk as Fuck."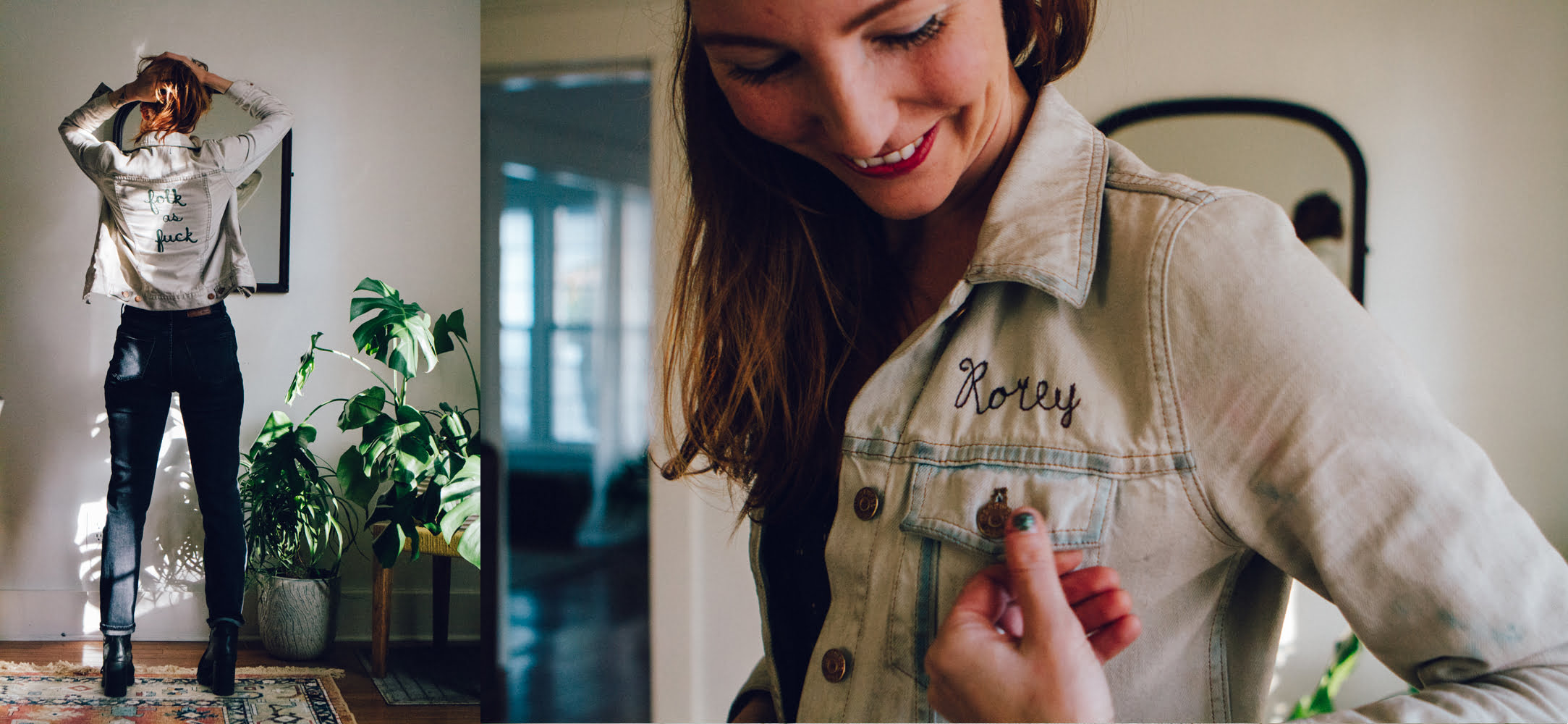 When it comes to shopping, fit, sustainability, and pricing are her guiding factors. Some of her go-to spots are Goodwill, Poshmark, Madewell, and Bandit Brand.
Rorey's golden three standards for shopping:
1. Fit: An item's fit must feel good and look good while wearing it. Especially on stage.
2. Sustainability: The lifestyle of a touring musician puts a lot of wear and tear on a wardrobe, so buying pieces that can take a beating and age well is incredibly valuable.
3. Practical Pricing: For Rorey, the big ticket items don't require spending too much money on clothing
Here are a few of my favorite everyday Rorey Carroll looks …
DIY ringer tee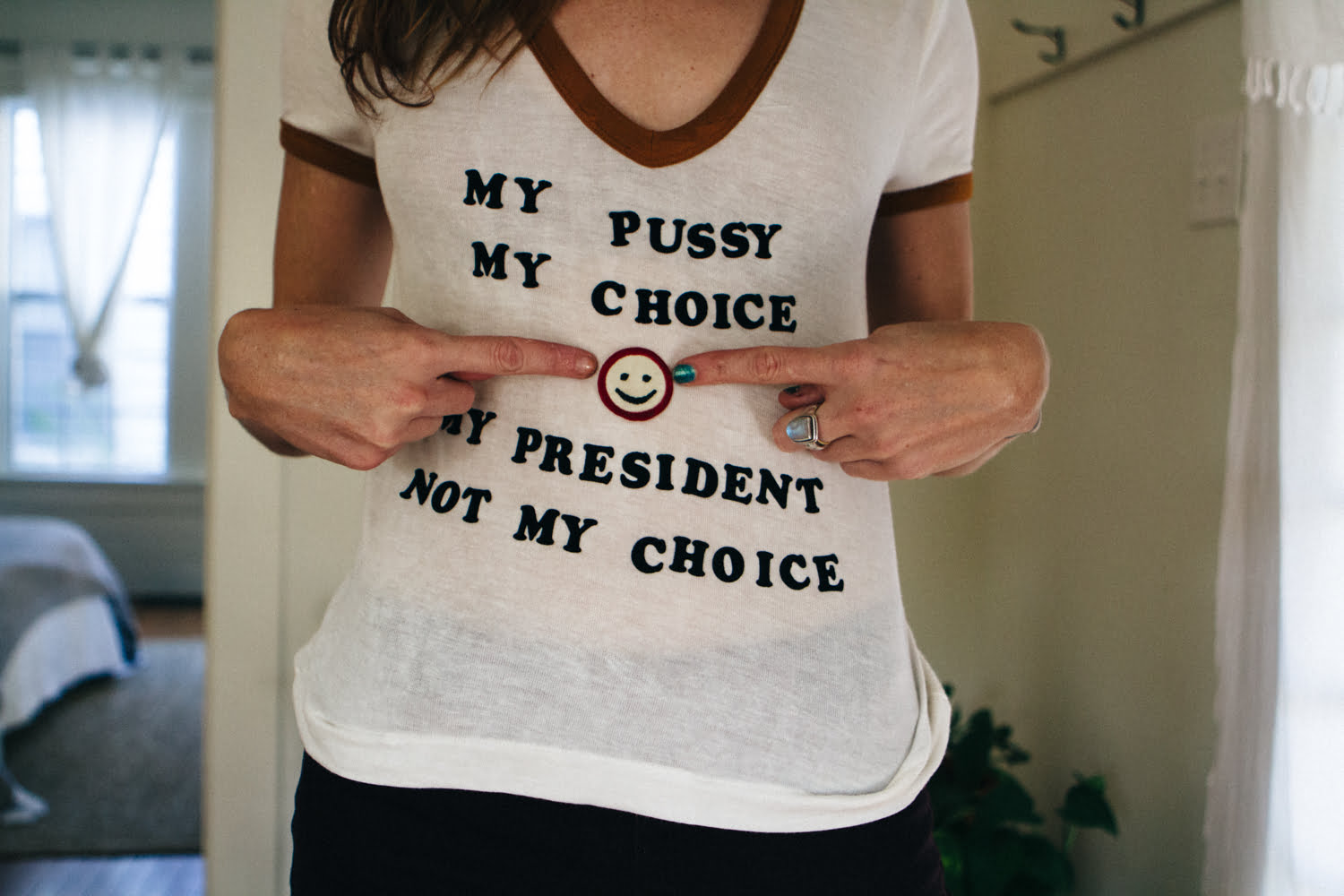 If you don't have something that says how you feel, grab your velvet iron-ons — or a stencil and some paint — and get crafty!
Cords + Graphic Tee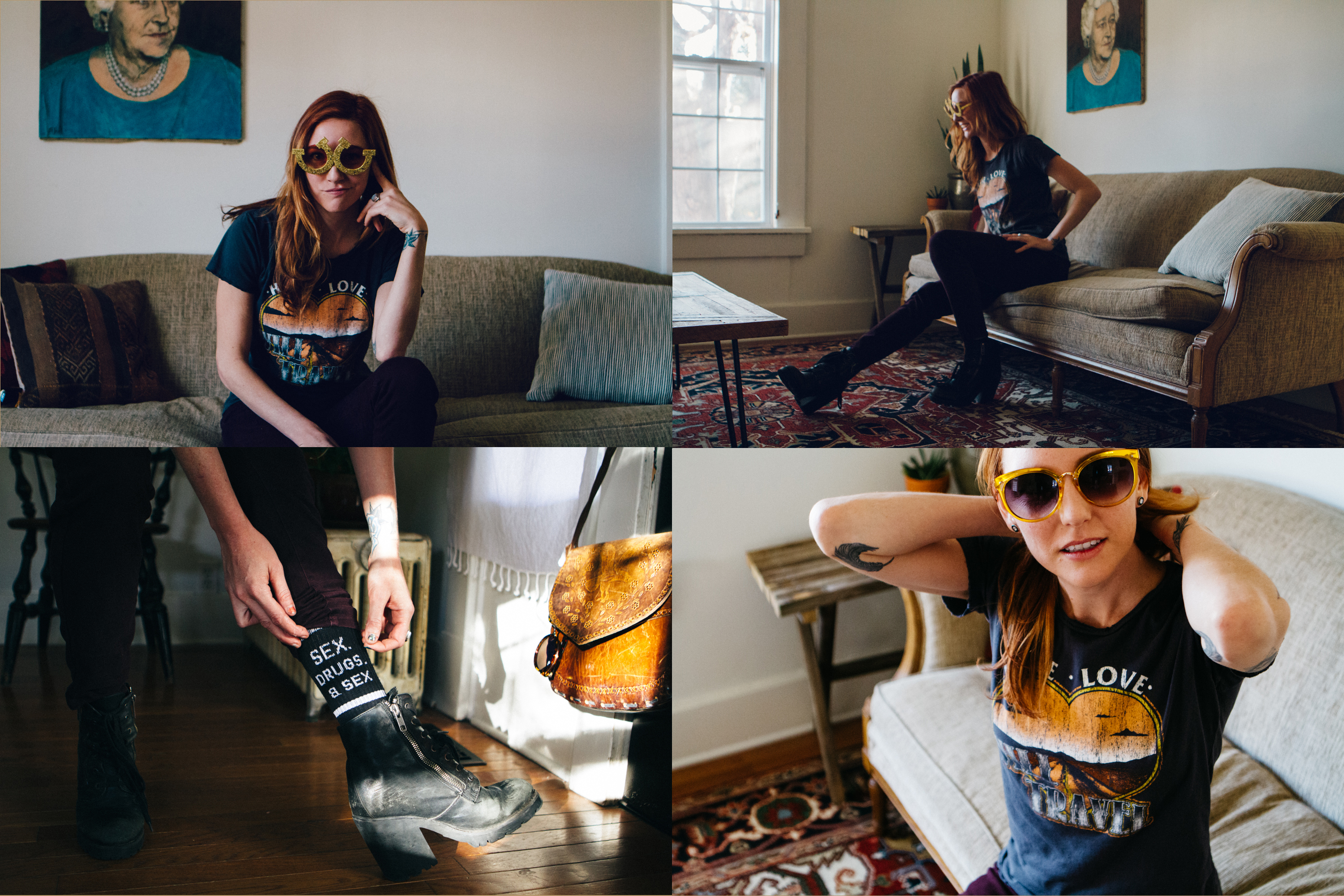 Who doesn't love the "Zip! Zip!' sound of someone walking by in corduroy?
Enamel Pin + Embroidery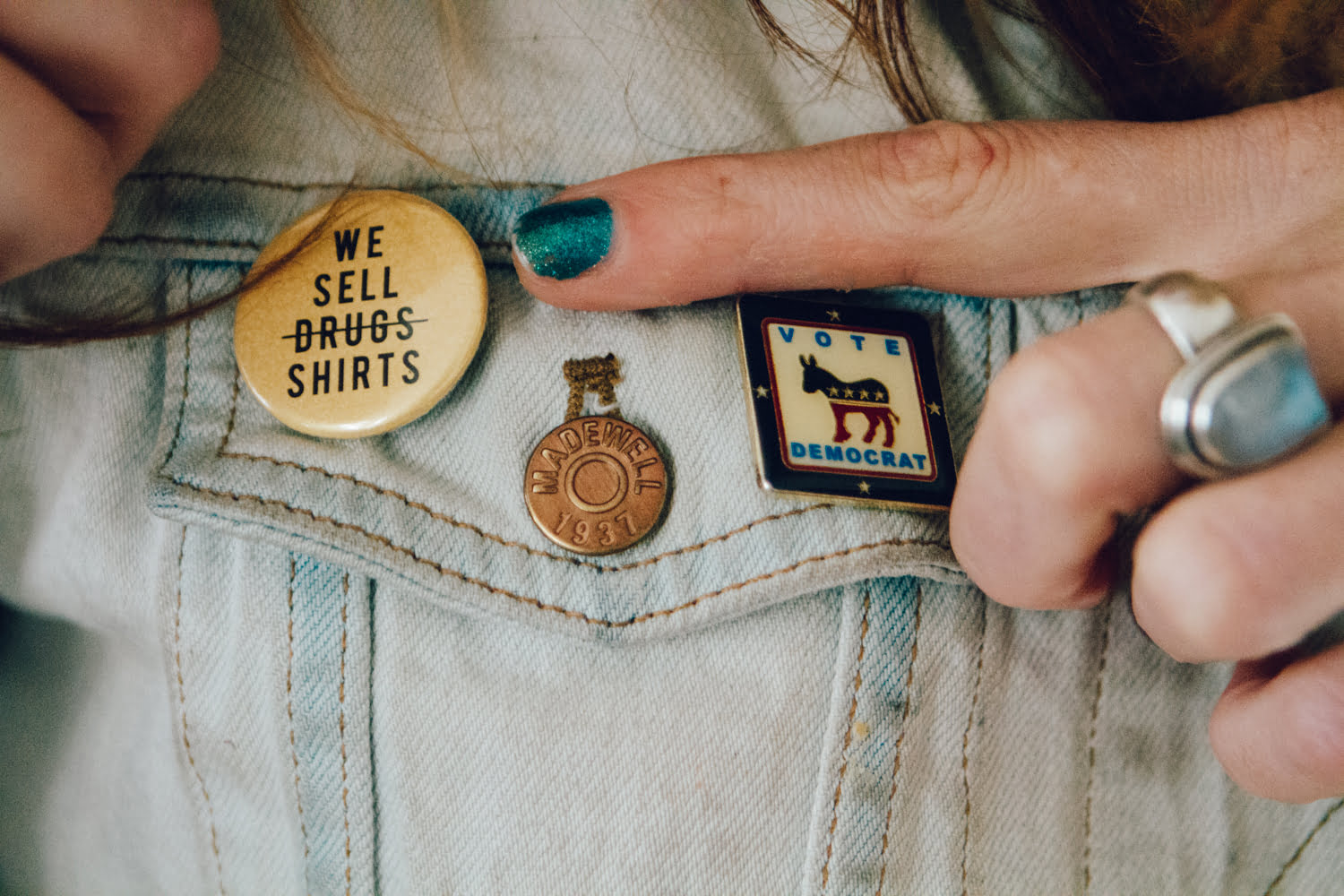 Enamel pins have made a comeback, so Rorey has a pretty decent head start. Since a kid in a comic book store, she's adorned her jackets and bags with them. I love that she has held on to a piece of her childhood all these years and continued to incorporate that in her ever-changing style.
Velvet Dresses with Punk-Heeled Boots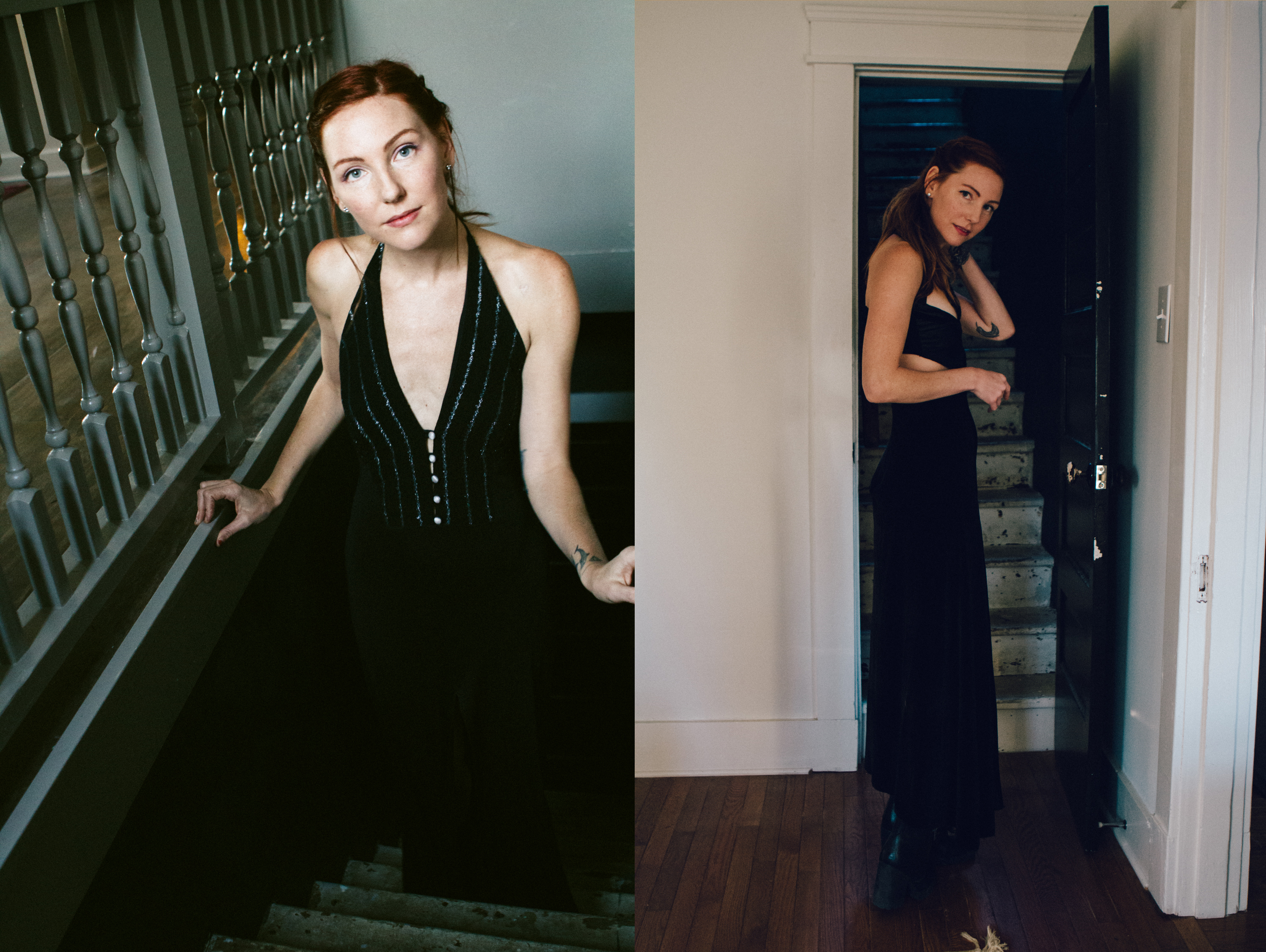 How beautiful does this women look in a velvet floor-length dress? After romping around in denim, shark leotards, and bodysuits, she seamlessly switches on the femme, sexy factor and owns it! Rorey adds a bit of style consistency by pairing her dresses with her staple punk-inspired heeled boots.
Without giving it too much thought, Rorey has developed a distinct style that is unique to her life. This singer/songwriter wears her stories, giving us small glimpses at the pieces of her past she considers important to carry on.