"This is an album for adults," Rosanne Cash says of She Remembers Everything. "It's not a kids' record."
The word kid of course is a subjective term. "I don't think it would mean anything for someone who is 25," she says. Maybe or maybe not, but by "adult" Cash is referring to the album's perspective: the set of eyes through which she sees the world and writes her songs. It is the perspective of a woman in her early '60s, with forty years in the music industry, as well an enviable catalog of critically acclaimed albums and mainstream country hits.
When she started writing and recording in the late 1970s, she was unmistakably recognized as the daughter of one of the most popular country artists in history, but what she inherited from him, aside from that iconic surname, is an appreciation for the well-crafted and sturdy pop song, for the wisdom such a thing might convey. During the 1980s she thrived in an industry that made room for left-of-center artists like Lyle Lovett and k.d. lang. Her 1981 smash "Seven Year Ache" remains a classic-country radio staple even today, and King's Record Shop from 1987 is not only one of the finest country albums of that decade but a pivotal release that sent Cash hurtling into a second career in what we now call the Americana market.
Rather than try to maintain her mainstream success, Cash foregrounded her literary ambitions in the 1990s and in the mid-2000s launched a series of albums that addressed her origins — her career, her family, her South. Black Cadillac, from 2006, blazed rocky trails out of the grief of losing her mother (Vivian Liberto Cash Distin), her father (Johnny Cash), and her stepmother (June Carter Cash) — all too much tragedy to bear in such a short period of time. She put some of those lessons into play on 2009's The List, featuring her own unique readings of songs made famous by her father. And 2014's The River & the Thread, one of the best works of her career, is a travelogue through the South and into her own past.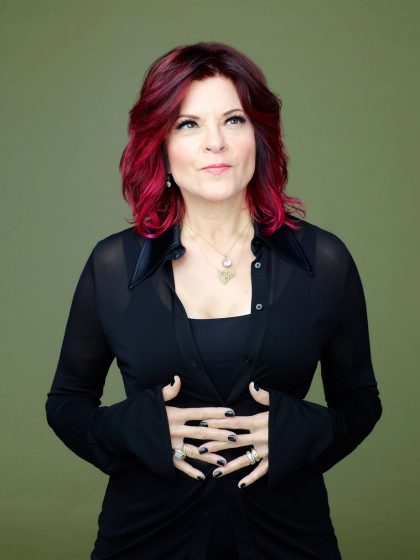 She Remembers Everything sounds like a culmination of those dark, deeply personal ruminations. The songs are full of strong language, poetic and direct, but nothing that would demand a parental advisory sticker. There are intimations of sexual desire both fulfilled and unfulfilled, but nothing that would incur an R rating. There is no violence, but with a specificity that becomes harrowing, she depicts the horrific aftermath of violence, in particular a fatal shooting in "8 Gods of Harlem." The story behind that long-dormant song begins the first of our two-part interview with Rosanne Cash.
I wanted to start by asking about "8 Gods of Harlem," which seems like an outlier on the album. Not only does it feature Elvis Costello and Kris Kristofferson, but it's also written explicitly from someone else's point of view.
I wrote that with Kris and Elvis in 2008. It's the oldest song on the record. I just had this idea to write a song with them, so I asked if they would be interested. And they both said yes. We've been friends for decades, and we figured out the only day we would all be in New York together was in April, so I wanted to get a lot done before they got here. I remember I had been going into the subway, and this Hispanic woman was coming out, and she seemed really distracted and sad. She was talking to herself, and I thought I heard her say "ocho dios." She was coming off a train from Harlem, and I couldn't stop thinking about it. Why did she say that? Did she say that? I don't really think so, but the phrase stuck with me.
I've worked in the anti-gun-violence movement for twenty years, and I just started writing that verse, about a child who was the victim of a shooting and how it shattered a lot more than just his life and his family, how it rippled out into the community. I sent that to Elvis and Kris, and when we got to the studio, I said, What if I was the mother? What if Kris was the father and Elvis was the brother? They finished writing their verses in the studio and we recorded it that day.
How did it end up on your album instead of one of theirs?
It was in the vaults, and periodically we would touch base. How are we going to get this song out into the world? Is it on your record this time? It didn't fit on The River and the Thread. When I was working on this record, I asked them if they minded me including it, and they were both happy to have that happen. And it's still relevant. It's sadly a familiar scene. I was a bit worried that it would stick out from the other songs. It's very different, this trio song. The subject matter on the other songs is really deeply personal, and this is the only one that is playing in character about a subject outside myself. But I think it works.
"She Remembers Everything" seems to be about trauma and its aftermath as well, albeit in a very different vein.
I wrote it with Sam Phillips. I sent her the lyrics, and she sent back this amazing melody. I wanted to write about how early trauma affects us, how some people spend the rest of our lives trying to repair it or ignore it or just squeeze your eyes shut against it. Who would you be if it hadn't happened? How much more would your spirit have expanded out into the world if it hadn't been truncated by this blow? That's what that first line is about: "Who knows who she used to be before it all went dark." You have to find things you can steal from the world, but in a good way: bouts of joy, moments of peace, a good relationship.
But I also feel like a lot of the time you're getting the third degree from the world. This song comes out right after the Kavanaugh hearings, when a woman's memory is questioned and discarded. Watching those hearings was very painful to me and to a lot of women I know. It was crushing, in fact. And I started thinking more about "She Remembers Everything." A memory is like a library, and you can pull things off the shelf. Those memories are safe there, but they can cause a lot of turbulence. But women's memories aren't trusted. They never have been. You're made to feel like you can't be trusted with yourself, to make decisions about your body or your life or your memory. It just infuriates me.
That shows up again in "The Undiscovered Country," when I say she went down for me. She knew she would be scorned and mocked, but she took that risk. So many women take that risk—the women in the #MeToo movement, the journalists who keep writing even though they're threatened on a daily basis. All of these women go down for all of us, so the next generation doesn't have to live with it.
I want to be hopeful, but there's thirty years between Anita Hill and Christine Blasey Ford.
Me too. I thought progress went in one direction. Turns out it doesn't.
How old are some of the other songs on the album?
"Particle and Wave" is several years old. But those are the only two that really go back further than the last two or three years of writing. I wrote "She Remembers Everything" with Sam Phillips leading up to this record. "Not Many Miles to Go" I wrote shortly before I started recording. "Crossing to Jerusalem" John and I wrote while we were recording. So the songs cover a little bit of a time span, but I'd say most of them are immediate.
This album title, She Remembers Everything, seems to tie everything together. Even those older songs, it's all remembered.
Absolutely. I think I've been working up to these songs. They were the next logical step. They were what was behind the wall up till now.
How do you mean?
I don't think I could have accessed these songs before now. I couldn't have gone as deeply into the subject matter. It's not a record a kid could have written. I couldn't have written it ten years ago. The songs are all very autobiographical, and I'm not afraid to say that at this point. When I was younger, I would hedge my bets on that: Well, they're universal. Whatever. No. This is all me.
(Editor's Note: Read the she second part of Rosanne Cash's interview.)
---
Illustration: Zachary Johnson
Photo of Rosanne Cash: Michael Lavine