On her new album, She Remembers Everything, Rosanne Cash keeps watching the clock. It's an album about time slipping away, about the bittersweet realization that you have more time behind you than ahead. "It just wasn't long enough," she sings on the hymn-like "Everyone But Me." "Still it seems too long." And on "Many Miles to Go" she puts her affairs in order, itemizing the artifacts and inside jokes she shares with John Leventhal, her frequent collaborator, longtime producer, and husband of twenty-three years. With its rambling, almost anxious upbeat tempo, the song celebrates their relationship more than it commiserates its inevitable end: "There aren't many miles to go and just one promise left to keep."
However, she didn't record that song with Leventhal, who produced roughly half the tracks on She Remembers Everything. He was, she says, shy about the song. Instead Cash traveled about as far from her home as she could, all the way from Manhattan to Portland, Oregon, to record with the album's other producer, Tucker Martine. By disrupting her creative process, she says, "It did break something open in me."
(Editor's Note: Read Part 1 of the Bluegrass Situation's interview with Rosanne Cash here.)
You've mentioned that these songs are very autobiographical. How does your relationship with these personal songs change over time? What is it like to revisit them onstage?
I played some of these songs for the first time just recently, and it felt good. I felt very relaxed with them. You know how the truth can unsettle you and scare you, but the truth can also allow you to let your guard down and relax? That's how I felt. But it's different every night. Every audience is going to bring something different to what they hear, and hopefully they will bring their own lives to it. They're not coming to hear about my feelings or about my life. They're coming to experience their own lives and their own feelings. They're coming to have things reflected back to them that will be revealing or inspiring or whatever.
That's the function of art. It's that kind of service industry. We help you access your life and feelings. It's not about narcissism. It's not about me. That takes the fear out of it. These aren't diaries; they're songs. There's craft that went into them. There's music. There's a beat and a melody. So I'm not going to be up there naked.
That leads me to another song I wanted to ask about, "Not Many Miles to Go," which almost sounds like a letter you wrote to your husband.
I have a very tender feeling about that song because I really did write it for John — and to John. When you're in a long-term relationship, it's inevitable that one of you is going to leave the other. It's sad, but it's worth acknowledging the artifacts of your life together, even if it's just a Telecaster. So you know when we're gone, that Telecaster will still be here. Our son will probably play it. I wanted to document those things for us.
I like the idea we keep the beat for each other.
That's a beautiful idea, and a close couple will do that for each other. When I wrote that line, I was thinking about the actual tempo when I play rhythm guitar for him. We have to remind each other to stay in time. I'll tell him he's too slow, or he'll tell me my timing is off. He used to complain about my meter a lot, and then we did a gig with some other people a few years ago. When he came offstage, John said, "I'm never complaining about your timing again!"
How does he feel about the song? It's really an intimate conversation in front of the audience.
I think John felt a little shyer about it than I did, but I think he's gotten past that. And his guitar solo just kills me, especially that real Telecaster sound that he pulls off. It sounds like Clarence White or James Burton. When I wrote the song, it had more of a folk vibe, and then Tucker took it to this really intense place with a lot of energy to the arrangement. That was a bit of genius on Tucker's part. It's funny, I couldn't have done that song with John. I had to do it with Tucker, and then we flew John's solo into the track.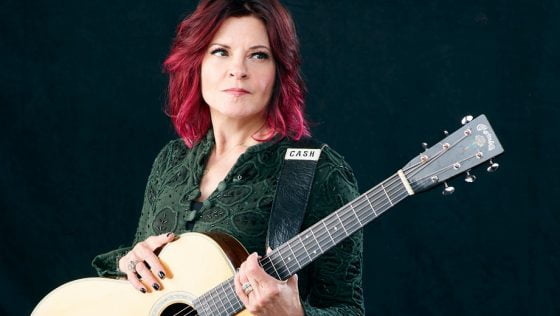 How did you end up working with Tucker Martine?
I'm a huge Decemberists fan, and he works with them. Then I heard the case/lang/veirs record he produced and I just loved it so much. I'd been thinking that I wanted to break away from John a little bit, because I felt I'd grown so dependent on him. He has very forceful opinions and it's easy for me to acquiesce to his sensibilities because he's such a gifted musician. I started thinking, you know, I need to be making those decisions, even if the choices are "wrong." I need to do that. I called Tucker out of the blue and asked if he'd be interested in working with me. I truly didn't know what he would say. Maybe I wasn't his kind of thing.
But he said he'd love to and it was a matter of getting our schedules together. I was nervous, he was nervous — we didn't know how it was going to work out. But it was this incredible experience, start to finish. I teared up many times, feeling so grateful to be working with him. It did break something open in me. After doing five tracks with Tucker, I came back to work with John and I felt fresh. We wrote some of the best songs I think we've ever written, like "Crossing to Jerusalem" and "Everyone But Me." I had most of the lyrics for "The Undiscovered Country" and he wrote the music for it.
And you got The Decemberists frontman, Colin Meloy, on the record, too.
That was through Tucker. I was really shy about asking him and one day I just asked Tucker if he thought Colin would sing on the record. He thought he might, so he called him and Colin came down to sing on "The Only Thing Worth Fighting For." While he was there, we snookered him into singing on "Rabbit Hole."
Overall, on these songs, I get the sense of time running out. This seems to be an album about realizing that time is short and that creates a sense of urgency.
Well, time is running out. It's an hourglass. It's less than half-full now, and I feel an urgency about saying whatever else I have left to say. It's really quite emotional to me. The regrets I have at the end of my life — except for the regrets I have about hurting anyone or mistakes I made as a mother — are going to be about what I didn't say in my work, in my life. What I held back. So there is some urgency to get that out there, but I feel more liberated than ever because now my thinking is, what's the point of not doing it or not saying it? This is the life I've chosen, to live in a public sphere and to be in this service industry of songwriting and performing. I don't want to hedge my bets anymore.
Most people would rather not think about the time they have left and what to do with it. I know I'm guilty of that a lot of the time.
It's painful, so that's what we do: We push away what we don't want to consider. Buddhists say death is certain, so how will you live? We push out the first part, and then we push out the second part to the extent that we default on our choices every day. We put the blinders on and think we have forever. I do not exempt myself from that. I do it, too. I say, "I'm going to wait to do that." No. Can't do it anymore.
When I heard Leonard Cohen's You Want It Darker, that gave me a little more courage. Even the title of that Paul McCartney album from a few years ago, Memory Almost Full, struck me too. Paul and Leonard are obviously older than me, but they were signposts in that direction. I notice those things when they're out in the world. I notice those pieces of poetry and music. I find myself responding to it more and feeling somewhat comforted by the fact that other people my age are doing it as well.
---
Photo of Rosanne Cash: Michael Lavine
Illustration: Zachary Johnson