My relationship with food is nothing like my relationship with people. They say that, if a person shows you who they are, believe them. It's that age-old belief that you can't change people — so why try?
Food is the polar opposite. Take Brussels sprouts, for instance. When you're six years old and somebody gives you what tastes like cooked socks, you vow to never trust another Brussels sprout again. Then fast forward to being 25 years old and sitting at a fancy farm-to-table restaurant and someone in your party orders crispy Brussels sprouts on the menu … and you try some … and suddenly it tastes like Tuscany at dusk. You believe in Brussels sprouts again. You regret all those years you doubted them and you want to spend the rest of your life making things right.
I feel like cauliflower is one of those foods that often needs redemption in this way — but I believe it is worthy of it. When I was a kid, cauliflower was always the vegetable in the frozen bag of vegetables that I would eat around. I just didn't get it. The taste and the texture disappointed my spirit. No, really: It was that deep. Since then, I have made it my mission every five years or so to attempt to rediscover cauliflower and what it has to offer. About two years ago, my passion was ignited; I fell in love with cauliflower.
When I finally fell in love this bumpy, hard, mildly flavored creature, I realized that what it had to offer was solely based on what I had to give it! I learned a lot about the power of a give-and-take relationship from cauliflower. If I give it water and mash it, it tastes like mushy mush-mush. If I give it chicken stock and cream and parmesan cheese and mash it, it tastes like heaven. If I put it in a 350-degree oven, it sweats so much that it ends up wilted and wobbly. If I put it in a 400-degree oven and don't overcrowd it, it ends up being this recipe I'm about to share with you right now.
We have a lot to learn from food, y'all. I implore you to challenge yourselves in the way that you think about the things you eat — or rather, the things you won't eat. If you think you don't like something, it's probably more about how you're preparing it that's the problem.
All I'm saying … is give peas a chance.
Listen to John Lennon right now. He was really talking about peas, didn't you know?
Ingredients
Kosher salt
Ground coriander
Coarse black pepper
Safflower or Grapeseed Oil
Granulated garlic (100 percent, y'all. No silicone dioxide or any of that other filler mess, please.)
1 head of cauliflower, sliced into 1/4 inch slices (as much as you can manage to do, but leave 1-2 inches of the stem on each slice)
2 cups cremini or baby portabella mushrooms, sliced
1/2 cup green scallions, thinly sliced
1/2 cup Italian flat leaf parsley, chopped
1/4 cup chiffonade of lemon balm or mint (do not substitute basil; it's just not the same)
5 red radishes, halved, then sliced very thinly
10 large mixed olives, pits removed (I prefer green and kalamata)
For the dressing:
Zest of 1 lemon
Juice of ½ lemon (approximately 1 Tbsp)
2 cloves of garlic, grated (Be careful, Paw!)
1 tsp honey
1 tsp good aged balsamic vinegar (or reduce some yourself in a sauce pot by half)
2 Tbsp good extra virgin olive oil (nothing cheap, please. please. please.)
(Serves 4 people as a side or 2 people as a main dish)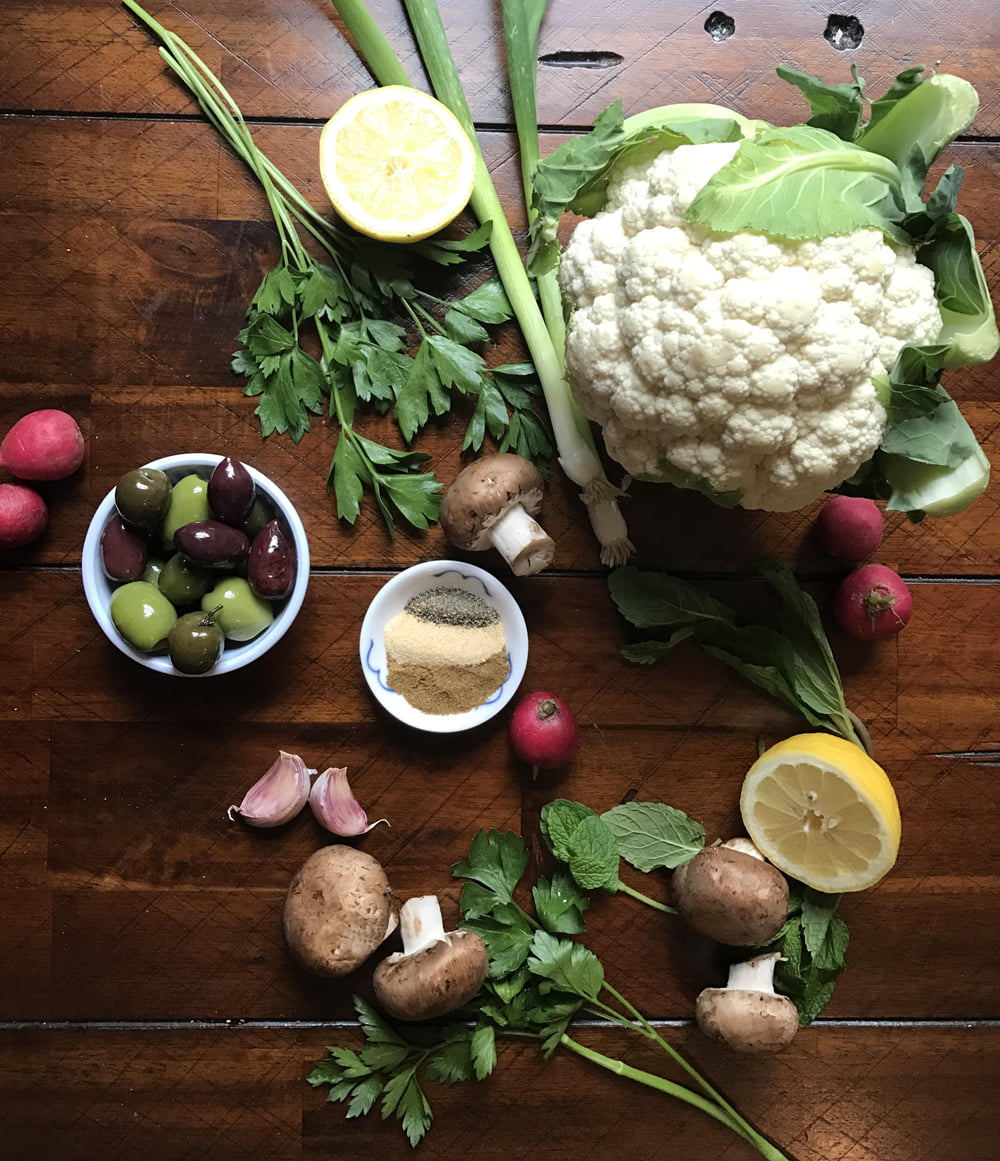 Directions
Preheat oven to 400 degrees. Dress a large sheet tray with 1 Tbsp safflower or grapeseed oil and spread until pan is covered entirely.
Lay cauliflower pieces 1 to 2 inches apart on sheet tray. Sprinkle cauliflower lightly with kosher salt, ground coriander, black pepper, and granulated garlic. Flip cauliflower over and repeat this step.
On a separate sheet tray, do the exact same thing to the sliced mushrooms, but only use 1 Tbsp of oil or your mushrooms will steam and not crisp. Place both sheet trays in the oven with the cauliflower on the lower rack and the mushrooms in the middle rack. Remove the mushrooms after 10 minutes. Remove the cauliflower after 20 minutes.
Transfer the cauliflower to a cooling rack to stop the cooking. You really wanna do this step, if you want this dish to stop traffic.
While cauliflower cools to room temperature, place remaining ingredients in a bowl. Then add cooled cauliflower and drizzle dressing over top and lightly toss with a spatula.
Plate and enjoy!