Prince Rogers Nelson was taken from us far too soon, on April 21, 2016. I have to imagine that he's still out there somewhere … not finished raining his magic down upon us.
In honor of His Purple Princeness — gah, I adore him so much! — this month's recipe features a dish that I would like to believe that Prince would've enjoyed. If you don't already know, Prince was a most-devout vegetarian. (Listen to his song "Animal Kingdom" to hear what I'm talking about.) In 2006, PETA crowned him their Sexiest Vegetarian Celebrity. (I think that they should've let him keep the crown in perpetuity.)
I set out to create a dish in Prince's honor that sang of comfort. I've been in a comfort food mood lately, myself, even before we got the news on April 21 — and that only made my cravings that much stronger. However, you should know that I'm the girl who chooses comfort foods that leave me feeling better — not worse. I'm not your frozen pizza or French fries friend. I'm not a hater; I'm just a regulator. I'll have some fries, but I just won't let it get out of hand because I know how my body works best. When I'm feeling down, I need to eat foods that help pick me back up.
Let's talk for a minute about a well-known comfort food that's covered in creamy, buttery mashed potatoes, browned and crisped to perfection in the oven. Underneath all of that pillowy goodness there's usually a combo of meat, vegetables, or both. If your mouth is watering even slightly at this moment like mine is, you're probably picking up what I'm putting down: shepherd's frickin' pie.
Today we are going to flip the script on this traditional offering and even change its name!
With that, I'd like to introduce you to Sheep's Pie … because shepherds eat sheep, and sheep eat grass and grain (the latter being generally reserved for the mothers-to-be who need more fortifying nutrients, so I'm told). Don't worry: There ain't no grass up in this dish; it's just a play on a theme. We'll have leeks, mushrooms, carrots, warm exotic spices, and more topped with fluffy jasmine rice instead of mashed potatoes for an added twist! In honor of Prince, I made my rice purple, which is rather easy to do. You might not want to go there with me but, if you do, instructions* will be below.
Enjoy!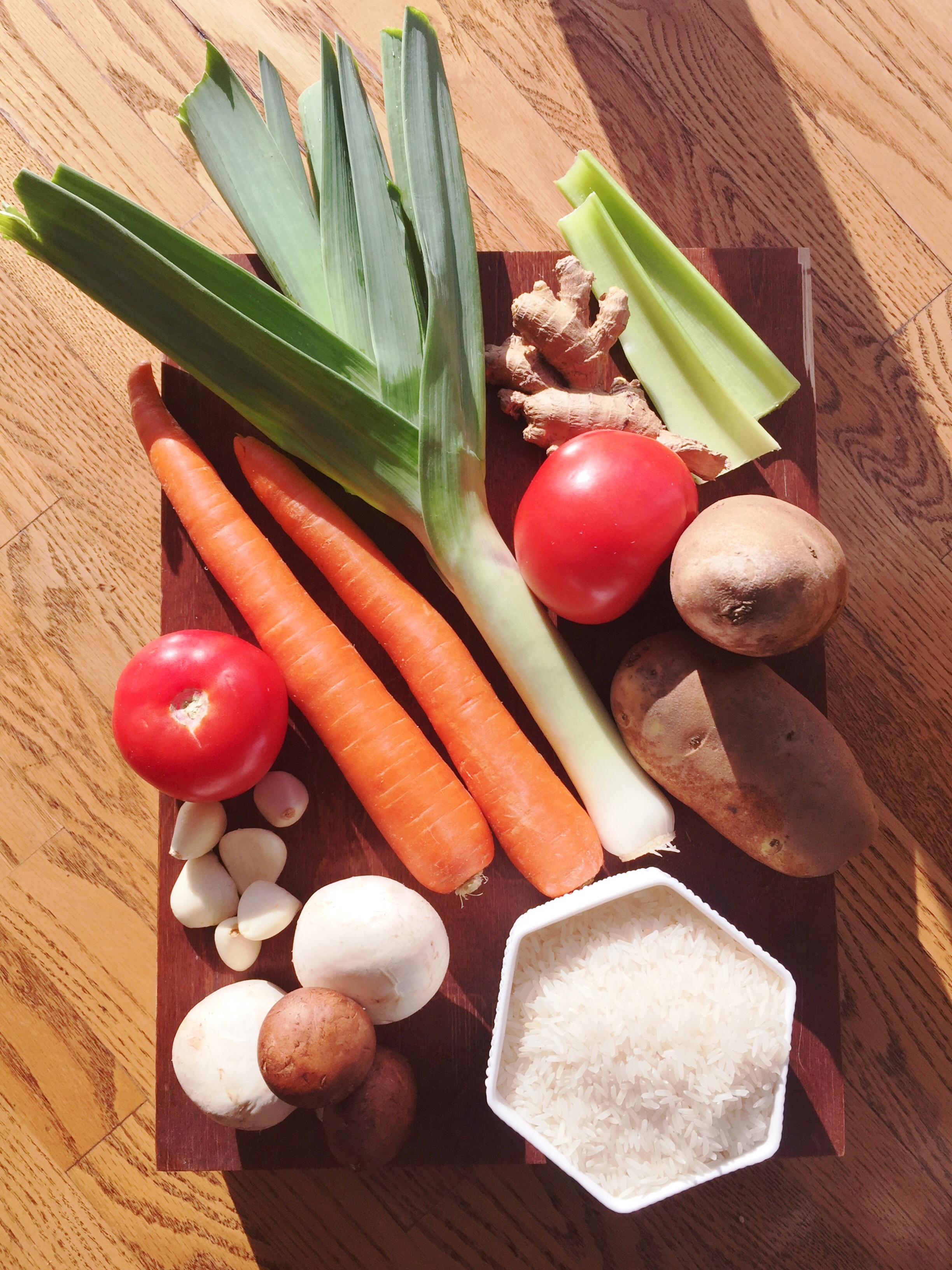 INGREDIENTS
Ample kosher or sea salt (multiple specifications below)
*1/2 head of red cabbage, cut roughly into 3" inch pieces
1 1/2 cups water
1 cup jasmine rice
2 tsp salt
3 Tbsp coconut oil
1 pound large crimini, button, or portobello mushrooms — quartered
1 tsp salt
1 tsp black pepper
2 carrots, diced
2 stalks celery, diced
1 large leek, split lengthwise, washed, chopped into 1/2 inch slices
1 inch ginger, peeled and minced
1 tsp salt
6 garlic cloves, course chopped
2 Tbsp unbleached all purpose or GF flour
1 Tbsp curry powder
2 Tbsp ground coriander
1 Tbsp chili powder
1 can coconut cream (split into 2/3 and 1/3 portions)
4 cups of water, mushroom, or vegetable stock
2 Tbsp red wine vinegar
salt to taste
1 pound russet potatoes, washed and cubed into 1" pieces
2 medium to large vine tomatoes, diced and salted
1/2 cup flat leaf parsley, chopped
1 cup frozen (thawed) peas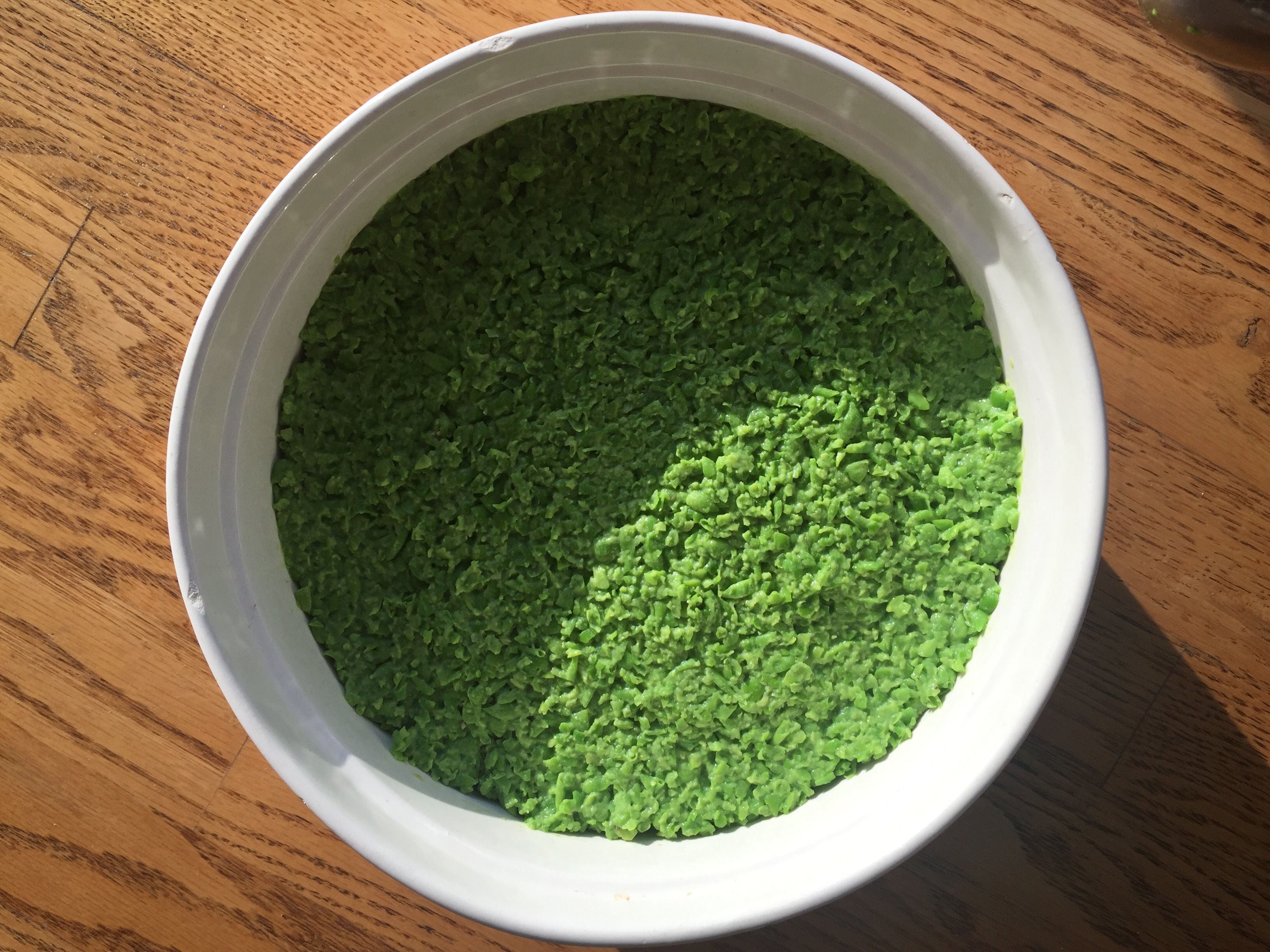 DIRECTIONS
Place 1.5 cups of water in a small pot. *Add cut cabbage and bring to a boil, then cover and simmer gently for 15-20 minutes. Remove cabbage and strain purple water to remove any loose cabbage and return to pot. Add 2 tsp salt and 1 cup of rice, bring to a boil, stir well then cover and turn down to simmer for 15 minutes. Remove pot from the stove and let sit, covered.
Place 2 Tbsp coconut oil in a large pot (dutch oven is even better). Turn heat to high. Once oil melts, immediately add all mushrooms and distribute evenly in the base of the pot. Do NOT touch them for 60 seconds. After this, toss immediately, and lower your heat to medium-high and sprinkle 1 tsp salt and 1 tsp pepper over mushrooms and toss. Do NOT touch them for another 60 seconds. Toss one final time, remove mushrooms from pot, and set aside. I like the mushrooms to retain some of their meatiness so I do not overcook them.
Place 1 Tbsp coconut oil into same pot still on medium-high heat. Once it melts, add the carrots, celery, leeks, and ginger. Sprinkle 1/2 tsp salt over top and stir frequently until carrots and celery are al denté (10-12 minutes). Add garlic and stir frequently for 2 minutes. Check for salt and add 1/2 tsp more, if needed. Turn down to low and cover.
In a small bowl or cup, combine flour, curry powder, coriander, and chili powder — mix well. Sprinkle mixture over vegetables in pot and turn heat to medium, stirring for 5 minutes to coat the veggies and heat the flour and spices.
Add 2/3 can of coconut cream, 4 cups water or stock, 2 Tbsp red wine vinegar — stir well. Check for seasoning and add salt to taste. Add potatoes and cover pot. Let cook on medium to medium-high for 15 minutes or until potatoes are tender. Uncover pot and add tomatoes. Let cook for 5-10 minutes. If it's too soupy, turn the flame up a bit and cook a little longer to reduce some of the liquid. Once it's thick and rich, add back in the reserved mushrooms and parsley, and stir. Turn off heat and cover.
In a food processor, combine thawed peas, final third of coconut cream, and a pinch of salt — pulse until spreadable.
Ladle the potato mixture evenly into a deep round, square, or rectangular baking dish, leaving 2 inches of open space on the top. Then, scoop out mashed peas on top of that and spread evenly into a thin layer. Scoop rice on top of that and spread out with a spatula and a firm touch. Feel free to press rice into place, if needed.
Place into oven on a low broil for 3-5 minutes. Watch it very carefully! You're going for a lightly toasted flavour, not colour. Crunchy rice can mess up your dental work!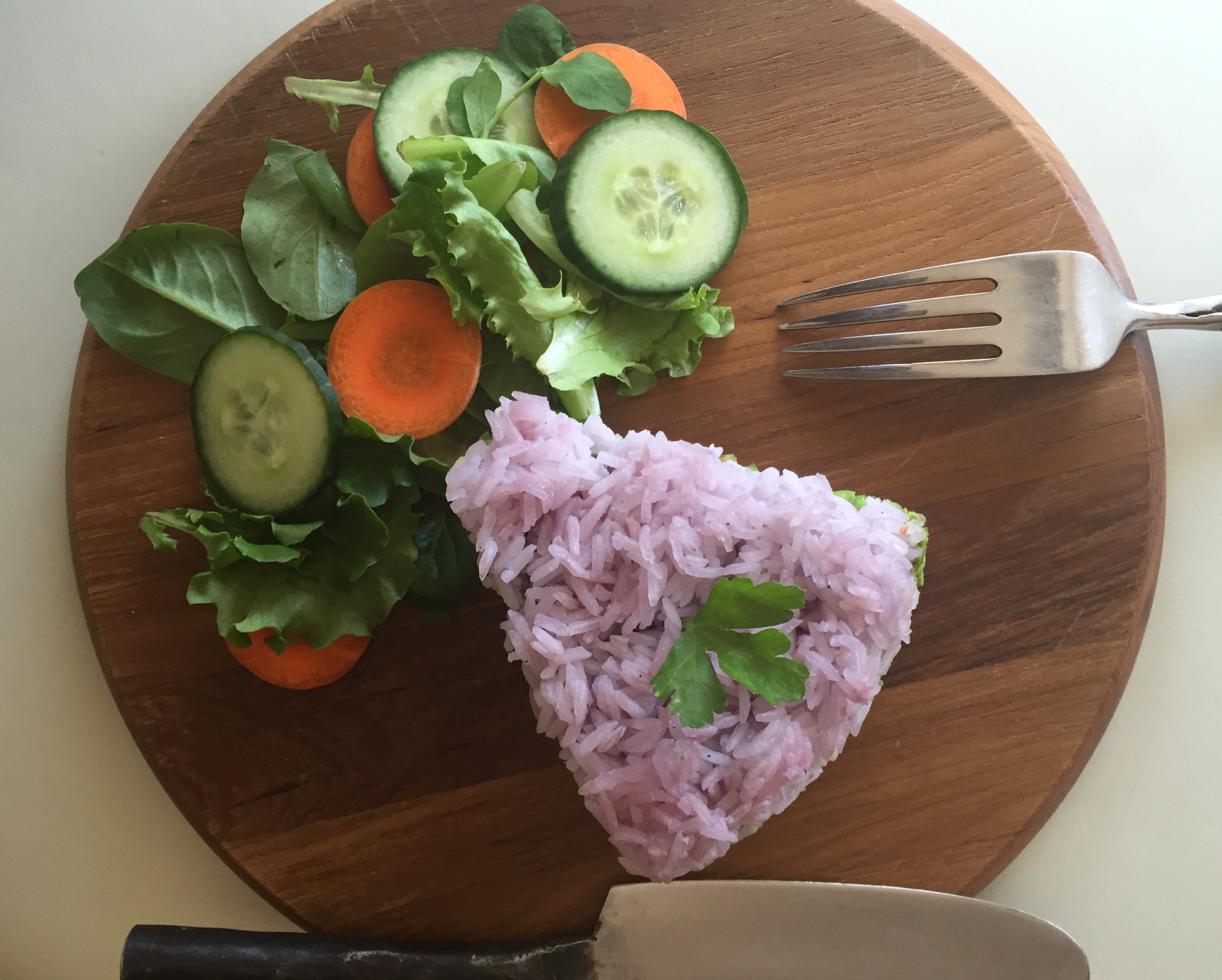 I hope that you will try this dish at home and feel the comfort that I felt when cooking and eating (lots of) it. Eat it whilst listening to "Purple Rain." Eat it whilst listening to "7." Eat it whilst listening to "Raspberry Beret." Eat it whilst listening to "Diamonds and Pearls." You catch my drift. Have second and third helpings.
P.S. — This dish would also go nicely with some pesto broccolini on the side. I heard that was one of his favorites, too.