Take heed, all Americana fans in the UK. Danni Nicholls will be taking the stage on the final day of the Long Road Festival at Stanford Hall in Leicestershire. Leading up to her appearance, the talented singer-songwriter fielded a few questions from The Bluegrass Situation.
As a performer, what do you enjoy most about festivals?
I think the collective good energy that you usually find at festivals is my favourite thing. Everyone has come together to have a good time and that can be infectious. I'll usually get to bump into friends/fellow artists too which is always lovely. I love to go off and try to discover great new music too.
The life of a touring musician is certainly unpredictable. How do you like to pass the time when you have a couple of free hours on the road?
Ha, sure is! I like to try to see a bit of the place I'm playing in – not just the inside of the venue. I'll usually go for a wander if there's some time to kill, and try not to get too lost! I've stumbled across some beautiful, memorable places that way.
Do you consider yourself a collector of guitars? And do you have a favorite one that you like to use when you write songs?
I wouldn't consider myself a collector as such but I do have quite a few that I've acquired over the years! My prized possession is my first ever guitar which I inherited from my uncle Heathcliffe when I was 16. It's a stunning Burns London 1964 shortscale jazz guitar. A real beaut. But my main touring guitar is an acoustic parlour, a Tanglewood TW73 E called Meryl. She's feisty but sweet and mellow when you get to know her. She's my favourite for writing on as well as playing live.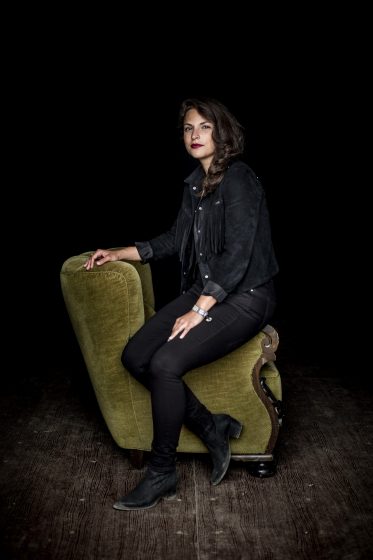 How did your grandmother's record collection influence the kind of music you're writing and recording now?
Massively! The music that filled her house and so many family parties was mostly American roots – lots of country, soul and rock n roll. It's deep rooted in my soul and my music. Feels like home.
How would you describe your first visit to Nashville?
Unforgettable. Really – it was like a dream, I remember walking down a side street and turning onto Broadway where so many of my heroes have walked and known so well and feeling this rush of energy and joy. Seeing the Ryman, Tootsies where the likes of Patsy Cline would have hung out before crossing over to Ernest Tubb's place. My first night in the city I ended up on stage in two of the bars singing old country songs being backed by these incredible musical strangers and I felt so welcome and included. I was hooked and have explored and fallen in love with many more parts of the city since then and I'm so grateful to have had that opportunity.
What are you working on now?
I just returned from Nashville where I have recorded my third studio album with the wonderful, talented Jordan Brooke Hamlin (Indigo Girls, Lucy Wainwright-Roche) at the new and wondrous studio MOXE, out in the woods just north of the city. I'm very excited to be getting it into shape to send off out into the world in early 2019.
When you finish a song that you're proud of, who is the first person that gets to hear it?
My cat, Winnie. Yes I think of her as a person. I should maybe address that.
For those people who come to see you at the Long Road Festival, what do you hope they take away from that experience?
I hope they can find some connection, some resonance perhaps. By going out singing my truth I hope to contribute to raising positive vibrations, so I hope they walk away with a little lift, a smile, or at least a bit of one of the songs stuck in their heads.
---
Photo courtesy of the artist