John Leventhal makes records that are almost impossible to categorize. Is Shawn Colvin's 1989 debut Steady On folk or country? Is Rosanne Cash's The River & the Thread country or blues? Are they roots or rock? Americana, perhaps? The man himself, a native New Yorker with a genial sense of humor and a geek-level knowledge of pop history, refers to his wheelhouse as "singer/songwriter," but he says it in the off-hand way that lets you know it's merely a placeholder: shorthand for a music much larger and more complicated than one simple term could ever convey.
Call it simply American, then. Nearly 30 years after his first producing gig — Steady On, which won a Grammy for Best Contemporary Folk Album — he works with musicians whose songs sprawl across many genres, alluding to various styles without settling into one in particular. In addition to Colvin and Cash, he's worked with Michelle Branch, Kim Richey, Joan Osborne, Jim Lauderdale, Rodney Crowell, and Loudon Wainwright III, among others. He's backed many more artists and co-written with even more than that. His fingerprints are on an impossible array of records; even if you don't know the name, you've heard a Leventhal song before.
Fittingly, he defines the role of producer very loosely and admits it can change from one project to the next. He'd rather not sit idly in the control room fidgeting with the levels or supervising a small army of engineers and session players. Instead, he likes to dig in, get his hands dirty, and work as closely as possible with his collaborators, whether that means co-writing songs, choosing good covers, plucking out a bass line, banging a drumbeat, firing off a guitar lick, or laying down a bouzouki riff, if that's what the song needs. From one moment to the next, he's a sensitive sideman or a one-man band, Bacharach to your Hal David or Felice to your Boudleaux Bryant.
Perhaps his greatest gift as a producer, however, is that fanboyish excitement over every aspect of the music: his simple joy in the act of creation. That animates the music he makes with other artists, lending it a distinguishing liveliness, a sense of energy and urgency. All of those traits come to bear on Leventhal's latest project, This Is Where I Live, the first album by Stax soul legend William Bell in 10 years, not to mention his first for Stax in more than four decades. Bell is most famous for penning hits like "You Don't Miss Your Water" and "Born Under a Bad Sign," both of which are American standards by now, and, at 76 years old, his voice retains all of it vigor and expressiveness.
It's ostensibly a soul record, but for Leventhal, it's something more — it's a "singer/songwriter" record.
At what point in the process did you come in on William Bell's album?
Right from the get-go. A year-and-a-half ago, I was doing a show in San Francisco and I was walking to a soundcheck. The phone rang and it was Joe McEwen, who works at Concord, which owns the Stax imprint. He asked if I would be interested in producing William Bell. Really, it was like a lightbulb went on and, within a few seconds, I not only knew I wanted to do it, but knew what it should be. If people even think about me at all, they know I do a lot more singer/songwriter stuff, but I actually grew up playing R&B and soul music. It was the first music I learned when I became a musician. It's a huge part of my DNA. So I was really excited. I knew all about William. I love his voice and I love a lot of those old records. The only caveat I had was that I wanted to write the songs with him.
Why did you want to do that?
I want to say this in the right way so I don't sound arrogant. I can't explain it. I just knew I would be able to do it really well. I felt confident. I do a lot of collaborating and a lot of songwriting, and maybe that's slightly unusual among producers of rootsy music. But I just felt immediately this intuitive sense that I knew the shape of the record. I knew immediately that it should have some substance to it and that it shouldn't be a pastiche or a nostalgic rehashing of Stax and Muscle Shoals clichés. I knew it needed to honor that tradition, but move past it at the same time. I can't explain why, but I just understood that intuitively. So that was how I approached it. I had to woo William a little bit. He's a reserved guy. I don't think he had done any real collaborating for a while.
It doesn't seem like a soul revival album. It's a bit more comfortable in that style, and it sounds like you put a lot of thought into that aspect of the record.
This kind of project can fail if it gets too enamored of the language and clichés of when the music was vibrant and on the radio — the early '60s through the mid '70s. When people fall in love with that language, they just rehash it and spit it out again. But it can never be as great as it was. So I'm not going to go in and make this the Stax cut or make this the Motown cut. You can hear when people do that. But, for me, it's always a losing proposition. I trusted that enough of this language was in my DNA, and I know it's in William's DNA, so I knew we could honor what had already been done without getting bogged down in it.
But I want to say this the right way. I say this with a creative and loving attitude. I love the tradition of great soul music, but in some ways I'm completely uninterested in re-creating it. That's not interesting to me, in the least. What it really boils down to is this: It's just like doing any other record. I really want to write and produce great songs with meaningful vocals and some real feeling at their core. I want to listen to a song and really be moved by it. William was communicating some real feelings, some deep feelings. That voice is so glorious. Even though I love soul music and wanted to make a soul record, at the end of the day, for me, it just boils down to great songs, great vocals, and hopefully some thoughtful arranging and production.
What kinds of conversations did you have to prepare?
It's hard to put into words. William is a reserved guy, and he didn't know me from Adam. We had arranged for him to come up to New York and hang for a couple of days at the studio. I was already so inspired that I had come up with ideas for four or five songs … some lyrics mostly. William is 75, and he's in amazing shape physically and vocally. But when you're that age, you can't sing what you sang about when you were 25. You've lived 50 more years. You want to pick the songs a more experienced man is going to sing. And William has got this beautiful, dignified reserve. He's ultimately a ballad singer. He can get down with the best of them, but when you think of "You Don't Miss Your Water" and "Everybody Loves a Winner," those are two of the best soul ballads ever written. Those songs cast long shadows.
Short version is, my friend Marc Cohn and I had started this song "The Three of Me." I had some music and we had a little bit of the lyric. I played it for William and he started singing it, too. So that was a good first song. We finished the lyrics, and he sang on the demo, which basically ended up being the final record. I was lucky enough to play everything.
It sounds like an extension of what you've done in the past — the singer/songwriter album as a soul album. Which is interesting because, when most people think of roots music, I feel like they think of country or folk. They don't think of R&B or soul.
I am so with you on that, man. I really am. I love country music, and I love bluegrass, too, but so much of roots seems to come from those perspectives. I look at what I did with William to be exactly the same thing that I did on Rosanne's last record, which won Americana awards. I see them coming, in many ways, from the same tradition. The language is slightly different, but I think you're right. I hope William is embraced by the roots community, because this record sits right there.
You mentioned that R&B was the first music you learned and played professionally.
When I was growing up in New York, if you were going to make a living playing guitar and bass, it meant you were going to play in bars and clubs. If you were going to play in bars and clubs, it meant you were going to play music that people liked to dance to. And the music that people liked to dance to was R&B and soul music. Not exclusively, but that was what you had to play and you had to play it well. I'm very grateful for it.
One of the first gigs I got as a working musician was with this guy Billy Vera, who lives in L.A. now but grew up in the New York area. I was in his band, and we played for dancers. Billy pulled deeply from the soul and R&B tradition. I studied all the great drummers and bass players and guitar players. Cornell Dupree was the premiere R&B guitar player in New York, and I used to go hear him play all the time. My guitar ideas tend to be people like him and Curtis Mayfield and Reggie Young and Bobby Womack. I just inhaled all that stuff. My favorite bass players were James Jamerson and this guy Tommy Cogbill, who played on a lot of great Muscle Shoals records, including "Chain of Fools." So working on William's album felt like I was coming back to the beginning for myself. In some ways, soul music is closer to who I am than all this singer/songwriter stuff I've done up to now.
How did you transition from that role to producing?
My first successful collaboration as a songwriter and producer was Shawn Colvin's first album, Steady On, in 1988. I produced and co-wrote most of that album, and it won a Grammy. That was the first thing I did. Up until then, I was a sideman and was starting to get slightly disgruntled. I wanted to do my own thing, whatever that might be. Luckily, I developed this collaboration with Shawn. The next thing I know, I'm a record producer.
It sounds like you play three roles: producer, songwriter, and sideman. Do you feel like a good producer needs to be able to multi-task?
The short answer is, I think it's unbelievably valuable. But I also think you could probably be a successful small producer without knowing a whole lot about music or engineering. It's an amorphous job description. It can go from someone who knows when to order the right bottle of wine, to someone who's hands on and is essentially an engineer and arranger. I'm, at heart, an arranger and a musician. I love songwriting. I love playing. I love arranging great rhythm tracks. I just love all of it. In some ways, my perspective is, it's my life. I love all of it. So, if I can do all of it, all the better.
In the beginning, I think I approached it in a slightly more traditional way, where I stayed in the control room and cut tracks. Over time, I learned how to be a recording engineer and started playing more instruments. For me, it's great, but I can't say if it's right for other people, particularly current producers — because I'm probably not as up to date as I should be about what other people have been doing. People can make valid records even when they don't know that much about music. But my heart tends to be drawn to people who are very musical, as well as very soulful and creative. To me, just being musical alone isn't enough. You have to have a creative, soulful heart and a thrust toward originality. There are a lot of factors that go into making great music for me.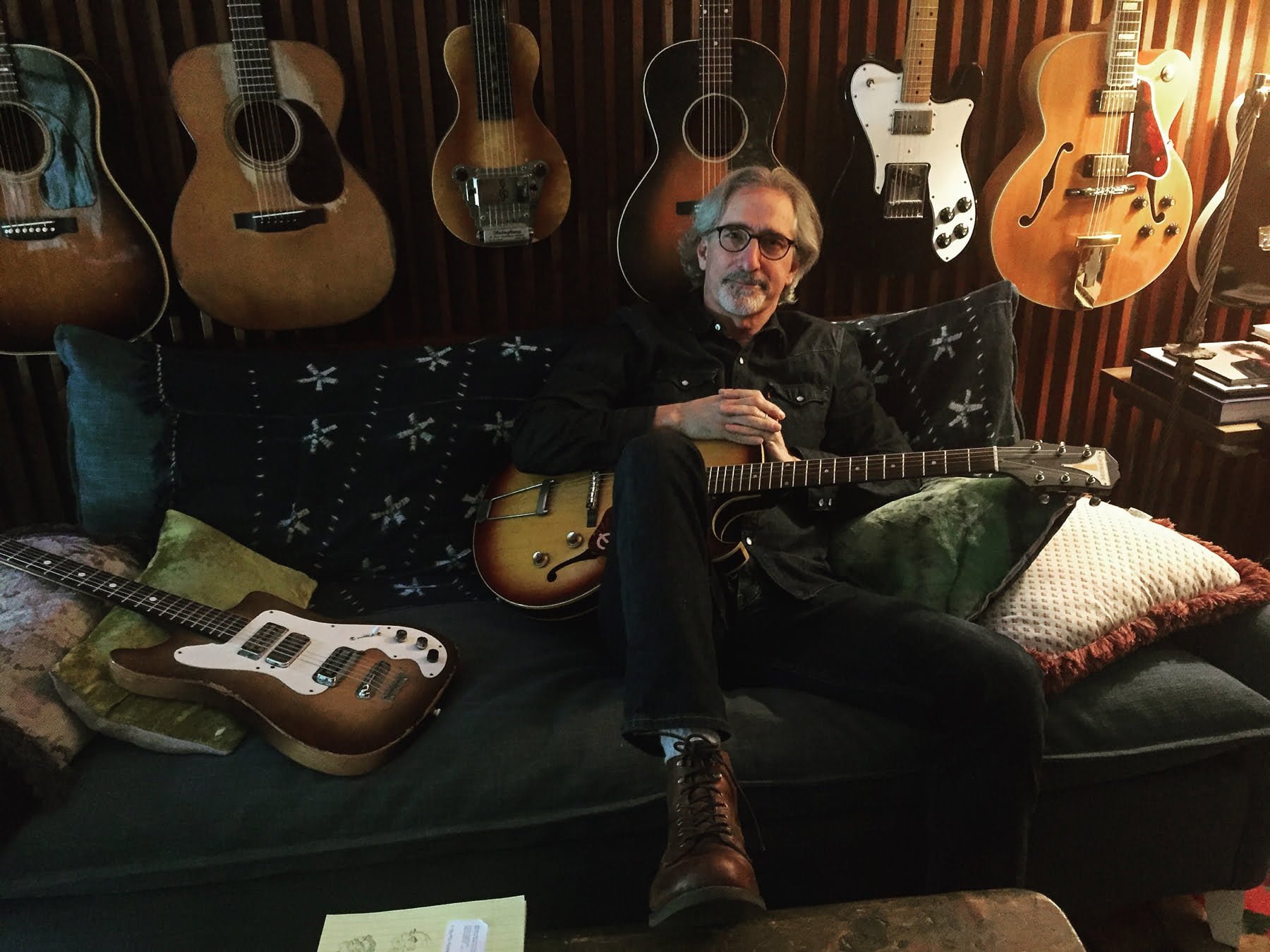 The role of the producer, especially in the roots world, is so nebulous that people can define it very differently. They can be hands-on or hands-off. They can play or they can find the right musicians to play. They can write songs or help others write songs.
For me, it's really hands on. I think the hands-off approach has value to it, as well, and I should probably try it occasionally, but it's just not as much fun for me. I get really excited. That's the musician in me — the fanboy. On one hand, the producer part of me needs to retain a detached perspective on what's happening in the studio, but the musician part of me gets really excited and wants to get in there and play bass. So it's really hard for me to resist, and at the point it's like, "Why even bother resisting?" It's such a joyful thing, and I have to say this: Making this record with William was one of the most joyful things I've done in my life. Hopefully that comes through when you listen to it.
Like a lot of the albums you produced, This Is Where I Live was recorded at the place where you live. But it doesn't sound like all of these records are coming from the same place or the same studio.
Some effort does go into not repeating the same old strategies. If you do this job long enough, you'll start to develop some paths or strategies — certain ways to record instruments, certain ways to write a song, certain ways to arrange them — which will give you decent results but nothing new. That path will be too well worn. So I have definitely put some effort, spiritually and specifically, into not doing those familiar things all the time. I try to inject some element of mystery and surprise on all levels. I'm always looking for moments that end up having a little bit of surprise — an unexpected chord change, a surprise lyric, a mysterious piece in the arrangement. All that stuff is important to me, and I think it keeps the listener involved, as well.
How does that work for an artist that you've had a long-term collaboration with, like Shawn Colvin or Rosanne Cash?
You always needs a break, at a certain point, to recharge, but there are certain people I just click with. Shawn Colvin and I, we just get each other. She's done plenty of records without me, but the records we've done have been pretty successful. Rosanne and I have a complicated deal since she's my wife. Our collaboration is awesome now, but if I go back to the beginning, maybe it wasn't quite as awesome. It took us a while to really find the best in each other. I'm always up for doing new stuff.
Rosanne's most recent album, The River & the Thread, grew out of a road trip that you took together.
We had been looking at whatever her next record was going to be. I really wanted to write with her, and I kept thinking it would be great to do … I hate this word, but it would be great to do a "concept" record. What I really wanted was to find something to write about other than just the random collection of your next 12 songs. Not that there's anything wrong with a random collection of your next 12 songs, particularly if they're great songs. But I thought it could be amazingly powerful and fun to find something to hang it on, and we just happened to be taking a trip to Memphis and rural Arkansas to look at the house that her dad grew up in. It had been falling apart, and Arkansas State University was making plans to rehabilitate it. So, we decided to make a road trip of it.
We had a friend in Muscle Shoals, and I had always wanted to go there because so much great music has come out of that area. A few things happened on the trip that seemed incredible — like something you could write about — and we had this vague idea that we could write an album about these places and these people. We wrote two songs right away, one called "Etta's Tune" and another called "A Feather's Not a Bird." One is bluesy and the other is country. I took those as the parameters of what we were gonna do, and we just ran with it. It was really fulfilling for both of us, and thankfully it seems to have connected with a lot of people.
I associate your records with a strong sense of place, especially that album, but also others like Rosanne's Rules of Travel and the Wreckers' Tennessee. Is that something that's important to you?
It certainly was on [The River & the Thread]. You know what, I don't think it's ever come to the forefront in the way I think about myself or how I'm inspired, but I do think you're right. Both Rosanne and I travel a lot. We do 50 shows a year. I love going to American towns and cities and trying to soak up some of the vibes on all levels, musically and spiritually, just to get a feel for places and people outside of my own New York experience. I think that's inspiring. Shawn and I wrote a song called "Wichita Skyline," and I remember thinking that, when we were kids, that tradition of writing songs about places and folding a compelling story into a place was a big part of some of the great songwriting when I was younger. I think it has a lot of power, but I think I carry with me this sense of being an outsider when I go to a new place and just hover. There's a gulf between being somewhere and feeling like you belong there. What is the idea of home? What does that even mean? That's a thing I always carry with me.
Especially since home is a place not only where you live but where you have your studio, where you create, where you turn those experiences into music.
There's a song on William's record along these lines. Part of my job as his producer and collaborator was to get a sense of him on the record. He has a slight reserve to him, and I wanted to inject … I didn't really care about injecting a lot of Autobiography with a capital "A." But I thought it would be great to have elements of his story in some of his songs. We were in the studio one day, talking about how we knew all these musicians who, as they got older, maybe they grew up in Shreveport or New Orleans or wherever. At their heyday, they either went to L.A. or Nashville, but when they got older or the recording scene dried up or the vibrant part of their career ended, they ended up moving back home. That happens with a lot of people. And Williams said, "People just want to go home." Everybody wants to go home — metaphorically, spiritually, literally. So the last song on the record is us playing around with that idea. Everybody wants to go home. Everybody wants to have that place that feels like them, that centers them.
I heard that as a gospel song, where home is heaven. Everybody wants the comfort of salvation.
It's definitely a gospel tune, and of course it could be read as heaven. The soul tradition is heavily indebted to the church. A lot of those feelings people can have toward Jesus, a lot of those feelings people can have toward their lover. The yearning is similar, I think. We all need it. We all want it. It's why we write all these damn songs.