A six-hour drive to one stop light in the middle of West Texas has never seemed more appealing until the quaint, artsy town of Marfa, Texas, began to blossom. Drink a Lonestar with a cowboy, see the Marfa lights, and get your artistry on with teeming inspiration in the middle of this changing desert town with a population of 2,121. With little to no nightlife, vegetation that looks like you stepped into a Dr. Seuss story, and a clear desert sky, Marfa is a quite the getaway.
Getting There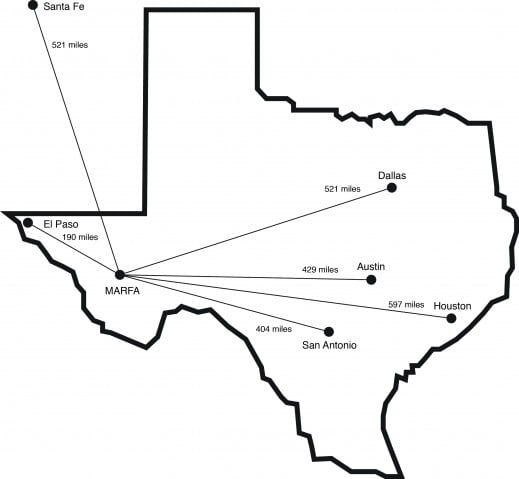 Photo credit: ballroommarfa.org
If you're feeling a road trip through West Texas, take the six-hour drive from Austin, or fly into El Paso's International Airport and head southeast for about three hours. Midland Airport is also a three-hour drive. Since Marfa is so rural, it's quite the haul from larger cities in Texas.
Accommodations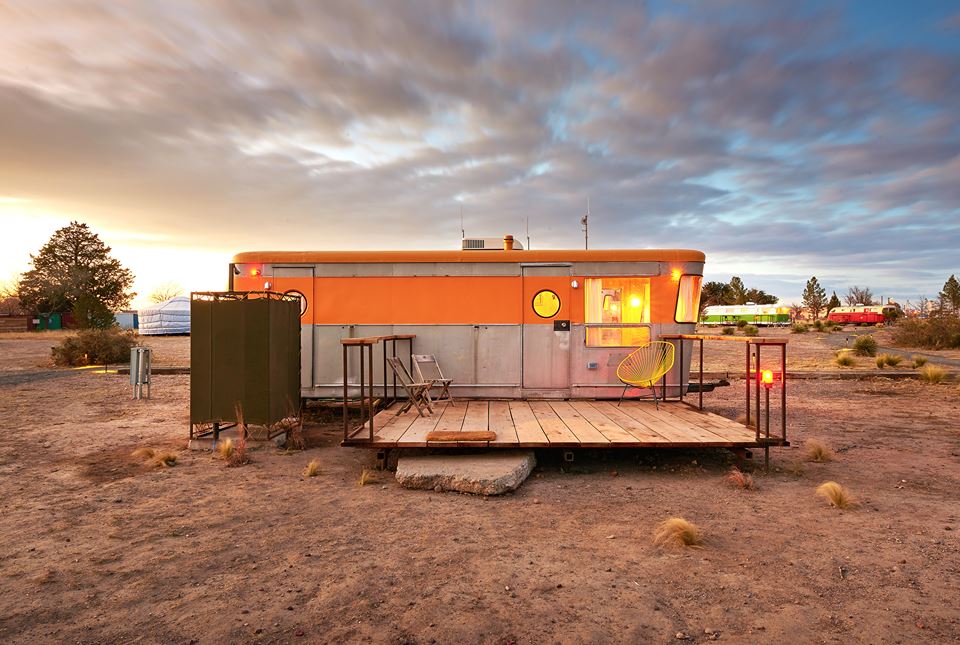 Photo courtesy of El Cosmico
If you're looking to meet other artists (like Queen Bey) and really #liveauthentic, El Cosmico is an 18-acre trailer, tent, and teepee hotel with a hammock grove made for artist meetups. The Hotel Paisano is a restored hotel with original architecture, plus an outdoor restaurant and pool. Thunderbird Hotel is also beloved, with its 1950s minimalist chic vibe. Plus, the top 20 highest-rated Airbnbs in town range from airstream trailers to boats on dry land to "Modern + Minimal" homes.
Eats & Drinks
A hippie meets a cowboy at a local dive for a Lonestar kinda atmosphere, Marfa's food and drink scene runs the gamut from trippy grilled cheese spots to food trucks to breakfast tacos. Many places are cash only, so be sure to check before you go. Hours are spotty at all of Marfa's restaurants, but you can take comfort in the fact that Stripes is open 24-7.
Thunderbird Café has gourmet sandwiches, fried chicken, and fluffy biscuits making for a solid lunch spot. Marfa Burrito's breakfast burritos are a hallmark of the scene, and you can get your fancy coffee fix at Do Your Thing, alongside homemade sourdough toast, unique porridge specials, and Four Barrell Coffee. Grilled Cheese Parlour is filled with 1950s TVs serving late-night grilled cheeses, and Food Shark is an airstream serving tasty Marfalafel and other mediterranean food. Boys2Men is a renowned food truck specializing in breakfast tacos, and Chochineal has an upscale brunch, specializing in Tex-inspired fare like chilaquiles.
Sight Seeing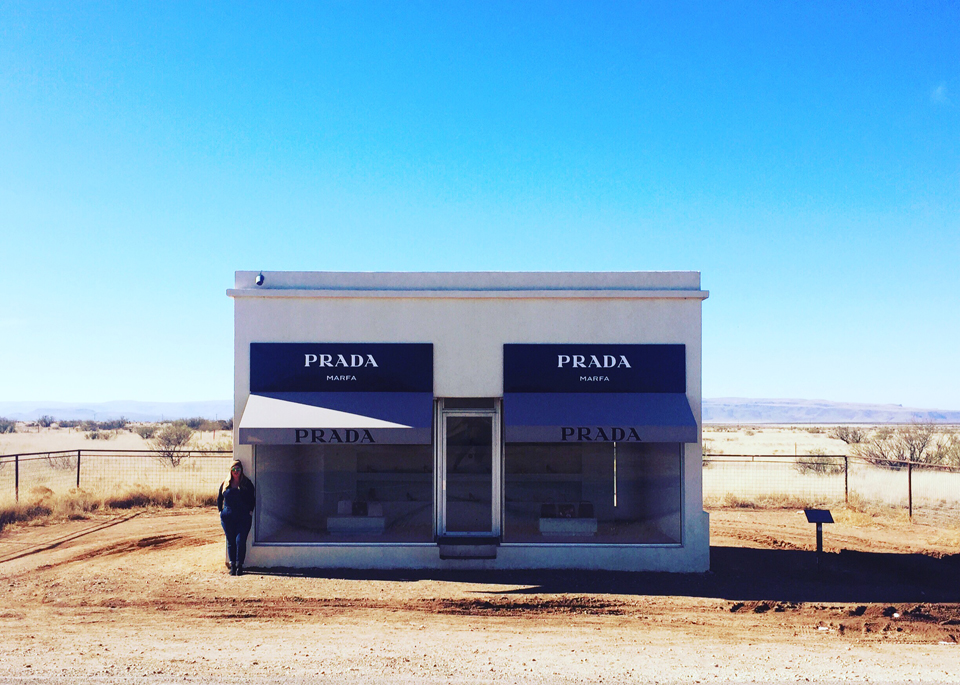 Photo credit: Lauren Swedenborg
Most shops, restaurants, and galleries are closed on Mondays and Tuesdays, so plan to take it easy or go exploring outside of town those days. There are two grocery stores and two ATMs in town, so consider bringing snacks and cash with you. Thirty minutes outside of town near Valentine, Texas, lies Marfa's most recognizable marker: Prada Marfa. A permanent art exhibition co-produced by Ballroom Marfa, this Insta-worthy freestanding store is disorienting as you peek through the glass windows to see the fall 2005 Prada collection … in the middle of West Texas.
Speaking of Ballroom Marfa, their gallery is the town's go-to for art — especially their immersive video installations. Pretty much every part of town has been converted into a makeshift art gallery, so there's always eye (and brain!) candy like this installation in the front room of Big Bend Coffee Roaster, "The Listening."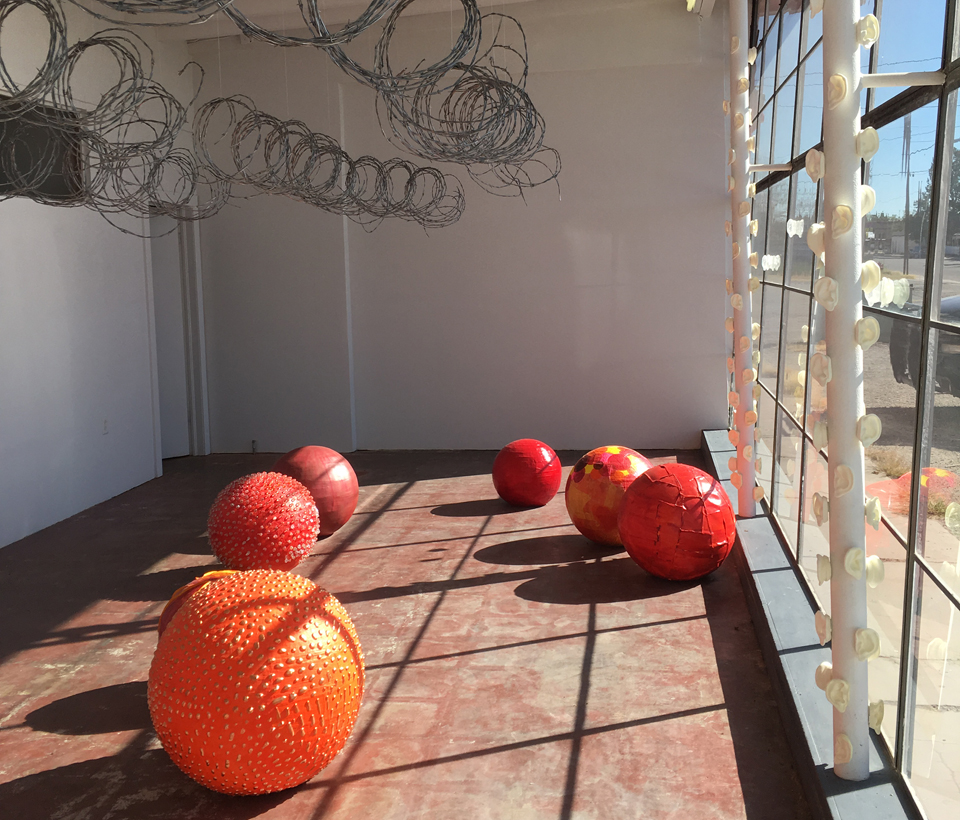 Photo credit: Maria Perry
If you're into the unknown — and possibly extraterrestrial — try to catch the Marfa Lights along Route 67, which are unexplained beams of bright lights that flicker across the horizon 10 to 20 times per year. Or just stick with regular ol' stargazing, sans light pollution, at one of McDonald Observatory's Star Parties to see the stars in the rural country, 40 minutes from Marfa.
Shopping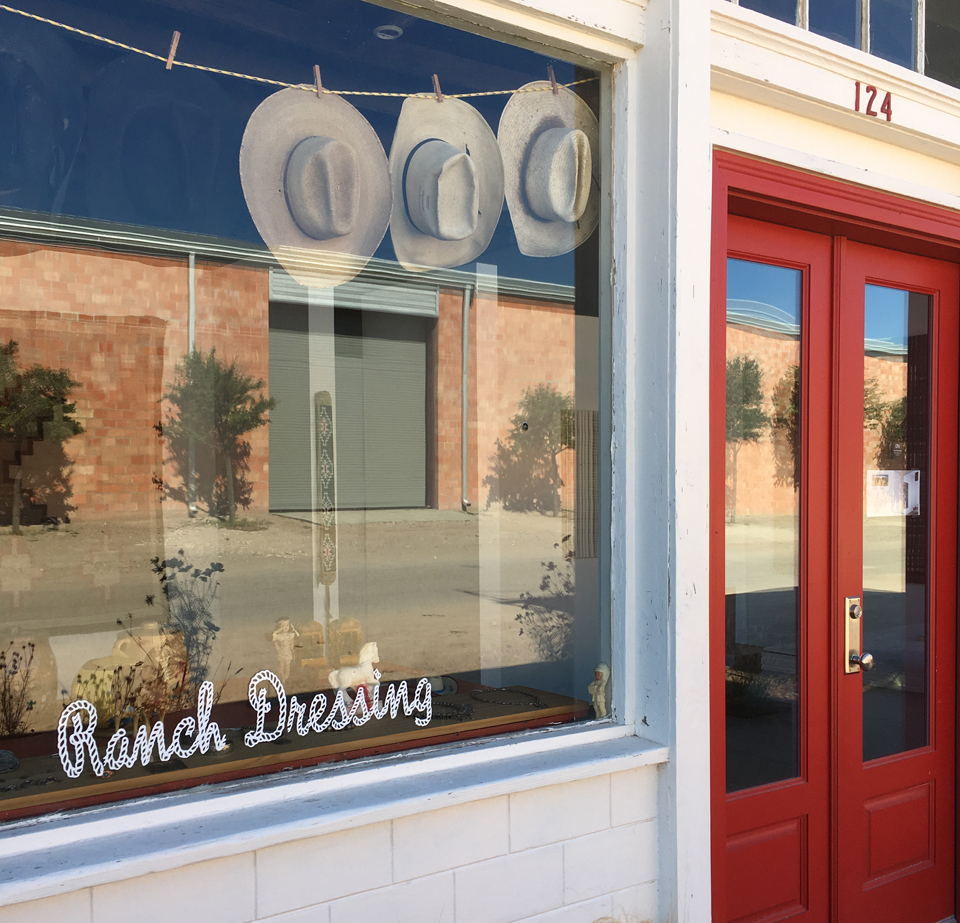 Photo credit: Maria Perry
Marfa's shops have the bare hipster essentials: gemstones, cowboy boots, vintage clothes, and books. At Moonlight Gemstones, you can buy Himalayan pink sea salt by the pound, plus handmade jewelry. The Marfa Book Company doubles as an art gallery and performance space and has been in business for 20 years, located in the Hotel Saint George. Cobra Rock Boot Company makes one handmade pair of ankle boots in many variations. Seeing a theme? Marfa fosters artists. And then there's Ranch Dressing — a vintage pop-up shop with a bounty of carefully curated used apparel.
Restaurants, shops and bars change often with artists coming and going, so be sure to check marfalist.org, the minimalist site Marfa locals use to stay up-to-date with the most recent changes.
---
Lede image: One of Donald Judd's concrete pieces at the Chinati Foundation in Marfa, Texas. Photo credit: K Bennett.