Moab, Utah, is a playground. Seemingly built to climb rocks and rappel down rock faces, this rugged town is surrounded by two national parks and countless state parks. It's the chaco-wearing, Jeep-driving, Clif Bar-eating crowd's Mecca. In a valley of red rock, the otherworldly colors and shapes are a reminder of how powerful water and ice can be in shaping a landscape. Rock-peeping tourists, tour guides, local business owners — plus the plants and animals who can survive in the harsh climate — are the occupants of this adventure lovers' town.
Getting There
About an hour from the Colorado border, Moab isn't exactly centrally located. The two closest major (read: cheapest) airports are in Salt Lake City and Denver at four hours and five-and-a-half hours away, respectively. Moab is right off Interstate 70, which makes for a long but scenic drive through the mountains from Denver. Grand Junction, Colorado, is an hour-and-a-half away and has a regional airport.
Where to Stay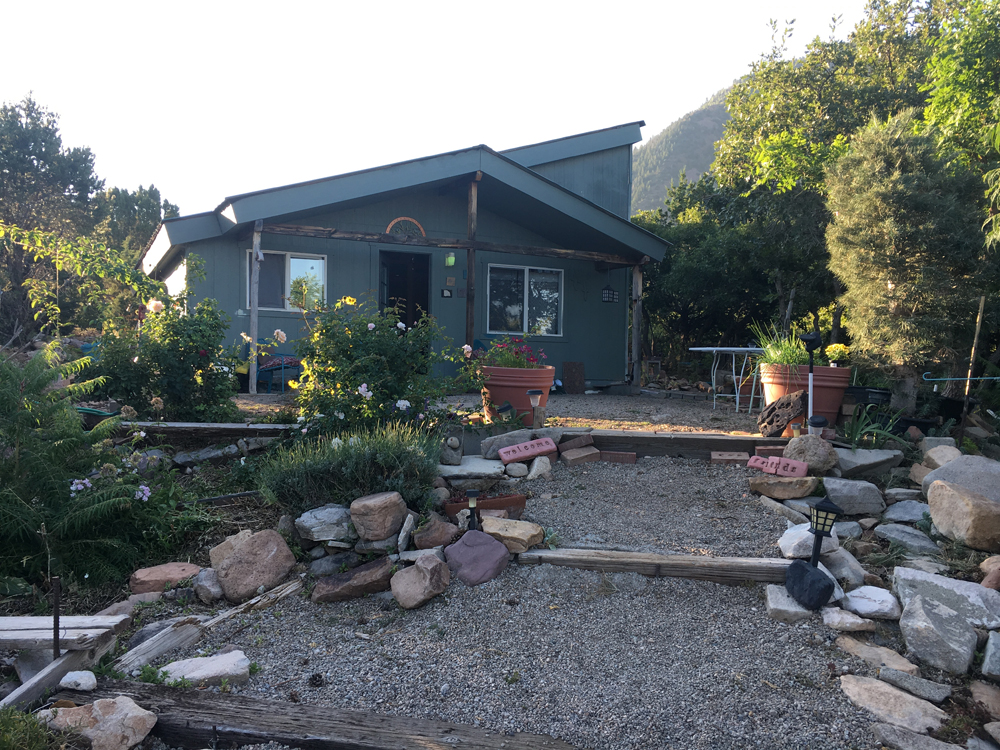 CloudHouse
Kitschy hotels and "resorts" abound in Moab, but we recommend convening with nature. With campgrounds a-plenty, camping is one of your best bets. Try the Big Bend campground, located on a scenic road right on the Colorado River just a few miles from downtown Moab. Of the resorts, Red Cliffs Lodge stands out as one of the best with large rooms right on the Colorado River and views for days. Airbnb options range from tiny cabins right in town, like Sunny Acres, to plenty of yurts and teepees, which are a popular option. We also recommend staying in the La Sal Mountains outside of town in the "CloudHouse."
The Outdoors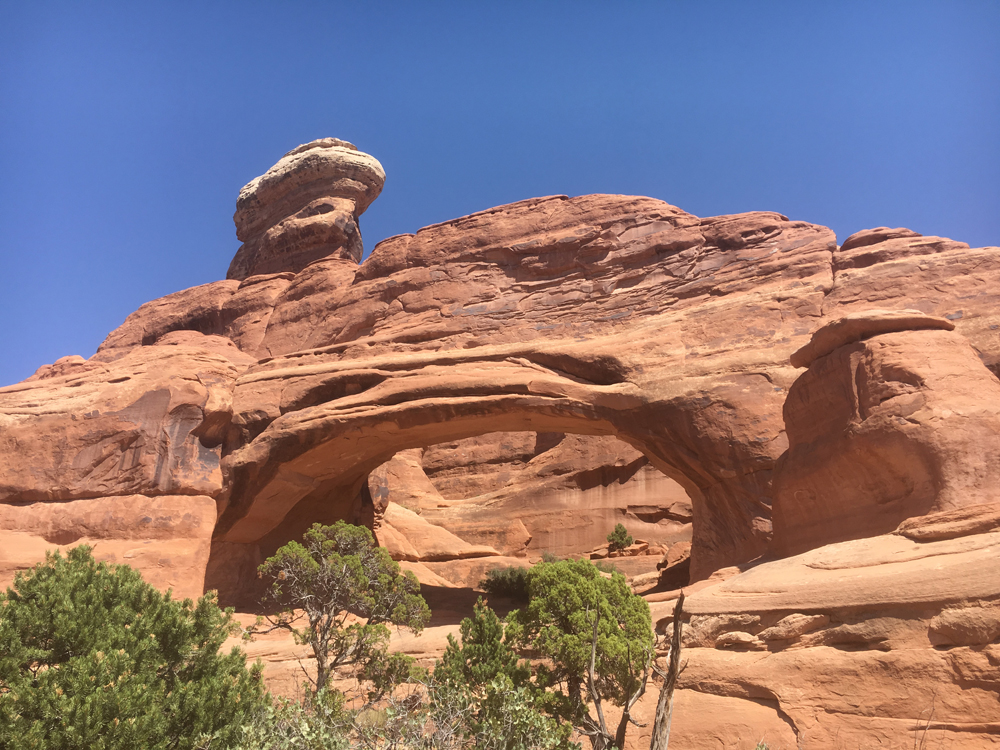 Tower Arch
The two national parks — Arches and Canyonlands — get most of the condign glory in the area. Arches National Park has plenty of rock formations to go around, and most are viewable from the scenic drive which intersects the park. The park offers hikes for every level, from a mere quarter-mile climb leading to the impressive Double Arch, to longer hikes across the primitive landscape involving rock scrambles and sand trekking to the Tower Arch and Devil's Garden. Heat strategies are encouraged for the summer months, like getting hikes in before noon and toting a liter of water per person at all times.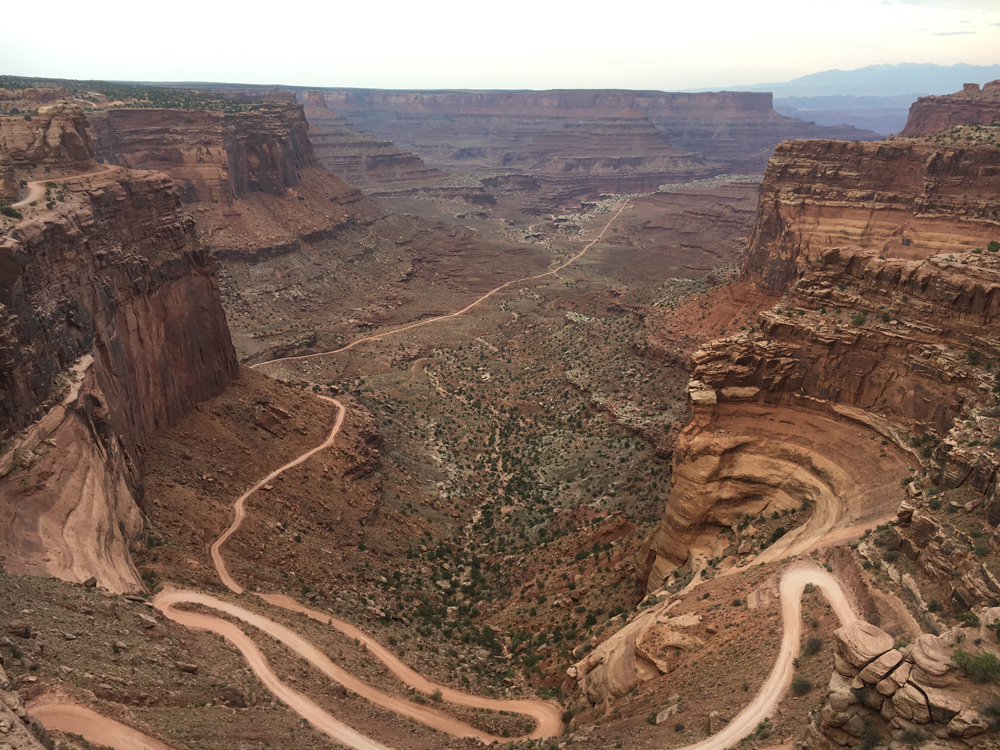 Canyonlands: Island in the Sky
After visiting Arches, it seems impossible for nearby parks to be any different from the steep, reddish-pink rocks visible for miles, dotted with the grey-green cacti and sagebrush. However, Canyonlands National Park's immensity and landscape is a stark contrast from Arches. It's huge and split into four sections with sprawling, steep rock formations. The Needles is a particularly stunning spot to explore for longer trips, and Island in the Sky is a great lookout point for passers-through.
A departure from the desert climate of both Arches and Canyonlands, climbing into the Manti-La Sal National Forest offers a green, lush heat respite and is peppered with archeological sites like dinosaur footprints, giving us Land Before Time throwbacks.
After taking in the scenery by foot, Moab's thriving adventure tourism scene will prompt you to explore via plane, rope, boat, or 4WD vehicle. We recommend canyoneering with Red River Adventures or flying over Arches in Redtail Air Adventures' $99 flight. Mill Creek Waterfall provides a much needed place to take a cool dip in the middle of the desert and, if you're feeling hungry, head to Potato Salad Hill to drive ATVs over the boulders and well-trafficked 4WD trails.
Food & Drink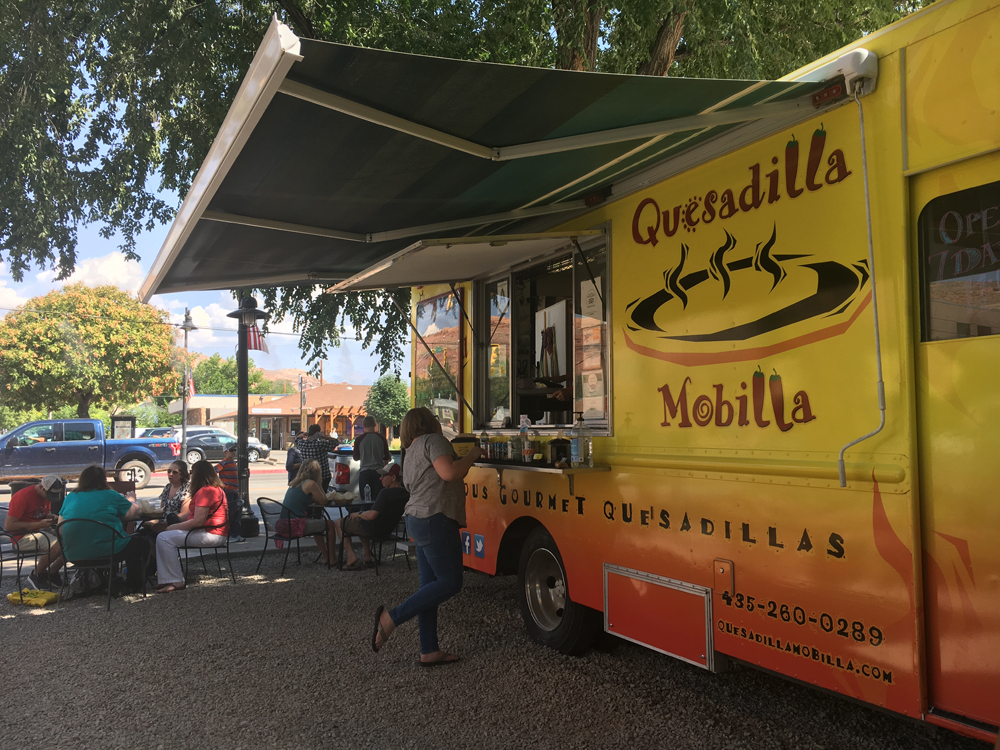 Quesadilla Mobilla
Admittedly Moab isn't a foodie town, which makes finding post-adventure grub a bit tougher. Quesadilla Mobilla has flavorful, cheap quesadillas with chipotle sour cream and spicy salsa, plus a courtyard full of water misters to cool you down while their food heats you up. We may have eaten at this downtown food truck three times in five days. Groceries and quick food options are available at Moonflower Community Co-op, a classic organic grocery located in downtown.
There's no other brewery option in Moab, which makes the choice clear to head to Moab Brewery for post-hike brews. Love Muffin is a breakfast and lunch spot with plenty of veggie options, breakfast sandwiches, plus deliciously strong cold brew. Moab Garage Co. serves nitro ice cream by the friendliest husband and wife entrepreneur duo and offers local art.
The Arts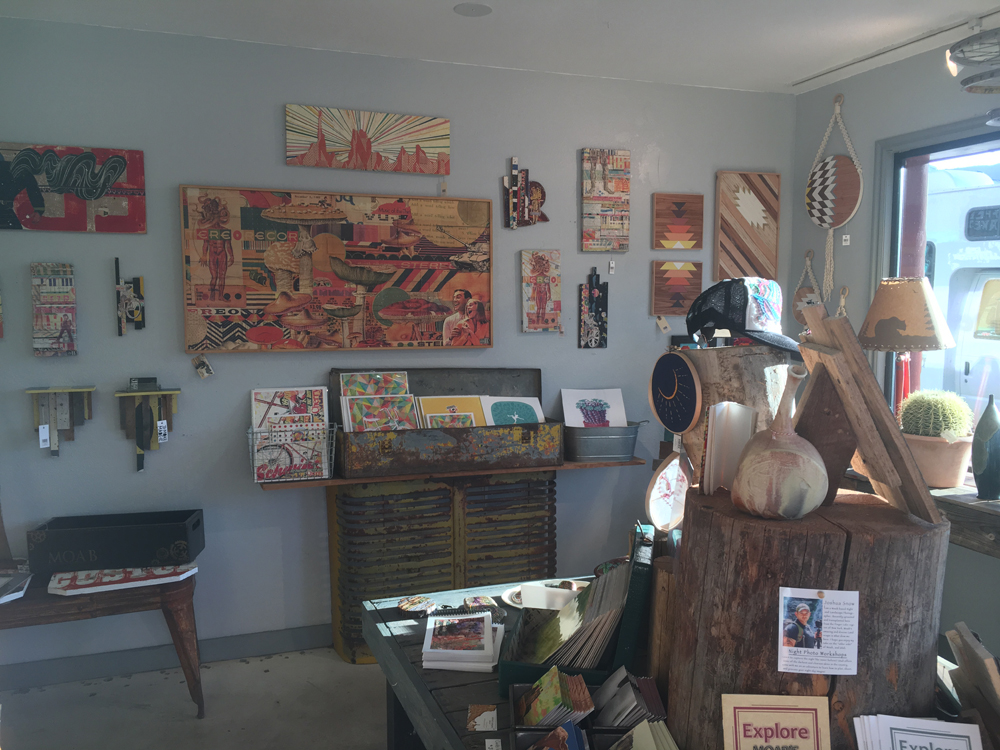 Moab Made
Certainly inspired by the landscape, local artists — and those just passing through — have created a robust art gallery scene along the main strip. Moab Made features rotating local artists, many of them using recycled materials for their artistry, like a local who makes jewelry from re-tire-d bike tires.
Moab Music Festival pairs musicians with the landscape every summer, offering musical hikes, musical raft trips, and concerts at the edge of the Colorado River. We were lucky enough to see BGS faves Béla Fleck & Abigail Washburn do their witty, endearing, magical thing at the Red Cliffs Lodge.
Local Flair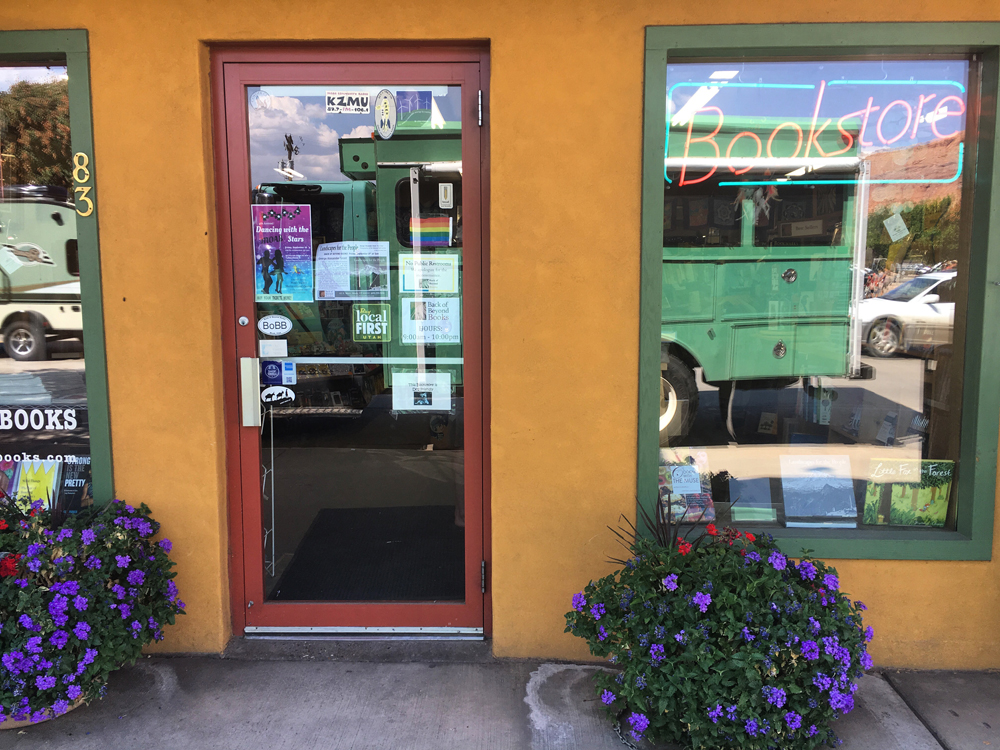 Back of Beyond Books
Indigo Alley is a well-curated local clothing shop offering men's and women's clothing, like leggings patterned with cacti to blend in with your surroundings. Back of Beyond Books has a great selection of regionally specific books for deeper dives into the Utah area and an impressive selection of antique copies of classic literature.
If you'd like to take a bit of the landscape with you, Moab Rock Shop is your souvenir shop. It's not one of those cheeky rock shops, instead offering pieces from Utah to the Himalayas with rock nerds there to tell you the origin and benefits of each piece.
---
Lede photo credit: Anthony Quintano via Foter.com / CC BY. All other photos by Josephine Wood.