I've got a soft spot for New Orleans. No matter how many times I visit, I always find more to love. Tourism is the heart of New Orleans' economy. In 2014, nearly 10 million people visited bringing in nearly $7 billion dollars. Everywhere you go, there is a celebration of New Orleans' rich history — usually accompanied by lots of drinks and revelry. Needless to say, this town will show you a good time.
Getting There
For many travelers, getting to the destination is half the fun. Others prefer being there. If you are the latter, New Orleans is home to Louisiana's largest airport. All major airlines fly to it. If you are the former, take the legendary Highway 61 — the Blues Highway. Be sure to stop in Clarksdale, Mississippi, which is home to juke joints and good eats. Also, take a photo at the crossroads where Robert Johnson supposedly sold his soul.
Accommodations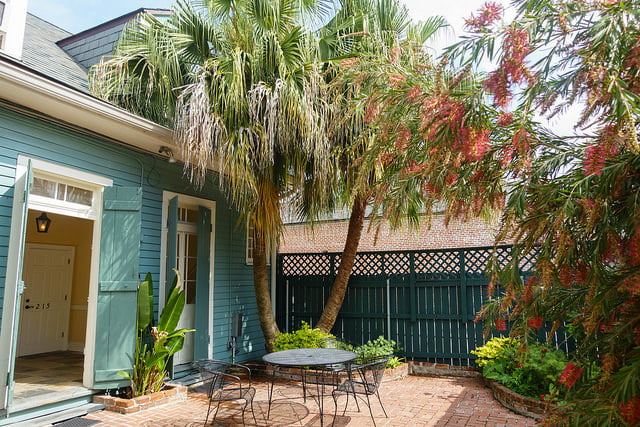 Hotel Saint Pierre. Photo credit: Numinosity (Gary J Wood) via Foter.com / CC BY-SA.
The fantastic Hotel Saint Pierre is not one building, but several historic buildings occupying both sides of an entire block nestled between the Tremé and the French Quarter. The Garden District House is another good choice, if you're looking for an affordable, uptown hostel in the Garden District, a gorgeous neighborhood that is home to New Orleans' elite where mansions and former plantations intermingle with upscale restaurants and cemeteries. Best of all, it is near the streetcars for quick access to downtown and the French Quarter.
If money is not an issue, class it up at the Roosevelt Hotel, a centrally located picture of luxury which houses some of New Orleans' best restaurants and classiest bars. Even if you do not stay here, swing by for a drink and check out the lobby. (More on the Roosevelt further down.)
The business district is another solid choice that is easy on the pocketbook and within walking distance to the French Quarter. There are some great stays, like the Whitney Hotel. It is a former bank, has good rates, and offers a unique New Orleans experience.
Food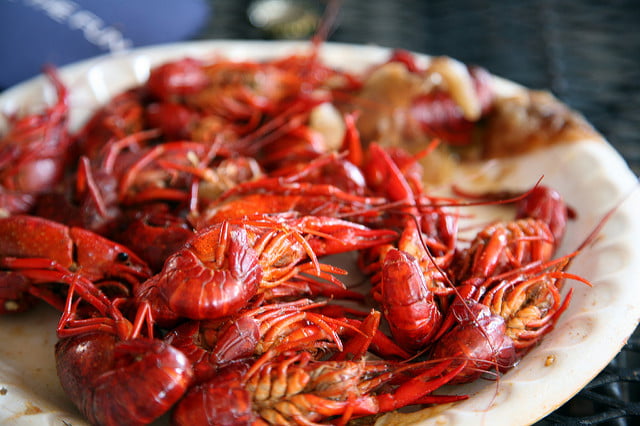 Boiled crawfish. Photo credit: kittenfc via Foter.com / CC BY.
In New Orleans, it is not where you eat, but what you eat. You need to get some crawfish. The Original French Market Restaurant is a good place to start. I recommend the crawfish boat — it comes with potatoes, sausage, and corn boiled with two pounds of crawfish to create a flavor assault on your mouth.
You also have to get a po' boy. NOLA Poboys is a good spot in the French Quarter, but there are hundreds of others to choose from.
You need to get a beignet and it might as well be at Café De Monde, which is a New Orleans landmark dating back to 1862. Today, Café Du Monde is open 24 hours a day, seven days a week — only closed on Christmas Day and during the occasional hurricane. All the world's beignets are judged against theirs, as they set the benchmark.
You should also eat a muffuletta. Central Deli and Grocery originally concocted this beast of a sandwich that consists of olive salad, mortadella, salami, mozzarella, ham, and provolone on a Sicilian bun. It is intense. Central Deli and Grocery is still operating, so swing by their Decatur Street location. You may want to split the sandwich.
When you are ready for a healthy meal, head down by the Warehouse Arts District to eat at Seed. It is a vegan restaurant, but your tastebuds won't know it. Seed offers a variety of fresh juices and smoothies to help with hangovers, and their menu is a healthy version of classic New Orleans dishes for a good change of pace after all the po' boys and muffulettas.
Drink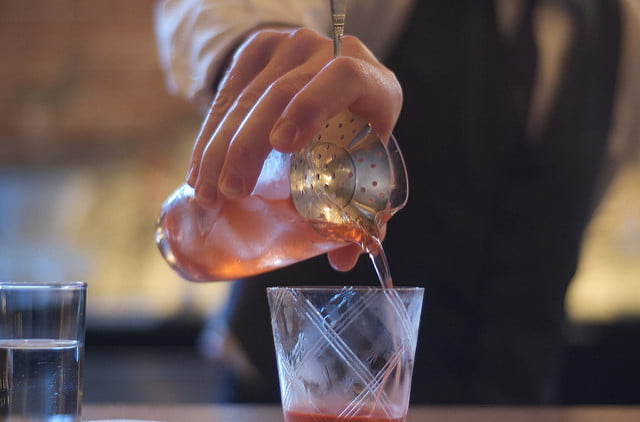 Sazeracs. Photo credit: susanna bolle via Foter.com / CC BY.
There is no shortage of bars in New Orleans. You must walk down Bourbon Street — get a to-go beer and have a nice stroll. Stop at Marie Laveau's Voodoo Shop for souvenirs, and try to avoid tripping over the passed out frat boys. There's a lot of fun amidst the chaos.
The sazerac was the first cocktail invented by Antoine Amédée Peychaud in 1838. When he died in 1893, the Grunewald Hotel acquired the rights. In 2009, the former Grunewald reopened as the Roosevelt. Swing by their Sazerac Room and enjoy this New Orleans cocktail.
If you love dive bars, check out Molly's in the French Quarter. They have a great jukebox and cheap drinks. You can get a beer and a shot for $5. For outdoor seating, go to Pat O'Brien's next to the Preservation Hall. Perfect for warm Southern nights, the cobblestoned patio tables are nestled amongst fountains and flora, while pianos duel inside.
Coffee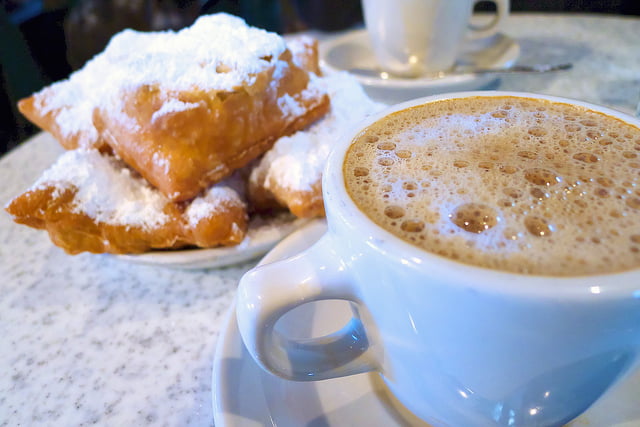 Café' au lait and beignets. Photo credit: kaige via Foter.com / CC BY-ND.
You are already going to Café Du Monde for beignets, so you might as well get some of their famous chicory coffee. Though chicory was a coffee substitute during the Civil War, today, the coffee and chicory are mixed to create a wonderful earthy flavor with a hint of chocolate.
Mister Gregory's on Rampart Street is another great coffee shop. It is a French casual café in a great location — far enough off the beaten path that you can sit for awhile, but not so far that your feet will get sore walking to it.
Live Music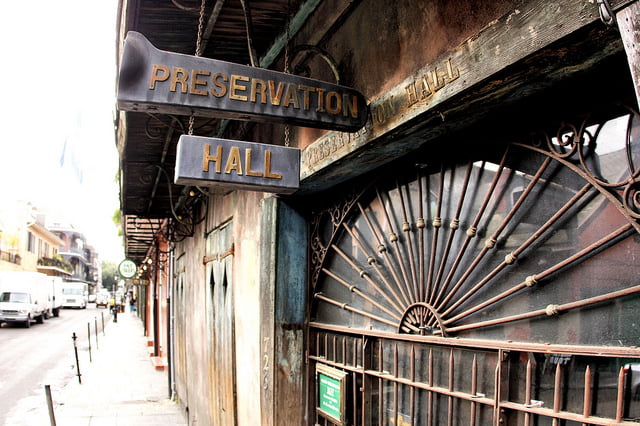 Preservation Hall. Photo credit: Phil Roeder via Foter.com / CC BY.
The French Quarter is still home to some great live music. Fritzel's European Jazz Bar on Bourbon Street is fantastic. On Sunday afternoons, they have stride piano and, every night, they have top-notch, live jazz. If you need convincing, check out Fritzel's New Orleans Jazz Band on Spotify. There is never a cover, although there is a drink minimum.
Preservation Hall's history, alone, is worth the admission, and the music makes it one of the best deals in town. Get there about 30 minutes early, as the room is small and sells out.
Frenchman Street is also home to a bustling live music scene. The Maison has some great jazz and funk in a large room with room to dance. I highly recommend visiting d.b.a on Monday nights. When he's not on tour, Luke Winslow-King plays every Monday at 7 p.m. His last album, Everlasting Arms, was one of my favorites from 2014. Right down the street is the Spotted Cat Music Club. It is home to some of New Orleans' best traditional jazz, though most of the bands are younger and many have an Americana Twist.
Local Flavor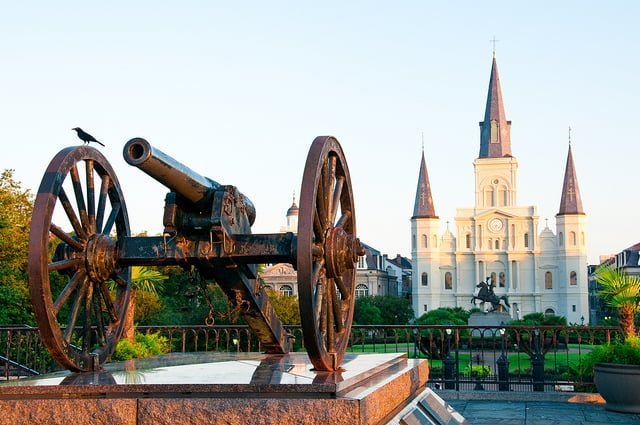 Jackson Square. Photo credit: christian.senger via Foter.com / CC BY.
There is more to New Orleans than just drinking and music. Take a riverboat cruise. You're on the Mississippi River, after all. Enjoy it! There are three riverboat cruise companies. I recommend the Creole Queen. Their paddleboat is the nicest, their crew is the best, and the bar has live music. The cruise stops at Chalmette Battlefield, where the Battle of New Orleans was fought. Most historians consider it the last great fight in the War of 1812.
I also recommend checking out a burlesque show by Fleur De Tease at One Eyed Jacks. One Eyed Jacks makes some of the best cocktails in town. The show is wonderful. Be warned, it sells out fast. Get your tickets early.
Designated by Congress as America's official museum about World War II, the National World War II Museum is ranked by TripAdvisor as the #1 attraction in New Orleans. USA Today also named it the best place in the U.S. to learn military history, so it is a must-see for history buffs.
If you prefer serial killers and vampires to military history, take a haunted tour to learn about New Orleans' seedy past while sipping hurricanes. It is informative, fun, and a great way to explore the town.
I also recommend visiting Congo Square at Armstrong Park. It is the birthplace of jazz. In the 18th century, enslaved African vendors gathered there. On Sundays, they sang, danced, and traded. The cultural expressions developed into the Mardis Gras Indian traditions, the Second Line, and, finally, New Orleans jazz. It is one of the most important squares in the United States. Armstrong Park is also home to an amazing sculpture garden.
On the way to Armstrong Park, check out the Washing Cycle. Located kitty-corner from the park, it formerly housed J & M Studios. Early rock pioneers like Little Richard, Fats Domino, and Dave Bartholomew first recorded here. J & M Studios was integral to the development of early rock 'n' roll, though it is now a laundromat.
---
Lede image: Bourbon Street. Photo credit: Eric K Gross via Foter.com / CC BY.