Coined the "Research Triangle," the Raleigh-Durham-Chapel Hill area is a hotbed of creativity and invention located in the northeast central region of North Carolina. As one giant "college town" encompassing North Carolina State University, Duke University, and the University of North Carolina at Chapel Hill, the Triangle has nurtured indie rock, punk, hip-hop, metal, and, of course, roots music. Historically, North Carolina has played a key role in the long-standing tradition of bluegrass and old-time, which makes it the perfect setting for the World of Bluegrass homecoming.
Getting There
Just 20 minutes from downtown Raleigh, the Raleigh-Durham International Airport is the main airport serving the Triangle. Ground transportation is provided by the airport tax service, the Triangle Transit Authority, and local shuttle companies. Cab fare is an estimated $30, but hotels typically offer their own shuttle services to and from the airport. For non-flight options, try Amtrak or Megabus.
Lodging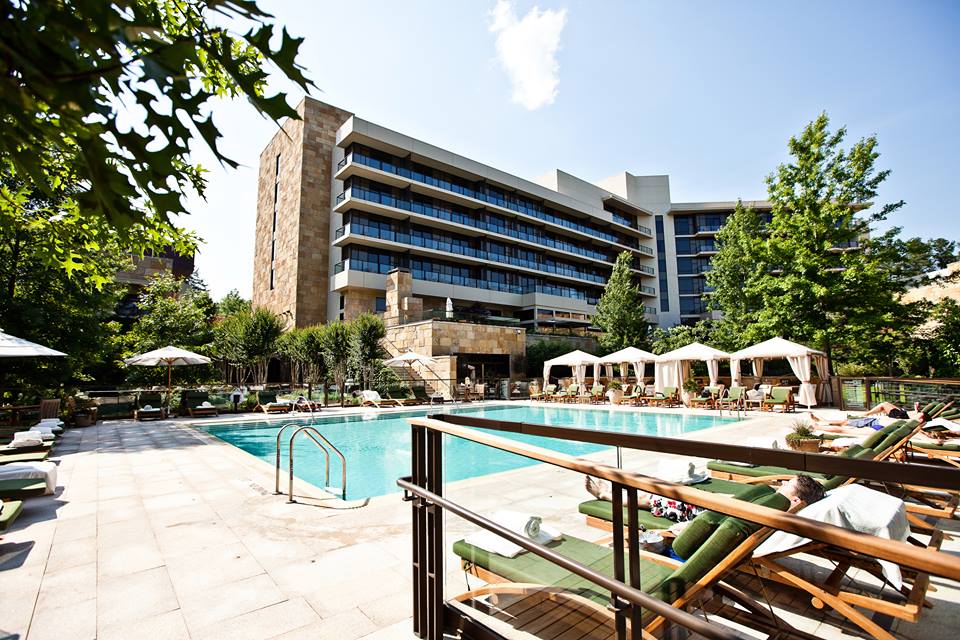 Outdoor lounge area at the Umstead Hotel and Spa
The Umstead Hotel and Spa is technically in Cary, North Carolina, just five minutes from the Raleigh-Durham International Airport. Set on 12 acres of land with a lake and wooded gardens, this is a luxury option for travelers looking for some R&R in their down time. For something more affordable, an Airbnb search pulls up over 300 listings in the Raleigh area, ranging from historic homes to downtown condos.
Coffee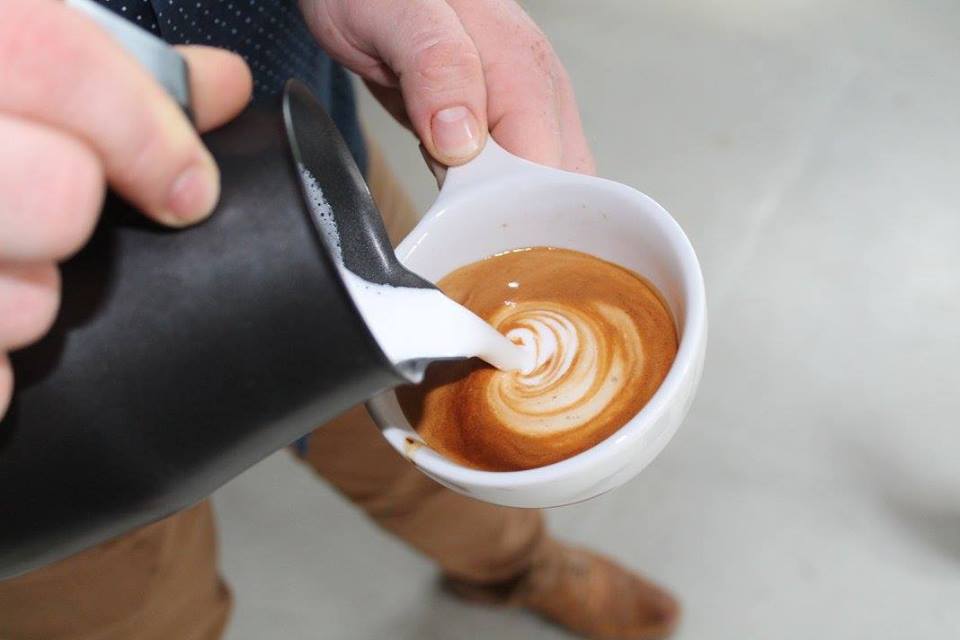 A delicate pour at 42 & Lawrence
Located in the new Skyhouse building in downtown Raleigh, organic coffee bar 42 & Lawrence is a must. This inventive coffeehouse comes complete with a row of taps and a juice rail for pressed juice on-site. Some of the tap offerings include kombucha, cold brew coffee, nitro cold brew, and experiments like the "draft latte" (a mixture of cold brew coffee, Jersey cow milk, and housemade vanilla syrup) and a "Black and Tan" (cold brew coffee combined with the draft latte).
Food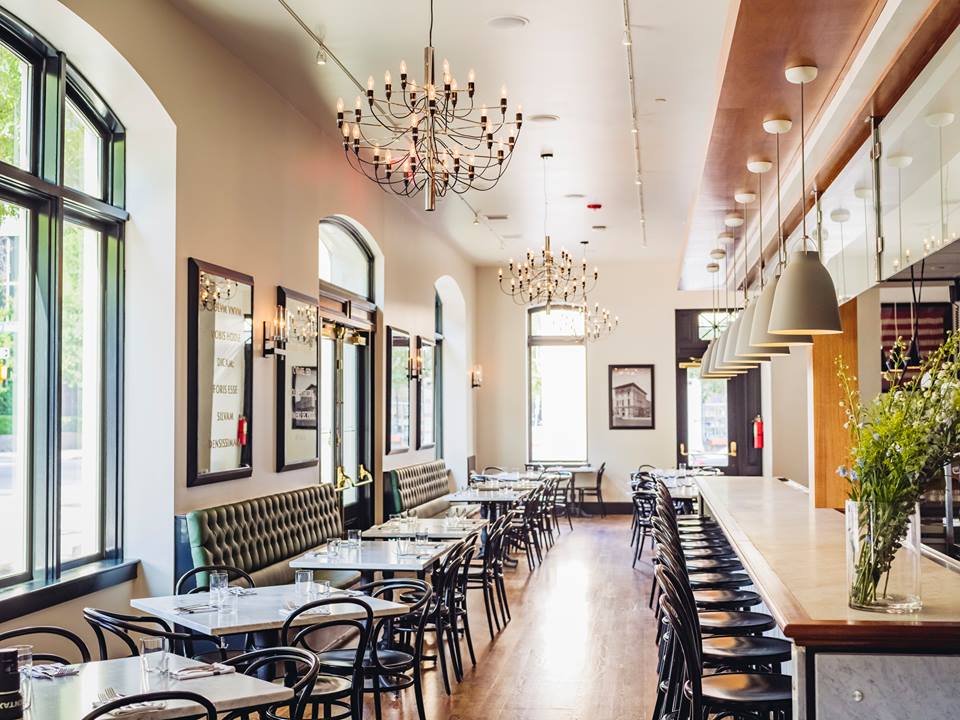 Dining room at Death + Taxes restaurant
Since moving to Raleigh, Chef Ashley Christensen has carved out a niche refining Southern comfort food. Each new venture she opens is even more anticipated than the last, so it's worth stopping by any of her establishments while you're in town. Opened back in 2007, Poole's Diner was one of downtown Raleigh's first restaurants, while Joule Coffee + Table combines Durham-based Counter Culture coffee with moderately priced Southern fare. If you're looking for a fine dining option, one of the latest offerings from AC Restaurants, Death + Taxes, is your go-to. It's a culinary playground where octopus is an appetizer and "foraged and 'fought for' mushrooms" soaked in sherry and brown sugar is an entree.
Drink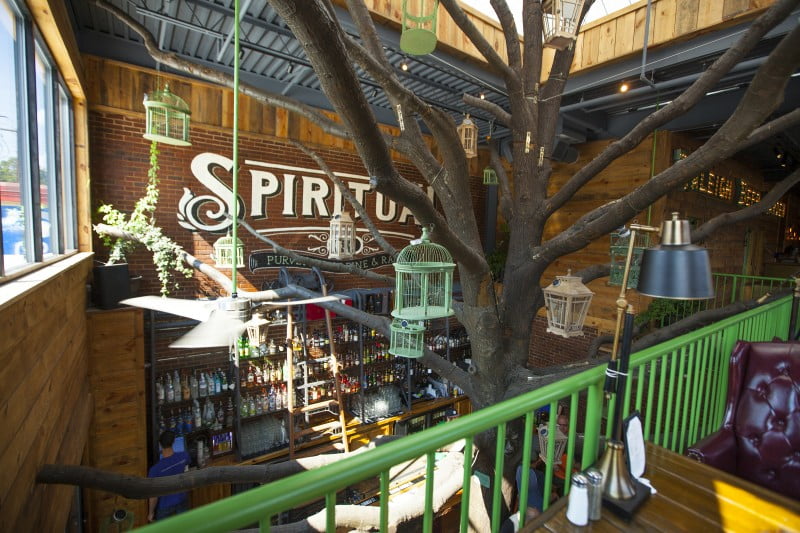 Front room at the Raleigh Beer Garden
The aptly named Raleigh Beer Garden is three stories high and boasts the world's largest draft beer selection in one restaurant. With over 350 beers on tap, there's a sizable amount of North Carolina craft beers. A large tree extends to the ceiling in the front room, so you get that natural feel even from indoors. But it wouldn't be a beer garden without an outdoor space and, with a patio and rooftop, there's plenty to go around.
The brand new Whiskey Kitchen in downtown Raleigh's Nash Square specializes in — you guessed it — whiskey. But there are beer and wine offerings, too, along with a dinner menu. The site of an old automotive shop, the bar has large garage doors and an open kitchen. Exposed brick walls and ceiling pipes, along with a wall-spanning mural by local artist Taylor White, lends the space an air that's one part industrial and one part Southern comfort.
Shopping
Mid-century seats at Father & Son Antiques
Whether you're on the hunt for designer steals or kitsch novelty, Father & Son Antiques has you covered. The West Hargett Street shop has become a destination for locals and out-of-towners alike, notorious for its stock of highly coveted mid-century modern furniture and accessories at moderate prices. It's chock full of other goodies, too: vintage clothing, books, and, most importantly, records.
Music Venues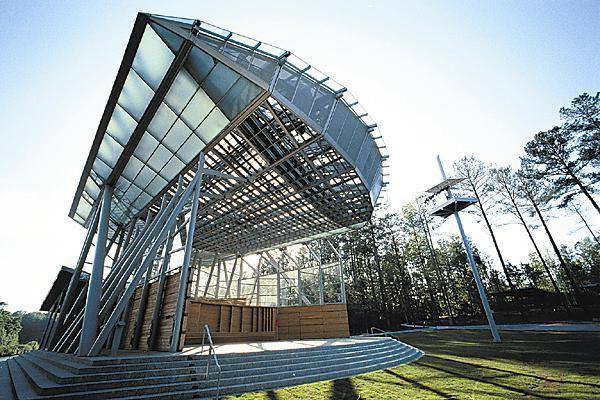 Koka Booth Amphitheater in Cary
While North Carolina is a breeding ground for roots music, it's also home to a wider array of genres from hip-hop to punk to metal. In order to accommodate all of this diversity, the Triangle is equipped with venues of all shapes and sizes. As far as larger, outdoor venues, there's Red Hat Amphitheater in downtown Raleigh, Walnut Creek Amphitheater, and the picturesque Koka Booth Amphitheater in Cary. For a more local vibe, check out the Pour House Music Hall in Moore Square Art District in downtown Raleigh, Cat's Cradle in Carrboro, or the Pinhook in Durham.
Local Flavor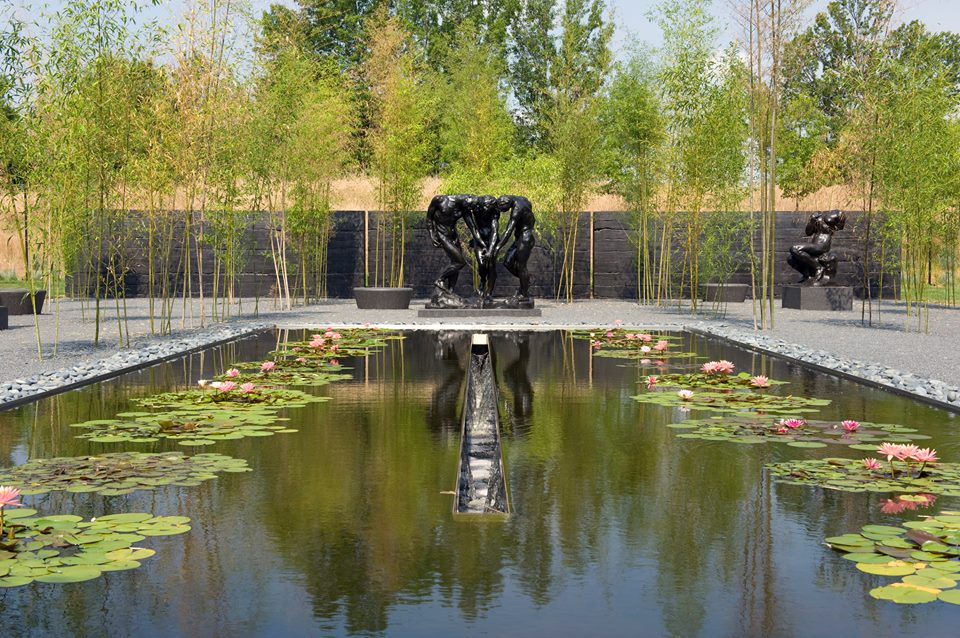 The pools at NCMA
The North Carolina Museum of Art (NCMA) is a behemoth of artistic innovation in itself. This month, it was selected as one of the top 125 most important works of architecture built since 1891 by Architectural Record. This free admission museum is home to contemporary art, works from the European Renaissance, Greek and Roman vases, and American art from the 18th through the 20th centuries. It also hosts concerts, films, classes, and performances. In the midst of a $13 million expansion, the museum's outdoor park boasts 164 acres and is accentuated by landscaped sculpture gardens, courtyards, and reflecting pools.
---
Lede photo: Durant Nature Preserve. Photo credit: rharrison via Foter.com / CC BY-SA.