Toronto touts itself as the diversely beautiful, densely populated Canadian culture center. It's probably no coincidence that, in the age of Trump, the city's current marketing campaign highlights their inclusiveness in the form of the slogan "The views are different here." It's not just marketing spin: In fact, 50 percent of the population was born outside of Canada, citizens speak more than 130 languages, and the city government publishes information in 30 languages. Often called "Canada's Downtown," this business, media, and sports hub boasts a population of 2.8 million, making it the fourth largest city in North America.
Getting There
A new airport rail link makes getting from the airport to downtown Toronto a quick 25-minute ride. Because Canada always seems to get it right, the city's public transportation is top notch, so you won't need more than a TTC card while you're visiting to hop on and off of their subway, bus, and streetcar system.
Where to Stay
If you want to stay in the heart of the action, the über-stylish Le Germain Hotel is a good choice. It's located in downtown on Mercer Street and not too far from the airport. Cambridge Suites Toronto is also centrally located and close to St. Lawrence Market. If you're going car-less, which is definitely possible, staying close to downtown is your best choice. Toronto's bed and breakfast game is strong, with more than 100 traditional cottages boasting award-winning gardens. AirBnb it in the charming villages of the trendy Bloor West Village or Cabbagetown, or stay in a uniquely Toronto experience: a Boatel — a boat bed and breakfast on the waterfront.
Eats & Drinks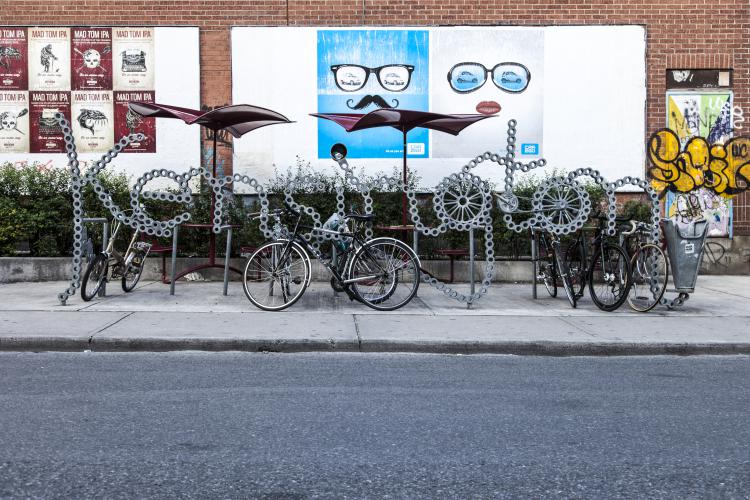 Photo: Kensington Market by Tourism Toronto
The open-air market culture is a unique part of Toronto, and Kensington Market is not to be missed. It's a multicultural area of about 10 blocks boasting cheese, spices, and tea shops which have been around for years. Try the sourdough at Blackbird Baking Co. and the cardamom/pink pepper/lavender kombucha at Witches Brew.
A quick 15-minute trip across town is another highly trafficked market where maple-flavored everything abounds. Named the top food market in the world by National Geographic, St. Lawrence Market is a 200-year-old traditional market with butchers, bakers, and farmers selling diverse fare. Be sure to try a peameal bacon (a uniquely Canadian treat consisting of pork rolled in cornmeal) sandwich at Carousel Bakery and homemade pasta from one of the artisans.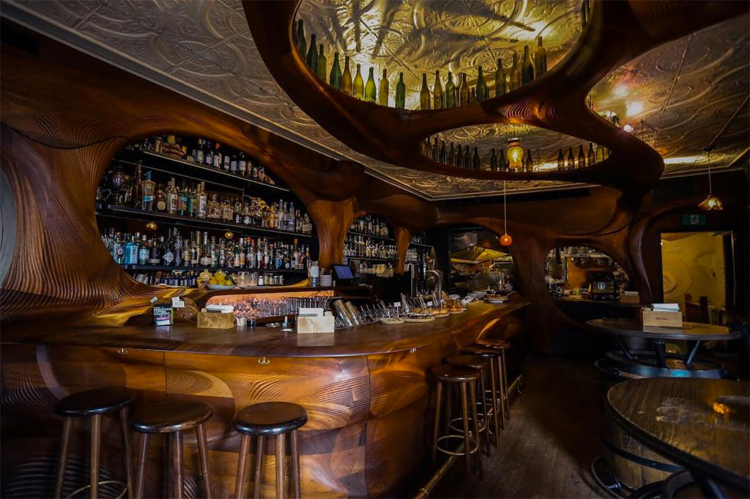 Photo: @Bar_Raval instagram
As for drinks, Bar Raval is a Barcelona-inspired, Gaudi-esque spot for drinks with locals, serving tapas displayed across the bar for you to smell and see before you order.
A multicultural population translates to a worldly food scene, where you can eat your way around the world in Little Portugal, Greektown, Chinatown, Little India, and Little Italy. Toronto is also very into izakayas, which are casual Japanese gastro pubs, and Imanishi is one of the best.
The Gaybourhood
Photo: Church and Wellsley by Tourism Toronto
Toronto was the first jurisdiction to legalize gay marriage in North America in June of 2003, so it's no surprise that their gay scene thrives, centered around the intersection of Church and Wellesley downtown. A staple of the gay scene for more than 25 years, Woody's is the most popular gay men's bar enjoying popularity from appearances on Queer As Folk. El Convento Rico started as a safe haven underground club for lesbians and trans people who were persecuted and has featured drag shows for more than 20 years. Fabarnak Restaurant is a great brunch spot, plus it serves as a training environment for people with employment barriers to be guided by professional chefs.
The Arts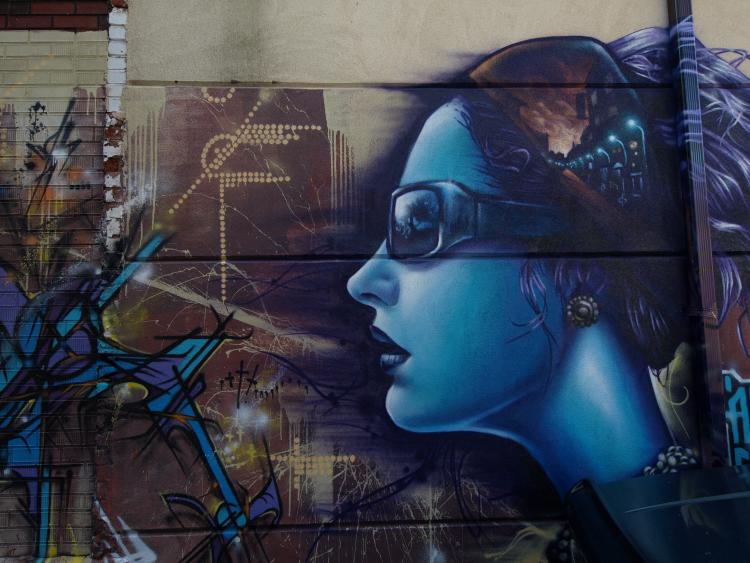 Photo: Street Art by Tourism Toronto
The Art Gallery of Ontario hosts the largest collection of Canadian art with an emphasis on Inuit art from the Nation's beginning, plus much anticipated traveling exhibitions like Yayoi Kusama's Infinity Mirrors.
For live music, head to the legendary Horseshoe Tavern, where the Rolling Stones played many impromptu concerts, or Massey Hall, which hosts BGS faves like Jason Isbell and Andy Shauf. Toronto has an impressive roster of musicians who hail from the area … Shania Twain, anyone?
The city's architecture is exquisite. Be sure to visit the Distillery Historic District, housing 47 buildings from the 1850s which make up the largest collection of Victorian industrial architecture in North America. From the flat iron to city hall — which looks like a giant unblinking eye — Toronto's architecture runs the gamut. Street art is encouraged by the city and can be seen in Grafitti Alley, the Kensington Market area, the Ossington Laneway, and on the Keele-Dundas Wall.
---
Lede photo credit: Benson Kua