When it comes to visiting music museums, there are the usual suspects: The Country Music Hall of Fame and Museum, the Birthplace of Country Music Museum, the Grammy Museum, and the International Bluegrass Music Museum. While they are definitely fine institutions, there are also a number of lesser-known collections that are slightly off the beaten path but worth discovering.
Woody Guthrie Folk Music Center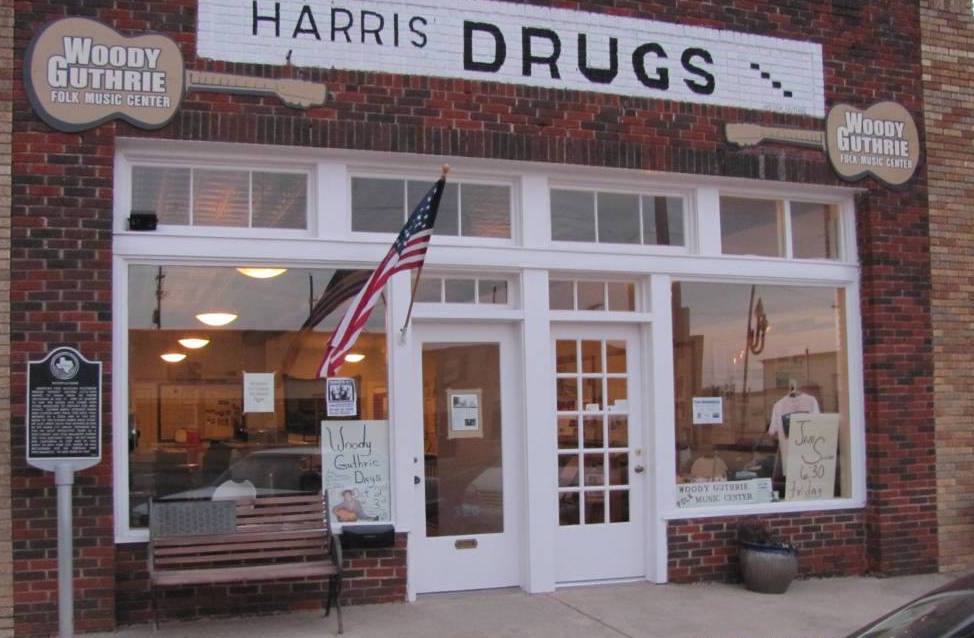 Photo courtesy of the Woody Guthrie Folk Music Center
Though Pampa is a small town in the Texas Panhandle, far from the state's music centers, it holds an important spot in American music history because it is the place that Woody Guthrie moved to as a teenager and where he got in his first guitar. In 1991, several community leaders created the Woody Guthrie Folk Music Center, which is located in the old Harris Drug Store where Guthrie worked as a youth. While not as fancy as Tulsa's recently opened Woody Guthrie Center, Pampa's museum — currently open by appointment only — has a homespun charm that reflects Guthrie's common man values. On display are Guthrie-related newspaper articles, old photos, and even an over-sized version of his "This Guitar Kills Fascists" guitar. Michael Sinks, the Center's director, says Nora Guthrie is working on an exhibit for them. They also promote Guthrie's legacy through public song circles on Friday nights and an annual concert in October (to mark Woody's passing) that cowboy balladeer Don Edwards is headlining this year.
Woody Guthrie Folk Music Center
320 S. Cuyler, Pampa, TX, 79065
Free admission; donations welcome
Open by appointment only. Call 806-664-0824 or email [email protected]
The Bluegrass Bus Museum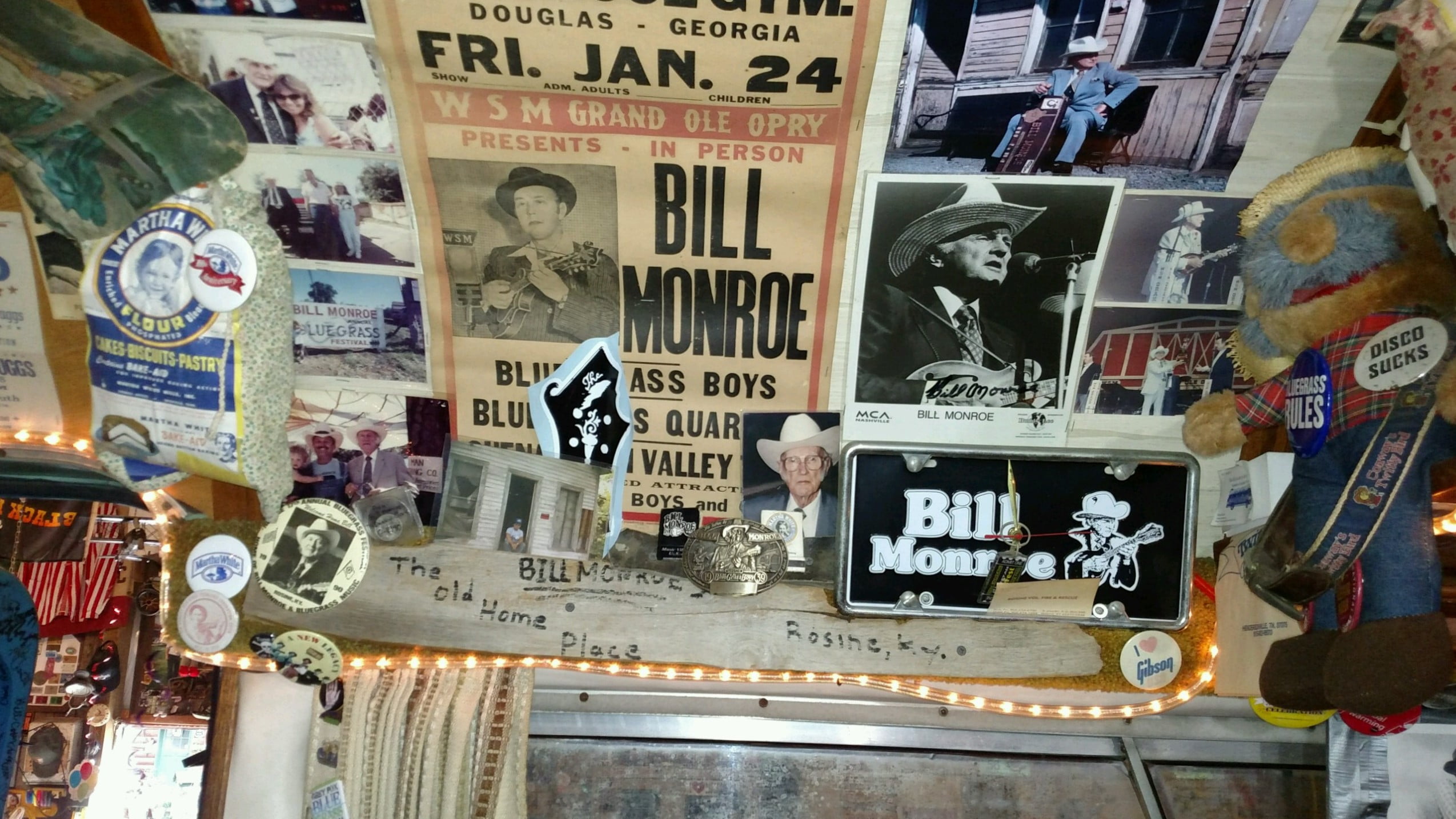 Photo courtesy of Danny Clark
After seeing Flatt & Scruggs perform on the Beverly Hillbillies, a young Don Clark became a lifelong bluegrass fan and dreamed about having a Martha White touring bus like Flatt & Scruggs had. After buying a bus like the duo's, Clark filled it with his various bluegrass and country mementos and created the Bluegrass Bus Museum in the early 1990s. When you step inside the bus, you'll be walking on vintage Grand Ole Opry carpeting. Clark's eclectic array of Americana includes Lester Flatt's old mailbox sign, antique Martha White mic stands, and a Bill Monroe's stage suit. A centerpiece is the bus door that is covered with autographs from hundreds of musicians. After years of traveling all across America, the aging bus now only hits the road 5-10 times a year around the Nashville area, where Clark and his son Danny now reside. If you want to check out the museum, you can contact Danny through their website to arrange a visit. He is also keeping bluegrass history alive by posting on their YouTube channel a number of archival live performances that his father videotaped at festivals back in the day.
Bluegrass Bus Museum
To make an appointment, email [email protected] or phone 615-497-6731
Fur Peace Ranch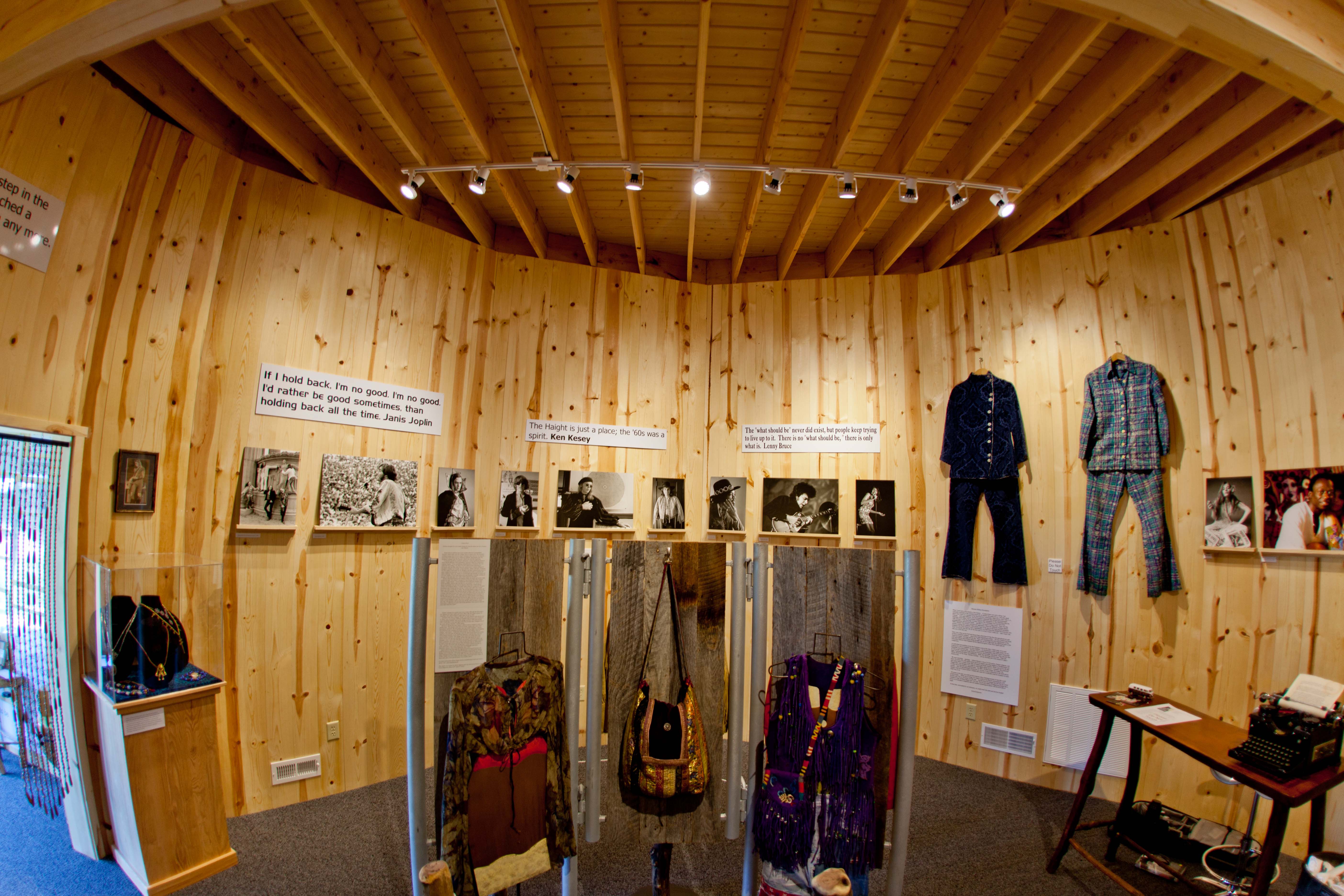 Photo credit: Scotty Hall
Why can you find a treasure trove of memorabilia for Haight-Ashbury's golden age some 2,000 miles from San Francisco in southeastern Ohio's rural countryside? Because this is where is Jorma Kaukonen (of Jefferson Airplane and Hot Tuna fame) and his wife Vanessa have their Fur Peace Ranch. Their ranch is best known for its long-running guitar camp and popular concert series, but Jorma and Vanessa decided a few years ago to transform an old silo into a '60s-centric museum named the Psylodelic Gallery as a way to share the many items he saved — along with offering a personal look into that historic era. Kaukonen's original Fillmore posters adorn the walls. The typewriter heard on his famous bootleg recording with Janis Joplin is on display, as are period outfits like the one his bandmate Jack Casady wore at Woodstock. The gallery also hosts temporary exhibits, with the most recent one presenting Jerry Garcia paintings. If that isn't enough of a flashback for you, there's a Brotherhood of Light-designed liquid light show to further enhance the '60s vibe.
Fur Peace Ranch
39495 St. Clair Rd., Pomeroy, Ohio 45769
1 pm – 5 pm, Wednesday-Friday and during concerts
Free admission; donations welcome
Stephen Foster Folk Culture Center State Park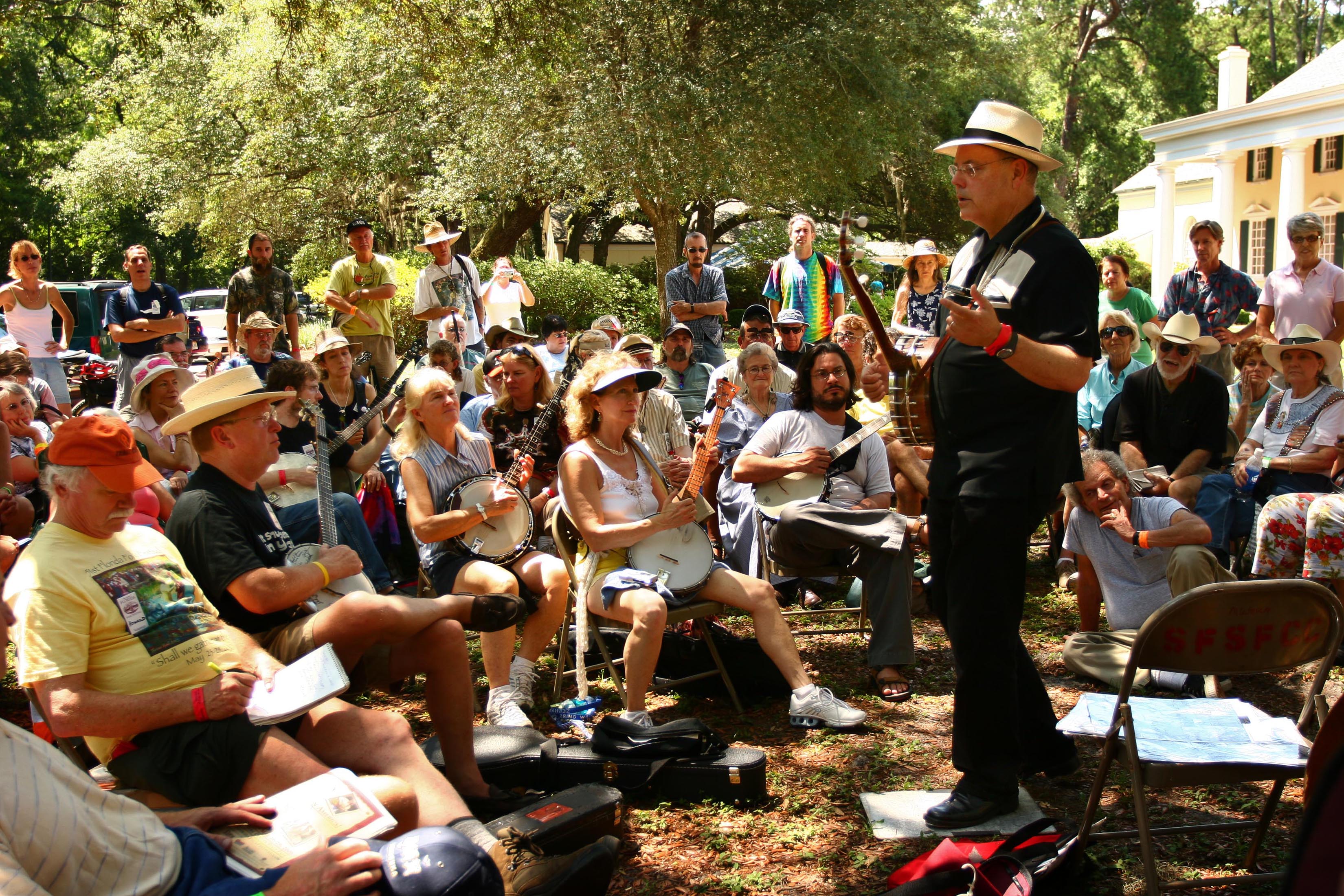 Photo credit: John Fletcher
Way down along the Suwannee River is a natural place to find a memorial to the man who penned the famous lyric: "way down upon the Swanee River." (He took spelling liberties to suit his melody.) Located about an hour west of Jacksonville, in White Springs, Florida, this museum salutes the Pennsylvania-born songwriter, who apparently never actually visited the Suwannee River. On view are eight original dioramas inspired by Foster's songs, along with a number of 19th-century pianos, including the one that he played. It's hard to miss another main attraction — the 97-tubular bell carillon tower that plays Foster's music throughout the day. The park, which also serves as Florida's official folk culture center, hosts the annual Florida Folk Festival and the Stephen Foster Old-Time Music Weekend. Sadly, the replica paddle steamers no longer travel the river as they once did.
Stephen Foster Folk Culture Center
11016 Lillian Saunders Drive / US HWY 41 North
White Springs, FL 32096
Park is open from 8 am to sunset
Museum and Tower are open 9 am – 5 pm daily
Admission Fee: $5 per vehicle. Limit 2-8 people per vehicle.
$4 Single Occupant Vehicle.
386-397-4331 / 386-397-4408 for tours
U.S. 23 Country Music Highway Museum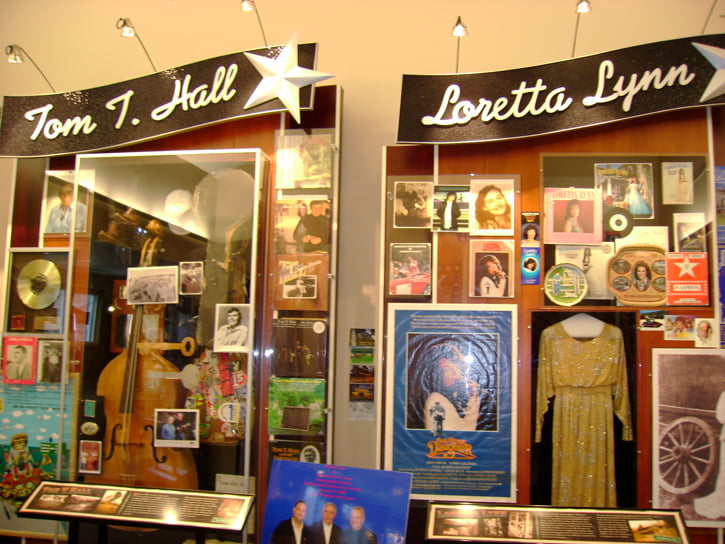 Photo courtesy of Paintsville Tourism Commission
While U.S. Route 23 stretches nearly 1,500 miles from Michigan to Florida, it is the 150 or so miles that runs through eastern Kentucky that has contributed so much to the music world that it has been officially named "The Country Music Highway." Loretta Lynn, Tom T. Hall, Ricky Skaggs, the Judds, Billy Ray Cyrus, Dwight Yoakam, and Chris Stapleton — who have all called this area home — are among those honored at the U.S. 23 Country Music Highway Museum in Paintsville, Kentucky. Each of the 13 inductees have their individual exhibit, displaying personal items, such as a couple of Loretta dresses, a vintage Skaggs guitar, and a pair of Stapleton's boots. As Paintsville's executive director of tourism, Jeremiah Parsons, notes, all of these performers haven't been afraid to be different and create their own unique style. If you visit on a Thursday, stick around for their Front Porch Picking night; maybe some of the region's musical magic will rub off on you.
US 23 Country Music Highway Museum‬
100 Stave Branch Road, Paintsville, KY 41256
9 am – 5 pm Monday-Saturday; 12:30 pm – 5 pm Sunday
Admission: $4
606-297-1469‬
The Big House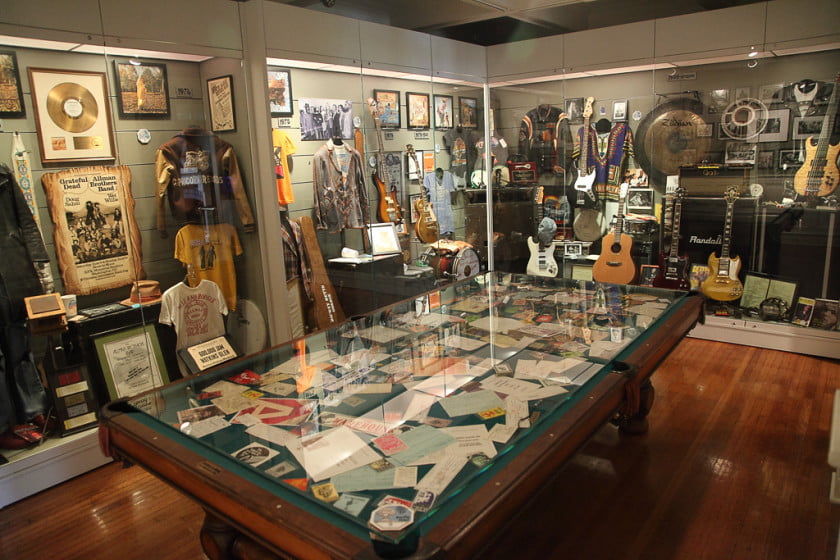 Photo courtesy of the Big House Museum
Mention "The Big House" in Macon, Georgia, and it means only one thing — the place where the Allman Brothers called home in the early '70s as they rose to stardom. In 2009, the old Grand Tudor mansion opened as the Allman Brothers Band Museum. Visiting it is like walking through the coolest music-themed house ever. Some rooms, like Duane's Room and the "Casbah" Music Room, resemble how they looked when the band lived there. The Living Room and Old Dining Room, meanwhile, now present a wealth of Allman artifacts — Where else will you see Cher and Gregg Allman's pool table? — and the walk-in closet is lined with posters and photos instead of clothes. The "Fillmore East Room," where the group used to jam, is stocked quite appropriately with their old instruments. There's even a room that salutes their roadies! Besides its central role in Allman Brothers history, the Big House also is where latter-day Allmans Warren Haynes and Allen Woody lived in 1994 when they put together their own band Gov't Mule.
The Big House Museum
2321 Vineville Ave, Macon, GA 31204
11 am – 6 pm Thursday through Sunday
Admission: $10 adults, $4 children 3-10
478-741-5551
---
Lede photo courtesy of the Big House Museum