This spring in New York City, Hadestown is being celebrated as a feat of storytelling at the not-obvious-until-now intersection between Broadway, Greek mythology, and folk music. Penned by Anaïs Mitchell, the production is sung-through on a rolling landscape of New Orleans-infused roots music, strung so seamlessly together that it feels like one long song.
It's been nominated for 14 Tony Awards this year — worth celebrating in the folk world, considering the other accomplishments of its writer include a duo recording of songs from the collection of Francis James Child and a handful of stunning singer-songwriter albums. But what's folkier than telling a timeless tale in hopes that we can learn something new about where we are and where we're going? And, like most myths and folk songs, Hadestown seems to have been around almost forever.
"I never dreamed I'd be working on this thing for as long as I have!" Mitchell tells the Bluegrass Situation. "But there have been so many different chapters of it — the early stage show in Vermont, the studio album, the touring of the studio album with guest singers, the six years of development in New York with [director] Rachel Chavkin (and four productions in and out of town). Other artists, designers, actors, have kept the wind in my sails and in the sails of the piece itself."
She adds, "When I finally had to let go of changing lyrics because we were close to opening night, I was walking outside the theater after a show and saw this crowd of kids waiting at the stage door to talk to the actors, some of them dressed as characters from our show. I had this moment of grace and humility and the deep realization that this thing has never been about me and the writing of it; it has always been so much bigger. The story is older than any of us and resonates in ways I will never understand. So I guess what I'm getting at is, my feeling about the mystery, the muse, the crazy challenging beautiful act of collaboration — all those things are as mystical to me as they've ever been."
The story of Hadestown brings into parallel two love stories from Greek mythology: Orpheus and Eurydice alongside Hades and Persephone. In Mitchell's narrative, both couples are torn in some way by doubt and fear. Orpheus (Reeve Carney) is the musician working on a song to change the world; Eurydice (Eva Noblezada) is the daring girl who falls in love with him. Hades (Patrick Page) is the king of the underworld and his wife Persephone (Amber Grey) is the plucky goddess who brings the spring and summer before returning to Hades's side when the seasons change.
Mitchell told an audience recently that the whole thing came to her many years ago, as just "some lyrics [that] came into my head that seemed to be about this story."
"Orpheus is this impossible optimist," she explains. "[He's] this dreamer who believes that he can write a song beautiful enough that he can change the way the world is, can change the rules of the world."
Hadestown premiered as a community theater production in Vermont in 2006. Four years later, Mitchell made it an album where she sang as Eurydice and Justin Vernon was Orpheus. Greg Brown was Hades, Ani DiFranco was Persephone, Ben Knox Miller was Hermes, and the Haden Triplets were the Fates. As a folk album, Hadestown was anachronistic if not delightfully disorienting. Its songs all stood on their own, especially the lusciously navel-gazing "Flowers" and the provocative, accidentally topical "Why Do We Build the Wall?" They were each arrestingly understated, driven by the turns of the singer's voice and the prosody in Mitchell's lyrics.
Mitchell toured around, performing the album with a rotating cast of local singer-songwriters wherever she went. In 2012 she began a collaboration with Chavkin (Natasha, Pierre, and the Great Comet of 1812) and since then Hadestown has journeyed from a small thrust stage at New York Theatre Workshop in the East Village, to a larger proscenium stage in Edmonton, Alberta, then to the National Theater in London, and finally to Broadway at the Walter Kerr Theater.
Tipping a hat to the show's folksinger origins, Orpheus really plays his acoustic guitar, the Fates wander with fiddle and squeezebox, people step to the mic when they want to emphasize what they're singing about, and at the top of the second act, Persephone introduces the band. These elements help to set the show apart in a theater world where audiences are used to respecting a hard fourth wall.
"I come from the songwriter/music world," Mitchell says, "and I'm very comfortable just hanging out for three or four minutes in a song with verses, choruses, maybe a bridge, digging the suspension of time and the cyclical beauty of music. So there's been a super-slow learning curve for me in terms of how to take a song like 'Wedding Song' and put it in service of the kind of moment-to-moment storytelling we desire and expect from the theater. Especially because Hadestown is a sung-through piece, we needed the songs to work harder as scenes with stakes, events, and results for the characters."
She continues, "Many of the songs for Hadestown existed as a kind of poetic portraiture and it took cracking them open, adding intros, interludes, bridges and outros, check-ins with other characters, to make them do that work. The addition of 'Come Home with Me,' which I rewrote one million times, in which Orpheus expresses his mission to 'bring the world back into tune' with song, and then especially the interlude where he debuts his 'Epic' melody and it has an effect on the world — flower magic! — really helped it feel like, when we got to the end of that song, something had changed. For Orpheus, for Eurydice, and for the audience."
The Broadway incarnation is replete with these kinds of turning points and bringing them to fruition has meant a lot of rewriting for Mitchell. Thus, some of the songs that made sense on the album are no longer included, and some of the characters have evolved as well.
"I got feedback after almost every production we did about the Orpheus character not being in-focus enough," Mitchell says. "He's been the hardest character by far to write, I think because of all the characters in the show, he's pure, an idealist, a believer, and everyone else has a sort of jaded or ruined quality which is easier for audiences to 'buy.' In earlier productions, because he's this irrationally faithful character, mythologically speaking, and because of how he was written, he came across kind of cocky, overconfident, not the underdog hero we want to pull for.
"Finally, between London and Broadway, I really started massaging him into more of an innocent, naive character, an artist 'touched by the gods' who can see the way the world could be but has a hard time living in the world that is. That new character was very intuitive to Reeve [Carney], who is himself a very pure spirit. It felt right for Orpheus to be more of a mentee, an acolyte, a boy 'under the wing' of Hermes, the storyteller.
"So Hermes became much more of an uncle figure, more intimately involved in the story and its stakes than before. At the same time Eurydice was becoming more focused — and Eva [Noblezada] also brought so much intuitive toughness and humor to the role — as a runaway, a girl with a past, and demons that won't leave her be. The Fates became, quite often, the voices in her head. I think those more meta storyteller characters each have a more pointed allegiance [on Broadway] to the character they hope will act out their world views."
Further, the set has evolved: it is a barroom, a small world that feels both familiar and familial. But when we enter the underworld, the set becomes darker, cavernous. Though it physically expands, the result somehow feels heavier, more enclosed.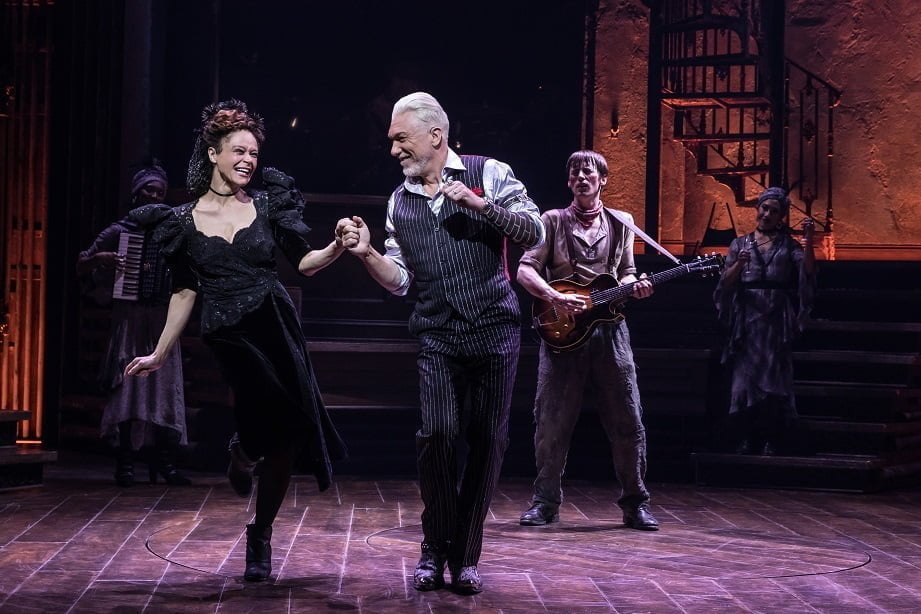 "We could see the effect that Orpheus's divine music has on the world," she says. "In the case of 'Wait for Me,' … the way to the underworld reveals itself to him. It's a moment where I feel like all the design departments were bringing so much inspiration. … We go from a very warm, safe, round place, to a place that is suddenly terrifyingly large. It's all of a sudden cold. There's steel, those industrial lights go up and up and up. I find it very visually moving every time."
There's also a lift and turntable in the stage that add to the journeying portions of the show. Nowhere are the set changes more powerful than in the stunning, breath-stopping delivery of "Wait for Me" and its reprise in Act II. In the latter, Eurydice and Orpheus switch places in their travail of trust and doubt, singing with a workers' chorus whose presence adds new depth to the show.
"The Workers were always a part of the story conceptually," Mitchell says, "but at New York Theater Workshop we didn't have space or budget for an ensemble, so that 'role' was taken on by the entire company. When we began to build in the dedicated choral, choreographic presence of the Workers, it really expanded a lot of things. 'Wait for Me II,' for example, gains a lot of momentum because suddenly the implications of Orpheus and Eurydice's walk are bigger than the two of them."
"Wait for Me II" is where the intersections of song, story, myth, folk tradition, and theatrical allegory become writ-large in the narrative. We're reminded that a song, created as the expression of an individual, can encourage many others to follow new paths — or as the posters outside the theater say, help us "see how the world can be."
"People inspire each other in ways no one will ever understand," Mitchell says. "No one is coming up with any of this shit from scratch. We are standing on the backs of our ancestors and we're singing to and for each other. The other very meta thing about letting go of the piece for Broadway was [recognizing] nothing is ever perfect. We don't love Orpheus because he's perfect. He's flawed, he falls short, and we love him anyway. We love him for trying. There is goodness in the endeavor itself, whatever the outcome is."
---
Lede image: Reeve Carney and Eva Noblezada
Secondary image: Amber Gray, Patrick Page, and Reeve Carney
Photo credit: Matthew Murphy