There might not be a more universally beloved figure in the bluegrass world than Del McCoury. Offstage as well as on, he carries himself with a self-assured grace that is both regal and welcoming — bluegrass royalty in every sense. We talked to three of the people he's closest to about the experience of really knowing Del McCoury up close.
Alan Bartram, bassist in The Del McCoury Band
"Joining the Del McCoury Band was one of those fortuitous right-place-right-time things, and they made it so easy. He's as laid-back as you imagine. The same happy-go-lucky guy you see on stage is like that all day. There's no 'stage persona' he changes into, and he's not strict about anything so long as you're taking care of business. Just do your thing and everything's cool. I couldn't think of a better boss.
"If he ever gets mad, it's real subtle. Unless you're around him a lot, you'd never even know it. There are days when he might not be in the best mood, but there's never an outburst or a rampage. You'd have to know him to pick up signs he's annoyed about something. Going on 84 years old, he can still get up at 4:30 a.m., fly somewhere, drive a rental van to the gig, soundcheck, go through the whole day and then get onstage at 9 p.m. and just kill it for two hours. I'll be just whupped, but he's still crushin' it. And the longer he sings, the stronger he gets. God, I hope I have that stamina at his age. He hasn't lost anything, even after we were shut down for most of 2020. Taking a lot of time off at his age, you can lose a step. I swear he didn't.
"I'll tell an embarrassing story on myself to show how cool he is. A few weeks ago, there was a Grand Ole Opry show on a weeknight – and I somehow forgot all about it. Had it on my calendar but just completely spaced it. So I get a call: 'Hey, man, you playing with us tonight?' And you know that feeling when your heart just drops? Oh my God. At that point, there was no way I could get there in time. I'm 40 minutes away, they're on in 10. Mark Fain from the Opry house band had to fill in for me that night. I still can't believe I did that.
"Now Del does not really use a cellphone, so I had to wait until he got home to call him. So I call, Jean answers: 'Alan, is something wrong?' 'Nothing's wrong,' I said, 'except I forgot I was supposed to be at the Opry tonight.' And she giggles just as Del walks in. 'You wanna talk to him?' 'Oh yeah, I need to.' So he gets on the phone and I say, 'Del, I am so sorry. There's no excuse. I really blew it, just completely spaced on it.' And he says, 'Oh, that's all right. If I didn't have Jean telling me when to be down there, I'd have probably missed it, too.' He could not have been sweeter, which was a relief. I was able to sleep that night. That's a pretty good picture of who Del is."
---
Rhonda McCoury, daughter of Del and Jean McCoury
"I don't play music, no. Dad showed me a few things when I was a kid. But then I realized I didn't want to get on stage and do that: 'If I learn this, I'll have to get on stage like Dad does! Uh uh, not for me.'
"Mom handled most of the discipline, while Dad was very easygoing. He was the one who'd help us with homework after dinner. If mom ever said, 'Wait 'til your father gets home,' we'd just get talked to. And we'd rather have taken a beating, we never wanted to disappoint Dad.
View this post on Instagram
"He's the epitome of greatest father in the world. Patient, working his tail off all the time. If someone's car wasn't running, he would fix it. If there was some math we didn't understand, he would explain it. Back then we had to put covers on our school books, and he'd help do that.
"He had the logging day job for a long time but didn't seem frustrated by that. He'd grown up on a farm, working from the time he was a kid. I never heard him complain. He worked for our uncle's company and could take any time off he needed. But over time, he did realize, 'This is a little dangerous and maybe I should not do it for the rest of my life.' Then when the boys started playing, too, that's when he really got focused on music more.
"He's not really different, offstage or on. What you see is what you get. He's always been laid-back and funny, loves to tell stories. He doesn't change much – except for his suit. There's no grey area, this is him and it's the way he's always been. Like anybody else, you don't want to make him mad. But 99 percent of the time he's calm and mild-mannered. About all he does is think about music.
"About the only time he ever gets nervous before a show is when it's the Opry – especially at the Ryman, where he played with Bill Monroe. But mostly, he never gets too nervous. Maybe a little frustrated if allergies kick up and affect him, not that anyone else would notice the way he does. 'I'm not of right voice today.' He just enjoys music so much, nerves never boil to the surface. It became even more enjoyable when the boys started playing, and they've just gotten better and better over the years. That's the most fun for him, onstage with them.
"Mom and Dad have a pool, which Dad loves. He'll be tinkering with the bus and jump in the pool to cool off. Deer and turkeys are always around the house; he'll feed them, and he likes to deer-watch. You'll wonder where he is and then see him standing in the pool watching the deer or turkey walk by, and all you see is his head.
"When we were kids, Dad was just our dad and music was what he did for a living, no different from anyone else's dad's job. Ours plays music and sings. But he's always loved it so much. He had music on all the time, the band guys were over to rehearse inside and outside the house. School nights, we'd go to sleep hearing the band play downstairs."
---
Dierks Bentley, Country Artist and Friend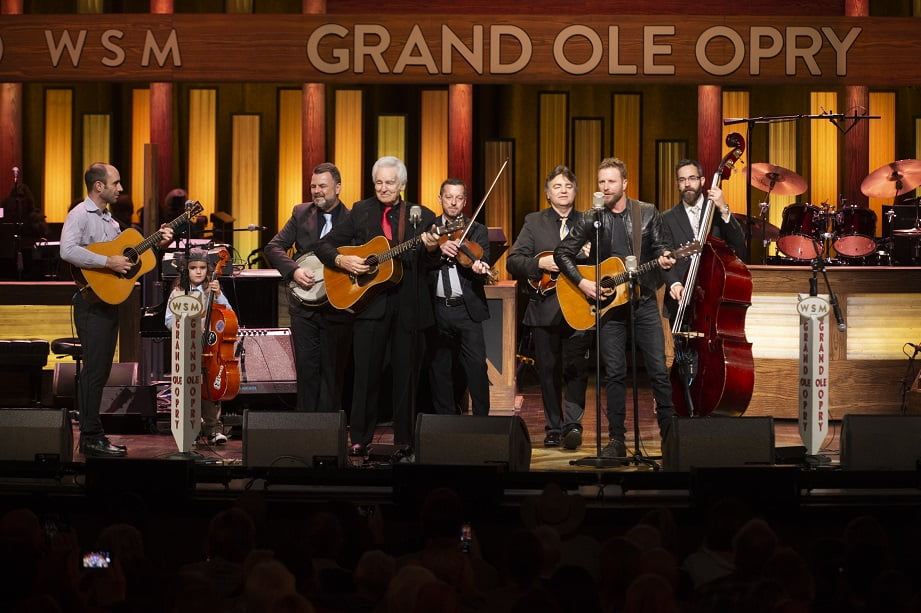 Photo by Chris Hollo, Courtesy of the Grand Ole Opry
"I moved to Nashville in 1994 to be a country singer and was really disillusioned with the scene at the time. It just did not feel authentic and I didn't know how it would fit for me. I was having a hard time until I randomly went to the Station Inn on a Tuesday night. Walked in and saw these guys wearing loose, baggy clothes and playing bluegrass. I just fell in love with it on the spot. Jason Carter, who was the fiddler for Del McCoury Band, became one of my best friends and turned me on to a lot of bluegrass. It quickly became my favorite genre.
"That's how I got to know Del's band. I drove with Jason out to the Telluride Bluegrass Festival in 1997, which is where I finally met Del himself. Nicest guy ever, always with a big smile. Del just is who he is. Driving back cross-country in my truck afterward, we got pulled over by the Arkansas State Police, who claimed they smelled marijuana as we drove by at 75 miles per hour. They had the dogs out sniffing the tires, doing the big search. 'Man,' I said, 'we're just going back from the Telluride Bluegrass Festival.' To them that meant we were a bunch of hippies. But they finally let us go and I got Jason back in time for the Tuesday night gig at the Station Inn.
"They say Nashville's a 10-year town, and it took me almost that long to get a record deal. That was 2002. My first record, I brought the Del McCoury Band in to cut a song for it. Second record, too. I also suggested to Del that he cut Sinatra's 'Learnin' the Blues' and got a credit in the liner notes, which was about the biggest moment of my fledgling career up to that point. I have yet to get my own Del McCoury Band cut, but it's on my wish list. Some songwriters want a George Strait cut, but I want the Del McCoury Band – and I've made enough money that it's actually true! As you know, there's no money in bluegrass. I'd like to do a Del & Dierks album at some point, too.
"I tell people all the time that Del McCoury really is responsible for the success I've had in country music. His work ethic is something everybody can learn from, and also the way he doesn't compete with anybody else. That's why he and the band are always laughing, having fun, in a good mood. The only person you're competing with is yourself from the day before, trying to get better. In a town where everybody else talks shit all the time, they all enjoy what they're doing because they're not looking at what others are doing. Sure, Del looks back to Bill Monroe. But as far as contemporaries go, I've never seen a group of guys more present and having more fun. That's an approach I've taken with country music, just trying to compete with myself. Whatever success I've had, it's because of that."
Photo credit: Daniel Jackson