"It's not easy to sit down and open yourself up and say, 'This is how much I love you,' you know? It's scary to do that."
Jason Isbell told this to NPR Music in 2013, shortly before the release of Southeastern, the record that marked the beginning of a new era for the Alabaman troubadour and his tenure as this decade's best American songwriter. The song he was talking about, "Cover Me Up," was a bold choice for Southeastern's lead-off track: Solemn, stripped-down, and slow, it floors listeners with its stark vulnerability and the strength of its romance as Isbell unfolds his love for Amanda Shires, the fiddle player he married just days after he finished recording the album earlier that year. Southeastern is Isbell's "sober" record, the one he wrote following a stay in rehab after years of hard-partying took their toll on the musician's personal life (and professional one, too). As such, it stuns with its clarity and ability to cut to the core of his sentiment in a chorus or less, and "Cover Me Up" is the beacon of this. (The "I sobered up / and swore off that stuff" line in the song doesn't fall on deaf ears, either.)
It came as no surprise when "Cover Me Up" was recognized at the 2014 Americana Music Association Awards for its ascent to modern classic status. It earned the distinction of Song of the Year, and Isbell took home the additional honors of Album of the Year and Artist of the Year after he and Shires performed the ballad for a rapt crowd at the Ryman. Isbell may need another shelf for his statuette collection soon, as Southeastern's follow-up, the remarkable Something More Than Free, netted him two golden gramophones at the 2016 Grammys, one for Americana Album of the Year and one for American Roots Song of the Year with "24 Frames."
He, Shires, and the 400 Unit, Isbell's band, have been touring in support of Something More Than Free following the Grammy win, and the setlist of their current show is split between its track list and the rest of his catalog. While "Flying Over Water," "Elephant," and other selections from Southeastern go over brilliantly with Isbell fans, "Cover Me Up" is what brings the house down — and its current form serves as a reminder that a great love only deepens with age.
As such, the context of "Cover Me Up" has changed, for this tour especially. Isbell always plays "Cover Me Up," even if Shires isn't present, but to see the two of them play it together is to watch a man waltz with his muse live and in the flesh. It's one thing to hear Isbell sing about how "home was a dream / one that I'd never seen / 'til you came along" and pray that you'll find a love that terrifyingly transformative yourself. It's another to watch him and Shires lock eyes shortly after he finishes his phrase and she elevates that euphoria with the might of her own voice and strings.
Those at the Ryman watched them do this back in 2014, and those who caught the most recent leg of his tour had the privilege of taking in this performance, as well. But Isbell in 2016 is further changed, and "Cover Me Up" boasts a confident shine that hits the ear as a sure-footed affirmation instead of the gamble of a love letter, one written to a still-new object of his affection that could spook and take off should the going get rough. Isbell and Shires are parents, now, and their baby, Mercy Rose, comes along for the tour bus ride. Another addition to their touring life flies as the splendid backdrop for their live show: three stained-glass cathedral window tableaus, each featuring an anchor and sparrow, the same image Isbell and Shires sport as twin tattoos that represent Isbell, Shires, and the baby. (Isbell's lucky socks — which he wore for his wedding, the AMA Awards, and the birth of Mercy — are emblazoned with anchors, too.)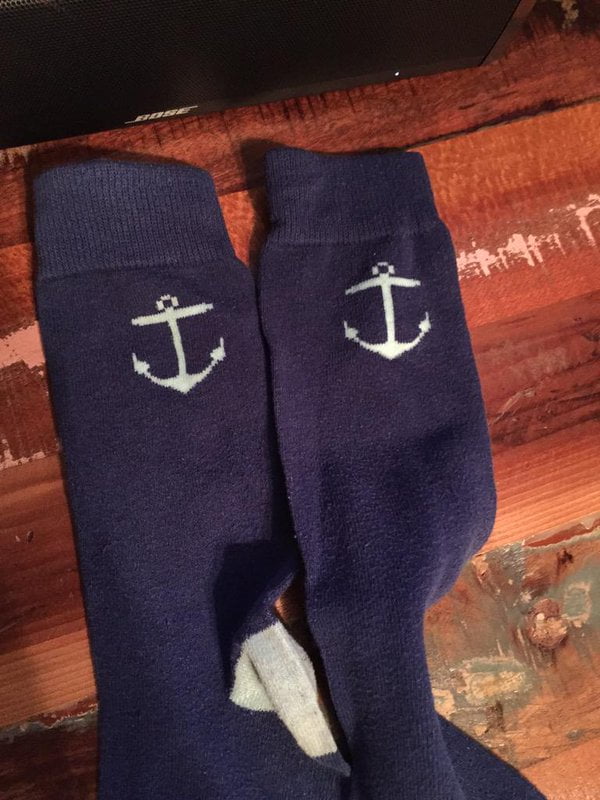 Isbell's adoration for Shires has always had a front-and-center prominence during his performances, but now, that love has deepened and swelled outside of its verses, and it's only nourished the resonance of "Cover Me Up" years after it was written. "Cover Me Up" is the kind of timeless that'll echo long after Mercy's grown, the kind that Isbell and Shires will be remembered for when they're no longer striding out onto the same stage and singing for their suppers. It's as faithful to the connection that inspired it as it is to the truth that certain songs speak to us in perpetuity because they touch on scary and unknown and incredible so beautifully. While Something More Than Free may carry Isbell through the end of this tour and the next one, "Cover Me Up" will carry him into the folklore of American music — except now, "This is how much I love you" is something he can, and does, say so effortlessly.
---
Lede photo of Amanda and Jason after his 2016 Grammy wins by Danny Clinch.