A crystalline river flows lazily over rocks, a green hillside rising just beyond it to meet the bluest sky, and Marcus Veliz is clawhammering a hypnotic lick on his banjo in the foreground. "Ever try tuning to the river?" reads the caption to this picturesque reel on his Instagram profile @dirtylaundrytheband. "It might give you a new tune."
This video, like so many on Veliz's feed, was taken on one of his "banjo walks" near Reno, Nevada. Veliz likes to go out exploring with his instrument—an RK-OT25-BR, to be exact—when he's camping or visiting a new city, find a spot that inspires him, and start riffing. "That's just meditation, chill vibes," he says. "You're just trying to kind of tap in. You never know what's gonna happen."
The 26-year-old banjo phenom was born in Portland, Oregon, but grew up outside Sacramento in Orangevale, California, where he still lives…sometimes. Life has become more transient these days as he roams freely, a skateboard and banjo in tow, meeting and collaborating with fellow musicians all along the West Coast. His Dirty Laundry project (which sometimes includes other musicians) has drawn nearly 24,000 followers to his Instagram page since he picked up the banjo around three years ago. A musician since childhood, Veliz says the banjo is the latest in a long line of instruments after trumpet, autoharp, fiddle, accordion, spoons, and guitar, and it's the one that has really stuck.
View this post on Instagram
"I tell most people, with the banjo, I already knew how much effort you would need to put into something that's new. So, when I picked it up, I expected it to take a while, but it kind of just loved me back," he says. "I probably only had one day off that whole first year. It was really easy. It showed me a bunch."
While many artists begrudgingly use social media to do the obligatory promotion of their music and upcoming shows, Veliz has wholeheartedly wrapped his arms around it and is using it to carve out a place for himself before ever even releasing a record. In a conversation from the backseat of his car, Veliz expands on what drew him to the instrument, his DIY approach, and what's next for his music career.
BGS: What was it that made you pick up the banjo?
Veliz: There's a lot of different things. It was always kind of around. I had a best friend whose dad was a big influence. They'd play Flatt & Scruggs and other stuff. There's a band called Rail Yard Ghosts, and I got into them and their lead singer—Riley Coyote—the way he plays banjo made me think you didn't have to just pick, you could do something new with it. I got one and saw what happened, right away started trying clawhammer style and just didn't take a break from it for like a year. It just kinda clicked. My first banjo was 15 bucks. I went on the letgo app and found one in a town over. They had it as a wall hanging decoration. Everything was there, I just put new strings on it.
View this post on Instagram
You mentioned Flatt & Scruggs and Rail Yard Ghosts. Who have been some of your other influences?
Stringbean from Hee Haw is really big to me. Grandpa Jones. They just have a jokey-ness about them. Stringbean has these long suspenders that are way down by his ankles and a long shirt, so he just looks super weird, but it's on purpose. Grandpa Jones has funny banjo songs, too, but they're both clawhammer style. Then there's this dude Dock Boggs, he's like two-finger-style picking, but his playing is just completely rhythmic and different.
In the first year [I was playing banjo], I conveniently got to see Steve Martin, and the Steep Canyon Rangers were with him, so that was a big gnarly experience. All those clawhammer players and seeing old videos of it and stuff, and just the history of it. I started dipping into the gourd banjos in Africa, you got the Caribbean roots and stuff. There's just too much there for me to leave alone.
You've been playing music since middle school. Were you in any bands?
There were probably two, but we never did anything at all. It was just going to a friend's house and playing and stuff. Then I fell into a whole thrash metal, death metal thing for a long time and got really technical on guitar. And I was doing folk around the same time as kind of an outlet, and then that just kinda took over.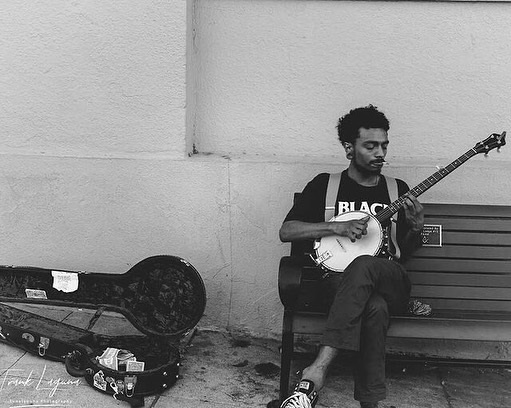 So, thrash metal, punk, folk music, bluegrass, African and Caribbean—are you pulling from these influences when you're writing or even just noodling, or are you trying to create your own sound?
I feel like I'm making my own lane in a way. I'll listen to others saying I'm making a new sound, but I won't say that I'm making a new sound. It's refreshing and cool to hear, but I also know anybody that picks up a banjo and plays like clawhammer or two-finger style isn't gonna sound the same, so it's hard for me just listening to myself to be able to say anything like that. When I pick it up, I let it do its thing now.
How do you describe your style?
The best way I can describe it is, it's a vibe. It gives you a mood. I've heard other people say it and I think it's just the easiest way to explain it. It's all over the place. There's a lot of songs on guitar that don't have bridges, but it works better without it. I hate bridges. When it stays like this verse-little thing-verse-bigger thing, but no bridge, it becomes just a vibe, like a lo-fi beat. It doesn't change, it just keeps going. Dirty Laundry, I always tell people, it's an idea of sound and vibe. It's this living entity that I serve. I would just like to please "it," this idea of sound.
Guided by feeling more than technical prowess?
Yeah, it's all feels.
View this post on Instagram
What does Dirty Laundry mean?
Dirty Laundry is kind of my outlet for shit, stuff you're working through in life, just growing.
You've used Instagram and social media to build your audience. How organic or strategic was that?
For the Dirty Laundry project, as far as Instagram, I think I was on there in 2016 even, but it was all guitar-oriented and small. Then [a few years later], Charlie Marks—he's a banjo player in Reno—we hit each other up and decided to get together and play, so I finally went out there. And I was asking him, "How are you blowing up on Instagram?" and he was like, "Dude, just start posting reels." It was also a good time for that, so I started doing it. Just every other day, go post something. Then after a while it just started snowballing. It's been wild.
It's algorithmic stuff, too, cause if you're gonna post something in a certain area and tag the place, it's gonna work with the [other stuff for that tag]. I always wanna put my print that I've been here, played in your park. It's gonna show up on everyone's feed. There're people that will post the updates of the algorithm and how it's gonna work, so you can get smart around that stuff. But it's kind of more a scavenger hunt in places I've been. I'm definitely trying to do some album work in the future. Right now, it's just kinda been a blessing because I've been able to play all these places and not have an album and open for people with nothing.
You're sort of subverting the traditional process in favor of a truly independent approach, while also subverting assumptions or expectations about what the banjo has to be.
There are definitely some fools watching, managers reaching out. It's cool, but it's also like, who else is looking? Makes you want to be hungrier for it.
View this post on Instagram
How do you feel about TikTok?
I had one and I deleted it because it didn't feel right. TikTok feels like you post something for it to be seen, but no one really goes to see more of it… I feel like there's more incentive with Instagram to go to a page and see all the videos, to sit on a page and look at everyone's content. TikTok's just built to scroll and leave. I already feel like I have too many people where I'm just their pocket banjo guy.
Is there a scene you've experienced on your travels that you want to carve out space for yourself in, or is it more important to you to hang back and establish a stronger one where you already are/where it's maybe more needed?
A bit of both. Everyone needs to leave their hometown to do something or become something. But definitely New Orleans, with artists like Rail Yard Ghosts and other folk punk, I definitely want to go out there and see if I can even hang with all the other musicians out there that are making a living out of playing on the street. I would like to earn my badge out there. And go to the East eventually and just play everything over there that I can.
I'm more Sacramento area, and there's still a whole bunch of indie sounds going on. It's like indie hardcore, and like dad rock bands. It's not bad for the banjo folk scene. You're definitely going other places for it, traveling to see better parts of it. But I see it coming up again because of Billy Strings and Sierra Ferrell.
All the heavy hitters I'm definitely watching and observing, taking notes. There's also this small group in this area, like Charlie Marks, Two Runner, Bar Jay Bar, Water Tower Band. This is all California area. There's just a bunch of local folk people that are on this side of the coast. It's funny how we're lumped in with each other, like we're all just different corners of the same cloth and we're all representing folk on the West Coast.
Stone and Sue, they're like a moving picture from the 1920s. I'm kind of waiting for them to take over. They're in Oregon. They just play super old-style stuff. I'm so happy to see a band like them. I feel like I have my hands full with so much old stuff. I'm researching still, from '20s or '30s, so it's hard to keep an eye on all the stuff going on. I'm still trying to meet Matt Heckler, people like that. It's all gonna happen eventually.
---
Photo Credit: Ryan Joseph Moody