Since 2017, Bourbon & Beyond has become one of the BGS Team's favorite annual events. The music, spirits and food festival held at the Kentucky Expo Center in Louisville, Kentucky, always boasts a roots-forward lineup – on and off the BGS Stage.
In anticipation of Bourbon & Beyond kicking off Thursday, September 14, and running through Sunday, September 17, let's preview all of the artists gracing our stage throughout the weekend – and we'll throw in a few we're excited to catch on the main stages as well.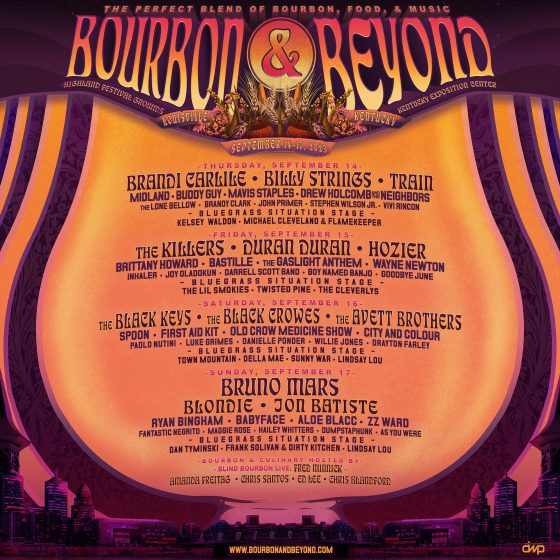 Limited tickets are still available! Join us this weekend at Bourbon & Beyond in Kentucky. Scroll to see the full schedule for the BGS Stage. 
The Arcadian Wild – BGS Stage
We've been a fan of this bluegrass-infused Nashville string/Americana band for more than a few years now. In 2021 we invited the Arcadian Wild to perform a Yamaha Artist Session, for which they performed two songs, "Hey Runner" and "Finch In the Pantry." They hit the BGS Stage at B&B on Sunday.
Armchair Boogie – BGS Stage
We recently caught this jammy Wisconsin outfit, Armchair Boogie, at Earl Scruggs Music Festival, where they burnt down their late-night set. You have two opportunities to see them on the BGS Stage, as they'll kick us off both Friday and Saturday.
The Avett Brothers – Main Stage
These Saturday headliners need no introduction to our BGS readers and followers, as the Avett Brothers have been a staple of our community for nearly our entire lifespan. Looking at the Bourbon & Beyond lineup poster, it's hard to believe we didn't book this entire event! 
Jon Batiste – Main Stage
Fresh off the release of a brand new album, World Music Radio, in August, don't miss Americana renaissance man Jon Batiste when he hits the B&B main stage on Sunday. We can certainly appreciate this Louisianan's love for blurring genre lines – a perfect fit for Bourbon & Beyond.
Brandi Carlile – Main Stage
Let's return to MerleFest 2019, the last time we had a stage at a festival Brandi Carlile headlined – and she brought her pals the Avetts out to sing "Murder In the City." A BGS classic! We'll be running from the BGS Stage to see Brandi on Thursday evening for sure.
Brandy Clark – Main Stage
Appropriate that Brandi and Brandy would end up as list neighbors and both on the Bourbon & Beyond main stage lineup, as the former produced the latter's stunning new self-titled album. Clark has been a Music Row mainstay as an artist and songwriter for decades, but with her new record and her hit Broadway show, Shucked (penned with Shane McAnally), she's finally getting her well-deserved flowers. 
Clay Street Unit – BGS Stage
We crossed paths with Denver, Colorado, country-folk-grass group Clay Street Unit earlier this year at WinterWonderGrass, so we're more than pleased to have them on the BGS Stage on Thursday afternoon. 
Michael Cleveland & Flamekeeper – BGS Stage
Fiddlin' phenom Michael Cleveland has performed for BGS at Bourbon & Beyond before, but with his new critically-acclaimed album, Lovin' of the Game, and his recent selection as our March 2023 Artist of the Month, it's the perfect time to get him back to Louisville. It's basically home turf for Cleveland, and his set Thursday evening is not to be missed.
The Cleverlys – BGS Stage
Bluegrass's preeminent song-interpreters – or song skewer-ers, depending on how you look at it – are a humorous hoot, bolstered by fantastic picking and on-stage personas pulled straight out of a caricature book. If you've never seen the Cleverlys live and in person, now's your chance to catch covers like this waltz version of Radiohead's "Creep" like you've never heard them before. 
Della Mae – BGS Stage
Our old pals Della Mae brought an outsized energy and charisma with them to their sets at Earl Scruggs Music Festival a couple of weeks ago, wowing the crowds in North Carolina. Now the groundbreaking bluegrass foursome set their sites on the BGS Stage at Bourbon & Beyond. There's a reason why this group of all women remains a stalwart in bluegrass, old-time and Americana.
Myron Elkins – BGS Stage
If you're not familiar with guitarist and Americana alt-rocker Myron Elkins, you're about to be! His debut album, Factories, Farms & Amphetamines, was produced by superstar musician-engineer-producer Dave Cobb and released on Elektra. Catch him as he ascends on the BGS Stage on Thursday, kicking off the entire weekend for us at 12:30 p.m.
Fantastic Negrito – Main Stage
Fantastic Negrito is a one-of-a-kind performer. An expert in blues – and a purveyor of post-blues, neo-blues, and the tastiest of fringe Americana – Fantastic Negrito occupies a stage like no other. He's a Bourbon & Beyond veteran as well, and his past performances are seared into our memories of this amazing event. Do not miss!
First Aid Kit – Main Stage
Indie folk duo First Aid Kit, made up of Swedish sisters Klara and Johanna Söderberg, are a favorite of BGS readers – the kind of readers who equally love Bill Monroe, Nickel Creek and boygenius. Get a taste at their Saturday main stage set or check out our 2018 feature on the group.
Drew Holcomb & the Neighbors – Main Stage
Don't you just wish Drew and Ellie Holcomb and the Neighbors were your neighbors? (Sigh…) It just seems like it would be lovely. At any rate, you can catch up with these fine folks from next door on the main stage at B&B on Thursday. 
Brittany Howard – Main Stage
A god of rock and roll incarnate, Brittany Howard's particular brand of roots rock is enormous and will fill the Bourbon & Beyond main stage and then some. If you haven't caught the Alabama Shakes front person recently, now is your chance. Howard hits the main stage on Friday.
The Lil' Smokies – BGS Stage
Formed in Montana, the Lil' Smokies combine so many contemporary bluegrass influences into a Western-influenced, jam-forward sound. We enjoy every chance we have to cross paths with this group – if you miss their set at Bourbon & Beyond, catch the Lil' Smokies at AmericanaFest in Nashville very soon.
Lindsay Lou – BGS Stage
Roots singer-songwriter Lindsay Lou is entering yet another new era of her career, with her signing to Kill Rock Stars and upcoming album, Queen of Time, due out later this month. At Bourbon & Beyond you'll have two chances to hear current and past sounds from Lindsay Lou – on both Saturday and Sunday on the BGS Stage.
The Lone Bellow – Main Stage
One of our all-time favorite rootsy, folky, string band trios. It's been too long since we've reconnected with our friends The Lone Bellow and we're grateful B&B will give us that opportunity when they play the main stage on Thursday.
Lola Kirke – BGS Stage
Lola Kirke, who you can see on Friday on the BGS Stage at B&B, is an accomplished actress whose dream is to be a country singer – dream, achieved! She makes joyous, lyrical, story-rich music that pulls as much from country's grit as its glitz. (And an appearance from lineup-mates First Aid Kit on "All My Exes Live in L.A." is the cherry on top.)
Joy Oladokun – Main Stage
Intricate and involved indie folk is Joy Oladokun's medium, her songs dripping with pop sensibilities and led by an agnostic approach to genre that builds on work by predecessors like Aimee Mann, Ani DiFranco, Tracy Chapman, k.d. lang, and many more. Oladokun continues to rise through the music-industry ranks, her latest album Proof of Life building more momentum off the ex-evangelical's heart-forward, earnest, stoner indie pop.
Old Crow Medicine Show – Main Stage
Old Crow Medicine Show bring the Jubilee to Bourbon & Beyond! Don't miss the party as the world's most renowned and rollicking string band celebrates their just-released album on the B&B main stage on Saturday. And keep an eye out for a BGS feature on the new record coming soon to the site.
Pixie & The Partygrass Boys – BGS Stage
Another of our WinterWonderGrass pals headed to Bourbon & Beyond! Catch Pixie & the Partygrass Boys on the BGS Stage kicking off our final day of music on Sunday. You'll certainly enjoy the party – unless you're a fascist, in which case, avoid our stage altogether or you might get eaten by some chickens.
Darrell Scott Band – Main Stage
Darrell Scott is a musical shapeshifter, effortlessly moving from Music Row country to dyed-in-the-wool bluegrass to rocking and rolling. At his Bourbon & Beyond main stage set on Friday, you're sure to hear new tracks from his recent album, Old Cane Back Rocker, made with the Darrell Scott String Band, as well as original hits like "It's a Great Day to Be Alive" and some tasty covers, too. We never get enough of Darrell Scott! (Watch for an interview with Scott coming to BGS soon.)
Frank Solivan & Dirty Kitchen – BGS Stage
If this is the kitchen dirty, let's never clean it up! Frank Solivan & Dirty Kitchen are a shredding bluegrass jam band certainly worth sticking around for on Sunday evening. You'll hear music from their most recent Compass Records album, Hold On, which recently turned one year old, and plenty of mind-(and string-)bending solos.
Mavis Staples – Main Stage
Put the legendary Mavis Staples' main stage set (Friday, 3:50 p.m., Oak Stage) on your calendar and circle it. And underline it. And set a push notification. We are grateful every single time we get to occupy the same space and air as Mavis, and this time will be no different. It's a privilege to walk the earth at the same time as this civil rights leader and musical oracle! 
Billy Strings – Main Stage
Not so long ago our old friend Billy Strings would have been playing our BGS Stage, but not anymore, this flatpickin' global sensation has decidedly hit the big time! We've so enjoyed watching Billy move up and up and up in the world and we can't wait to see his main stage set at Bourbon & Beyond Thursday night. With such a stacked lineup, the special guest opportunities are exciting and limitless. 
Town Mountain – BGS Stage 
Western North Carolina string band Town Mountain have built up their sound over the past few years to where they feel and sound something like Ricky Skaggs in his country days — bluegrass bones, but fleshed out country. Their songs still go by you like a rousing honky tonk dance band, bluegrass or no, but with spit and polish and thousands of miles under their belts. Worth an add to your B&B to-do list!
Twisted Pine – BGS Stage
Another group that blew us away at Earl Scruggs Music Festival, Twisted Pine turns the jamgrass model on its ear, building their vibey, virtuosic songs and tunes with as much jazz interwoven as bluegrass, old-time, and country. They're like Lake Street Dive and Crooked Still, mashed up together and lingering a bit longer in string band traditions – from across the Americana continuum – before taking off. Plus, bluegrass just needs more flute, right? See them Friday on the BGS Stage.
Two Runner – BGS Stage
We're glad to be bringing some California sounds to Kentucky with Two Runner, old-time and Americana duo of Paige Anderson and Emilie Rose coming to B&B. They bring to mind duos like Hazel & Alice and Anna & Elizabeth, combining country harmonies and old-time instrumentation – all dragged through the coastal evergreen woods of Northern California. Hear them Thursday on the BGS Stage.
Dan Tyminski – BGS Stage
Dan Tyminski headlining a BGS Stage is simply a dream come true! This multi-hyphenate, lifelong bluegrasser has been a member of so many seminal and groundbreaking bluegrass groups and projects. He's had a full career within and outside of bluegrass, but lately has returned to the genre that made him with a new band, a new album, God Fearing Heathen, excellent songs, and that voice – fit for George Clooney. 
Kelsey Waldon – BGS Stage
Kelsey Waldon on her home turf! Though she hails from West Kentucky, the entire state is certainly this country singer-songwriter's domain. We've collaborated quite a bit with Waldon across her career, and are looking forward to her headline set closing out our first day of Bourbon & Beyond on the BGS Stage. She may be country, but her bluegrass roots run deep – and will be on full display at B&B for sure. 
Sunny War – BGS Stage
 One of our favorite guitarists of the last several years has released one of our favorite albums of 2023, Anarchist Gospel. If you're unfamiliar with her work, you won't want to miss Sunny War perform on the BGS Stage on Saturday. Her right hand is confounding and inspiring, an often textural and tone-setting device in her bigger sounding recent songs that combine punk, blues, indie and more. Not to be missed! 
Hailey Whitters – Main Stage
It's no secret BGS loves some good country. Hailey Whitters is certainly some of the best to come out of Music Row in recent memory, releasing radio-ready bops that are fun and exuberant, yes, but also have a rich and subversive well of influences, content and production styles. That Whitters is connected with all the best pickers and singers in Nashville and has a penchant for bluegrass are nice little details to remember about this TikTok phenom. Worth a mosey to the main stage on Sunday, certainly!
The Bluegrass Situation Stage – Daily Schedule
Thursday, September 14
5:45 p.m. – Kelsey Waldon
4:15 p.m. – Michael Cleveland & Flamekeeper
3 p.m. – Two Runner
1:45 p.m. – Clay Street Unit
12:30 p.m. – Myron Elkins
Friday, September 15
5:45 p.m. – The Lil' Smokies
4:15 p.m. – The Cleverlys
3 p.m. – Twisted Pine
1:45 p.m. – Lola Kirke
12:30 p.m. – Armchair Boogie
Saturday, September 16
5:45 p.m. – Town Mountain
4:15 p.m. – Della Mae
3 p.m. – Lindsay Lou
1:45 p.m. – Sunny War
12:30 p.m. – Armchair Boogie
Sunday, September 17
5:45 p.m. – Dan Tyminski
4:15 p.m. – Frank Solivan & Dirty Kitchen
3 p.m. – The Arcadian Wild
1:45 p.m.- Lindsay Lou
12:30 p.m. – Pixie & The Partygrass Boys
Purchase your Bourbon & Beyond tickets here.
---