"All I know is, I was going down the road at about 80 on my bike, and then the next thing I knew, I was going down the road at about 80 without my bike."
So says Phil Kaufman, the fabled music road manager to the stars that Mick Jagger called an "executive nanny" when Kaufman was road manager for the Rolling Stones. It's been a little over seven weeks since the motorcycle accident that broke his back and ankle, cracked his ribs, and skinned his leg so badly on a stretch of interstate asphalt north of Nashville that an entire tattoo was rubbed off. When you stop to consider the seriousness of the wreck and what could have happened, it's astonishing that he's even alive.
If you don't recognize Kaufman by name, you almost certainly do by reputation. Because of the people he has worked with — including everyone from the aforementioned Stones to Frank Zappa, Emmylou Harris, Etta James and Joe Cocker — he has become an almost mythical figure in rock and pop music folklore, and deservedly so. How many people do you know who would actually steal their friend's body, take it into the California desert, and set it afire? Phil Kaufman would. He did just that in 1973 when he hijacked the body of singer/songwriter Gram Parsons and drove it out to Joshua Tree National Park to fulfill the obligation of a pact he had made with his friend — that whoever died first would set the other's spirit free. That, alone, is of the great tales of rock music.
A veteran of the Korean War, Kaufman is 80 years old and living in Nashville. Though he's semi-retired, the motorcycle crash has rendered him currently unable to work. Already a cancer survivor for 20 years, it might seem like Life has been a bit harsh for him, but despite having a broken body and facing financial obligations that might overwhelm many people, Kaufman knows that he is a rich man in ways that don't involve dollar signs. He is warm, welcoming, unassuming, funny, and perhaps above all, grateful. Friends rushed to his aid from the beginning and have stayed by his side, working in shifts to make sure his every need has been met.
However, the job descriptions of "Road Mangler" and "Executive Nanny" don't exactly come with 401k plans, so a campaign has been set up at GoFundMe.com for anyone wishing to contribute. The response has been thick and fast; since the drive was established on August 19, over $20,000 has been raised. Tributes from unknown donors exhort, "Make yourself better, Mangler!" and "Phil is the only road manager (mangler) I have ever gone to a show to see. Thanks for the decades of great concerts!!!" while high-profile friends like Steve Wozniak (of Apple fame) and Steve Earle tease, "The great ones like you should go on their own terms," and "I hope no important tattoos were defaced."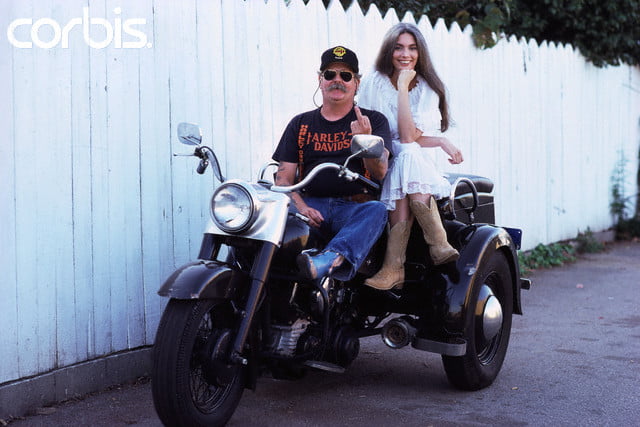 Phil Kaufman with Emmylou Harris in the 1970s
While $20,000 is a lot of money, a $40,000 hospital bill has already arrived in the mail, so there is more to be done. Other medical expenses will follow, including doctors and equipment, plus the everyday expenses we all share — lights, phone, water, food.
For his part, Kaufman is overwhelmed by the generosity streaming in.
"It's been really heartwarming, you know, pouring out from all these people … most of whom I don't even know," he says, almost puzzled. "I'm very touched. I can feel that people seem to want to give back. And [the Recording Academy's outreach program] MusiCares has helped, too. I mean, no matter where I turn, there's a helping hand. For the last five weeks, somebody has stayed with me every night, in shifts. I'm still getting calls — 'You need butter? You need eggs? Can I bring you something? Does the dog need walking?' It's just very, very … it's a … it's a…"
He trails off, at a loss for words.
One important thing Kaufman has learned is that, after 60 years of riding, it's time for him to hang up his motorcycle helmet. As he has with the accident in general, he has adopted a "glass half-full" attitude about having taken his last ride.
"I'm 80 years old," he reasons. "I can ride a bike; I know how to ride a bike. But my body cannot take another one of these [wrecks]. No matter whose fault it is. So, I am wisely — for the first time in my life — giving up motorcycling. But I had a 60-year run. I rode bikes for 60 years! And I've got scar tissue I like to show off occasionally." Kaufman laughs mischievously, as though he's gotten away with something.
Though it'll be about a month before he'll be able to walk, drive, or generally get around on his own, Kaufman is already looking forward to putting the entire episode behind him. He is planning a visit to his family in Hawaii in the Fall, and will pick up the odd road gig from time to time ("I don't think I want to do a major tour," he says, "but if the phone rings, I'm there."). Mainly, though, he's enjoying time with his friends in Nashville, telling stories, hearing music, and "finally taking time to stop and smell the roses," as he says. He shares his life with a beautiful white rescue dog named Gladys, who he says seems especially loathe to leave him since he's returned from the hospital.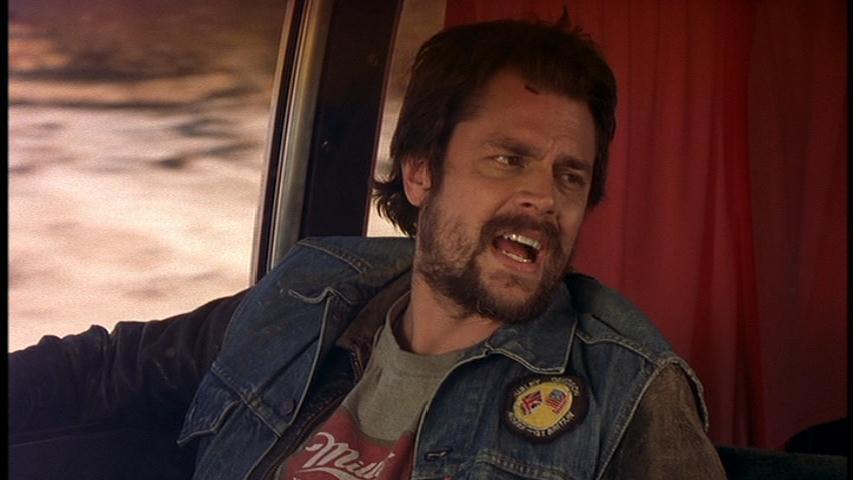 Johnny Knoxville as Phil Kaufman in Grand Theft Parsons
He will also supplement his income on his personal website. There, fans can find for sale Kaufman's book, an autobiography detailing his life working with the greatest names in music called Road Mangler Deluxe; Grand Theft Parsons, the 2003 movie with Johnny Knoxville and Christina Applegate that chronicled the Parsons incident; CDs of The Concert for Manglerdesh, a benefit show starring Harris, Earle, Sam Bush, Vince Gill, John Prine, Guy Clark, and many more that came together in 1996 to help defray Kaufman's cancer expenses; and Legend of the Road Mangler, an oral history of stories and folktales that, according to its cover, "is a must-listen for music fans who love to know what goes on behind the scenes, on the bus, after the show, and out in the desert." (Legend of the Road Mangler is also available to rent as a download.)
Whether fans and friends decide to support him through his website, the GoFundMe campaign, or just by sending good vibes, Kaufman wants people to know that it means a lot to him. "Just keep the love pouring in. That's it," he says in thanks. "People are saying to me, 'I don't know you, but I appreciate what you've done for other people.' That was my job, you know? I was 'executive nanny.' Fortunately, [when people help] it's a good investment. Both of my parents lived to be 92, so I've got at least a dozen years to go."
With everything Phil Kaufman has lived through up till now, nobody doubts it for a moment.
---
Top photo: Phil Kaufman, "Road Mangler," drives a car with Gram Parsons, Keith Richards and Anita Pallenberg, c. 1972.