Welcome to "A Minute In …" — a BGS feature that turns our favorite artists into hometown reporters. In our latest column, the Kruger Brothers take us on a tour of Wilkesboro, North Carolina, from a courthouse to a courtyard.
We make our home in Wilkesboro, the county seat of Wilkes County, North Carolina. This county is known as "the heart of American folk music." Wilkes County lies the northern area of the Yadkin Valley, on the eastern slope of the Blue Ridge Mountains. We were drawn here by the music, and then fell in love with the people and the beautiful landscape.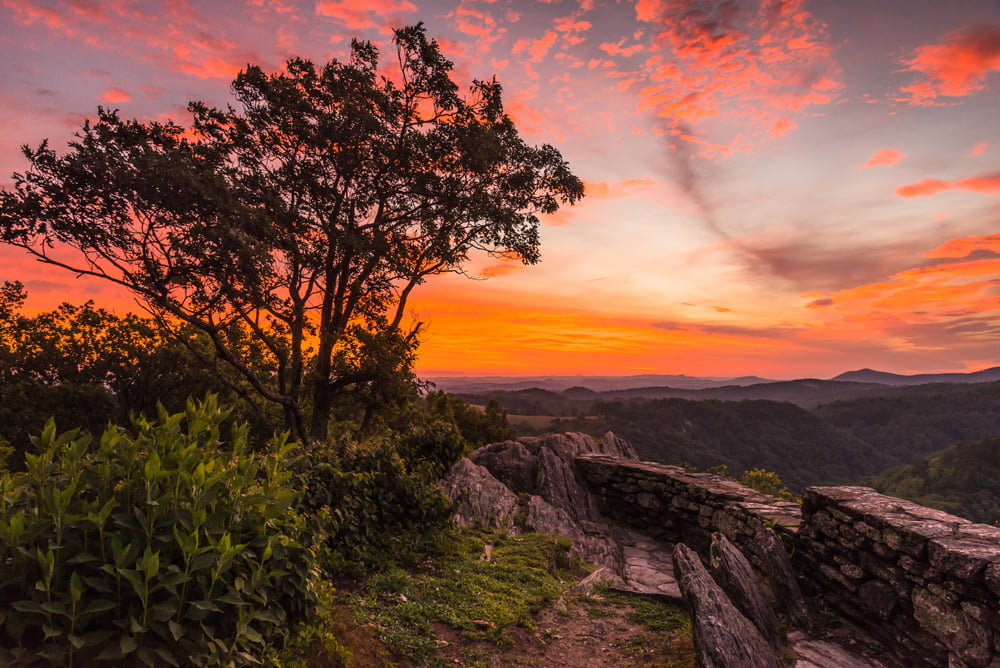 Blue Ridge Parkway. Photo credit: RD Hill Photography
BLUE RIDGE PARKWAY: This is a very diverse region of the Blue Ridge. Of course, we love the sounds of roots music and the many festivals in the area. When we're not playing music, we enjoy the apple orchards and vineyards in the area. There are so many recreational opportunities, such as W. Kerr Scott Reservoir's camping, boating, bird watching, hiking, and mountain biking trails. The Yadkin River runs between the towns of Wilkesboro and North Wilkesboro, offering miles of rippling water for kayaking and canoeing. This area is also popular for trout fishing.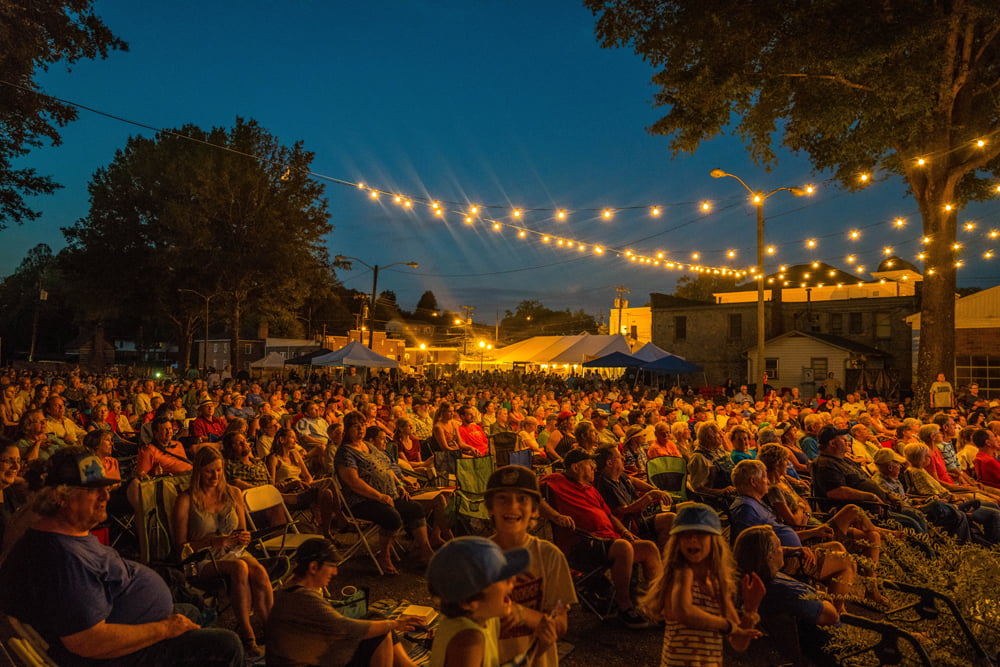 Carolina in the Fall. Photo credit: Wilkes Chamber of Commerce
CAROLINA IN THE FALL MUSIC AND FOOD FESTIVAL: We are proud to host this annual event which features some of the world's best folk, bluegrass, and roots artists. As Uwe sings in his song, "… in the hills of Carolina, folks have opened up the door and, for the first time in my life, I'm not a stranger anymore." There are no strangers here as we get together for two days of food, music, and more. Food trucks from around the region bring their unique offerings and compete for the Food Truck Championship trophy. Regional vineyards and craft breweries provide a taste of the area's best beverages. Also included are the North Carolina Banjo Championship (a favorite for Jens, of course), the Chad Lovetts Memorial Trail Run and Ride which supports the American Cancer Society, and a silent auction supporting an afterschool music program. The festival also includes Contra and clogging dance classes, artist workshops, and nightly jam sessions at the Yadkin Valley Event Center.

Doc Watson Mural. Photo credit: Kruger Brothers
DOC WATSON MURAL: When Doc Watson passed unexpectedly in 2012, the world lost an amazing and inspiring talent, our community lost a hero, and we lost a treasured personal friend. We were pleased when students in the Wilkes Art Gallery's annual Summer Honors Art Program participated in the creation of this mural depicting Doc along with Stone Mountain, the Yadkin River, and W. Kerr Scott Lake. Doc would've loved this program which pairs professional artists with talented, local high school students to create works of public art. The brightly colored mural was designed by local artist Wes Gregory and covers the entire east façade of Royall Custom Framing, a building located at the corner of Main and Bridge Streets.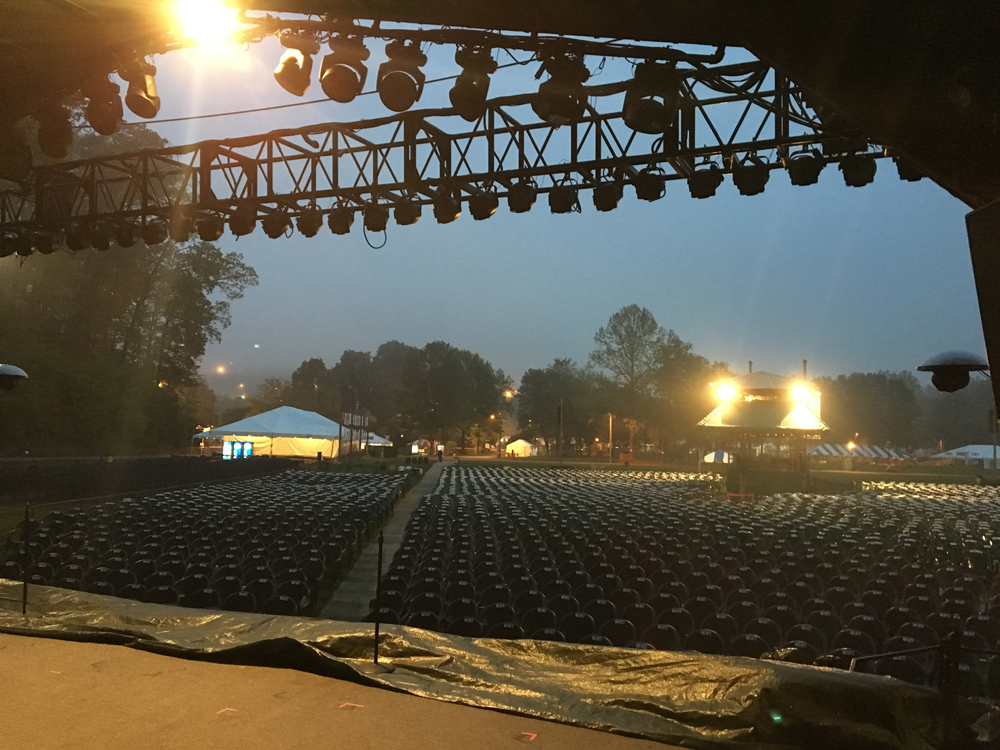 Early morning MerleFest main stage. Photo credit: Kruger Brothers
MERLEFEST: And speaking of Doc … ! Our friend continues to be honored annually on the last weekend of April at the festival created to remember Doc's son, Merle. The four-day MerleFest, on the campus of Wilkes Community College, features music from all over the world, and we are always honored to play this special festival. It was, after all, playing MerleFest that first introduced us to this town that we now so proudly call home. The history of performers since 1988 reads like a "who's who" of the entire world of music. Uwe took the early morning photo on the first day of MerleFest this year, hours before the gates opened. There was an air of anticipation in the misty morning light, with rows of chairs so neatly placed in expectation of the crowds to come. It is one of the premier music festivals in the country, yet MerleFest still retains that special feeling of a family reunion for fans and for those of us who perform.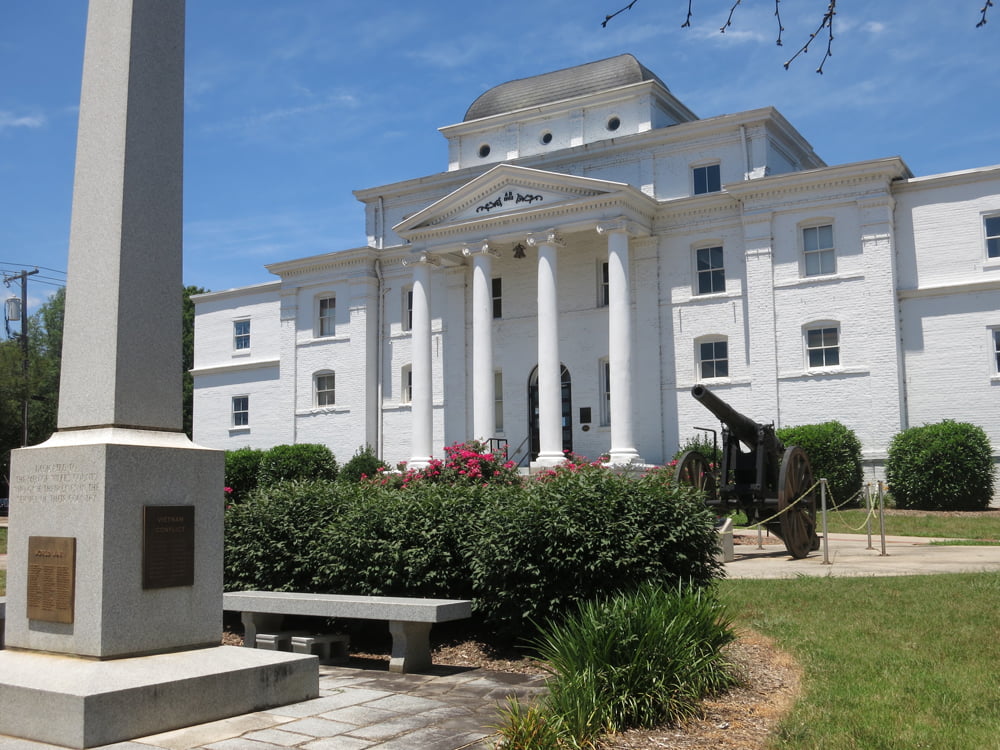 Wilkes Heritage Museum. Photo credit: Kruger Brothers
WILKES HERITAGE MUSEUM: The Old Wilkes County Courthouse, built in 1902, has been restored and houses the Heritage Museum for Wilkes County History. It is a beautiful example of classical revival structures. Inside is a rare collection of artifacts and images that tell stories of early settlers, military history, industry, agriculture, and so much more about the history of our town and county. Behind this building is the old Wilkes County Jail, now a museum, as well. It is one of the few remaining mid-19th century jails. One of its inmates was Tom Dula or Dooley, famous for the 1866 murder of Laura Foster, and made more famous by the old North Carolina folk song "Tom Dooley."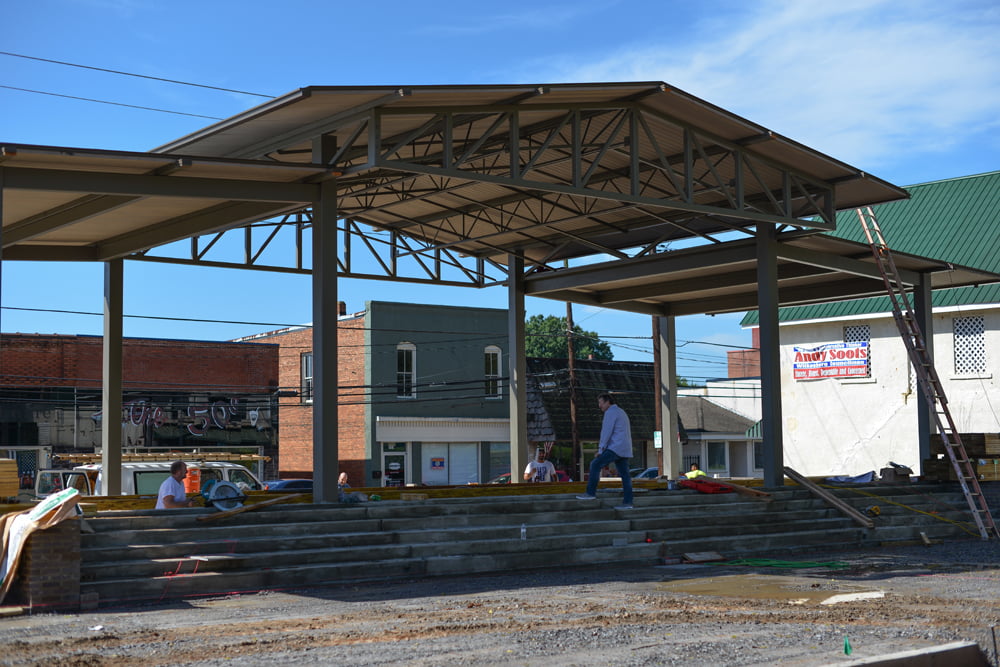 Open air market. Photo credit: Kruger Brothers
OPEN AIR MARKET: Downtown Wilkesboro is enjoying a revitalization project that includes a new performance stage in the Open Air Market. The Wilkesboro Open Air Market is held on Fridays, from May through September, providing local and regional farmers and artisans the opportunity to sell fresh farm products and handcrafted items. There is also live music throughout the market season. The stage will be used for many of the festivals and events in town, and we're looking forward to playing here.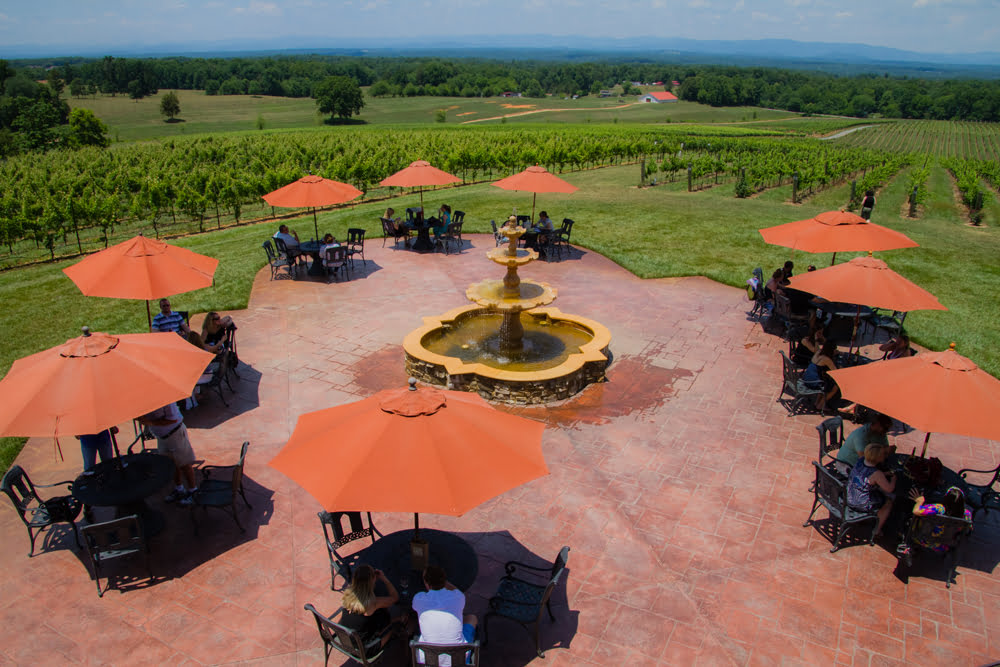 Raffaldini Vineyards. Photo credit: Wilkes Chamber of Commerce
RAFFALDINI VINEYARDS: This is a favorite escape just outside of Wilkesboro in Rondo, North Carolina. Raffaldini Vineyards & Winery is a surprising winery that will make you feel as if you've stepped out of the Yadkin Valley and right into Tuscany. They have delicious wines made from authentic Italian varietals. The 102-acre estate is surrounded by the serenity of the Yadkin Valley and the Blue Ridge Mountains. The patio is a perfect place to enjoy lunch, a glass of wine, and the picturesque countryside. It is also an ideal place to relax and reconnect with our lovely wives when we are not on the road.