Although in-person plans for Americanafest are on hold this year, fans of roots music can still take part in celebrating the music, no matter where they are.
From September 16th to the 18th, Thriving Roots: A Virtual Community Music Conference will host intimate conversations between pairings you won't find anywhere else.
In August, the Americana Music Association Foundation (AMAF) revealed programming featuring director Judd Apatow in conversation with The Avett Brothers; Bob Weir with Oteil Burbridge; Béla Fleck with Sierra Hull; and Sarah Jarosz with John Leventhal and Chris Thile. The latest programming information also includes talks on empowering today's creatives, developing streaming strategies and musicians in recovery.
Apatow will sit down with The Avett Brothers to discuss the intersection of film and music, as well as the fine line between fine art and commerce. In 2017, Apatow co-directed the band's critically acclaimed documentary, May It Last: A Portrait of The Avett Brothers. Since then, The Avett Brothers have released their new album, The Third Gleam.
The music that fans know and love from their favorite artists simply wouldn't exist without the innovative musicians who came before them. Weir will sit down with fellow Dead & Company member Burbridge as they explore the inspirations and influence Black musicians have had on the Grateful Dead.
Now more than ever, musicians continue to push and blur the confines of genres to create the art they want to make. Fleck and Hull will speak to how roots music transcends and connects with a wide range of audiences during "Music Without Boundaries." When it comes to creating that art in the studio, a producer's ability to understand an artist's vision is an integral part of the creative process. Moderated by Thile, Jarosz and Leventhal will delve into the connections forged between the artist and producer evident on her latest project, World on the Ground.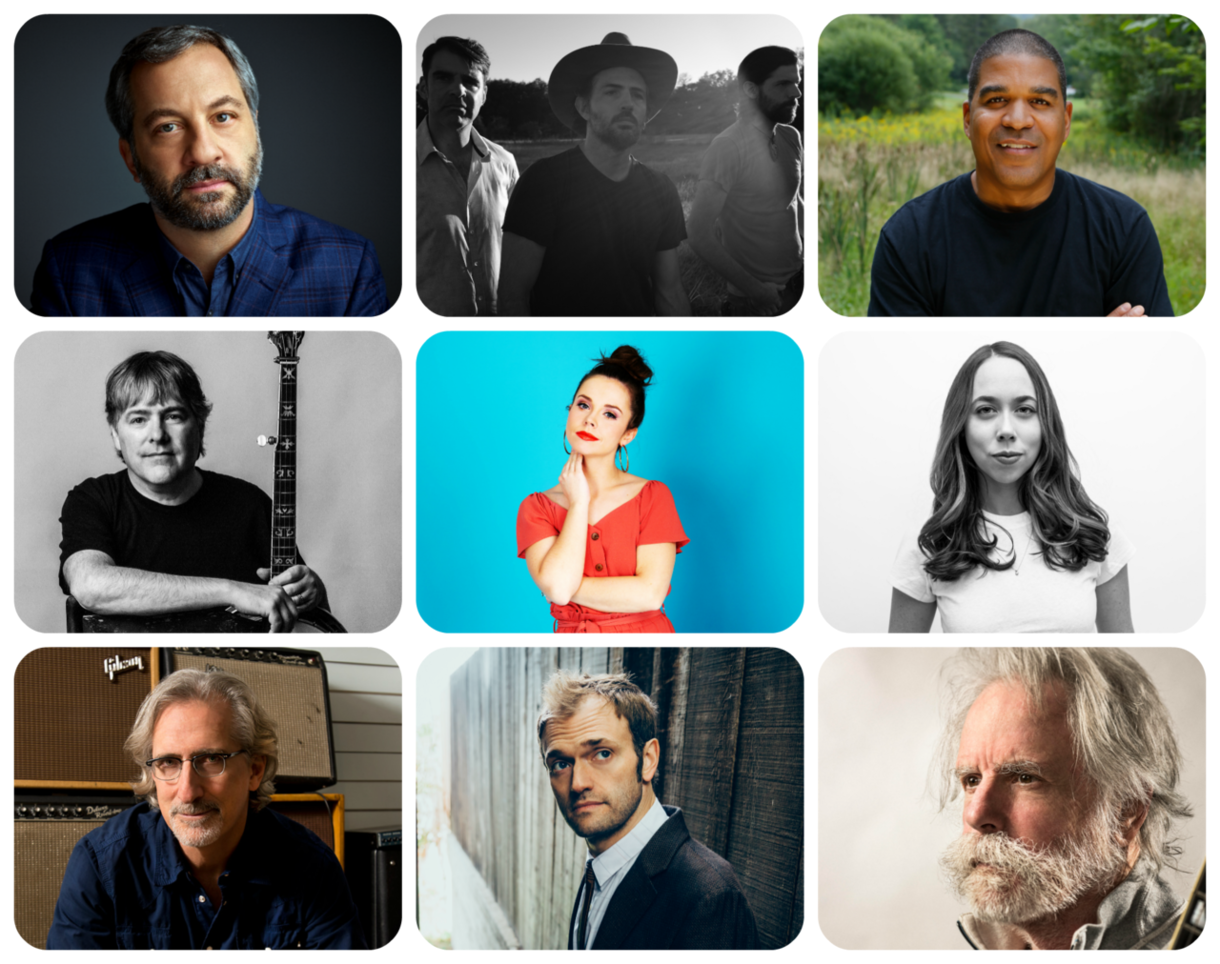 Additional new programming includes "Independent Control: The Power of Collaboration," an inside look into how Americana industry professionals are empowering their independent artists to retain full creative control and the benefits of assembling a hand-picked team. Moderated by Jessica Nicholls (Metropolitan Groove Merchants), this discussion will include Blair Clark (Brooklyn Basement Records), Maria Ivey (IVPR) and Michelle Szeto (Paquin Entertainment Group).
In the streaming era, an abundance of digital resources can be found at the fingertips of industry and artist professionals, but how does one optimize those helpful tools? Led by Mike Fabio (New West Records), "Building a Streaming Strategy in 2020" rounds up Charles Alexander (Systemic), Margaret Hart (YouTube), Margaret Jacobi Lee (AMFM Management), Laura Ohls (Spotify) and Amy Wright (DittyTV) for a talk on developing real-world strategies that lead to increasing listenership and growing a solid fanbase.
Presented by Promises Behavioral Health, "The Show Must Go On: Musicians in Recovery" will find artists Phil Bogard and Jaime Wyatt in conversation with Shireen Janti (MusiCares) and Shane Ramer (That Sober Guy Podcast) about the road to recovery while offering how to find treatment and how others can take practical steps toward becoming a sober creator.
Previously announced Thriving Roots programming includes intimate conversations between Brandi Carlile and Yola; Emmylou Harris and Ken Burns; and Jackson Browne and Mavis Staples. Rosanne Cash will bring together Ry Cooder, Angela Davis, Bonnie Raitt and Alice Randall for "Love and Vigilance," a look at the history of protest music.
Moreover, RIAA Chairman/CEO Mitch Glazier and COO Michele Ballalynte will share an update on the music industry during "Record Setting" while looking at current trends and sharing their outlook. There will also be artist-friendly songwriting workshops and case studies like Mary Gauthier's "Accessing the Universal in Your Songs: Mercy Now," Taj Mahal's "Music Is the Healing Voice" and an artist development breakdown with Black Pumas.
With over 50 panel discussions and more than 40 special events filled with music, Thriving Roots will bring the Americana music community together from across the world for three full days of engaging insight from its top industry professionals and leading artists.
Adding to the slate of artist conversations music fans won't want to miss is Linda Ronstadt offering a behind-the-scenes look at Linda and the Mockingbirds, a new documentary that chronicles her 2019 journey with Jackson Browne and Mexican-American song and dance troupe Los Cenzontles to her grandfather's hometown in Mexico, resulting in a tale of immigration, family and music. Moderated by esteemed journalist Randy Lewis, attendees will be able to watch the film screening and hear insight from the musical icon alongside the doc's producer/director James Keach and Los Cenzontles founder Eugene Rodriguez.
The Lumineers' Jeremiah Fraites and Wesley Schultz will sit down with renowned filmmaker M. Night Shyamalan for an engaging discussion on the importance of retaining creative control of your art. In addition, Kathleen Edwards will speak with acclaimed Program Director Rita Houston (WFUV) about her new album Total Freedom, which marks her triumphant return to music after an eight-year hiatus from the business.
The common threads and differences of the Americana and country music worlds will be explored during "Ladies, Your Roots Are Showing," presented by Change the Conversation. Moderated by CTC co-founder Tracy Gershon with freelance music journalist Marissa Moss, this panel session rounds up Brandy Clark, Tanya Tucker and Lee Ann Womack to share how they've been able to successfully navigate both worlds while maintaining their artistic integrity. They'll also reveal the challenges and memorable moments they've experienced during their respective careers.
Reigning Legacy of Americana Award (co-presented by the Americana Music Association and the National Museum of African American Music) recipient Rhiannon Giddens joins NPR's Ann Powers and the legendary Taj Mahal to discuss the theme of "Music is the Healing Voice."
Music buffs should also tune into a special virtual edition of "Songlines Music Meeting," an Americanafest fan-favorite. Sean Coakley and Leslie Rouffé will once again invite listeners to hear mostly unreleased tunes and score them during the live session, leading to a discussion on how music programmers in various media formats select the songs they feature.
Aside from plenty of educational and networking opportunities, Thriving Roots attendees will have a chance to unwind and recharge with immersive virtual events and lifestyle breaks. Valerie June will walk folks through a guided meditation that explores how to center oneself using ancient teachings. Big Machine Label Group will spotlight The Cadillac Three, Sheryl Crow and Ray Wylie Hubbard with some must-see musical performances.
During "Aw Heck: An Oh Boy Music Break," join the late John Prine's own record label Oh Boy Records for a celebration of their talented roster which includes Tré Burt, Arlo McKinley, Dan Reeder and Kelsey Waldon. For "Come Hear NC," experience the rich music of North Carolina featuring Hiss Golden Messenger, Jim Lauderdale, Mandolin Orange, Steep Canyon Rangers and more.
---
Pictured above in composite: Top Row (L-R): Judd Apatow, The Avett Brothers, Oteil Burbridge; Middle Row: Béla Fleck, Sierra Hull, Sarah Jarosz; Bottom Row: John Leventhal, Chris Thile, Bob Weir
Leave a comment