Tom Power's recent Toy Heart episode with Alice Gerrard, whom I first knew as Alice Foster, reminded me of a 1959 visit several of us Oberlin College folkies made to Antioch College. In 2009, doing research on my early bluegrass experiences, I sent my friend Mayne Smith an email asking about his experiences when he met Alice and her late husband Jeremy Foster during that visit. 
Mayne and I are the same age and have known each other since 1953. We got into folk music as teens in Berkeley, California, and discovered bluegrass together from 1957 to 1959 while in Oberlin, Ohio. We first heard it on records and radio, and at this time had seen it live only once, when we met banjoists Eric Weissberg and Marshall Brickman at a 1958 spring vacation homecoming party in New York City. We had begun trying to play bluegrass with a circle of Oberlin classmates, folk music enthusiasts learning new music and working on new instruments. 
In the introduction to my memoir, Bluegrass Generation, I mention our trips to Antioch as undergrads, where we met the Fosters. 
Antioch was, like Oberlin, a liberal arts college that drew students from all over the country and beyond. At the time, its co-op system, which placed students in jobs every second semester or so, was thought to be radical. Unlike Oberlin, which still drew on a pious abolitionist point of view about many things, it tended to be a more socially relaxed place. A Fun Place to Party. 
Mayne was the first of our Oberlin bluegrass circle to meet the Fosters during one of these trips. This music was still a new and distant thing to us; we didn't own tape recorders. In my email I asked Mayne: 
What memories do you have of visiting Antioch and meeting Alice and Jeremy? I went there several times and recall you being there, but don't have any documents like tapes or photos that include you. Any recollections, however hazy, would be welcome. I remember that you had some kind of document from the Fosters giving you honorary membership in [their band] the Green County Stump Jumpers — do you still have that, was it dated? 
Mayne answered the next day: 
Neil, I have (for me) unusually vivid memories of our first visit to Antioch and hanging out at the Fosters' place because it was there that I contracted the Stanley Brothers virus. I think it must have been in the spring of 1959 because I had already heard Flatt & Scruggs and understood that this was called bluegrass music. 
But first, Jeremy's hand-drawn certificate (on a 4×6 card) is undated, but it reads: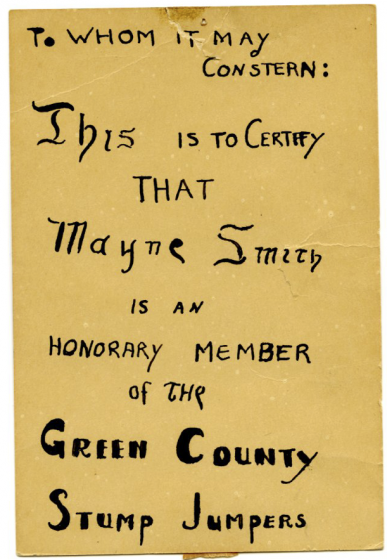 I also vaguely remember showing Marge [Ostrow] (later married to Mike Seeger for a while) how I played Carter Family style guitar. I think I got it from Dave Fredrickson — using the thumb to pick melody, then the index finger brushing down/up. I heard later that Mike was impressed by the fact that Marge had adopted this approach, and asked her where she learned it. 
But about the Stanley Brothers. I recall a thinly carpeted living room with expansive white bookshelves along the wall opposite the windows. At some point, in an afternoon I think, Jeremy put on a tape of the Stanley Brothers in live performance — my gut tells me it was one of the ones Mike Seeger had recorded at New River Ranch in like 1957. As soon as I heard that totally live, undoctored sound I was captivated, and I believe I sat and lay on that hard floor listening to live Stanley Brothers shows (several sets, at least) for hours. My mind was blown. Knowing it was totally live and without studio gimmicks and buried background effects, it came home to me how the fluctuating balance of instruments and voices was accomplished by movement in relation to the microphone and each other, how at times there were lovely breathing spaces in the sound while people shifted from instrumental breaks to solo vocals to harmony vocals. How nobody was using a lot of physical effort to project the sound, yet it penetrated, flowed, darted ahead, waxed and waned like the mating dance of a single complex organism — and how comfortable and familiar the musicians were with what they were singing and playing. 
I was learning not only about how bluegrass fits together, but also about what a band can be like when it's been playing constantly together, day in and day out, for weeks — for years. 
I don't believe I've ever had a more intense listening and learning experience, nor one that had such a profound effect on my life. 
I should also mention that this was partly possible because I could tell that [Jeremy] and Alice understood what I was going through and supported me by staying out of the way. I felt toward them the way a bridegroom feels about the best man and maid of honor: I could give myself over to the intensity of the music in a nurturing environment. (In retrospect, it was kind of like having a trusted support team when you first get stoned on something very strong.) 
I will always be grateful to them both. 
If you were around when this happened, I don't remember it. I just blanked on everything else but those sounds. 
I wasn't at the Fosters when this happened, which was not in the spring of 1959 as Mayne recalled, but a few months earlier, during the January break between semesters. While he visited them, I was off jamming with Guy Carawan, who'd given a concert at Antioch that weekend. I didn't meet Alice and Jeremy until they brought the Green County Stump Jumpers to an Oberlin Hootenanny a year later. 
In May 1959, our old Berkeley folk scene friend Sandy Paton (co-founder of Folk Legacy records) was the headliner at the annual Oberlin Folk Festival. By then our circle had become The Lorain County String Band. Sandy heard our festival set and said he knew a British folk record company producer who was looking for American bluegrass and old-timey. He suggested we make a demo he could send to his friend. We cut it at the student radio station, but it was never sent. 
That summer, back home in Berkeley, we started The Redwood Canyon Ramblers, Northern California's first bluegrass band. The story of that band, and of Mayne's subsequent career as a singer/songwriter and steel guitarist with continuing excursions into bluegrass, is told well at Mayne's website.
But it does not include an important detail — his groundbreaking work as a scholar. His Master's Thesis, "Bluegrass Music and Musicians" (Indiana U., 1964) and the article he developed from it, "An Introduction to Bluegrass" (Journal of American Folklore, 1965) opened the door to the serious study of this music. His transcendent aural immersion at the Fosters was the seed that gave him the vision to accomplish this work. I and the many who have followed are indebted to Mayne Smith for blazing the trail.
---
Neil V. Rosenberg is an author, scholar, historian, banjo player, and Bluegrass Music Hall of Fame inductee.
Photo of Neil V. Rosenberg: Terri Thomson Rosenberg
Photo of Mayne Smith, Kaz Inaba, and Neil Rosenberg: Ed Neff