I was trying to be productive all day yesterday. I tried to unpack the bag that has been on my guest bedroom floor for the last month. It has been packed and unpacked, only to be packed and unpacked again. This is not an unusual occurrence in Nashville. This town is full musicians and artists who zip in and out all the time. It can make it damn near impossible to have a get together with all my friends. I am not someone who tours often, but the last few months I have been traveling quite a bit.
So, after (not) unpacking my bag, I decided to try folding the laundry that I had left sitting on a chair last weekend before heading out of town. I only made it a few tank tops in before realizing I simply needed to listen to my body and rest. I plopped myself down on my bed, under my down comforter, and took a nap in the warmth of the afternoon sunshine. I'm not the kind of person who is good at letting things go unfinished, but I'm getting better at connecting with my body when it is telling me to slow down.
My sweet husband is a good reinforcement of rest, too. After I woke up from my nap, he had me sit on the couch and watch a favorite show while he made dinner. And, y'all, he made the best dinner. Seared chicken, brussels sprout salad with toasted walnuts, and skillet potatoes with loads of herbs. All drizzled with a buttermilk dressing.  I liked it so much, I'm making a version for you. This one has sweet potatoes, dried cherries, and cinnamon because I am a basic white girl with a major affinity for fall.
This is a batch that could feed 4-6 people as a main dish, so you could easily half the recipe, if you don't need that much. I do call for quite a few spices on the sweet potatoes. So, if you have to go out and buy them, I am sorry. But, trust me on this: These are the kind of spices that are good to have around anyway!
I recommend pairing this cozy dish with one of my all time favorite records, especially for fall.
Ingredients
For the salad:
2 pounds brussels sprouts
1 cup pecans, toasted and chopped
2-3 tablespoon olive oil, divided
Salt and pepper to taste
1 cup dried cherries
For the sweet potatoes:
Two medium sweet potatoes
Salt and pepper to taste
1 teaspoon chili powder
1/2 teaspoon garlic powder
1/4 teaspoon onion powder
1/4 teaspoon smoked paprika
1/4 teaspoon cinnamon
For the dressing:
2/3 cup buttermilk
1 cup Greek yogurt
1 tablespoon (Duke's) mayonnaise
1 tablespoon fresh chopped tarragon
1/2 tablespoon chopped parsley
Sprinkle of sugar or honey
Black pepper
Salt to taste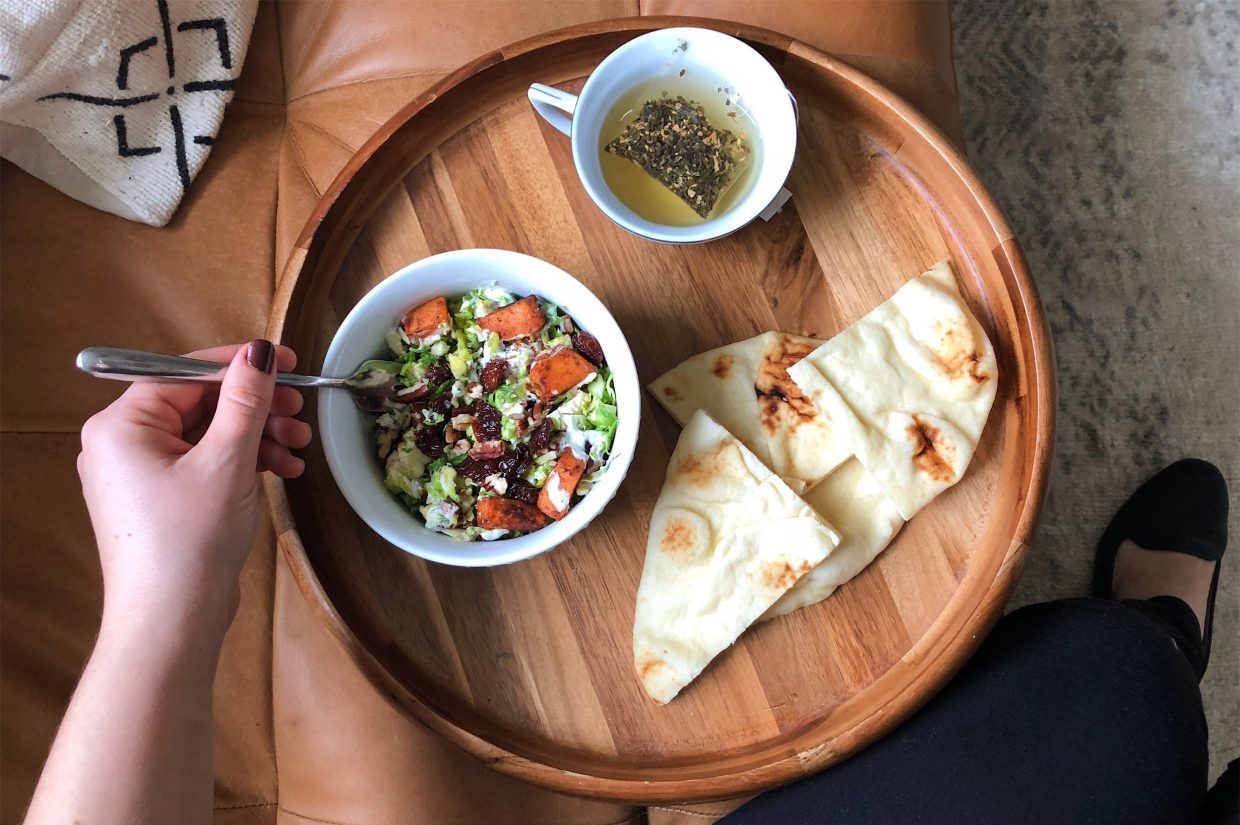 Directions
Peel sweet potatoes and cut into fourths. Boil until they can be pierced with a fork. Let cool, dry with paper towel, and chop into cubes. Heat a medium-sized skillet on high heat. Drizzle a tablespoon olive oil in skillet and place potatoes in skillet. Sprinkle salt and all the spices over potatoes. Avoid the temptation to toss continually. Leave them to cook until they are crisp! About three minutes. Toss and lower heat to low-medium, until they are desired tenderness. Could be between 15 and 30 minutes, depending on your skillet. Mine took 30 minutes.
Clean brussels sprouts and toss in food processor. If you don't have one, you can grate the brussels on a cheese grater or chop with a sharp knife. Afterward, place in a large bowl with pecans, dried cherries, and 1-2 tablespoons olive oil.
Whisk the buttermilk, yogurt, and herbs together. If dressing is too thick, you could add a little more buttermilk. To serve, layer brussels sprout mixture and sweet potatoes, and drizzle with dressing. Enjoy!