The BGS team is gearing up to board the Norwegian Pearl and join the Sixthman team – along with the likes of Emmylou Harris, the Punch Brothers, Aoife O'Donovan, Dawes, the Mavericks… (we could go on and on and on about this lineup) – as we set sail for a journey through song in Cayamo. The cruise has been a fun-filled gathering of roots music artists and fans for fourteen years now, and we can't wait to be a part of this reunion after a year away. The week at sea promises full days of live music and community set against the crystal blue waters of the Caribbean, and it all sounds like a dream.
And as we're celebrating BGS' 10th anniversary all year long, we had to take this epic vacation, and reunion of our roots music community, as an opportunity to go all out: we're throwing a good old-fashioned birthday party onboard! Our
Party of the Deck-ade
Super Jam, co-hosted by Sierra Hull and Madison Cunningham, will be the ultimate celebration of everything we're grateful for at this moment: ten years of roots music and memories here at BGS, the sustaining power of music, and the joy of being reunited with friends to share in that musical experience after so long apart. Artists from across the Cayamo lineup will join us on the pool deck and share songs that make them feel joy – songs that celebrate life. With a special cocktail menu, toasts all around, and even a birthday cake, it's sure to be a party we won't soon forget.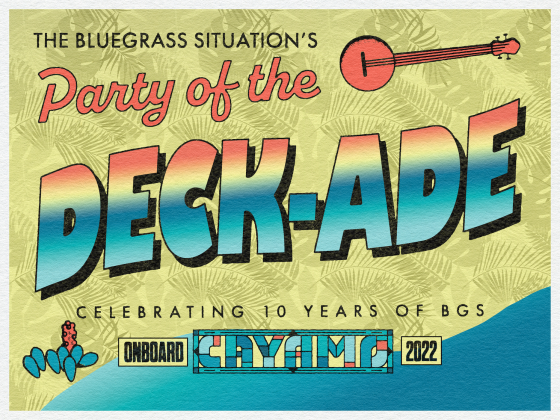 On top of all the festivities, we'll be taking some time to Sit & Talk, as Fiona Prine hosts intimate conversations with esteemed artists, and her friends, Emmylou Harris and the members of John Prine's band. She'll dive in deep in these casual, but meaningful, conversations with the artists, taking us behind the scenes on songs, stories, travels, friendships and life on and off the road.
This year's ship may be full as of now (though there's still time to cross your fingers and join the waiting list if you're the last-minute type), but no need to fret – we'll be capturing exciting moments onboard so you can experience the fun from dry land. Stay tuned!