What's the time limit on second chances? Don Bryant is learning that it really can take a lifetime, or at least a few decades. Since the 1960s, the Hi Records songwriter has been putting pen to paper for other people's voices. Label owner Willie Mitchell recognized his talent and tapped Bryant to help keep churning out the hits in the late '60s and early '70s, contributing to the catalogues of the "5" Royales ("I Got to Know"), O.V. Wright ("I Can't Take It"), and Etta James ("A Love Vibration"). And then, of course, there were his many collaborations with Hi Records signee Ann Peebles. The two co-wrote their most famous single, "I Can't Stand the Rain," one year before they married in 1974. But Bryant also has a talent for singing and, at 75 years old, he's getting the chance to showcase his own voice.
Bryant released his second album, Don't Give Up On Love, this year via Fat Possum Records. It follows his 1969 release, Precious Soul. If 48 years seems like a long time to go in between projects, it only allowed Bryant to marinate. He never stopped writing, and he certainly never stopped singing. He simply chose less public platforms to share those two gifts. For his latest project, Bryant reunited with Hi Records players, like drummer Howard Grimes and organist Charles Hodges. Their resultant joy cannot be contained. Each song plays like old friends having an absolute ball together. "I couldn't have scripted it no better," Bryant says. "That's why I'm embracing it so much and enjoying it so much." Besides covering O.V. Wright's "A Nickel and a Nail," and recording his version of the song he originally wrote for the "5" Royales, "I Got to Know," he touches on subjects including love, jealousy, cheating, and what lies beyond. On "How Do I Get There," Bryant digs into his gospel side, growling runs and all, to pose a rhetorical question: If the afterlife is really paradise, then what do I have to do now to get to then? The song feels plucked from his best session writing days at Hi Records, offering listeners a transporting and transformative experience. Don't Give Up On Love, then, is less an album about second chances, and more a celebration of restitution. If patience is a virtue, then Bryant's virtuosity has yielded a soulful answer.
People have been describing your new album as a second chance, but it feels closer to restoration.
It does, because I never stopped singing. I was doing some gospel things, and getting in touch with my spiritual side. Music and singing have always been my life, since I was a small kid, so I've been enjoying it, even if I just sing to myself. And write songs. I've been writing, too! I enjoy putting down demos for myself. I never know what's going to happen with them, but just put 'em down because they're there.
In a way, it's like practicing. You do it enough and, eventually, you're called up to the big stage.
Look at that! Who would've known?
What is the soul man's role in the 21st century?
I feel that there are still a lot of people that love the music and enjoy the music, but we're not getting a lot of [soul] right now. That was one of the main reasons I embraced doing this album. Some people had confidence in saying, "Hey, it might work." There are so many people that still love the R&B field and, according to the crowds that I've performed before, it seems like they love it just as they did then.
The soul man has been an uplifting force throughout history, but there's often an important message that accompanies that presence, which you've been able to tap into. And we need it more than ever!
Oh, yes. I think that was one of the reasons I was writing those songs [on Don't Give Up on Love]. I feel that we need them. I had no idea how I would be able to get them done, or what have you, but they keep coming. I got to write them down.
Does it happen in one go for you, or do you have to come back to the table a few times?
Sometimes I do, because sometimes I only get a title. Then it takes time to examine that title and the different ways it's been said. Is it possible to say the same thing in a different way and get a great feel on it?
Was "How Do I Get There" an instance of getting a title first?
Well, to tell you the truth, it was one of those writing spells that I had. When I'm in one of those situations, and the title or something comes to me — I don't know if it's an automatic thing — I start searching what I've heard, what I've seen, what have you, to add to this equation to be able to write a song that will reach more people. I've talked to people about that situation, and a lot of them had questions. The question was the main thing: How do I get there? When the title hit me, I just started looking for different directions to go in, and once I gathered it in my head, it didn't take me long to write the song.
It's gorgeous. It's funny how beautiful things sometimes come so quickly.
That is so true. And I'm so glad and thankful that it's still happening to me. It don't take much to just get off into something. Even with the songs that I wrote for the new album — Scott Bomar told me, "Hey, we need to write some for this new album" — the light came on! Everywhere I went, I started hearing things. Bands playing and maybe a phrase they used would trigger something in my mind. It's a beautiful feeling.
It's got to be. I think there's a certain kind of receptivity writers have, so how do you keep yourself open to ideas? It's easy to get tired and stressed out, and you've certainly experienced personal tribulation.
Well, that's my free space. You know what I'm saying?
Yeah, a place to work it out.
I can be there and, at that moment, regardless of how long it lasts, the rest of the [stressful] things are not taking advantage of me. I can sit it on the shelf for a minute and get off into something that I enjoy doing, and it compensates for all those rough times that you think about.
You need that outlet, otherwise it would all be rough times.
Definitely so. And to me that's always been one of my outlets, to be overly involved in writing songs. Sometimes I might write two or three different versions of a song before I'm finished with it, and then put the chords to it and, the majority of the time, the chords and everything come along while I'm doing it. It's just a beautiful feeling.
So what happens to that second or third version?
I hold on to it! There's something in there that I might be able to use on another song. I don't ever throw it away. I've got a catalog of unfinished songs.
If you ever wanted to release those …
Stop putting ideas in my head! It's beautiful, though; I enjoy it. There are some things that I need to get off my mind.
You've mentioned how you wrote this album with Ann in the back of your mind and it's dedicated to her. Turning to your song, "Don't Give Up On Love," it's a striking number coming at a time when it's harder for people — especially in my generation — to invest in one another. They want things to come fast and easy.
[Singing] "When I fall in love, it will be forever." We've had a beautiful life; we've enjoyed each other. It's had its ups and downs, but we've really enjoyed each other. She was there in the studio with me, and she was boosting me along and giving me ideas when I was recording the album. It was very important to me. You don't find it all the time, and everybody don't find it, and I'm thankful that I found it.
That is such a blessing.
It's a blessing. I'm trying my best to hold on! And then there's just so much, even after all these years. Everybody's going to have problems. There are ways of getting beyond problems without a whole lot of commotion. You learn these things as you get on in life. I want to apply these things rather than move in the other direction.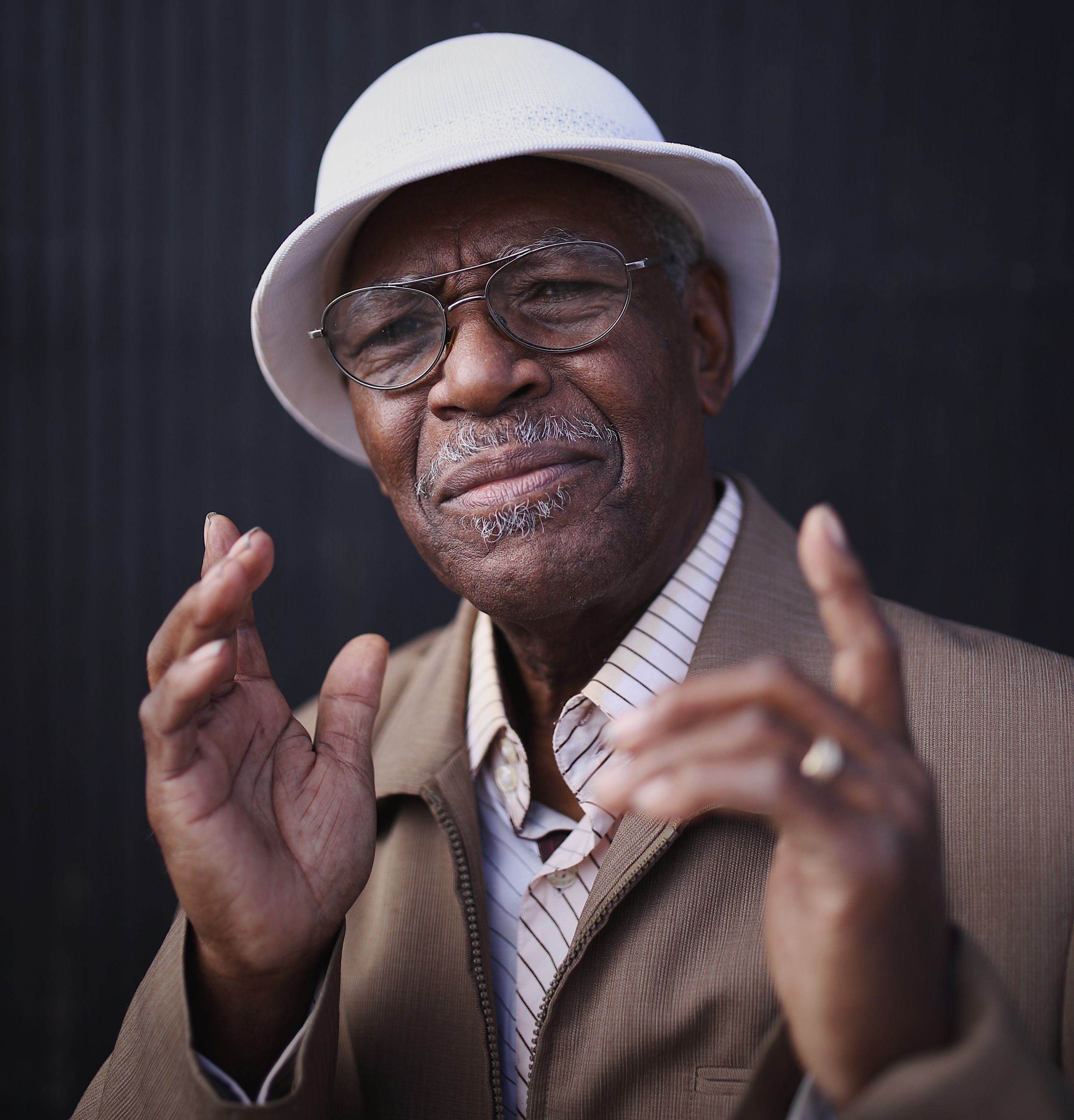 Was there ever a single piece of advice you received that helped you in your relationship?
Yeah. "Don't give up on love." [Laughs] That's the main thing. Love eliminates a whole lot of stuff. A lot of different things happened: I seen a lot of my brothers and sisters give up because this happened and that happened, and they didn't want to go no further. But, I mean, in life, things are going to happen that you don't like. I don't care whether you're in love or out of love, sometimes you just have to brace it and go on because that's not the end.
It can seem like it, in that moment.
It can, but hey, "This too shall pass." I can say [Ann and I] still enjoyin' each other because we got so much in common. The music thing we got it in common, the way we came up — the big families. I think there were 11 in her family and 10 in my family. It took time for us to find those things out.
Of course. It's a process, years in the making.
And through it, we were able to help each other.
What prompted you to cover O. V. Wright's "A Nickel and a Nail"?
I don't know. That has been one of my favorite songs, ever since he recorded it. I love it, and I used to just walk around singing it. It brought back memories of when that was going on as a kid, with a nickel and a nail, and the other kids around. [Laughs] You could jiggle that nickel and a nail and they'd think you had some money in your pocket. [The song] said a whole lot to me. I don't how much it said to other people, but it said it a lot to me. And O.V. had such a voice, it was hard to duplicate his voice.
Were you trying to duplicate him or find your own way?
It was a mixture of both. There were some phrases he did that I don't think nobody else could've done any better.
Speaking of memories, when you were recording with Charles Hodges and Howard Grimes, what did that unearth?
Well, I'll tell you what, it was just like being back home again. Everybody had such a joyous mood to be able to come back together and do it again.
You can hear it on the album!
It was great. Everybody enjoyed it. Me, most so, because I'm standing there saying, "Hey, this is me." I'm really getting another opportunity to do this and I'm so thankful that I'm able to do it. It's time for me to enjoy it: Embrace it and enjoy it.
I love that. It seems there are not many opportunities to really be yourself in a public way.
That's so true. This is me. It's been me for a whole lot of years. I don't know if there's anyway to top it, but we will see.
You've set the barometer for yourself.
I'm not worried about that. I'm just sitting here and working on enjoying that one right now.
---
Photo credit: Matt White