Last July, Brandi Carlile stood on a hand-built timber frame stage at the annual FloydFest music and arts festival. Before launching into the next song in her set, she pitched her guitar over her shoulder and stepped up to the microphone. "Our music wouldn't exist without these mountains," she announced to a roaring crowd.
Carlile's brand of powerful folk-rock does find its origins in the bluegrass and old-time music harvested in the Blue Ridge Mountains, which encircle the festival grounds. Perched high above the crowd, they provide the backdrop for this idyllic musical playground nestled deep in the foothills of Southwest Virginia. Since the 18th century, Appalachia has been a melting pot of Native American music, spirituals, gospel music, and fiddle tunes. By tapping into the roots of the region, FloydFest co-founders Kris Hodges and Erika Johnson have cultivated a rare environment that's all spirit and diversity.
"It's not just about, you know, throwing together the most popular bands and hoping for the best with a bunch of drugs," Hodges says. "We wanted a more holistic lifestyle. We wanted to introduce the regular person into conscious living, and that was really the initial vision and intent behind FloydFest."
Hodges and Johnson, along with their production company, Across the Way, have been improving upon FloydFest since its inception in 2002, finding new ways to connect with the community and pay homage to its rich heritage.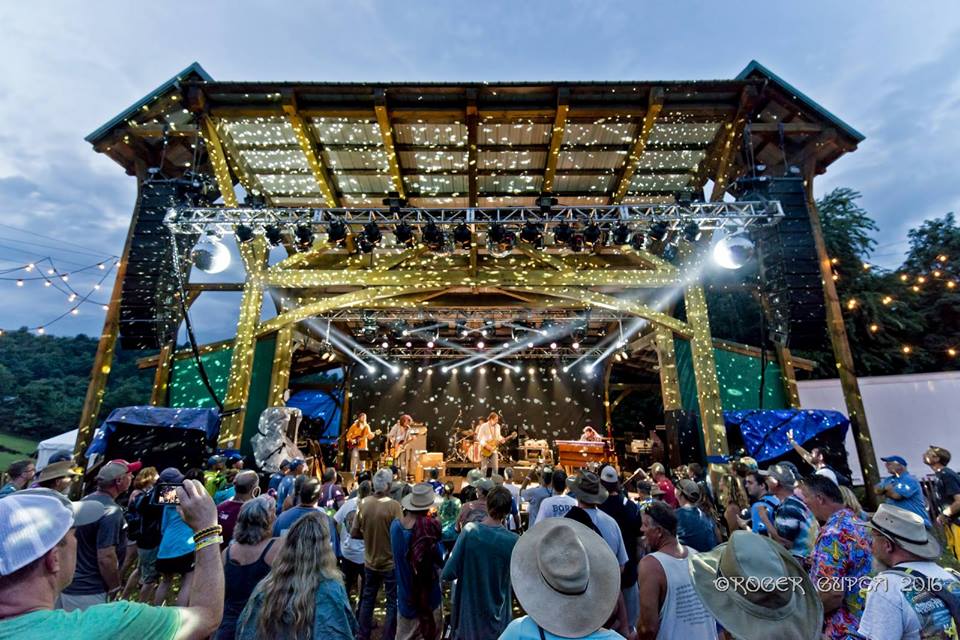 "People were saying, 'Well you need to get this band,' and they were just throwing out all these jam bands cause the jam band thing was really on the move. We're like, 'No. Look where we are. We're in the Appalachias,'" Hodges remembers. "And so that was always a huge part of what we were trying to create. We wanted to make an authentic event that was geographically relevant."
Cue the Virginia Folklife Workshop Porch, which has become one of the most treasured stages of the festival. With a façade that looks like a front porch, it harkens back to the long-standing tradition of pickin' parties. It's where big-name acts play stripped-down versions of songs, tell stories, and host a Q&A session before their headlining set on the main stage.
"Every stage is a different experience and that's the idea," Hodges explains. "The workshop porch definitely represents that: Let's bring it back home and let's get intimate here; let's actually truly engage with the artist. It's not just there's an artist on stage — but they're a part of the festival. We're all the same, we're all equals, and we all inspire each other so the porch is definitely a launching pad for that."
FloydFest newcomer Shakey Graves got a taste of this homegrown feeling when he made his debut on the Workshop Porch this year.
"When it really comes down to stuff like this, the people are people and it's really more about the community," he said. "It's really nice to come home to a festival like this. It's not lost on me and it means a lot."
Another way FloydFest promoters stay true is by making use of patron feedback. They painstakingly comb through every survey and social media comment made by attendees, doing what they can to incorporate suggestions. In 2015, they responded to patrons' requests for more female performers by presenting a female-topped bill. In addition to Carlile, headliners included country legend Emmylou Harris and rock 'n' roll powerhouse Grace Potter.
"I think FloydFest really prides itself on the intimacy of the festival and the personal experience," Potter says. "It's about feeling not like 'We built this city and we're all living in it and we're all just like ants on the anthill,' but feeling like we all have our own anthills that have all come together in this beautiful colony that is this music festival for these two or three days."
It's the same model of audience engagement and participation that Potter brought to the table in 2011 when she launched her own festival, Grand Point North. Taking place at Burlington's Waterfront Park in her home state of Vermont, Grand Point North was a long time coming. "I've always dreamt of starting my own music festival," she says. "My sister and I used to sit around and draw pictures of what we thought it would look like when we were kids."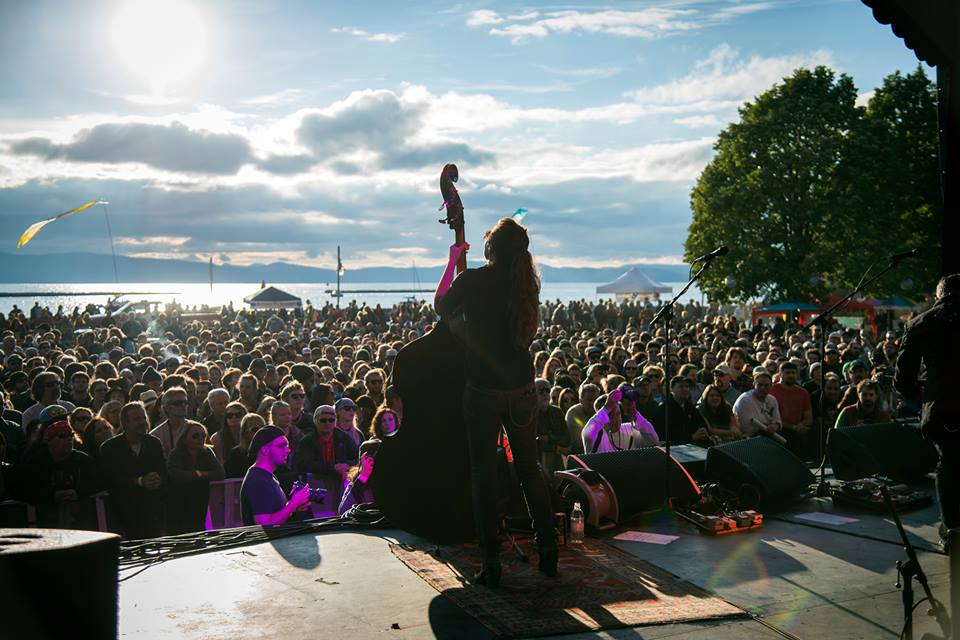 No stranger to the festival circuit, Potter's made the rounds for the better part of 10 years, lending a veteran perspective. "I think I have a platform and I have an individual voice. And I've seen so many music festivals: I've seen the good, the bad, and the ugly," she says. "So I can potentially advise on this and create a really cool situation — even if it's just one weekend a year — that would be powerful for people."
For Potter, the festival is a way to embrace social awareness. She describes how her childhood growing up in Waitsfield, Vermont, inspired her vision. "There were farmers' markets every weekend and we could go out. You'd see Phish concerts and, even as a young kid, I felt safe in those environments. I didn't feel like it was like a scene that I was wandering into the middle of," she reminisces. "It's this feeling of 'I've arrived; I'm with my people. This is my tribe.'"
For this year's event, Potter and her sister reached out to Vermont's Governor's Institute on the Arts in order to identify area youth that may be interested in getting involved. And it was through the Institute that she connected with another tribe. "We tapped into the Abenaki tribe which is actually the indigenous tribe to the Winooski River in Vermont," Potter explains. "So we've been in touch with the tribe itself and we're gonna record a woman telling the story of the land and describing the relationship between the land, the people, and the lake of Lake Champlain where the festival takes place."
Fostering relationships and championing a region's natural elements are key to developing the special quality that's unique to smaller, grassroots festivals. Even FloydFest's theme this year — "A Tribe Called FloydFest" — was accompanied by the mantra: "Find your tribe, y'all. And love them hard."
"Our intention is definitely providing a heart space for people to enjoy each other in a diverse setting that is healthy and supportive," FloydFest's Kris Hodges says. "And as a rock 'n' roller, of course, you know, we wanna share that with as many people as possible."
---
Photos courtesy of FloydFest and Grand Point North