"Oh man, I'm forgetting."
Gaby Moreno is trying to remember the joke Van Dyke Parks told her earlier this day.
"It was the one about…. shoot! It will come to me."
And it does.
"It was this one: 'There are three kinds of people in the world. Those who can count, and those who can't.'"
Moreno laughs at the simple, if groan-worthy humor, typical of Parks' always-stylish banter, as anyone who's encountered the noted composer-arranger-musicologist-raconteur extraordinaire knows. But the joke, inadvertently, relates to another bit of math involving the new album, ¡Spangled! The collaboration between the Guatemala-born nightingale-ian singer Moreno and Mississippi-originated, California-rooted Parks is a vibrant trip through musics the pair have been describing as "Pan-American."
And that involves the simple equatorial-spanning equation of 1+1+1=1.
"We wanted to imagine a project that could unite both hemispheres of the Americas," she says. "It's not just Latin American music, but music that crosses borders, can make us all celebrate the diversity and richness and culture that exists. It's the whole continent. I think of it as all one America: North, Central and South. It's a beautiful thing we should all be proud of."
It's also, of course, a timely album, though Moreno stresses that while the current situation regarding immigration seems quite acute and divisive, it is hardly a new issue. Parks is not so restrained in his expression, though. "I'm frightened by the toxicity," he says, not joking at all now. "And we must push back. And my way is with this project."
¡Spangled! slides through the 20th century and right up to today, moving with ease through countries and cultures — the songs originating in Venezuela, Trinidad, Panama, Peru, Brazil, Puerto Rico and the U.S.
That sweep is represented vividly in Parks' orchestrations, mostly sporting a sound that can only be called cinematic, marked by such signature Parks flourishes as heavenly harps (both Latin American and "concert" variations) and soaring strings. And then there is Moreno's naturally pure voice, oft-layered into an angelic choir, whether in Spanish, English or, on two songs, Brazilian Portuguese. The support cast also includes such notables as guitarist Ry Cooder, bassist Leland Sklar and drummer Jim Keltner, though the MVP would likely be Mexican harpist Celso Duarte.
The oldest song is the Venezuelan classic "Alma Llanera," written in 1914. That is also the song among this batch that first came to Moreno's attention, something that's been part of her life since she can first remember.
"It's kind of the second national anthem for that country. I remember growing up listening to it. My parents would listen to it in the house. It was popular all over Latin America — anyone who is Latin, you ask and they know it. I was very excited to hear what Van Dyke did with the song. He took it to another level. For me singing it, it was very emotional, given the circumstances in Venezuela now. It's sort of my love letter to them."
The newest is her own, the very personal "El Sombrerón," first recorded on her 2008 album Postales in a gorgeously spare version. This one, in Parks' hands, is anything but spare, the orchestral splendor of his approach illuminating the deep connection it holds for Moreno.
"That's a folk legend from Guatemala," she says. "I wrote that many years ago. It was one of the first movies ever made there. It's about this character, El Sombrerón. And my grandfather was a character in the movie! I was watching it, and in my head I thought it could sound like a song from a Tarantino film."
And while there is a sense of urgent purpose to it all, it is not really a political album, aside from perhaps two songs: The opening version of "Across the Borderline" (written by John Hiatt, Cooder and Jim Dickinson for the 1982 Jack Nicholson movie The Border) featuring guest Jackson Browne, serves as prologue to a vivid journey. And modern Trinidadian calypso giant David Rudder's ever-more-topical "The Immigrants," though written 21 years ago, puts a right-now point on it all.
But aside from that, this is mostly romantic music, from the 1955 Panamanian song "Historia de un Amor" to the '70s whimsical hit "I'll Take a Tango," written by Alex Harvey and recorded by, among others, Harry Nilsson, a close Parks associate.
"There's love songs, songs about heartbreak," Moreno says. "Songs about life."
A happy album, then?
"Yes!" she says. "Absolutely! Maybe only a couple of songs aren't. I don't think there's anything wrong with that. Life. Ups and downs."
But that's migration, too.
"It's the story of the migration through space and time," she says. "How the songs evolved, originated in one place and then been taken by other people. The migration of songs through the Americas."
And that, in turn, is embodied in Moreno's own story.
"Absolutely," she says. "I migrated here, almost two decades ago. Yes! I am definitely an immigrant, and it's very important for me to keep talking about the immigrant issue and how I can help make this a better place, bring some hope to people, through my art, through music. That's what I'm most interested in."
It is quite the story, taking her from Guatemala City to the U.S. as a teen, where she started to make a name for herself in such Los Angeles clubs as the vibrant Largo (sometimes as part of Sean and Sara Watkins' variety-filled Watkins Family Hour shows and on bills put together by Inara George). She's also a co-writer of the peppy instrumental theme of the hit comedy series, Parks and Recreation.
And now she has gained considerable national exposure as a regular featured guest alongside her friend Chris Thile on the NPR show Live From Here. Along the way she won the Best New Artist Latin Grammy in 2013 and was nominated for Best Latin Pop Album for Illusions for the 2017 Grammys.
Most of these songs were new to Moreno, though, brought in by Parks, whose love for Latin American and Afro-Caribbean music goes back to when he and his brother moved to California in the early 1960s and performed as a duo up and down the coast. Coming from the American South, it was almost like being in another country for them. "In California, I thought I was in Mexico," he says.
And he embraced the exotic and worked diligently to make it familiar, first to himself and then to the world. "I studied flamenco music and all sorts of Latin music," he says.
The initial impetus, he says, was classic, if not exactly high-minded: "I wanted to lose my virginity," he says, thinking at the time that learning music in another language might help with that.
The fascination with the styles became its own love affair, though. He drove his Volkswagen Beetle to Veracruz and returned with a locally crafted folk harp strapped to its top. He went to see Brazilian singer Astrud Gilberto at her first appearance here, at the old Lighthouse club. Later he took his knowledge and passion into his role as a producer and executive at Warner Bros. Records, bringing it into work with Cooder, Bonnie Raitt and many others.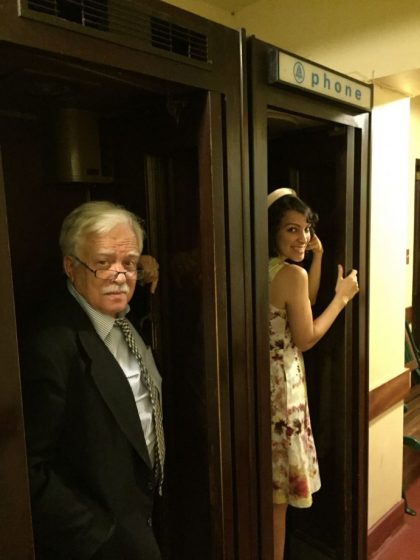 He deftly crafted his Pan-American sensibilities in his own cult-cherished albums, most clearly in his 1972 opus Discover America and its 1976 follow-up Clang of the Yankee Reaper, both largely drawing on Calypso hits from the first half of the 20th century. While he may be best known as Brian Wilson's chief collaborator on the ill-fated "lost" album Smile (which would be "found" again and reconstructed in 2004), these albums of his own may make for better representations of his vision.
The vision was renewed 10 years ago when he first saw Moreno at one of those Largo shows — George is the daughter of the late Lowell George of Little Feat, with whom Park worked a lot, and he and Inara have made much music together. He was taken with her talents.
Then one day not long after, he was sitting in a hotel lobby in Berlin and a man who recognized him approached and asked if he'd like to do a special performance with an orchestra at the huge Roskilde Music Festival in Denmark in the summer of 2010. Two dates were offered, one being July 4. Pointedly, Parks took that one.
"I came back to L.A. and called Gaby," he says, and soon the two came up with eight songs that were to be performed in that concert. From there it grew into the full album project, though with their own various commitments, and the inherent expenses of doing it, it took this long to complete. Now there are talks of some sort of full performance of the album, possibly next year. Moreno will be featuring at least a few of the songs in concerts with orchestras Dec. 2 at the Kaufman Music Center in New York and Dec. 6, with Ben Folds as well, at the Kennedy Center in Washington D.C.
It's not hard to imagine the presentation almost as a musical, or at least a song-cycle, perhaps evoking a time suggested by the arrangements, a time that for Parks brings to mind another Pan American, as in the now-gone airline of that name.
"We can remember when people dressed up to go on an airplane to go find out about music and culture, and people were not so xenophobic," he says.
Nostalgic fantasy? Maybe. But with ¡Spangled! it's also a wish for the future.
"It's a trip back to see what we have lost in our sense of inquiry and the xenophobia of this president," he says. "That's why we did this album. Someone said, 'You're going all over the place on this!' Yes! We are!"
---
Photo credit: Andrzej Liguz