Gloria Flickinger's first public singing engagement was at age three. Her parents placed her on a chair to reach the microphone at a radio station broadcasting a church program. 
More than 70 years later, Gloria – by then long known as Gloria Belle – was still singing the gospel music she loved in churches in the Tennessee region.
Between her first performance and her death on May 5, 2023, at age 84, Gloria Belle broke barriers as a multi-talented musician in the male-dominated world of first-generation bluegrass. She set a standard for all-around musicianship, independence and grace-under-fire for future generations of women in bluegrass.
Gloria grew up listening to the Grand Ole Opry and the Wheeling Jamboree on the radio – where her attention was caught early on by Little Miss Evelyn singing with the Bailey Brothers. She also was taken by the powerful voices of Mollie O'Day and Wilma Lee Cooper.

At age 11, she picked up a mandolin that she said her mother "had never learned to play like she wanted to." She learned basic guitar from her mother, as well, and learned to pick out melodies by listening to Mother Maybelle Carter and Bill Clifton.
When she was 13, her parents took her to a Bailey Brothers performance at Valley View Park in Pennsylvania. In a 2006 interview, Gloria said, "When I saw that show, I said, 'That's it.'" She was going to be a musician. At 15, she dropped out of high school, saying, "I don't need a high school education to play music."
After leaving school, Gloria took day jobs (most notably in a potato chip factory). She honed her instrumental skills, played for a time with a local band and continued singing in churches with her parents – who were enduringly supportive of her music. 
During that period, a teenaged Tom Gray (legendary bass player with the Country Gentlemen and Seldom Scene, as well as others) jammed with Gloria in a parking lot in West Grove, Pennsylvania. He said, "She impressed everyone with her singing. What a strong voice. And she could play most of the instruments. Our mentor, Bill Clifton said, 'There is a woman who can sing like Molly O'Day.'"
One family vacation, the Flickingers drove to a showing of the Farm and Home Hour – live broadcast programming started by entrepreneur Cas Walker to promote his Knoxville retail businesses. Danny Bailey, formerly of the Bailey Brothers, invited Gloria and her mother to perform a few tunes.
About six months later, Bailey wrote to Gloria, asking her to come to Knoxville as soon as possible to replace departing performers.
On the way to Knoxville, the family stopped in Huntington, West Virginia, so Gloria could meet her hero, Molly O'Day. The older woman received them graciously, recommending which of O'Day's songs Gloria should incorporate into her repertoire. 
One of these was "Banjo Pickin' Girl"– which Gloria would play in seven shows a day, six days a week during one long, North Carolina summer.
Jump ahead to 1959, Gloria was 21.
Almost immediately, Gloria began breaking new ground as a bluegrass musician. Beyond being the "girl singer," she was establishing herself as an instrumentalist and harmony partner, as well as a lead singer.
For five years, Gloria played with Cas Walker's live radio and TV programs. Walker dubbed the singer "Gloria Belle," because he couldn't pronounce Flickinger.  
Gloria sang duets with Danny Bailey, as well showcasing on banjo and twin mandolins. During this period, she recorded two singles, becoming only the second woman (the first was Donna Stoneman) to record a bluegrass mandolin solo.
After leaving Walker's organization, Gloria easily found other work. She spent a season at the Ghost Town shows in Maggie Valley, North Carolina. It was there she played 'Banjo Pickin' Girl' so often, she said, "I felt like a robot."
She then performed with Betty Amos and her All-Girl Band, playing country and bluegrass.
In 1967, Rebel Records released Gloria Belle Sings and Plays Bluegrass in the Country. She was only the fourth female bluegrass artist with her own album, and the first woman to play lead instruments (banjo, guitar and mandolin) on a solo project.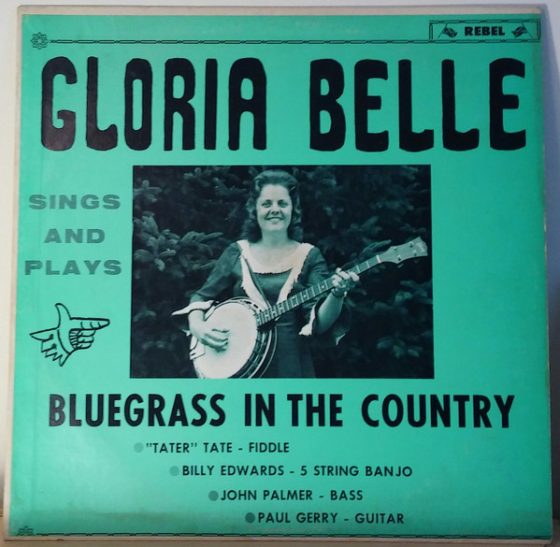 On two later solo albums (A Good Hearted Woman, 1976, and The Love of the Mountains in 1986) she preferred to concentrate on her singing, only playing one stunning mandolin solo that kept up with the speed of her stellar back-up band, the Johnson Mountain Boys.
Around this time, the band Bluegrass Travelers invited Gloria to join them as band leader. Gloria again broke new ground, fronting an all-men's band. She also demonstrated her strong sense of values by insisting that all band members, including herself, receive the same pay. 
In her important book on women in bluegrass, Pretty Good for a Girl, Murphy Henry wrote, "What we are seeing here is a picture of the quintessential bluegrass side musician, only this had never been done before by a woman in bluegrass.  . . . Gloria Belle went where the work was."
Occasionally, being a female musician could open doors in bluegrass. The audience appeal of a "girl singer" encouraged Jimmy Martin – one of the top names in bluegrass – to invite Gloria to join his Sunny Mountain Boys.

While he never took full advantage of Gloria's instrumental abilities (she played snare drum before moving to bass with him), Gloria's voice shone as a harmony singer, including on high baritone parts of trios and quartets. While Martin discouraged her from playing on recordings, she sang on many tracks, adding harmonies that Henry described as "spine-tingling." 
Gloria distinguished herself in other ways. As a tiny woman on stage, she held her own with grace, kindness and gratitude for doing the work she had always wanted to do. (And she hauled her upright bass across the stage effortlessly.)
As a boy, Mark Newton saw Gloria perform with the Sunny Mountain Boys. "She held her head high. She was confident. She was determined." And he remembers the passionate gleam in her eyes when she played and sang.
Timmy Martin (Jimmy Martin, Jr.) met Gloria when he was a young boy playing in his dad's band. He bought his first – and still favorite – car from Gloria at age 14.  
Gloria was assigned to ride shotgun when the teenaged Timmy drove the bus, entertaining him with conversation during long hours on the road. "She was always really, really nice," even during stressful episodes – like when the band had to sleep on a broken-down bus somewhere near Kansas for days.
A frequent comment about Gloria's days with Jimmy Martin's band was, "It can't have been easy." But Gloria seems to have laughed off the wisecracks and insults. 
Author Bob Artis quoted Martin as joking, "She's not very good, but we let her sing with us 'cause we feel sorry for her." Whether he garbled her name during an introduction or deliberately distracted the audience during her solos, Gloria didn't let it bother her: "I was just doing my job." 
Gloria left the Sunny Mountain Boys for several years, during which time she played with an all-female country dance band and later in a duo with Charlie Monroe. In 1975, she returned to Martin's band, recording with him a final time in 1978.
Gloria returned to Cas Walker in Knoxville, taking other jobs in the region as time permitted. Eventually, she moved to Florida, where she took temporary day jobs, jammed and for a short time performed with an all-female group called Foxfire.
Until this time, Gloria had remained single by choice. But after crossing paths musically with luthier and guitarist Mike Long for many years, Gloria married Long in 1989. Until then, she said, "I wasn't going to marry somebody who would stop me from playing music."
The couple formed Gloria Bell and Tennessee Sunshine. Based in Virginia, they toured and recorded five albums, three of which were entirely gospel. Nancy Cardwell, Executive Director of the International Bluegrass Music Foundation said, "Gloria …was definitely the band leader, and Mike treated her like a star…"
During her later years, Gloria remained visible in the bluegrass arena. Murphy Henry notes two memories of the Gloria at IBMA gatherings that stand out particularly: "…a Women in Bluegrass performance at Fan Fest, where she played killer mandolin on the rapid-fire instrumental 'Dixie Breakdown,'" and "a Women in Bluegrass workshop where she and Hazel Dickens stole the show by singing a hair-raising version of 'Banjo Pickin' Girl.'"
In 1999, Gloria was the first person Mark Newton contacted when he planned his duet album, Follow Me Back to the Fold, a tribute to women in bluegrass. In 2001, Newton's project was named IBMA Recorded Event of the Year. Henry wrote, "At the IBMA Awards Show… Gloria Belle participated in the grand finale… When she stepped up to the [mic] to belt out her verse of the title song, the audience broke into spontaneous applause for her energetic performance." 
Also in 1999, Gloria became only the ninth woman to be awarded the IBMA's Distinguished Achievement Award. And in 2009, she won another Recorded Event of the Year award for Proud to be a Daughter of Bluegrass.
The IBMA Foundation's Cardwell said, "That 'She Persisted' T-shirt that was popular a few years ago could have been inspired by Gloria Belle. She was one of the first women in bluegrass during her era to tour, perform and record professionally in well-known groups . . . as a side musician who wasn't a part of a family band or married to someone in the band. 
"She played lead and rhythm instruments well  . . . and pulled her weight musically as a band member . . .  she was a role model and an inspiration for all the great female instrumentalists, singers and band leaders that have come along in bluegrass music in later years."
Acclaimed bassist and band leader Missy Raines remembers her reactions to Gloria's stage appearances. "Her impact on this young girl was real. She always dressed for the stage – lots of sparkle. She sang great and played everything. She endured Jimmy Martin's stage banter with grace and fortitude that can only come from a true professional."
Becky Buller, a much-lauded singer and fiddler who also worked her way from side musician to band leader, believes she had much to learn from Gloria. She conducted a long search to find her, but only succeeded after Gloria was too ill to speak. But the 2006 video brought Gloria's personality to life for Buller. "I especially loved her laugh."
Friends remember how close she was with her parents, who were a constant source of support and kindness. After her father's death, Gloria's mother continued to be a presence at Gloria's performances as well as in her home.
Barbara Martin Stephens, who first hired Gloria for Jimmy Martin's band and who stayed friendly with her and Mike, had nothing but praise for Gloria: "She was always a kind person," she said, who never spoke ill of anyone. "And she was a happy person," Barbara said. "You just don't find many people like that."
---
Editor's Note: To honor Gloria Belle, the IBMA Foundation will establish a scholarship fund in her name. Foundation board member Becky Buller said the foundation provides around $50,000 in grants and fellowships annually for a wide range of educational and research pursuits. Buller recognizes that in the last decades of Belle's life, she may not have gotten the recognition she deserved. She hopes an enduring scholarship will keep Gloria's name and spirit at the forefront of the bluegrass community.