Loose and lovable Jim Lauderdale and Del McCoury will host the 30th annual IBMA Awards in Raleigh, North Carolina, coming up on September 26. McCoury is a nine-time winner of IBMA Entertainer of the Year — the most of any artist — while Lauderdale has won two Grammy Awards for his exceptional bluegrass work. These fan favorites don't just bring a wealth of bluegrass experience to the stage; they're seasoned masters of ceremonies as well. We got together at Nashville's City Winery for a public conversation about the show.
BGS: As a 30th anniversary edition, I'm sure there will be quite a focus on the history of the music and of the awards over these 30 years. Del, what do you remember about the first IBMA Awards?
DM: It was so exciting, 'cause it was the first time that bluegrass music was really recognized. And there were still quite a few of the senior people there, you know, who started in the music years ago. We were fortunate that they were still there. Bill Monroe was even there, you know? But we've lost a lot of the great pioneers since that first one, and that's probably the biggest difference, I would think.
BGS: When was your first one, Jim?
JL: I believe it was 1998, and I got to do a song with Ralph Stanley during the awards. Then I started going back and doing showcases. And I saw the move to Nashville and then the move to Raleigh, which I think has been really, really a great thing.
BGS: Do you guys ever surprise the jammers playing on some floor and stride in and go, "Hey, fellas, can I play a song?" And they go "Holy cow, that's Jim Lauderdale and Del McCoury!"?
JL: Not quite like that! I go, "Hey everybody!" I like to be inclusive. But I do like to pop in if it calls for it.
DM: For me, I'm a little too old for that these days. But I remember the time when the festivals started when I would stay up all night and jam with people and go do a gospel show in the morning. And of course, I had a voice that would take that kind of punishment then, but I don't have that voice anymore. So I do have to get my rest. But it's a temptation, if you hear a jam session, to at least go listen to it.
JL: That's the thing about bluegrass. Of course in any musical genre you can jam but you've got your acoustic instrument and you come across a group of folks that maybe you've never even met, but [you have] the bluegrass vocabulary or common language with these songs. It's something that everybody can pick up.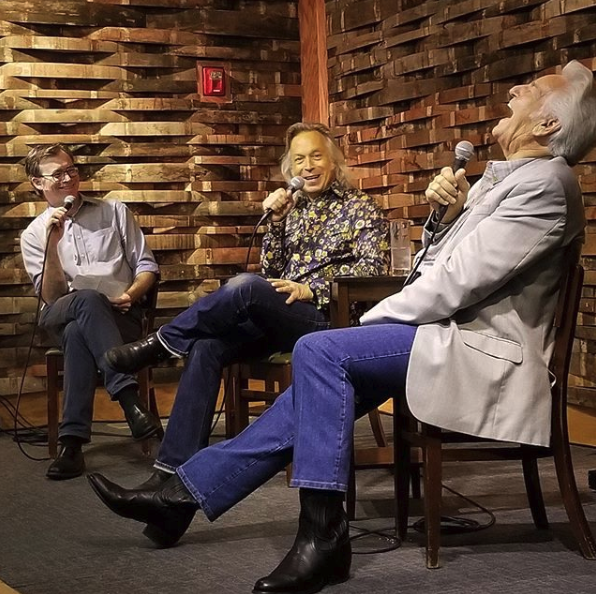 BGS: Del, because of your 80th birthday and your longtime involvement in IBMA, I understand that they've just told you that on Saturday at the Wide Open Bluegrass festival, there will be a big "Del-ebration" for you. What do you know yet about this?
DM: I'm embarrassed! I had an inkling they were going to do something, you know? But I didn't know who was going to be on that Saturday night show until me and Jim came here today. We're going to have different folks from other genres of music come in, and me and Jim will do duets and sing all kinds of stuff.
JL: When we get together, you never know what's going to happen. But I'll tell you, in all seriousness, for as long as I've known Del, I've loved to make him laugh. …For several years I used to love to do this, when Del and the band was backstage somewhere. I'd walk up and say, "Hey you guys, what are y'all doing here?" And then I'd say to whoever is standing next to me, "It's like these guys go to almost all of my shows! They're from Canada, right? Anyway, good to see you guys!"
BGS: You guys have an interesting thing in common that people might not know, because you're both guitar-playing frontmen. But you both started playing the banjo early on, right?
DM: Yeah, we did, didn't we?
BGS: Del, in your case, the fellow who coaxed you away from the banjo into the lead guitar and the lead vocal was Mr. Bill Monroe, right? You hoped to play banjo, but he needed a guitar player. Is that the story?
DM: Yeah, myself and Bill Keith, you know, we auditioned together and he took Bill on banjo and wanted me to start playing guitar. I had played some guitar before that, but after I heard Bill Keith, I thought, yeah, that's what Bill needs that guy. He needs that guy right now, cause it was a different thing. You know Bill called him Brad. He didn't want to have two Bills in the band, so he called him Brad. He said what is your full name? And Keith said, William Bradford Keith. He said we'll call you Brad. And he did from that time on.
BGS: And you never looked back. You were a singing guitar player from that point forward?
DM: Yeah, begrudgingly I was. Because I liked banjo. I'd heard Earl Scruggs when I was about 11, and Don Reno. They were our idols, those guys, so I learned to play. I did a date with Bill Monroe up in New York City. He took me up there, and he offered me a job, and I didn't take him up on it. So maybe a month later, I did decide to come down here and when I did, Bill Keith was here, at the same hotel. He told us both to come to the Clarkston Hotel, which was on Seventh Avenue. You'd get a room about two dollars and 62 cents a night, from what I remember. Bathroom down the hall. No air conditioning. That's the things I remember about it.
The next morning I walked into the lobby with my banjo and another guy walked in from somewhere else. About that time, Bill Monroe walked in and he said, "Come on, boys. Follow me." We went next door to the Clarkston Hotel's restaurant, I think. We sat down and he said, "Now go ahead and order something. I'm paying for it." So we sit there, and Bill was not a man of many words. I didn't know who this other guy was, and he didn't know who I was, and Bill didn't introduce us either.
So we got done eating, and he paid and we walk next door to the National Life building. That's where they had the Friday Night Opry [and WSM's studios.] We went into this room and I saw an old Gibson guitar case over in the corner. When we got in there, Bill said, "Del, you could take guitar there." I thought, "What kind of deal's this? I wasn't lookin' to play no guitar."
So we tried out that way and Bill Keith told me later, only about 10 years ago, "You know, he tried me on the guitar, too." [Monroe] tried us both ways and he wanted to see what's gonna work best. And Keith said, "I was no guitar player." And I said, "Well, when I heard you play banjo, I figured I was no banjo player either!" [Bill Keith] was really good. And so [Monroe] hooked us up that way and then I thought, "Well, I guess I was up for the challenge, I'll try this job." But I had to learn all the words his songs. That was the hardest part.
BGS: Jim, how did you make the journey from banjo to a guitar-playing songwriter?
JL: I was a pretty good banjo player, but I got to a certain point in my late teens where it's like I'm just not as good as Earl, Ralph Stanley, Don Stover, or Bill Keith. Those were my go-to guys at that time. I was getting a little discouraged. But I did get a dobro. I was such a big Mike Auldridge fan and I was playing that a little on the side. I thought, I've reached my peak. I'm not going to get any better. So I start playing rhythm guitar and writing songs. When I did come to Nashville and did that record with Roland White, I thought, "OK, this is it." You know, finally after 22 years this is my big break.
So I moved up to New York City because I wasn't able to really make a living here in Nashville. New York City's the most next logical choice! But I had some friends from college up there. And I got a country gig before I moved up there. But anyway, I sent this record with Roland out to the bluegrass labels that I knew of — sent a cassette — and every one of them wrote back and said we like the record, but you're an unknown and you're not on the circuit. But stay in touch. Keep us posted. And that discouraged me so much. I just thought the writing is on the wall. So I started doing more country stuff. But in New York I was in a couple of bluegrass bands too.
BGS: You've seen this music keep renewing itself and raising up younger artists and seeing them join the flow, and you've watched the audiences change and evolve over the years. What are your observations about this music? How healthy is it? Where do you think it may be going, and what do you hope for?
JL: It seems really healthy, and you're absolutely right about that with the younger audiences and the younger players. It's so cool to see these kids sometimes playing that are eight, nine, seven. I know at IBMA, they've got a program for youth. And at different festivals — Pete Wernick has a thing at Merlefest. There is a big outreach, and parents I think are so supportive of that to see their kids playing bluegrass, and kids love it. I've had this theory for a long time that if you start out playing bluegrass, you can play anything if you want to, because the ear training is just incredible.
---
Inset photo credit: Amy Beth Hale, IBMA
(L-R) Craig Havighurst, Jim Lauderdale, Del McCoury