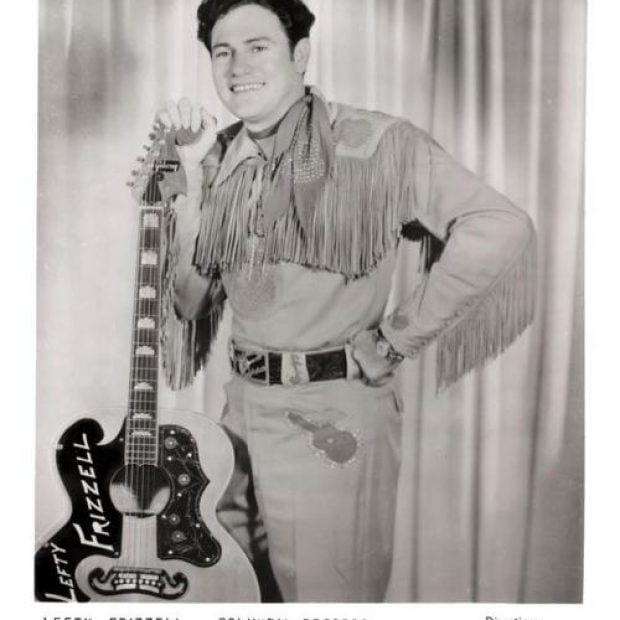 Welcome to In Memoriam, a new monthly series that chronicles Americana Legends. So often, one giant is memorialized in their field while the others are displaced to historical footnotes. In Memoriam will spotlight influential musicians that are fading from the collective conscious and commemorate them on the month of their passing. Everybody knows the name Hank Williams, but few remember Lefty Frizzell.
Lefty Frizzell is the honky-tonk archetype. He sang like an angel, dressed like a dandy, and had a weakness for whiskey and women. Before this was a stereotype, it was Lefty. Born William Orville Frizzell, July 19 marks the 40th anniversary of Frizzell's death. There is no better time to take a second look at this influential singer.
Frizzell burst onto the national music scene in 1951. Dressed to the nines in his tasseled Western suits and trademark bandanas, he was a massive success. He had eight top 10 hits in 1951 alone. At one point, Frizzell had four songs in the Billboard Top 10 at the same time: "I Want To Be With You Always," "Always Late (With Your Kisses)," "Mom And Dad's Waltz," and "Travelin' Blues." It was an unprecedented accomplishment.
Lefty's golden voice fueled his success. It was like nothing before it. It was liquid. It ebbed and flowed. Frizzell stretched out the vowels, breaking them up with his trademark "ay-ays." Jimmie Rodgers' clear and precise vocals still influenced all major country music singers. They sang straight forward and with little embellishment. Frizzell slurred his words. He broke them apart and into nonsensical phrasings. He let the feeling do as much communicating as the language. It revolutionized country music.
As Frizzell's fame spread, his demons caught up to him. Lefty married at 16. He was the first to admit, in hindsight, that it was too young. He was miserable with Alice, his wife, but he was more miserable without her. To top it off, the ladies loved him and his curly red hair. He constantly cheated on Alice. She habitually kicked him out. He took solace in whiskey and songwriting. Alice would take him back. The cycle went on infinitum. He cheated and drank more as the pattern progressed. They reconciled and he wrote less. Frizzell began relying on songs he did not write. He spread himself thin, making bad business deals. Then, rock 'n' roll hit in 1954. It obliterated honky-tonk music.
Rock 'n' roll was the new wild child. Country music executives panicked. They had to adapt. The labels went pop. The country music community cohered in Nashville and at RCA studios. Producers added strings. They polished up vocals. The slide guitars were put away. Lefty, always the outsider, did not see what was happening, or maybe he just didn't care. He kept on recording with sparse arrangements. Instead of moving East to Tennessee, he moved to Hollywood. He thought TV was the future of country music. He was right, until he was horribly wrong and completely left by the wayside.
Bad management burned Frizzell early in his career. He was bamboozled into signing away much of his publishing rights. As a result, he was hesitant to work with anyone looking to profit off him. He did not have a proper manager. He didn't want to share songwriting credits, despite no longer writing songs, and he didn't want to give up 50% of his earnings. Instead, Frizzell had a booking agent. That was it. Nobody was looking out for him and promoting. There was next to no marketing. In California, Frizzell was isolated from Nashville and the top country pickers. He took smaller and smaller gigs in California's Central Valley and the Pacific Northwest. He didn't employ a band. Instead, he used local acts that seldom knew his songs. Frizzell's star was on the decline. In 1961, he finally relocated to Nashville and began writing again. His later albums weren't huge commercial successes, but they both broke the Billboard top 40 and helped to reignite, however slightly, Lefty's star.
A new generation of singers emerged. They dug deeper than the Nashville pop. They had a rougher country sound. Folks like Merle Haggard and Waylon Jennings, Billie Joe Shaver and Townes Van Zandt grew up listening to Jimmie Rodgers, Hank Williams, and Lefty Frizzell. Merle Haggard was a super fan. A fanboy before there was such a thing. Willie Nelson loved Frizzell's songwriting and recorded an entire album of covers. Lefty appreciated it, but he did not appreciate the living legend status. Legends were long gone and dead. Lefty was only nine years older than Haggard. Their appreciation was a constant reminder that his best years were behind him.
You can't talk about Lefty without mentioning boxing. Early in Lefty's music career, a savvy booking agent claimed that Frizzell earned the nickname "Lefty" from his amateur boxing days. The myth blossomed. Lefty has now been reported as everything from a ranked amateur, to a professional champion. The truth is, he never boxed. He got the name after a schoolyard fight. Frizzell was naturally left handed. The other boy didn't know it. Frizzell surprised him by leading with a hard left and knocking the kid flat. That's it. There was no great secondary career cut short by Alice or music ambitions. Lefty was too much a lover boy to waste his time fighting.
Lefty was also an alcoholic. There is no getting around it. Years of hard living and excessive drinking caught up with him in the 1960s. His once diminutive frame was bloated and sick. In the 1970s, his blood pressure soared. He refused to take his medication. It would cut into his boozing. On July 19, 1975, Lefty was at home alone, a rare occurrence. He awoke early in the morning, just after midnight. He had passed out on the floor in a puddle of puke. It wasn't the first time. He tried to get up, but was unable to move his left side. He managed to get to the phone and call his daughter. She called 911 and rushed to his house. On the way to the hospital, Lefty was laughing and joking with the EMT, gregarious to the end. Before they pulled up to the emergency room, he suffered a massive stroke. He slipped into a coma, and never came back. He was only 47 years old.
Not enough folks know the name Lefty Frizzell. Not enough people know Lefty Frizzell's music. If you stop and listen, you can still hear his influence everywhere. Every time a singer goes soft and low instead of long and hard, that's Lefty. Every extended vowel in a tender ballad, that's Lefty. Every slippery vocal trill, that's Lefty. His legacy is everywhere, even if his name is not.
---
Top photo via Thomas Hawk / Foter / CC BY-NC. Second photo via Wikimedia Commons.