Joseph, the harmonizing trio of sisters whose big voices are taking the stage on late-night shows and festival bills in an aggressive fashion, may have the kinds of pop hooks you might find at the top of the charts or in the latest radio single, but their sound is rooted in something bare-bones and almost primal, filling spaces like living rooms and small house shows around the Pacific Northwest with the kinds of performances that hang in the air and bounce around in the brain long after the final note. But their rich, three-part vocal harmonies began with one voice — that of Natalie Closner — in search of the kind of aural chemistry that might invigorate the music career she'd already begun to pursue in the studio and on the road.
She didn't have to look far to find the inspiration she'd been seeking and, once sisters Meegan and Allison Closner began adding their voices to the songs, the trio knew they'd hit on something work sticking out. Their debut full-length, Native Dreamer Kin, was released in March of 2014 and, while the chilling vocals and poetic lyrics set the tone for their future successes, it was in the live setting where the three sisters really captivated new audiences. Playing small shows in unconventional settings gave way to bigger ones and, by the next year, they'd hooked up with ATO Records and signed on for another full-length. This time, though, the Closner sisters worked with producer Mike Mogis, whose résumé includes albums with Jenny Lewis and First Aid Kit and makes a solid case for his gift in pushing strong vocalists and compelling lyrics to their potential. Joseph took the writing process for the record outside the family, too, co-writing with the Belle Brigade's Ethan Gruska and tapping into a sound that lent itself to more extensive production. The result is the forthcoming I'm Alone, No You're Not — an album that bounces between contradicting emotions and employs a similarly varied array of sounds and instruments.
You're sisters, so you've obviously all known each other your whole lives, but you haven't always sung and written together. How did that begin?
Natalie: I was doing music by myself for a while, and I was just not that into it. I had a friend encourage me to think about ways that I would become compelled by my own music, and I had the idea to ask Meegan and Allison. I knew they could sing because I'd heard them harmonizing to the radio growing up and everything, but I didn't really know to what extent, until we started doing this.
Meegan: Al and I were not thinking that we would do anything musically, at that point. I think we always probably dreamt that we would sing with Nat, but I would say we said yes to it not realizing exactly what we were signing ourselves up for. [Laughs] But it's been a great experience, obviously. Life-changing.
You named the band after your grandfather and the town he lived in. Why was that important to you?
Allison: We grew up going out to Joseph [in Oregon] a bunch. Basically, we were out in Joseph a couple years ago with our grandpa for a trip, and it was just a really incredible trip. When we were coming home, we were right in the process of writing and recording the album we have now — which is Native Dreamer Kin and it's been out for like two years — and, on the way home, I had made a music playlist of a bunch of artists. I was like, "What should I name this?" and I named it "Joseph." There was just something about the name, when I was thinking it in my head, that felt like more than just a boy's name. I'd always thought it felt like it held so much more depth and story to it. I was like, "Interesting — that would be an interesting band name for somebody." But we already had a band name, so I was like, "Whatever — I'll tuck that in the back of my brain."
We got back to Portland and we were in the middle of making our record, and our producer Andrew, who's also co-written a bunch on our records, he was like, "Are you guys all married to your band name?" And Meegan and I said, "No." and Natalie was like, "What!?" [Laughs] Basically, he asked if we had any ideas and I sheepishly was like, "Yeah … I have something." Once everybody forced me into saying what it actually was, it was like something just shifted completely. We sang a couple of the songs underneath that new name and it was like a completely different band. It was like the songs changed. I don't even know how to explain it, except that everything just shifted.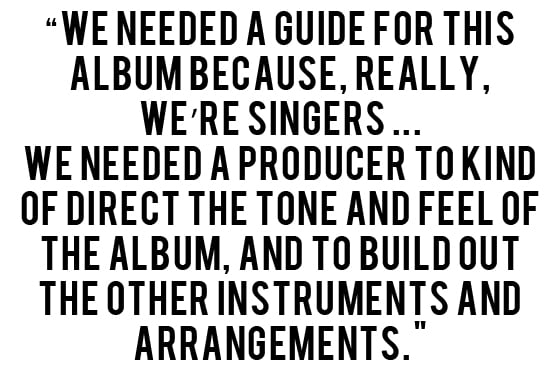 You've made some big changes to your sound with this record. It's a more of a step toward pop than your previous work, but it does stay true to a lot of the strengths of your previous work — strong vocal harmonies being at the top of the list. What were you going for on this record?
Natalie: The first feet that have been put forward on this album have been the most poppy tracks on the record. There is a lot of diversity on the album, as a whole, and the songs sound really different from each other. We've been thinking about that a lot. We really like pop music, and so it was really fun to get to play with that more straightforward pop form and melodies and things. Really, as the songs were being written, it wasn't like, "Oh, let's write a pop song." It was like, "Oh wow — that song is a pop song that we just wrote!"
We did a bunch of co-writing sessions, which was also really cool, and it really wasn't a conscious thing [when it comes to deciding what songs or sounds made the record]. It was about which songs rose to the surface as the ones that we felt like we loved the most. And then, how do we — in production — make that song its best? Then it ended up that a few of them came out as just roarin' pop music. [Laughs]
Speaking of production, you worked with Mike as producer on the album. How did that influence the way the final product sounded?
Natalie: We needed a guide for this album because, really, we're singers. We're not a band with a bunch of instruments. We needed a producer to kind of direct the tone and feel of the album, and to build out the other instruments and arrangements. We found Mike through our label — they suggested him — and when we got on the phone with him, we really connected and felt like he understood the vision for us.
We brought in songs that were pretty bare bones. He created the textures and the landscapes for it, because we would bring in pretty stripped-down demos — just melodies, the vocals, and guitar parts.
I particularly like "Honest," which is where you plucked the title of the record. What about that line stuck out as a way to tie together the album?
Meegan: It just comes from the back-and-forth in your brain, I think, that all of us do between truth and lies. Just trying to discern what is true — oftentimes, the lie is the thing that feels the most true. That [line] was just from a pure moment of me actually thinking those thoughts in my head. Saying, "I'm alone." And then being like, "No, you're not. You're not alone." But I feel so alone, and that's what feels like it's true.
But you're not alone. That is what's true. I think that just mimics a lot of what is happening on the record, as a whole — just the back-and-forth and paradoxes and contrasting themes of feeling alone and knowing you're not alone, feeling afraid and hopeful, morning and night, and thinks like this.
Natalie: The record holds a lot of tension, so that line from the song "Honest," it really encapsulates that tension throughout the record.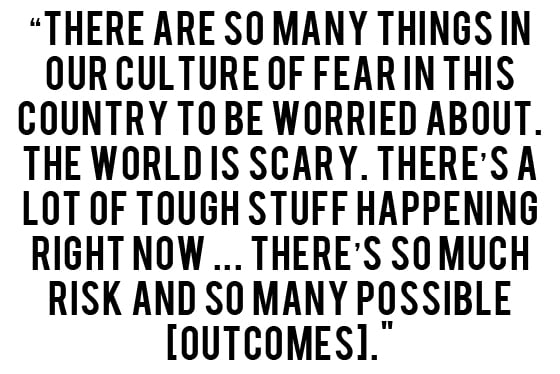 "White Flag" is about facing things that scare you. What are some of the things you had to face that scared you when you were writing it, and what are the things you've had to face since then, tackling things as a band?
Natalie: At the time, it was really a response to that New Yorker article that came out about the earthquake that was supposed to hit the West Coast. It was really oppressive for us. You're walking around like something's going to happen at any second. At some point, we just kind of had to break that. What are we going to do, are we never going to go home? Are we going to move away? No, absolutely not. We're going to keep living our lives and we're not going to live in fear of these things.
It's been really interesting. Since the song has been written, I've needed it, honestly, and sung it to myself so many times. There are so many things in our culture of fear in this country to be worried about. The world is scary. There's a lot of tough stuff happening right now — even just getting on a plane, or being in a foreign country. There's so much risk and so many possible [outcomes]. There's this great quote that I love that I found in processing this whole idea of the world that we live in right now, where you could slink back into yourself and into self-protection and stay in your house and never go anywhere. A friend shared with me a statement made by C.S. Lewis during the time when the atomic bombs were supposed to potentially hit at any moment, anywhere. He basically says his response to living in an "atomic age" is, "If the bombs are going to come, let them find us drinking beers with friends and laughing and enjoying our lives, not cowering like scared sheep waiting for a bomb." Isn't that good?
That's kind of what it's meant. There are so many daunting things that you face in this lifestyle, too, putting yourself in front of people all of the time. It has been exactly what it says — it's just this marching song for living your life and defying fear.
Like Joseph? Check out our Cover Story on My Bubba.
---
Photo credit: Ebru Yildiz