"Working with Knickerbocker Mfg. Co., for me, is about the pursuit of original artistic expression and promoting high quality clothing, while simultaneously protesting the enticing comforts of sameness, which work to water down our life. Make it strong, make it loud, and make it last." — Pokey LaFarge
I first learned of Pokey LaFarge from a photographer friend, Nate Burrell. While scrolling through his beautiful Instagram feed of shows, BTS of festivals, and musicians, there's a particular gentleman that became familiar. Was he a friend, a muse, or a little of both? I didn't know. But everything from his posture to his surroundings, hair, and clothing screams style and vibe of a generation long gone. I understood why this gent was a reoccurring subject in Nate's photos. Curiosity got the best of me, and I got to know (thanks Google!) the sound and style of Pokey LaFarge.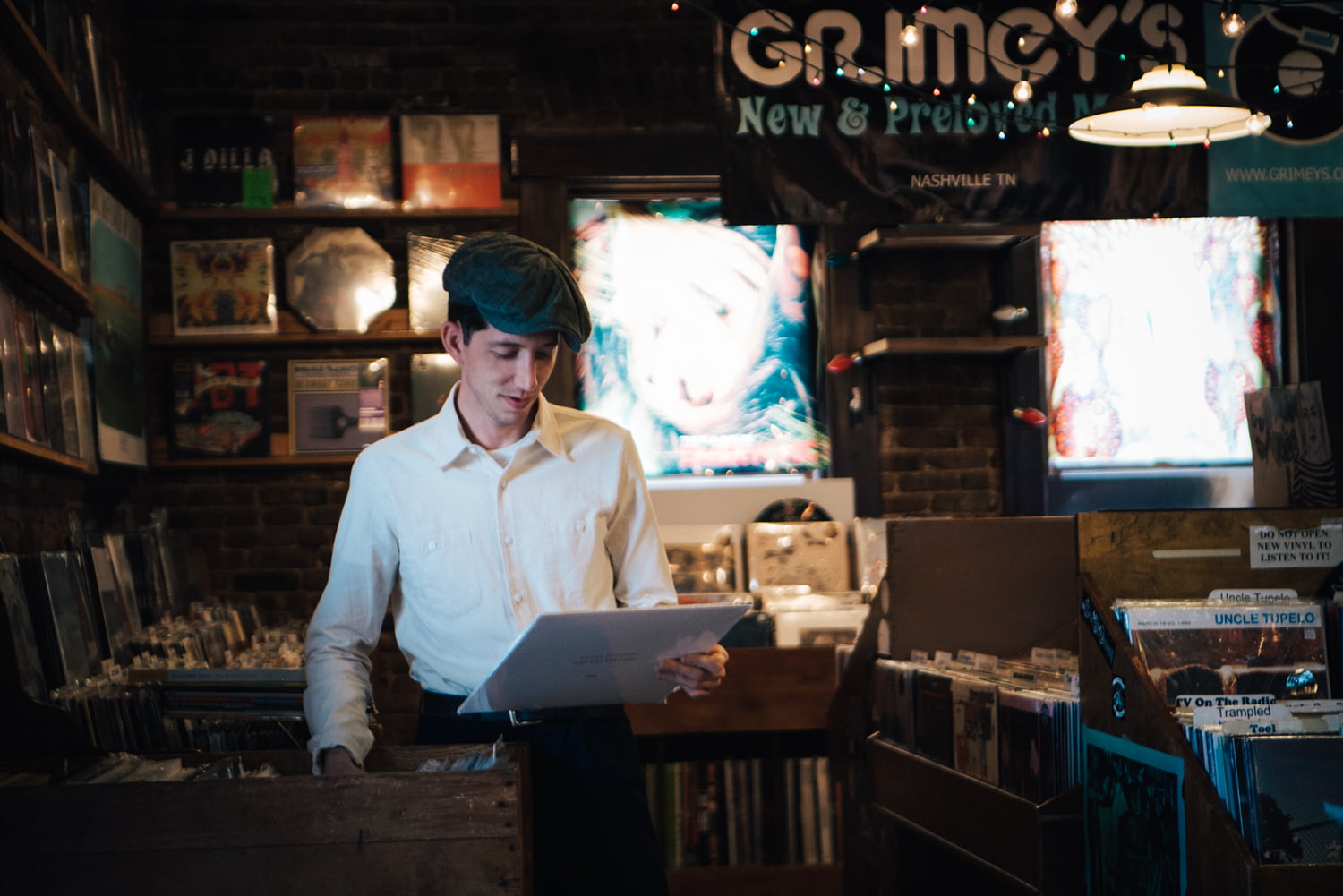 Within our world of ever-changing trends, Pokey LaFarge has somehow held fast to a sound and style he identified with early on. For him, style seems to radiate from the core and reach into every aspect of his being. He credits hometown St. Louis artist Nicolas Africano with opening his eyes to what he believes style to be — a reflection of who a person is and not just the layers you wear. Pokey's duds are very specific and, after sharing a late morning with him at Grimey's New & Pre-Loved Music, I'd say they describe him well.
The day I met up with Pokey to talk style and snap a few photos, his look had a fresh-off-the bus feel with a sharp-dressed outfit that was reminiscent of a polished up, early 20th-century, American blue collar worker. My thoughts went to workout and lounge clothing … Are those "on brand," too? If so, I'm envious. Our meet was just before his haircut appointment, so he excused his hair and said a hat was necessary. Being a hat lover, this was music to my ears. Below the Newsy hat, he was sporting a fitted, white button-down; blue, belted chinos (blue, always blue) that rested higher on the hip than today's trendy low-rise chinos; striped socks; flat, lace-up canvas tennis shoes; and nearby was his denim chore coat. Nothing flashy, yet he stood out. Just about everything — sans socks, shoes, and skivvies — was part of a clothing collaboration with Knickerbocker MFG Co.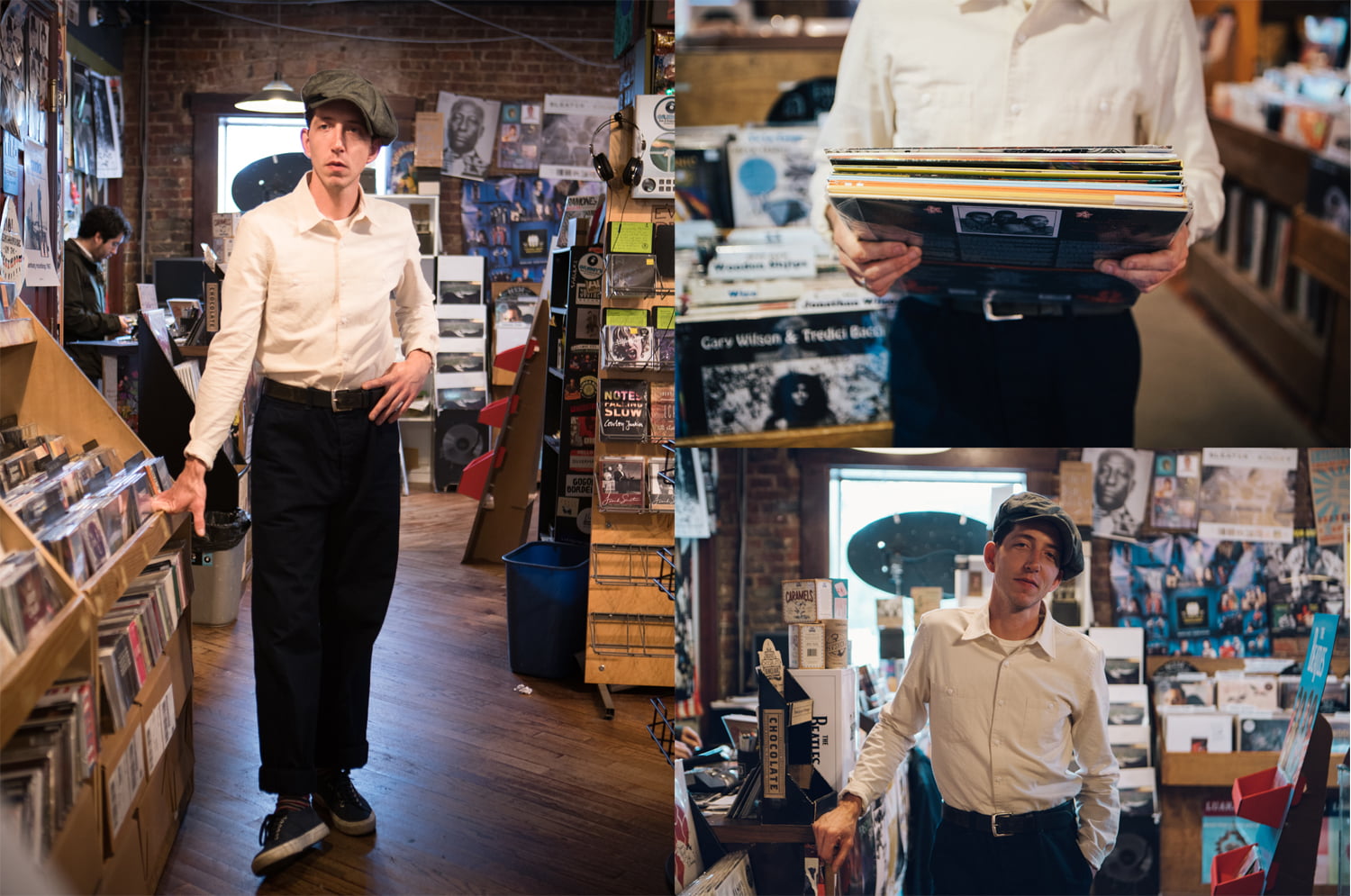 Knickerbocker MFG Co. is an American-made clothing manufacturer rooted in tradition and community — a company that is going to take the long route creating a piece, if it means creating something that's in line with their values and that will honor those in their craft who came before them. When you read about the company, there is hardly anything written about the threads. It's all about the roots, values, and people involved. The more time I spent speaking with Pokey, the more intriguing I found this collaboration. Sure, I could chalk it up to a man and a company, two old souls working together, but it's more than that. It's a man and the folks from a company working together to celebrate the character, charm, and quality in these hand-made American staples of the past.
While we sifted through records — and I clicked away on the camera — conversation with Pokey was something of the past. He didn't respond to my questions with the usual quick, programmed, auto-responses that, sadly, I expect from a new acquaintance. Pokey took his time. His facial expressions revealed if I had asked something too trite, and yet he would pause, gather, and deliver a thoughtful response. It caught me off guard and made me think: With conversation at our fingertips (emails, texts, social media), how much of my face-to-face conversations have dwindled down to abbreviations where there was once the art of conversation?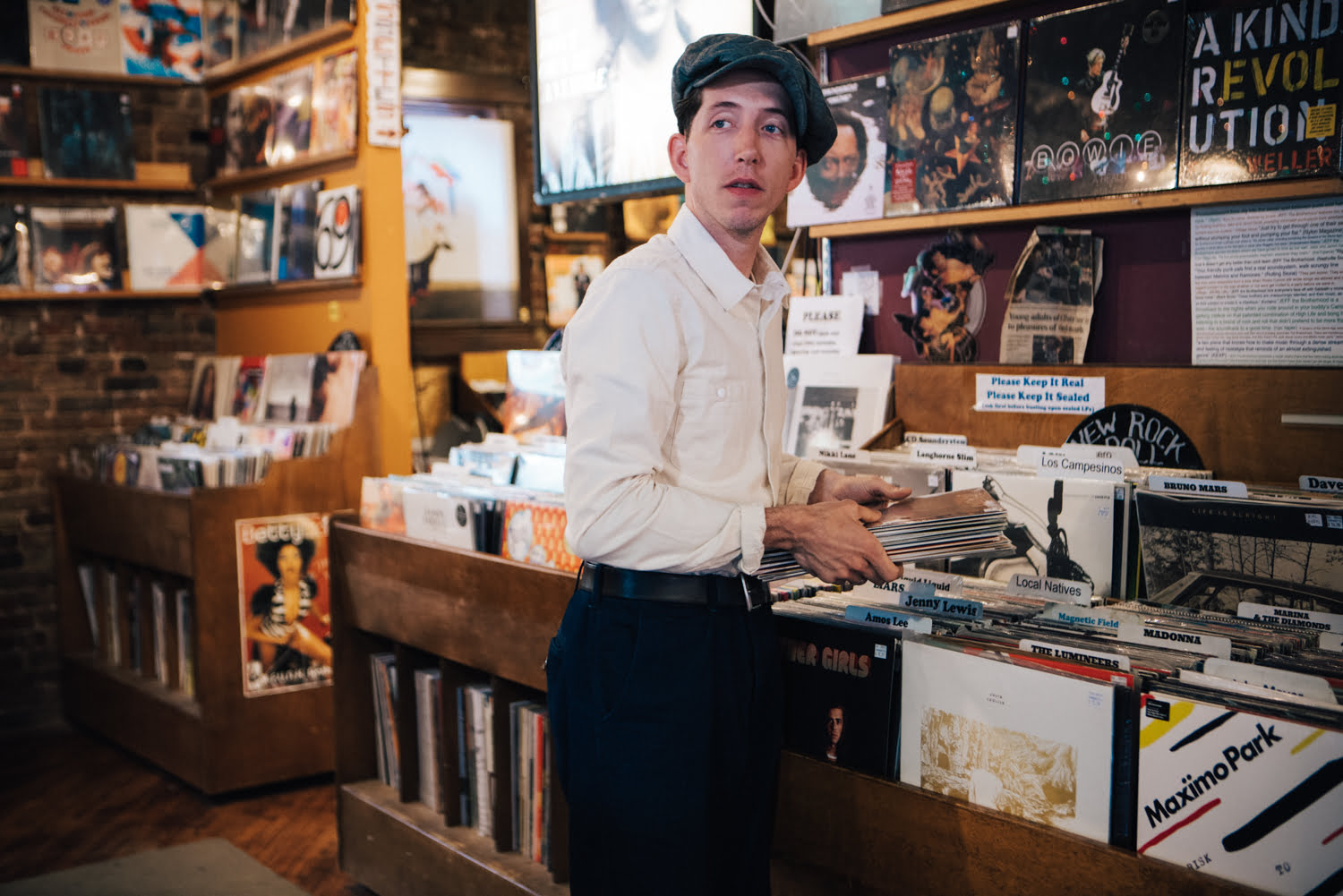 Style, class, and vibe are shining from the core of Pokey LaFarge, and I happily learned a thing or two about it that day. Oscar Wilde said, "One should either be a work of art or wear a work of art." Pokey LaFarge is both.