Sara and Sean Watkins were still children when they began playing bluegrass festivals, where the siblings often performed songs arranged on the fly with people they'd met just minutes before. When the Vista, California, natives began exploring Los Angeles' music scene, they were delighted to discover infusions of that same collaborative spirit — particularly at Largo, the club where composer/producer Jon Brion often mixed and matched players and songs of seemingly incongruous musical styles at his Friday night shows. When the Watkins Family Hour residency began in 2002, Brion encouraged them to create their own adventurous pairings. Twenty years later, they're still at it, and credit his inspiration for their approach to Vol. II, the latest chronicle of their now-legendary monthly gatherings.
While their 2020 Watkins Family Hour release, Brother Sister, focused on Sean and Sara's vocal and instrumental interplay (on guitar and violin, respectively) and original compositions, the new album returns to the collaborative approach used on 2015's Watkins Family Hour.
Recorded in three days, Vol. II is full of inspired combinations: The Zombies' "The Way I Feel Inside" features a heavenly near-a cappella quartet of Watkins and Lucius voices; on the Charlie Rich-penned Ernest Tubb classic "Thanks a Lot," Sean evokes Teddy Thompson as he and Sara channel the Everlys — to a Bo Diddley beat and some Brion chicken-pickin'. On Elliott Smith's "Pitseleh," Madison Cunningham's twinkling high-strung Telecaster notes gorgeously counterpoint Sean's lovely vocals and Sara's sweeping violin parts.
While the range of material is impressive enough — they might be the first artists to cover a Tune-Yards song ("Hypnotized"), which certainly stands as a testament to their boldness — it's the mind-boggling list of contributors that confirms Sara and Sean Watkins really have built a family. One they look forward to expanding.
BGS: Twenty years — that's literally half your lives, and most clubs aren't even around that long. You mentioned wanting to pay homage to Largo as well as the scene and the music, which you do by delving into history, yet also drawing on current styles. How do you make it all fit together so well?
Sara: One of the things we love about bluegrass is how it's a living history, and how there was a bit of a perspective of, like, built to last — the idea that a song is built to last, and old songs and musicians from earlier generations are all that much more respected and admired for how much they have contributed over the years. And if it's a song, how many people this song has touched and affected, and it's still alive, and people love playing it still. Playing that material, and respecting the heritage, is a big part of what we grew up with. We didn't really grow up (thinking), "What's new, that's the best stuff." We grew up with "what's old, that's the best stuff." So in our repertoire, there's always been older songs. That respect is common to all roots music. … There's so much older stuff that we already know; we were really happy and eager to include some of the new material we've been turned on to by friends like Glen Phillips ("Grief and Praise"), Tom Brosseau ("We Were Meant to Be Together"), Ethan Gruska ("On the Outside") and Tune-Yards.
Sean: We chose old songs that we played early on, like "She Left Me Standing on the Mountain" and "Tennessee Waltz," but we also tried to highlight some of our favorite songwriters that are part of the community, or Largo specifically, like Glen. He's the reason we play at Largo; he's the one that vetted us to play there and introduced us to that whole community. We picked songs based on how they related to Largo and the Family Hour, rather than just random songs we like to play.
Old songs that we're able to do with the Watkins Family Hour band, like "Tennessee Waltz," we wouldn't do at a bluegrass festival because it's been done a million times, and in probably a similar way. But for us to do it with Benmont Tench playing beautiful piano voicings, I mean, piano is not a bluegrass instrument, and the voicings he's using are not bluegrass voicings, so it enables us to play an old song that we might write off as being overdone, and give it some new life because of the people we're playing it with. It doesn't modernize "Tennessee Waltz," but it's a new twist on it.
Sara: Equally relevant to the Family Hour in a lot of ways, I think, is that's a song that has been a part of so many generations and so many people's lives. We don't play it a lot, but I think that's what made that performance on the album so special.
Sean: One of the things that we discovered early on at Largo that made it really exciting for us is that we can do these songs for people that maybe have never even heard bluegrass before, and if they have, it's totally fine to do "Tennessee Waltz."
BGS: You've played with a lot of people in 20 years. Just reading the list of backing vocalists on "Grief and Praise," I was like, "Damn, that's all the cool kids in L.A." — including the co-founder of the Bluegrass Situation. Would you say that you discovered more of those artists from playing at Largo, or that they discovered you and wanted to jump in because of Largo?
Sean: In the beginning, it was certainly us being introduced to people, and then once we got going, people knew about it. When it got to a point where people would ask us if they could play a show, we felt very honored. Sometimes Flanagan, who owns and runs Largo, would ask us to sit in and play with a comedian or another musician as part of their show, and then we would tell them about our show. It's a lot of that back and forth.
Sara: When we started doing this show regularly, we were seeing a bunch of shows and being inspired by tons of new music and new artists. Occasionally, we would ask if they would want to do our show, and sometimes they would ask if we wanted to open for them or play a song in their show, and you just meet each other. When you move to a new town, you go out and meet new friends, and that's what we did.
You started that residency pretty young, but when you stepped into it, you must have already had the respect of the community.
Sara: I don't think we did, honestly.
Sean: Not that community.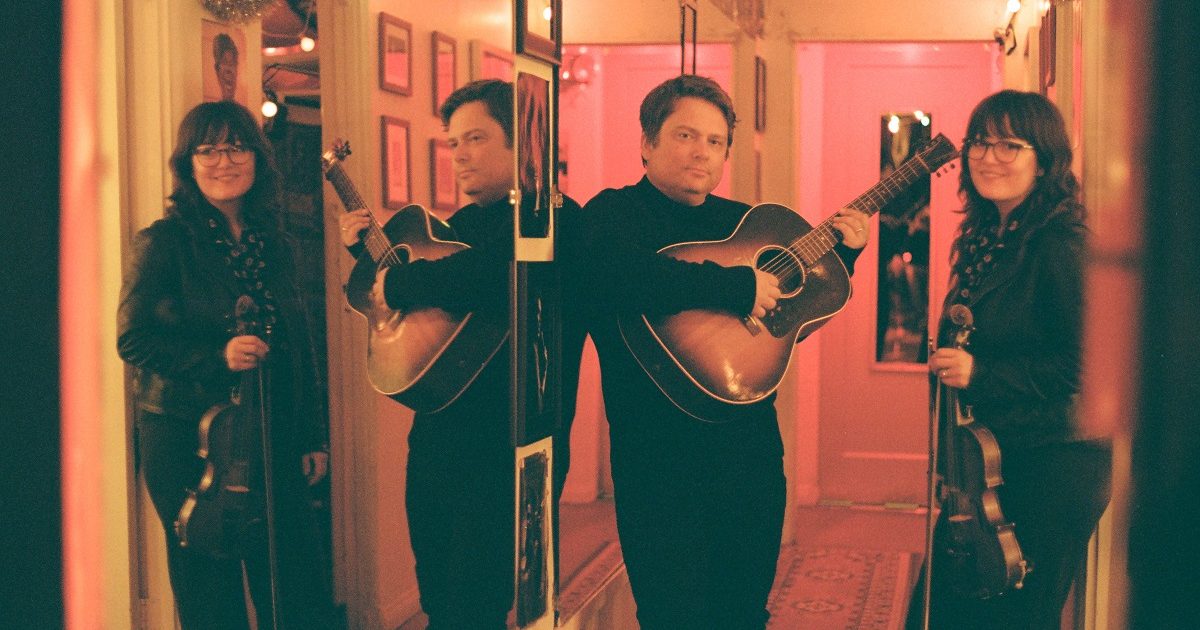 Sara: One of the best things that I learned from the Family Hour is how important it is to give people a chance to develop and grow, because when Flanagan offered us this residency, it could have lasted six months or a year. But it lasted 20. I think he just wanted to give us a chance to interact with the scene in Los Angeles and introduce us to some of his musician friends and people that play Largo, and by opening the door to that, we were just completely blown away by the people we got to perform with and to become friends and sit in with, and the people who were interested in sitting in with us. It was like Flanagan was vouching for us by inviting us to do this residency. And as Sean was saying, over time, as it became something that was pretty consistent, we've been able to expand the group of friends and also have an opportunity to write with people. It opened the doors for all kinds of other collaborations.
Sean: When we started doing these shows at Largo in our early 20s, there was a lot of stuff happening in Nashville with our kinds of music. We thought about moving there and starting something, but when we started going to Largo and playing these shows, it felt really good to be a little different than the average musician in Los Angeles. It was more fun and more of a challenge to dive into a scene like Largo that's really big and heavy in different ways, and new and challenging. I've had to learn so many songs and so many styles of music that really pushed me, and I'm really grateful for that. And that's partly why we made this album. It's a past that we're celebrating, but it's not just nostalgic; it's continued to be this way, much to all of our surprise. We didn't expect it to feel this exciting still. But that's because there's new people all the time, and new songs, and like Sara says, because it's a monthly show and we have such a regular audience, it makes us realize that we need to mix it up and present new songs.
It was an unexpected treat to hear Fiona Apple on what's almost a Western swing tune.
Sara: That was one of the first examples of what Sean was saying about things we learned from Jon Brion putting people together and finding common material. When we first met, Fiona was onstage; I think Jon knew that we probably grew up with some classic country stuff, and that Fiona also loved a lot of that. One of the first things we played with her was "Walkin' After Midnight," and we got to experience the power of how she embodies every song that she sings. For us, "Walkin' After Midnight" is a clichéd song that very few people would take on. It's been done very well; we don't really need to do it a lot more. But for us to hear her sing that gave it this new relevancy and a completely transformative power. That is another example of the context affecting the message.
I'll never forget hearing Gaby Moreno sing at your Watkins Family Hour session during the 2017 Folk Alliance International conference. She just blew me away. She seems like the perfect example of a deserving artist you can draw attention to with a project like this one.
Sean: I'm in a band called Fiction Family. We used to play this show on Sunday nights. There'd be like four bands a night, and Gaby was doing a bunch of songs that were like poppy, kind of raucous rock songs. Then she did a traditional Guatemalan song and played guitar. And it was like, "Oh, we could totally do music together." So I invited her to one of our shows. It was that moment of hearing a commonality that opened the door to a great musical relationship. She's taught us so much about her style of music and even, just, rhythm. We played a show with her in Aspen, Colorado, and she was showing me these different traditional mariachi guitar-strumming patterns that I videotaped on my phone because it's just so cool. So it's a really great relationship; it's not only fun, but we get to learn from each other.
On the flip side of that, you have some legends on here. But since you've been doing this all your life, it probably doesn't feel as goose-bumpy.
Sean: Oh, it does.
Sara, how do you take a song that you're performing with Jackson Browne and let him be the background vocalist and you take the lead?
Sara: We've gotten to know Jackson over the years quite well. We played "The Late Show" with him on his tour a long time ago, singing the background parts. We love the song, but it's best done with two harmony singers that can sing those beautiful answering parts. Jackson was doing the show, so we just on a lark thought, "Well, we should do 'The Late Show.' Why don't we see if he'd sing the harmony part?" And so we worked it up, and it was great. He was gracious enough to sing harmony on it at a live show, and then shortly after, we were planning the album and we asked if he would sing a song or maybe we could do one together. And he's like, "Right. Should we do 'The Late Show?'" So we did.
You two have a long list of projects and collaborations that have always kept you busy, but you've stayed by each other's sides since Nickel Creek (formed with Chris Thile when he and Sara were 9 and Sean was 12). I'm sure you get asked this a lot, but how do you make it work?
Sean: (Laughs.) I mean, we've just done it since we were kids, and it's always been fun. We've always been great friends and love playing with each other. The older we get, the more we realize how rare it is. There are a lot of bands of siblings, but the thing that I'm grateful for is that we're both driven, musically, pretty much the same way and amount. We both enjoy it the same amount and are able to step in and out of different roles.
Sara: It is a nice partnership. There has been a good give and take between us over the years. If there's a time when one of us feels more capable of taking the helm, it's really nice to let that happen. Like in bicycle races, there's somebody in front that takes the wind and the other person just rests for a minute, then the other person goes. It feels like that sometimes. Because we're a team in Family Hour and Nickel Creek, we've learned how to support each other. But it's also really great that we have other individual projects. Sean works on scoring and writing a lot, and I'll do things here and there. It's good to be able to have your own zone; your own corner, as well as to bring things to the table for all the other projects.
---
Photo Credit: Jacob Boll