For five years now BGS and our partners at PineCone Piedmont Council of Traditional Music have used our voices, resources, and positivity to lift up and celebrate diversity in bluegrass and roots music through the Shout & Shine showcase. These live performances have given a platform to those artists who have been overlooked, while illuminating the paths of those starting out on uphill journeys in our music community. This year, the event's 5th annual iteration will follow a format more suitable for a worldwide pandemic — with an all-online showcase as part of IBMA's Virtual World of Bluegrass.
Shout & Shine Online will feature these artists from across the genre map of roots music:
Rissi Palmer, host of Apple Music Country's brand new radio show, '
Color Me Country
'; IBMA Momentum Award winning banjoist Tray Wellington; punk-influenced fingerstyle guitarist and songwriter
Sunny War
; down-home blues and old-time musician
Jerron "Blind Boy" Paxton
;
The Voice
alumnus and guitar picker Stephanie Anne Johnson; and returning favorites
Kaia Kater
and
Amythyst Kiah
, who make their first appearance at Shout & Shine since playing on its debut lineup in 2016.
Shout & Shine Online's roster is curated by performing musician and Decolonizing the Music Room founder and Executive Director, Brandi Waller-Pace. Shout & Shine Online will take place at 2 pm ET Saturday, October 3. Viewers will be able to tune in right here on BGS, or on our Facebook page or YouTube channel, via PineCone's channels, and via IBMA's conference platform, Swapcard (registration available here).
While Shout & Shine has continually championed underrepresented and marginalized folks in roots music, this year's event comes at a time of reckoning in this country's ongoing battle against institutionalized racism. "This year, Shout & Shine's mission is as clear and galvanized as ever," says BGS editor and Shout & Shine producer, Justin Hiltner. "Our lineup is a direct response to this current iteration of the Black Lives Matter movement and the righteous rebellion against police brutality and systemic racial injustice in this country. The greater bluegrass community needs to be having these conversations and needs to be centering the voices and perspectives of Black folks — especially Black queer folks. We saw that as our role this year." 
BGS joined hands with Decolonizing the Music Room's founder Brandi Waller-Pace to curate 2020's lineup. "The mission of Decolonizing the Music Room is to center Black, Brown, Indigenous, and Asian voices, knowledge, and experiences within the field of music education," says Waller-Pace. "In addition to that, it is part of DTMR's core values that we are an openly LGBTQ+ affirming non-profit organization. I am honored to have served as curator for this year's Shout & Shine and to have had this opportunity to partner with BGS and PineCone on work that highlights a convergence of our values."
"In addition to Shout & Shine's continued work centering the music and stories of underrepresented artists in the bluegrass community, we also continue to work toward making these programs as accessible and inclusive as possible. We're providing American Sign Language interpretation for the entire Shout & Shine program, modeling what can be done and what we continue to work toward in making accessibility central to our work," said Jamie Katz Court, Communications & Programs Manager for PineCone, the Raleigh-based roots music organization that has partnered with us on Shout & Shine since 2017. PineCone also produces the festival, IBMA Bluegrass Live! powered by PNC.
The showcase was first conceived in 2016 to celebrate diversity and inclusion at the International Bluegrass Music Association's business conference and festival in Raleigh, North Carolina. Originally organized in response to the North Carolina General Assembly's homophobic bathroom bill, HB2, the scope of the event immediately widened to include and celebrate not only the LGBTQ+ community, but any and all marginalized folks in roots music. Shout & Shine stages have included the most exciting emerging talent alongside bluegrass legends and stalwarts, with lineups that have boasted the Ebony Hillbillies, Alice Gerrard, Cathy Fink & Marcy Marxer, Laurie Lewis & the Right Hands, Missy Raines, Amythyst Kiah, Kaia Kater, Che Apalache, and many, many more.
Shout & Shine is also a monthly editorial feature, which debuted with world-renowned drag queen Trixie Mattel's first-ever interview by a roots music publication. In 2020 the column grew into a monthly livestream series that has already featured harpist and songwriter Lizzie No and fingerstyle guitarist Sunny War, part of a six-month series focused on Black artists and creators in roots music. The next episode will follow Shout & Shine Online in November. Whether on stage, in print, or online, Shout & Shine's mission has always been celebrating the marginalized and underrepresented folks of all identities, backgrounds, faith traditions, and abilities who make and love bluegrass music.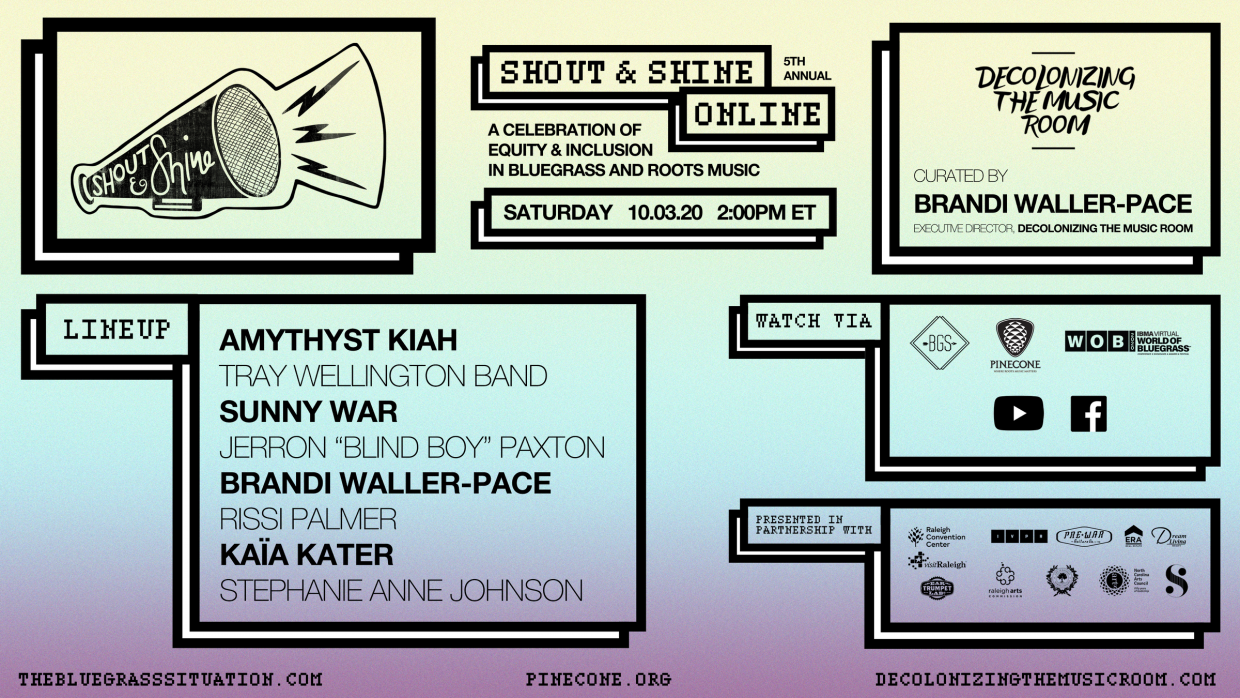 Tune in Saturday, October 3 at 2pm ET for Shout & Shine Online!
---
Lede photo (L to R): Kaia Kater (by Todd Cooper); Stephanie Anne Johnson (courtesy of the artist); Amythyst Kiah (Anna Hedges).
Poster art by Grant Prettyman, Belhum