I think and talk a lot about the power of interpretation. When I left college to become a professional musician, one of the things I did to put food on the table was singing jingles and demos. With the jingles, I had to sell products — anything from clothing to Taco Bell. If I didn't sound excited to be singing about those products, no one would have wanted to buy what I was selling. The same applied to the demo sessions I was a part of. I learned early on that my job wasn't just to sing well; it was to help the songwriter properly translate their message. The more I did it, the deeper I delved into the lyrics I was singing, causing such a profound personal connection to the songs, making it feel like the stories were only mine to tell. I found the power of interpretation through music, then, and have continued to explore that power in other areas in my life ever since.
Two years ago, I did something that I've never done before: I sang songs written by other people and put them out on an album under my own name. Was it challenging? Yes. Not because I was too proud to sing someone else's songs, but because I had so much respect for the artists who had released those songs in the first place. I wanted to honor their creativity and make sure that I wasn't doing a disservice to the art itself. Now that I cook nearly as much as I sing, the same principles apply to the food I make.
There are so many cultures whose cuisines I admire. I cook a lot of food that is not from the culture I was born into or raised in. I used to be afraid to cook anything not American or Ghanaian, but then I began to get inside various, unique dishes and study them from the inside out. Once I realized what flavors and techniques make up a dish, as well as the love given to the food from the culture it came from, I gained the confidence to engage in the interpretation of those dishes and I've learned how to honor them in my own way. My fiancé, Sam, is originally from California. To him, Mexican cuisine is almost synonymous with comfort. I love Mexican food and I love Tex-Mex, as well. Tex-Mex is a direct interpretation. It is a cuisine brought to Texas by Mexican descendants that reinvents a traditional way of eating while remaining respectful of its origin.
This Autumn, I will have the honor of calling three children, ages 13 and under, my official bonus children. That's so much cooler than saying "step children" — and they're so much cooler than that, too. I cook for them often and they help me in the kitchen a lot, as well. Before I came along, my fiancé's go-to dinner for the kiddos was often some kind of Mexican cuisine — tacos or quesadillas, usually. It's one of the few things that certain little people I know will eat joyfully! Yet, being the cook that I am, I bore easily if I'm making the same thing the same way over and over again. I want to make my family's bellies happy, but I also want to make my creative soul happy in the process.
This belly/soul happy recipe, Shrimp* Quesadilla Pockets, is an interpretation of a traditional one. A traditional quesadilla involves two tortillas filled with cheese, stacked on top of each other. When sliced, it's reminiscent of a pizza to me. Although I very much like pizza and traditional quesadillas (and all of the yummy toppings that fall off or out of them when you pick them up), I needed to create an easy, pocket-sized version for quick pick-up-and-go meals. Call it my new mom short-cut. I'm learning! They store well and the filling doesn't dry out because it's not exposed and can be reheated in a flash.
Interpret away, people. It's the stuff we're made of. Take Herbie Hancock's tribute album to Joni Mitchell, River: The Joni Letters, for instance. Put it on right now. Um, wow. Yeah, that's some power right there.
SHRIMP* QUESADILLA POCKETS
*Omit shrimp for allergies, etc., and sub with any protein of choice
Ingredients
Serves 5 (2 each)
1/2 lb cooked shrimp, sliced in half lengthwise
1/8 tsp red pepper/chili flakes (or omit)
1 tsp smoked paprika
1 tsp ground cumin
1 tsp chili powder
1 tsp black pepper
1/4 tsp cayenne pepper (or omit)
1 tsp Worcestershire sauce
1 Tbsp lime juice**
2 cloves garlic, minced
Safflower or grape seed oil
10 soft, large, white tortillas
2 cups shredded pepper jack, monterey jack, or cheddar cheese
1 cup black beans, rinsed and drained
2 cups cooked white rice
Condiments of choice — salsa, sour cream, and limes for us.
**I forgot to grab the limes from my house when I came over to Sam's to try this recipe out on him and the kids … but a bright young man of 11 pointed out that "maybe some lime" would have helped to make it brighter. Don't forget the limes. Alfie's orders.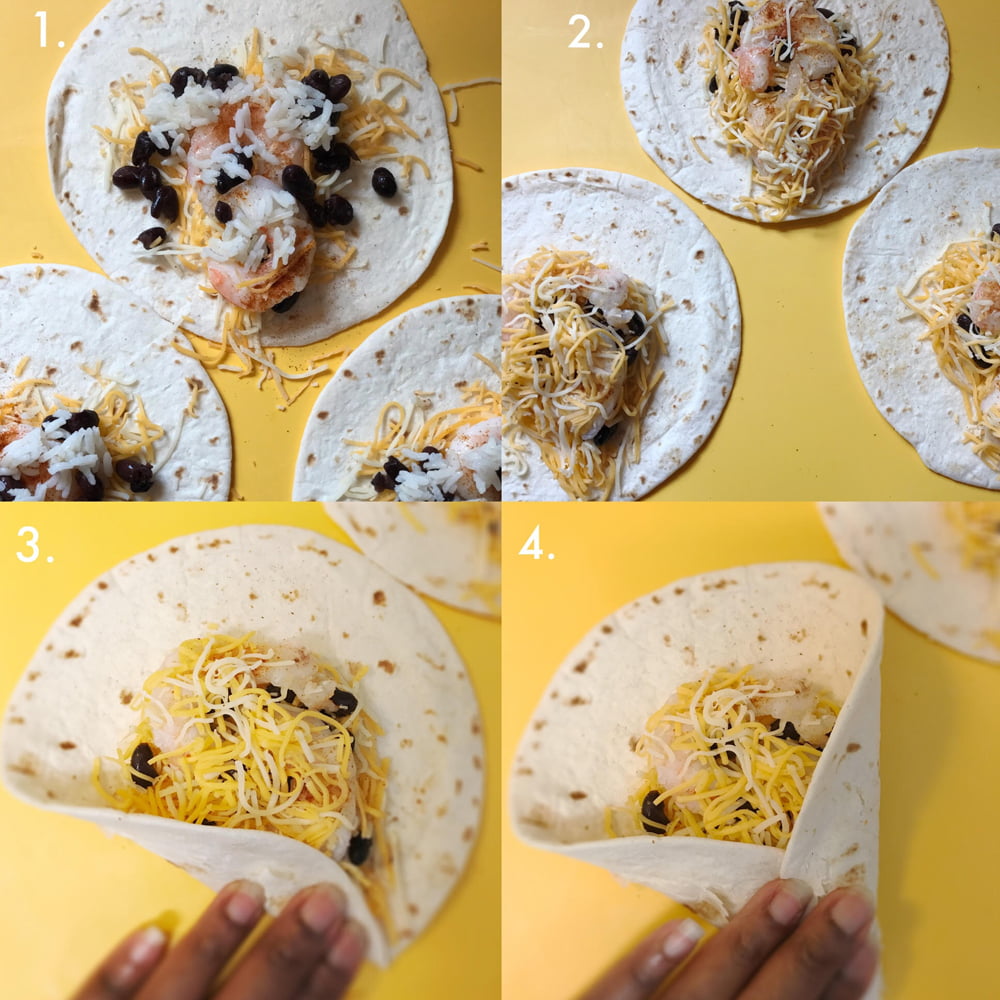 Directions
Preheat your oven to 250° and place a sheet tray lined with parchment paper or foil inside of it. This is where you will keep the quesadillas warm while you're making a stack of 'em.
Place shrimp and all the ingredients up to (but not including) the oil in a bowl and massage into shrimp and let sit in the fridge for 15 minutes.
Lay out tortillas and sprinkle ingredients lightly onto tortilla in a V shape (reference my tutorial photos) in the following order — cheese, two slices of shrimp in a vertical line, beans, rice, more cheese. Reference tutorial photos for folding.
Heat 1-2 Tbsp oil on medium heat (no higher!) in a non-stick pan. Place folded tortilla in pan, seam side down. Hold a spatula on top of each quesadilla pocket for a few seconds to ensure a proper seal. Check for brownness after one minute and flip when desired color is achieved. Repeat the last step to brown the other side.
Garnish with cilantro and dip in salsa or sour cream.