Steep Canyon Rangers have been musical ambassadors of North Carolina for nearly 20 years, and during this year's set at MerleFest, they presented a wide-ranging performance drawing on their home state's diverse contributions to American music. That feel-good Sunday afternoon show is now available as an eight-song live album, North Carolina Songbook.
The collection covers inspirations from jazz musician Thelonious Monk, folk/blues hero Elizabeth Cotten, and enduring acoustic legends such as Doc Watson and Flatt & Scruggs. Replying by email, mandolin player Mike Guggino answered these first five questions, with singer/guitarist Woody Platt rounding up the remainder.
BGS: The music of North Carolina can be an overwhelming subject. What was the audition process, so to speak, when it came time to deciding which songs you wanted to include in your set?
Guggino: We all tried to come to the table with songs that we thought might work for the set. We knew we needed not only good songs, but also songs that worked well together to make the set flow. We needed the set to have some diversity, some highs and lows dynamically. We also wanted to feature different members of the band throughout the show.
These songs are familiar, of course, but how much did you rehearse the set list before singing at MerleFest?
We starting working on the tunes a few months before the show. We tried to incorporate many of the tunes into our shows leading up to MerleFest to get an idea of how they worked within the set.
Naturally it's important to have Doc Watson and Rosa Lee Watson represented. How often did you cross paths with them, and what do you remember most about them?
We all started going to Merlefest in our college years and Doc would perform every year. Seeing him play live was always a highlight of the festival for us. His was some of the first bluegrass/Americana music many of us in the band were ever exposed to. We starting learning many of Doc's tunes for our shows early on as a band. Many years later, Doc played our festival (Mountain Song Festival) in Brevard. He was one of the nicest musicians I have ever met. It was an honor to meet him and none of us will ever forget that experience!
"Don't Let Your Deal Go Down" is a bluegrass staple. Do you remember how you all first heard that song?
That was one of the first Flatt & Scruggs tunes we ever heard or tried to learn. I've always loved the ragtime-like chord changes in that tune. Also, Earl played it open and the tune is in F major. It definitely gives it a unique sound on the banjo. I think Graham played the heck out of that one on the record!
What were the conversations like as you were deciding what kind of arrangement you wanted to give "Stand by Me"
We all agreed we wanted to feature that beautiful string solo section in the middle. This required a few extra fiddlers to make it happen and it came off so nicely. Woody really sings it with a lot of passion and that is really what makes the song work, in my opinion. We didn't end up straying too far from the original arrangement in the end. It's a simple song and we didn't want to overthink it.
True to its name, "I've Endured" has been around a while. What pulled you toward this song?
Platt: This song was a natural fit — not only was Ola Belle Reed a clawhammer banjo player from Grassy Creek in Ashe County, North Carolina, but this song and several of her others have been pulled into the bluegrass genre. We have heard several versions of "I've Endured" and we are proud to now have our own.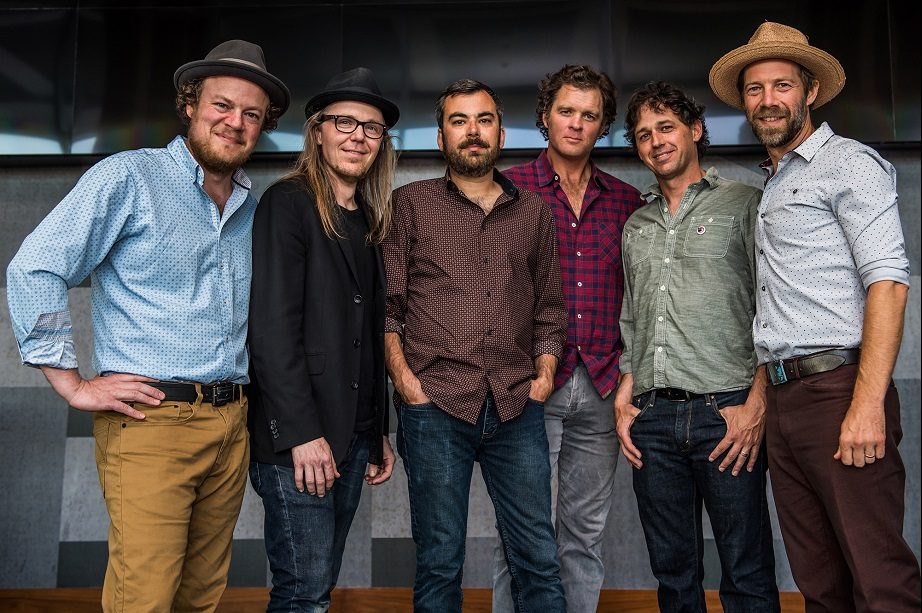 This album is coming out on vinyl on Record Store Day. Who is the biggest vinyl collector among you?
Everyone in the band has an interest in vinyl and has a nice collection. Without doing an exact count I'd have to say Graham [Sharp, on banjo] is the biggest collector.
"Sweet Baby James" is a highlight of this album. Who is the biggest fan of James Taylor in the band?
James is from Chapel Hill, North Carolina, where the band was originally formed. All of us have connections to his music in some way or another. I'd guess Barrett [Smith, on bass] is the biggest fan. He did a great job channeling James's vibe and delivery on this version.
North Carolina Songbook provides a chance for you to share part of your state's musical heritage with the world. What do you hope fans will take away from the experience of listening to this album?
The takeaway is North Carolina's incredibly rich and diverse musical history! Also, we have recorded nearly 100% of our own original music throughout our career — so it's fun to show a different side of the band and how we can interpret other songs and deliver them in the SCR style.
What lies ahead for the Steep Canyon Rangers in 2020?
We have a few new projects coming up in 2020. A collaboration with the Asheville Symphony will be released in early 2020. Later in the year we will be releasing a new project of all original SCR material. Other than that we plan to continue to tour and play theaters, clubs, and festivals all over the country and abroad. There will also be some touring with our banjo buddy Steve Martin.
---
Photo Credit: David Simchock