Splitting off from Sunset Boulevard in West Hollywood, Laurel Canyon Boulevard runs a circuitous route through unkempt mountain acres, past the Laurel Canyon Country Store, weaving and curving for miles before finally spilling out in Studio City. Along the way small roads split off into the mountains like tributaries from a river.
Up these narrow, twisting mountain byways lived many of the musicians who, in the late 1960s and throughout the 1970s, exerted an incalculable influence on popular music: the Byrds chief among them, but also the Mamas & the Papas, Joni Mitchell, Love, James Taylor, the Monkees, and Crosby Stills & Nash. Together, they transformed folk music into folk rock and singer/songwriter fare, transforming it with new sounds, new ideas, new priorities, and — it can't be denied — new drugs.
This strange, paradoxical place — a rustic mountain paradise nestled within the purgatory of Los Angeles — is the subject of a two-part documentary on EPIX, directed by Alison Ellwood and produced by Alex Gibney. Across two 90-minute episodes, Laurel Canyon traces the comings and goings of several generations of folk rockers down the boulevard and up into the hills.
Ellwood depicts this place as something like a bucolic community that enabled and encouraged romantic and musical collaboration among its denizens. A struggling musician named Stephen Stills flubbed an audition for a TV show called The Monkees, but suggested his roommate Peter Tork try out for a role. Mama Cass introduced Stills and David Crosby to a British musician named Graham Nash, and the trio became one of the most successful groups of the 1970s. A band of freaks from Phoenix, Arizona, calling themselves Alice Cooper showed up at Frank Zappa's cabin at 7 a.m. — about twelve hours early for their audition. The stories go on and on, too much for even a lengthy documentary to contain.
Laurel Canyon didn't just offer a sense of community along with unobstructed views of the city at night. It also gave these musicians access to the city itself — in particular, the happening Sunset Strip clubs like the Troubadour, Pandora's Box, Ciro's Le Disc, and the Hullabaloo Club. It was a neighborhood galvanized by the riots in 1966, when young clubgoers protested a police-imposed curfew — a pivotal moment in '60s radicalism and the inspiration for Buffalo Springfield's "For What It's Worth."
The popularity of the music written in the hills above the Strip meant that Laurel Canyon's most famous residents spent more time away from the canyon, spending weeks in the studio recording their next albums or months on the road playing their songs in front of growing legions of fans. Elwood's documentary strays from the locale in its title, traveling as far away as Bethel, New York, for the Woodstock music festival in 1969, which demonstrate how deeply these new musical ideas were taking across the country.
There are, refreshingly, few talking heads in these two episodes. Rather than the usual musicians rhapsodizing about their youth, Ellwood frames the documentary with remembrances by a pair of photographers, Nurit Wilde and Henry Diltz. Their archival images and films make up the bulk of Laurel Canyon, which makes it all seem more immediate, as though fifty years ago was just yesterday. In that regard it's closer to Tarantino's Once Upon a Time in Hollywood than Jakob Dylan's Echo in the Canyon.
But that also makes this historical moment seem more fleeting. Around the time that Charles Manson sent four of his followers to a house he thought belonged to producer Terry Melcher, drugs started to infiltrate Laurel Canyon, puncturing what Graham Nash calls a "beautiful bubble." Grass and booze are quickly displaced by coke and heroine, and the scene chills a bit in the 1970s, as a new wave of musicians moved in to these houses and crash on these couches.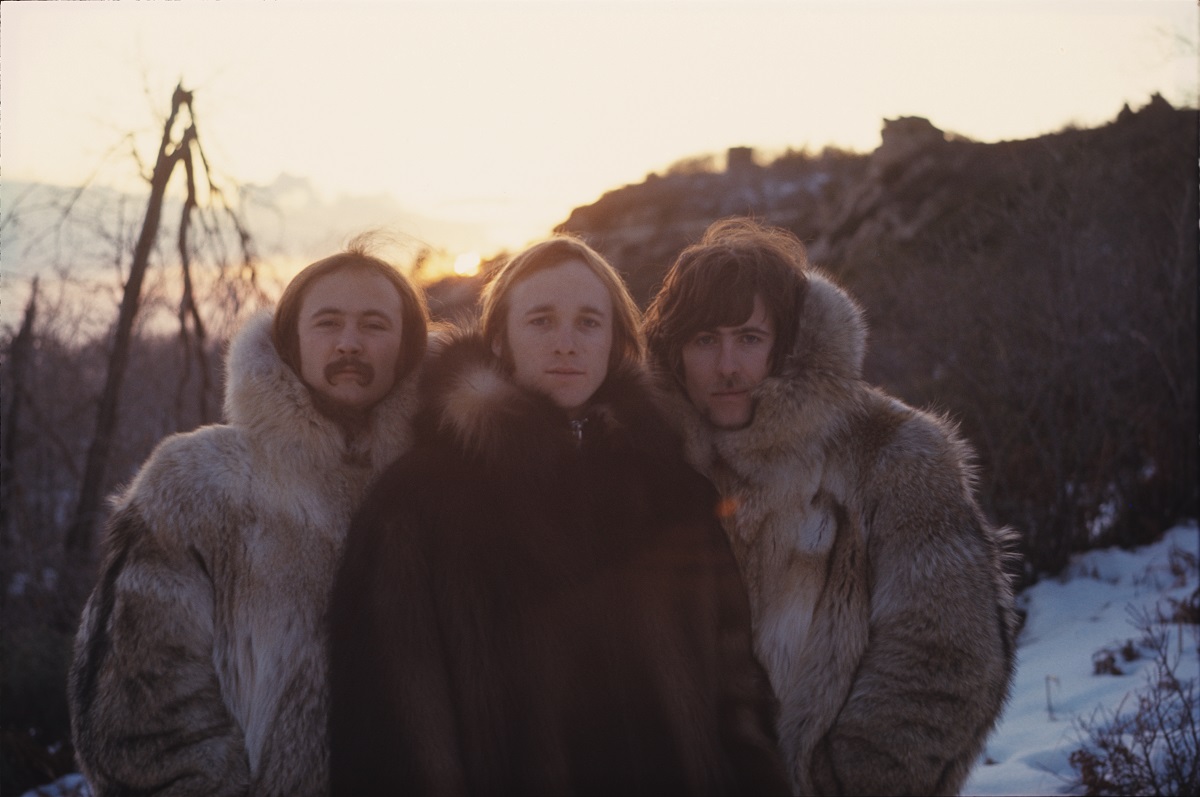 There are many stories from Laurel Canyon that don't get told in the documentary, as well as many songs that don't get played and many artists who don't get mentioned. There's no trace of Van Dyke Parks, the eccentric L.A. arranger who affectionately satirized the community on "Laurel Canyon Boulevard," off his 1968 album Song Cycle. "What is up in Laurel Canyon?" he asks, quixotically, like the most ironic tour guide. "The seat of the beat," he replies to himself.
On the other hand, the film can only hold so much. And the stories that Ellwood does tell add up to something larger: Laurel Canyon is less about a place and more about an idea. It's about how different strains of traditional and popular music commingle and mutate, how they point to an infinite set of possibilities for voice and guitar (and drums and bass and amps and keyboards and synthesizers and so on).
On the eve of the documentary's premiere, BGS spoke with one of Laurel Canyon's early and most famous residents, Chris Hillman.
BGS: You moved to Laurel Canyon in 1965. What took you there?
Hillman: First thing on the list was, I needed a place to stay. The Byrds were getting going and starting to gain a little ground, and I had already known about Laurel Canyon. It was purely by accident that I'm up there one day by the country store, and I run into a guy who had a place to rent. It was wonderful. It was up on this road overlooking the entire city of L.A. You can imagine how beautiful it was at night, with all the lights on and everything. Shortly thereafter, David Crosby moved up there, and then Roger McGuinn. I'm not sure where Mike [Clarke] and Gene [Clark] were. They were probably up there, too. The Byrds were very early occupants of the area.
To what degree was it like a small town in the middle of this big city?
It sorta was. But it was trying so hard not to be that. We were literally four minutes away from the Sunset Strip. So you went from this incredibly energetic, fast-moving madness of the Sunset Strip clubs, you go up Laurel Canyon Boulevard, and in four minutes you're up in this pristine, quiet environment with all these beautiful old houses. We weren't the first ones to discover this place. People were living up there in the '40s and '50s — some actors and a lot of artists. It already had this reputation as a bohemian beatnik enclave.
There was the famous legend that Houdini had a house up there. People would be driving around and point out a place and say, "That's where Houdini lived." They'd point out some old wreck of a place, some ruins of an old structure. There were a lot of good legends to the place. I think that's where Robert Mitchum got in trouble at a party in 1949 or 1950. He walked into a party and then the police came and arrested people for marijuana. He just happened to walk in at the wrong time. But he had a hell of a career after that, though, so he must have struck a deal. The musicians didn't start moving up there until the '60s, and by then it seemed like a quiet mountain town that just happened to be minutes away from the heart of the city.
I always thought of it as the Woodstock of the West Coast — this retreat from the rigors of the big city.
Well, in Woodstock you're a good long ways from Manhattan. But in Laurel Canyon you're minutes from the Sunset Strip and maybe ten minutes from Beverly Hills or Hollywood proper. A lot of people don't know this, but the Sunset Strip was part of Los Angeles County. It was a mile long, from La Cienega I think to Doheny. It was county instead of city, so it was run completely differently. It was patrolled by the L.A. County sheriff, as opposed to the LAPD.
Is that why they imposed that curfews that led to the riots in '66?
The whole thing with the kids rioting had to do with the small business owners, whose businesses were being infringed upon by foot traffic. The kids were running around, goofing around, and it was killing business. I didn't get involved in that. I just saw it on the news. I remember seeing that footage. I still lived in the Canyon then. I was there until '68, then I moved to Topanga Canyon.
Why did you leave?
Things changed. I was still in the Byrds and I just bought a house in Topanga. No, I'll tell you why I left. I completely forgot the most important part of the story. I'm getting older. The reason I left was, my house burned down in Laurel Canyon.
I was renting this beautiful house, and you could see the whole city. It was all wood, and I remember it was fall, then the ferocious Santa Ana winds hit. They always come around in the fall. They're very dangerous. It was real hot that day, and the winds were kicking up, and I had pulled my motorcycle out. I was going to kick it over, but it was leaking gas and the wind blew the fumes into the water heater. It was an open-flame heater and it just ignited. It made the same sound you hear when you light an old-fashioned gas range. I literally caught on fire. Instinctively I rolled on the ground. I think I lost a bit of hair and some eyebrow before I got out of there. I jumped in my car and pulled into the dirt road. I had nothing. I had my car and that was it. I lost everything I owned.
David Crosby had just been visiting me at my house. He'd been there for an hour and left just 20 minutes before my house burned down. I think we can connect the dots! I'm kidding. I love David dearly, but I still poke him about that one. Roger McGuinn lived across the canyon from me and saw the fire. He said it looks like where Chris lives, so he starts filming it. Somehow the footage got on the local NBC affiliate. I was living in a hotel for a few nights, and I remember watching my house burn down on the TV. That was '66.
Is that why you left for Topanga?
Well, it was starting to be the place to live. More groups were moving up there: the Turtles and Frank Zappa and Mama Cass and Peter Tork. Everything was changing. Drugs entered the picture. I ended up buying a house in Topanga Canyon, which is about 25 miles north of Los Angeles. It's also very pristine and quiet — a little bit bigger than Laurel Canyon. A lot of people moved there, too, like Neil Young. And it was a very similar scene, with everybody interacting with each other. That should be the next documentary.
---
Photo of Gram Parsons and Chris Hillman playing cards: Courtesy of Nurit Wilde
Photo of Crosby, Stills & Nash at Big Bear: Henry Diltz