Brown's Diner is the kind of hole-in-the-wall that your eyes have to adjust to, after stepping in from a sunny afternoon in Nashville. However, Lillie Mae shines like a beacon in the dim light of the dark booth as she gabs with the staff she's clearly known for years.
A twenty-year Nashville veteran, her very first business meeting as the youngest member of her former family band, Jypsi, was in this very restaurant. A true road warrior, Lillie Mae and family traversed the country playing bluegrass festivals and churches. On the heels of a censored childhood steeped in traditional music, she graduated to the honky-tonks of Lower Broadway and on to her own burgeoning career as a solo artist now signed to Third Man Records.
Settling in at the beloved burger-and-fries mainstay after three weeks on the road with The Raconteurs, Lillie Mae detailed the process of making her brand new record, Other Girls, with producer Dave Cobb, as well as songwriting inspiration, a crummy golden year, and what works feels like when it doesn't feel like work.
BGS: Your lyrics leave a lot to the imagination. They weave a story and put you in a setting but they aren't inculcating anything for the listener. But tell us more about "A Golden Year."
That one and the last one are my favorites on the album for sure. Basically, my birthday is June 26 so my golden year was a year ago. We were in The Refuge in Appleton, Wisconsin, and we'd played a couple of gigs up there and we were leaving this monastery. It is an amazing place where musicians and artists of all kinds can go and live for free. Food and everything is taken care of. They get government grants and they have a studio. It is an amazing place right on the water.
We were rolling out and I went to do one more look around and my brother was still wrapping up so I was just walking through the hallways. They have a chapel where they do shows and I heard a choir singing "Ahhhs" and I just heard the whole song and I had a guitar in my hands. I rummaged through rooms to find a pen. I sat down on the guitar case and wrote it. It came from somewhere else. It is a perfect example that we are just a vessel. I had been looking forward to my golden year my whole life and then it turned out pretty lousy for me. I was super depressed and down and writing that song was probably the best part of it.
Do you sit down to write or do you mostly write when you are inspired?
You know, mostly when it starts to come through. But if I sit down and pluck on the guitar or something for a minute, I will easily find myself trying to come up with something. I don't sit down and try to write nearly as often as I should.
Did you have to do any of that for this record as you were putting the songs together?
Nah. There were a couple of things that were not completely finished, like the last song on the record. I was tweaking words until recording. Some stuff was almost there. And every once in a while, if a second verse is not coming, I'll just repeat the verse, though that's kind of cheating.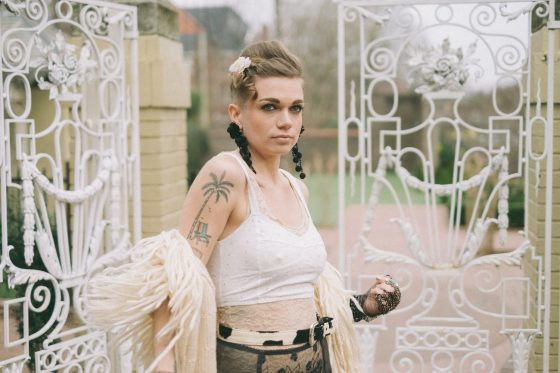 With your ingestion of art being censored in your religious upbringing, there is some open sexuality on this record. Bluegrass, folk, and country have all been known to suppress that. Have you ever come up against censorship from co-creators or folks in the business realm?
Totally. I think a lot of it you can do it to yourself. You can put yourself in a little conservative box easily. But these days, I've just lost my care about what people think. It just doesn't matter. I have a couple of songs that I haven't been open about what they are about — on the last album, that were written about abortion. Songs that were really heavy to me and I never talked about that. It wasn't a secret but "Why do we need to talk about this?" because it can mean whatever it means to anyone. But that is coming from a very conservative place of trying to please all ears.
Having these old mindsets of being in old Nashville, I definitely have been more conservative than I truly am. For me to not mute or hide lyrics or not be open about things, it has been a step for me. There is a song on the album called "Crisp & Cold" that was inspired by a friend of mine who is transgender. There is a line in the song that says, "Don't be scared/Be more." When you literally have to worry that some people might take your life because of that. It is crazy. There are times when you don't want to offend anyone but those days are over.
But growing up in bluegrass, we did the circuit. We were always on our way to another festival. My sisters were older than me and were beautiful young women who were experiencing growing out of the whole religious thing. We did Beatles covers back then when I was a little kid and bluegrass snubbed us. To love something so much and to be ousted from it because you've developed some fashion sense or something. It sucks to be such a supporter of something and to not have them have your back. But it has changed a lot.
Did you and your siblings grow up listening to any specific artists?
It was super limited, what we were allowed to listen to and we grew up playing full time. We played churches and bluegrass festivals. We had a lot of live influence. As far as what we were allowed to listen to, it was not very much. We'd be allowed to listen to some Del McCoury songs but not all of them because of the content. A lot of Marty Robbins and Hank Williams, but always excluding some stuff because my folks were super strict.
Did you find yourself seeking ways to listen to those excluded songs?
Not me. I'm the youngest in the family and I never did. I'm really bad about that still. I don't go out and pick out music. If I go to a record store, I have a panic attack. Every single time I end up on the floor in a corner just sitting cross-legged waiting for everyone to check out. I have full-on attacks. Maybe I'll be better now. It has been a minute since I've been in one. I never got joy out of going to buy a record.
I was the youngest and growing up, I never had a choice. I didn't get to pick where we went or what we listened to or anything. I just listen to what other people are listening to. I really rely on my boyfriend or my brother playing cool music. Unless I hear someone at a gig or a festival, then I'll pick up their music. Like Natalie Prass. My brother met her at a show a couple of years back and he brought her CD home. And I was like, "Oh my God." Her music changed me.
Jack White gave me a record player but I didn't have speakers and I'm technically challenged so I could never figure out how to hook it up. The vehicle I have doesn't have music. I have very little music on my phone and rarely listen to it. I do think I have Natalie Prass' record on there. [Laughs]
What was it like working with Dave Cobb on this album?
He was wonderful to work with. He's a really nice person. The first conversation we had, we talked about some bluegrass bands. I think it was something different for him. I was very nervous as first to go in because I was out of my comfort zone but it was really easy. We went in and recorded a song, took a lunch, and came back and recorded another song. It was a pretty easy process.
How was it out of your comfort zone?
Well, Dave uses his drummer Chris Powell on most of his stuff so for me going in because I'm such a picky asshole, I was nervous about playing with someone I hadn't played with. I was just nervous it wasn't going to be my vibe. But it was. It was wonderful. It's an amazing studio [RCA Studio A] with great sounds and a great crew.
So it was pretty easy once it started?
Totally. After song number one. The first song had two different time signatures the way it was written but it got straightened out to just one. At first, I was like, "What is going to happen here?" It ended up a great thing, but I was a little stubborn at first.
Did that create friction?
No. Not at all. I kept it to myself. I went to the bathroom, cried it out, and came back ready to give it a try.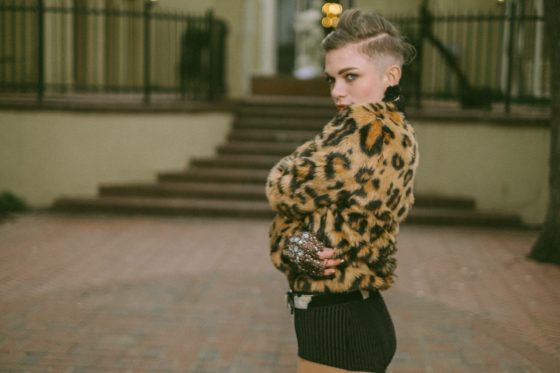 That's awesome you trust your producer.
Well, I'd be foolish. Who am I, you know? Here's a shot to work with some amazing people. If I threw a wrench in it, there are too many people on board. There are too many people invested in me. I owe too many people too many things. There's a time and a place. Maybe next album. [Laughs]
I'll get OCD and have little brain freak-outs. One can come across as stubborn, and all I've ever tried to do is be opposite of that. I've tried hard to be positive and give my all no matter what the project is, but those little OCD things, they can hinder you for sure.
Have you ever made concessions that you regretted making because the art didn't turn out the way you wanted it to?
If I've thought like that, I've tried to change my outlook and be like, this is the way it was supposed to be. It (the process of making the album) wasn't what I had anticipated. I anticipated buckling down. I anticipated really working hard, and then when I wasn't working hard and it was just coming really easily and naturally, I felt like I wasn't doing a lot. When you are used to hustling and it comes easy, it feels like something must be wrong.
How do you feel about the release of the new album? What is the period like right before it comes out?
The last couple of weeks [touring with The Raconteurs] were super exciting. It was fun to be out playing the tunes. I wasn't ready to be done. I enjoyed it a little too much.
I'm pretty level. Just from so many years of getting my hopes up, not even just about music. I used to get so excited about something but I crashed and burned too many times. I don't allow myself to get excited about much of anything. People will get the wrong impression that I'm not enjoying myself or that I'm not grateful. I'm so thrilled but my expectations are pretty low. I'm excited about it coming out, but if I got dropped tomorrow I think I'd be prepared. Which is not good! [Laughs]
My boyfriend took the pictures for the album campaign. And my sister Scarlett and our friend Amy helped with the photo shoot. It was just us, so it feels super close to home, and I feel really proud of it.
---
Photo credit: Misael Arriaga